| | |
| --- | --- |
| | SKYEPHOENIX's Recent Blog Entries |


Sunday, January 16, 2011
Just a little one, but hey, they all help, yes?

Was reading MEZZOANGEL'S blog and something she wrote clicked for me. Something to the effect of challenges and such not working for her, because they distracted her from figuring out the inner reasons she had for getting overweight in the first place.

Ding ding ding.

I spend...more time than I should....feeling like there's something wrong with me, because I don't participate in the group classes at the gym. I almost joined a running clinic last spring, but then chickened out at the last second. Why? I'm scared. I'm scared that the experience is going to be so negative that it will ruin it for me. My very fledgling running skills are shakey at best. A HUGE reason I chose running was because NO ONE can make me feel like I don't measure up, since the only person I have to compete with is myself. Now, if I join a running club, that could change in a heartbeat. I'm fairly confident that I'd be one of the slowest, if not THE slowest, one there. Which might not be a big deal--but it REALLY depends on how they run the class. If it's a true 'beginner' running class, which focuses on form, stretching, and running basics, cool. If the focus is too much on speed and, especially, comparison to others, I think it would just...wreck it for me.

I like my running, and am going to fiercely protect it from being ruined for me, until I can FIX the stuff going on inside. It sounds like I'm really insecure, which I am, but I've also come a huge, LONG way in overcoming a lot of that. Yes, I have some remaining issues around...certain extra sensitive areas of my life. But I think it's okay for me to be protective of this, and to take care of it my way. Mainly, though, I need to stop feeling like there's anything wrong with me for doing that.

Self

. :)

That's all.

Mar

Edit: okay, it's not really like MEZZO's point at all, but that's how it connected in my brain. Eh.




Tuesday, January 11, 2011
Okay......just to give you an idea of how my mind works sometimes (I'm laughing at myself in dismay even as I decide to share).....

I was reading another blog, and saw a picture, and suddenly everything clicked!

They're deliberately trying to enLARGEN us!! Make us bigger than we were 50 years ago so....um....I don't know! They can consume us? Use us to power the people-powered machines? Maybe we're just one BIG ol' chicken farm!! Ahhhh!

ObSERVE!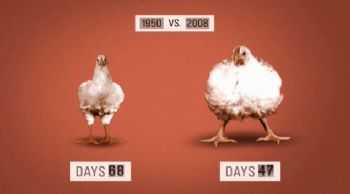 I've heard gobs about how the average person is heavier now than 50 years ago--about 25 lbs heavier, give or take.

Chickens are bred to grow faster and top heavier in order to provide consumers with much-in-demand chicken while making the big companies more dolla dolla in less time.

Are WE being 'fattened up' by all the junk and crap and garbage, and complacency and inactivity and couch potato-ing, and computers and streaming movies and smart phones--so the ALIENS can get more BANG per HUMAN????!!!???











Hoooooieee!! Okay, now that I've got that out of my system....

On a more serious note, I really wouldn't be surprised if there were a grain of truth in there somewhere. Big corporations that make money off both junk crap food and all the 'remedies' for fat-related illnesses.....oh yeah, making people unhealthy could be big bucks, baby.

/end of weird and bizarre musing of my sun and warmth deprived brain. Oh, and cold-medicated too. Spring! Bring on spring! Sigh.











Monday, January 10, 2011
Edit: in case you were wondering--changed my name, formerly bflcat. :)

Because it's been cold and DUMPING snow for 3 days now and I don't want to go to the store. :)

ground turkey
frozen peas
squirt of pesto parmesan dressing to cook turkey in (smells awesome, btw)
scoop or two of mild salsa
sprinkle of light shredded mozza.

You know the drill. Cook turkey, add frozen peas (about--I dunno, a cup??) during the last 5 minutes, then the salsa at the last minute, sprinkle cheese lightly on top as you turn off the burner.

It sounds weird, but it's surprisingly quite tasty (salsa--who knew?) and the peas are a sneaky way to get veggies in. They're very subtle.

I REALLY can't wait until spring. :)

Side note: hoping to sign up for 'golfer's pilates' tomorrow. Kind of nervous, I 'm not a group exercise kind of person--so we'll see how it goes. I'm really stoked about improving my stroke distance, though! :)

Mar






Saturday, January 08, 2011
Please bear with me, I'm SUPER cranky today. Been up for...an hour maybe? Not a good start.

All I've wanted to do since Jan 1 is get back to my regular morning workouts. Had to work extra shifts last week--alright, no biggie, I'l just start the gym again Monday. Maybe I'll even go Saturday morning, shouldn't be too terribly busy then.

Except of course I came down with a nasty cold last night.

Grrrrrrr.

2nd week in to 2011 and I feel like I'm stuck already. I'm really, REALLY frustrated right now. Add to the fact that all I've wanted to do was SLEEP in all week (probably because my body knew it was coming down with something) and finally, I get to this morning....I woke up an hour EARLIER than I've had to all week!

Harumph.

I really detest being sick. It wrecks all my plans. (insert frowny face here)

Mar




Friday, January 07, 2011
Sometimes you just have to stop thinking about doing, and just DO it.

Sometimes you have to get out of your self-imposed rut, even if that rut is safe and warm and comfortable. Even if you're scared to, once again, strike out alone and on your own. If your rut is holding you back though, and bringing you down, then, as hard as it is, you have to GET. OUT. and find a new way, that helps you along instead of holds you back.

You can dress it up all nice and pretty, give it a pretty bow and call it whatever you like, but it still amounts to the same thing. Intentions don't mean jack. It's the ACTIONS that matter.

You can't get to your goals in life by wishing your way there, or imagining yourself there (although imagining is good! Imagining gives you something to strive for). If you don't have a PLAN, don't take the ACTUAL physical steps to manifest what you desire, you'll still be sitting here, reading your umpteenth blog of the day, 2 FREAKING YEARS from now (don't believe me? Go back to your blogs from about 2 years ago and read them--or better still, go back to MY blogs from the beginning of them-about 2 years ago)....you'll be imagining (!) what you'll do THIS summer in your great new summer ready body. Or marathon ready bod. Or 5k ready bod.

I feel like I need to DO right now. Not just BE. Move forward. I can't keep....putting my energy into places that are giving me little to no feedback or return.

The blog might not make a lot of sense. Some of it is self-directed. But I need to put it out there, because it scares me to...strike out on my own, casting aside my well worn shell...but I feel like I have to embrace what scares me in order to get through it.

New day tomorrow. :)

Goodnight.

Mar



First Page
1
2
3
4
5
6
7
8
9
10
11
12
13
14
15
16
17
18
19
20
21
22
23
24
25
26
27
28
29
30
31
32
33
34
35
36
37
38
39
40
41
42
43
44
45
46
47
48
49
50
51
52
53
54
55
56
57
58
59
60
61
62
63
64
65
66
67
68
69
70
71 72 73 74 75 76 77 78 79 80 81 82 83 84 85 86 87 88 89 90 91 92 93 94 95 96 97 98 99 100 101 102 103 104 105 Last Page

Get An Email Alert Each Time SKYEPHOENIX Posts