| | |
| --- | --- |
| | SKINNYPOWELL1's Recent Blog Entries |


Friday, December 02, 2011
Went to see sports medicine doctor today to get the knee and hip checked out.
Is it just me or do doctor's have the personality of door knobs? not all doctor's, but sheesh. This guy really didn't act like he was interested in my story. That's where I think I'd make a good sports medicine doctor. Praise your patients, find out there stories, encourage them. He didn't seem the least impressed to know that I injured it running a half-marathon, like people do that all the time, right? LOL, not by the looks of all the other patients in the waiting room. Not that mine injury was any more special than the others, but dang, wish doctor's would give a crap. Compassion and encouragement should go with their doctor's degree. I mean you have an athlete that just finds out that they can't participate in their favorite activity, that's like losing your best friend. Have a heart.

Anyway...The good news is that there are no fractures or joint problems, the bad news is that it's an IT band injury.

Doctor says these are hard and slow to heal, lots of physical therapy needed. I'm thankful that there is no permanent damage which means I may still be able to run, just gonna be a while.

The doctor said NO restrictions, which means if it doesn't hurt to do it then its FINE. But the minute it hurts, DON'T. That's super news, which means now I can come up with a plan for the winter months fitness regime. Probably going to focus on abs and lower body making the legs more muscular and stronger and I may even decide to head back to the gym for swimming. What a relief, I'm not outta the game entirely.









Wednesday, November 30, 2011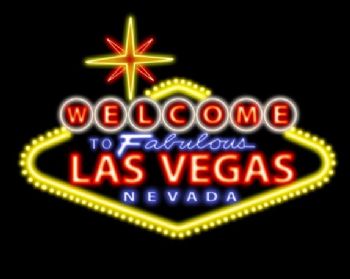 We all know the saying "what happens in Vegas, stays in Vegas", well in this instance it's a little different. I'll tell you whats happening in Las Vegas this weekend.... It's the Zappos Rock-N-Roll Half Marathon, woo hoo. My longtime SP Buddy JLITT62 is running her first ever half marathon - Run, run, run. I am so excited for her, she's been training for a while and has been so faithful in her efforts, and has been so inspirational to me. I can't wait to hear all about it. Good luck sweetie, I know you will cross that finish line smiling. I know she is meeting several ppl there to run also, I'm not sure who they are and I don't want to not mention them so a big shout out to all JLITT62's buddies - good luck to all.

One of my newest SP buds - Positive_One is running also. This is his second, within a month - SUPER dude. His story is also a very inspirational one. Good luck Neil.

Let's all stop by their pages and wish them well. Good luck guys, I know you will be G R E A T !!!!!!!!!!!! Have fun.
www.sparkpeople.com/mypage.asp?id=JL
ITT62
www.sparkpeople.com/mypage.asp?id=PO
SITIVE%5FONE

I hope you guys don't get upset with me sharing your story - but I'm just so happy for you and proud of you.





Monday, November 28, 2011
We traveled to WV for Thanksgiving and were registered to run the local Turkey Trot 5K. This was my granddaughter's first 5K, and my two SIL's joined in along with one of their cousins. It was a warm 35 degrees, lol.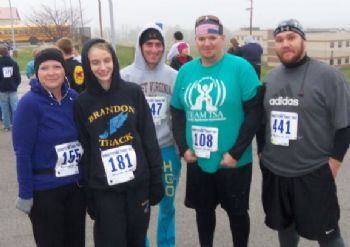 As most of you know, I have been battling some sort of knee issues for the past month so this will probably not come as a surprise to you.
Well..... I knew that the first 1/2 mile of the run would determine if my knee was healed enough to run the whole thing. My intentions were good, my heart was in the right place, but..... the knee failed. After a 1/2 mile my knee was killing me so I decided to throw in the towel. I was bummed but I knew that I should not push myself and risk further injury. I felt like such a quitter, I even removed my race number on the way back (sniffle sniffle). I didn't even cross the finish line (sniffle, sniffle) but I did not hang my head in shame, I encouraged the others as they were finishing and snapped a few pics along the way.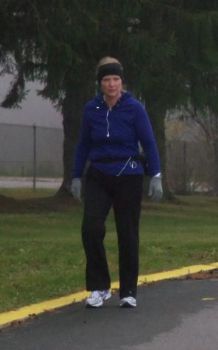 So that ends my running career until I see a doctor. I have an appt scheduled for Dec. 2nd so I can find out exactly what I am dealing with and I can move on from there, hopefully it's nothing serious because I really love running and would certainly hate to never be able to run again (another huge sniffle sniffle).

After the race we enjoyed a great dinner with all the trimmings, yep pie included. I had weighed myself last Monday to make sure I didn't gain any weight while I was gone and YEAH, I weighed the very same thing this morning on the scale as last week. Woo Hoo. My DH, DD and myself after a delicious meal. We were quite tired after all the cooking.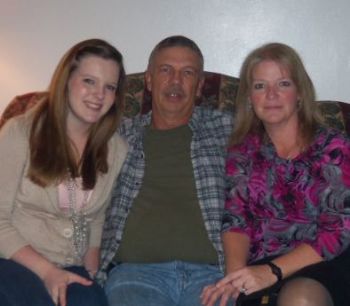 We enjoyed our visit with the family and we got to spend some quality time with our three granddaughters that live in WV. They loved playing dress up with my DD's clothes and makeup.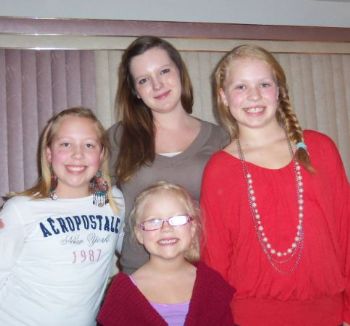 Skipped the black Friday shopping all together. Went with my SIL to get a tattoo. I got inked, yep, it's very tiny, but I did it - it's a tiny purple, high-heeled shoe. Didn't hurt as bad as I anticipated. Now I can scratch "get a tattoo" off my bucket list.




I hope everyone enjoyed a great holiday and that your week is off to a great start.





Thursday, November 17, 2011
Here's a link to photos from the finish line. Be sure to watch the video, they say my name - woo hoo.

www2.brightroom.com/84919/5126

Great Quote in Runners World this month:

"Remember your worst run in always 100 percent better than the person who never tries".

"You'll never regret going for a run, but you'll always regret not going"

Great words to live by. Can I hear an AMEN?????







Monday, November 14, 2011
I know this really long, but I wanted to share the entire experience with my SP buddies.

My weekend started off great. Picked up the granddaughter and headed to the Fitness Expo to pick-up my race packet, my dad and DH also came along. We rode the Tide to Norfolk, which is the areas first commuter train. Kind of a neat experience, sure beats trying to park in downtown. We looked like tourists.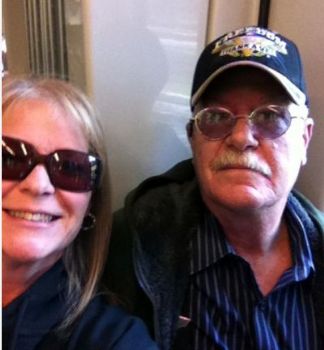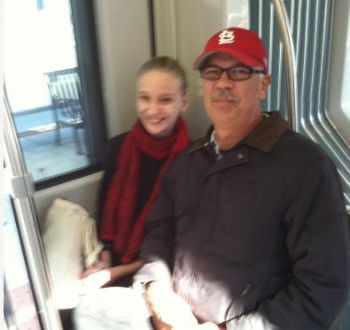 Visited the fitness expo, not a whole lot of vendors were there, but met a lot of nice people and was introduced by my dad to some fellow runners that belong to the local running group here called the Tidewater Striders. Super nice people. Found an athletic trainer there and had them tape my knee up for the race. I had very high hopes that ROC tape was going to help, however it didn't make a whole lot of difference, except maybe the psychological effect and it was kinda stylish, I picked out some black tape with skulls on it, made me look like a real athlete anyway, lol. Left the expo and had lunch at Buffalo Wild Wings. Returned home and it was such a nice day outside, DH wanted to wash my car so it would be nice and shiny to put the new 13.1 sticker he had bought me at the expo, but I wasn't putting that sticker on until I finished the race, bad karma. Thanks hubby for washing my ride and letting me ride in style.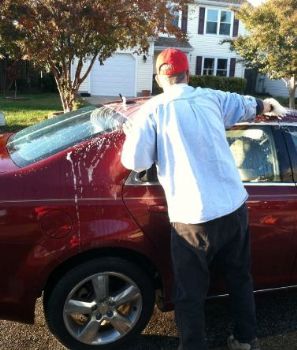 We enjoyed a great evening at home watching the pay-per-view fight Manny Pacquiao vs. Marquez. I had planned on going to bed early since I was going to have to get up at 4:00 a.m. on race day, but I got totally engrossed in the fight, but I had to finally go to bed at midnight, everyone else stayed up, but I was already upset with myself for not turning in early. Thanks Dad for treating us to the fight.

Here's a pic of my shirt and number. Was kinda disappointed in the lack of goodies in the bag, but I love the shirt. It's NOT black, seems like every race shirt I have is black.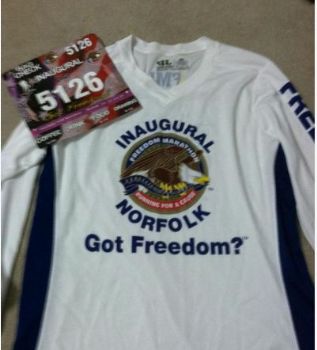 Up at 4:00 on race day, fixed myself breakfast and was out the door by 5:30, I was lucky to be on time since I spent a half-hour scrambling around looking for my camera. I never did find it so I was very upset about going to race with no camera, thank goodness for my i-phone.

I had an unexpected surprise on race day. My DD surprised me by attending the race. I was so happy that she sacrificed and got up to come cheer mom on. Thanks DD, I know it's not your cup of tea, but you knew it was important to me. Dad, DH, my sister and her friend TD completed the fan club.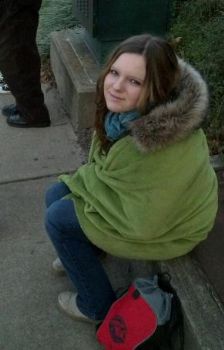 Finished my morning coffee, bouncing around like crazy, getting very antsy for race to start, and I was really super nervous because I knew that my knee was probably not going to hold out for me to finish. Put on a big fake smile to hide the sheer and complete nervousness. How'd I do?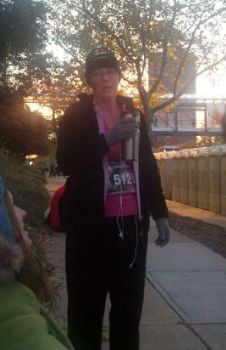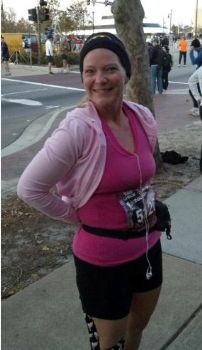 Started out with a great pace, knee was doing ok. Mile four and my knee started to tweak. I kept running, just enjoying the moment. I stopped at all the water stations (every two miles) for a brief sip of water then right back at it, so hardly any time walking. Only one brief porta-potty stop (less than 5 minutes).

Mile 7 and my knee was starting to hurt worse, I was approaching the 8 mile marker and to my surprise my dear friends Maria and Eli were there waiting to cheer me on. When I saw them I got choked up, I have never been so happy to see anyone in my life, lol. I jumped up on the curb, and ran over to them and gave them a huge hug and a kiss. Never did a hug mean so much. So great of them to be there for me. I felt like this was the boost I needed to get thru the rest of the race. Here's a pic they snapped as I ran by.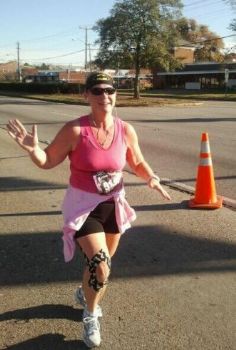 I ran alone the entire race, just in my zone, concentrating on just making it thru. I was thinking how lonely it was to run alone, but I needed to do this for myself. Besides I didn't want anyone to see what was about to happen next. My knee was starting to totally torture me, I was now running with a limp. I hit mile 10 and I started to break down, yes I started to cry, the pain was really getting to me, so I ran for a half a mile in tears. I tried to walk for a bit, but the pain was worse when walking so I had to keep running. I told myself to suck it up and I eventually regained my composure.

Mile 11.5-ish. I was totally limping and dragging my leg and really about to just give up but I knew I had to make it, I had to, failure was not an option. One of the race volunteers saw me, he ran over to me, put his arm around me and jogged with me for a few feet. He said.. "sweetheart, you have less than 1.5 miles to go, you can do it". I was so touched by this total strangers compassion. Thank your Mr. Race Volunteer, whoever you are. I needed that.

I rounded the corner for the home stretch, I had been practicing my finish line smile and had planned to speed it up and finish with a bang, however that had gone out the window around mile 10. You can see from the pics that I wasn't picking my legs up, it was all I could do to put one foot in front of the other.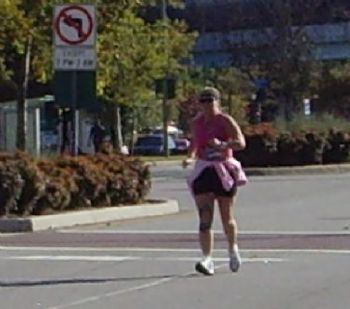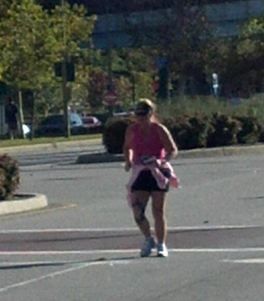 I saw the DH standing on the side waving to me and I lost it, I broke out in tears, luckily I had sunglasses on to keep that hidden and I managed a really FAKE two thumbs up, but he could tell from the look on my face I was struggling. Can't hide anything from him.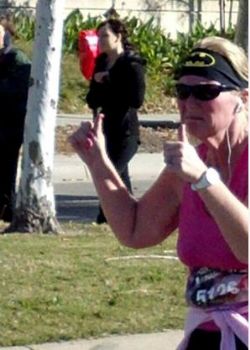 And out of nowhere, my sister came running up to me about a block from the finish line and grabbed me to hold me up, oooh the pain. How did she know I needed a shoulder to lean on? She kept saying... You got this sis, I love you, you're almost there. I was so grateful for her do that for me. She couldn't run the race since she has a major back injury and I know she was upset she couldn't run, but she unselfishly ran out to me to help me finish. Thank you Neecee, that showed true sisterly love. Another FAKE smile, well it really wasn't FAKE I was happy but I had to change from crying to smiling really quick.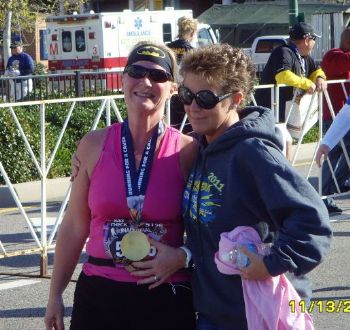 I crossed the finish line in tears and I was approaching the spot where you get your pic taken with your medal. I was wiping the tears because I certainly did not want those to be seen in the picture.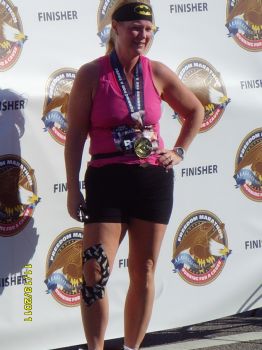 I had just earned some serious bling, taaa daaa.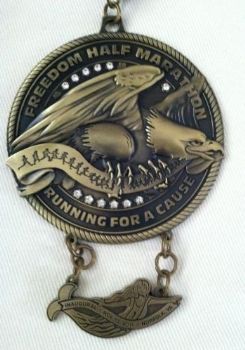 The after race party was a big letdown. two cold slices of stale pizza and only one beverage, well that certainly wasn't worth hanging around for, so home we went, besides I needed to get my knee iced and just relax.

I got home and this is what the next few hours consisted of...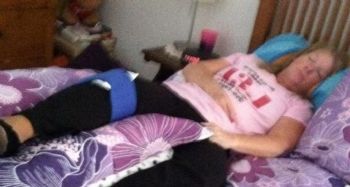 After resting for a while the whole family came over for a taco dinner to celebrate me crossing the finish line. So nice to have so much support. And the crowning moment... applying the hard earned sticker to my car. I had done it... 13.1 miles, I went the distance.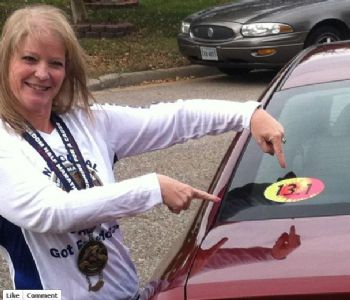 I finished in 2:47, I'm not going to beat myself up over the time since I considered this race a learning experience. I want a REPEAT, a Do-Over, when my knee is better. All things considered it was a great race, except for the pain. I know that the next one will be great.

I proved to myself a lot of things: I trained, I prepared, and I finished what I started out to accomplish. I learned that I had a lot more in me than I thought. I just ran 13.1 miles in pain. I demonstrated to myself that I have courage, courage to do things that I did not think were possible. I learned that I can run on my own. This was all about me, a lesson in hard work, self-worth, self-motivation and above all... I DID IT. Failure is not in my character and neither is quitting, even when the going gets tough. Was it worth it? ABSOLUTELY, this picture truly is worth a 1,000 words.




First Page
1
2
3
4
5
6
7
8
9
10
11
12
13
14
15
16
17
18
19
20
21
22
23
24
25
26
27
28
29
30
31
32
33
34 35 36 37 38 39 40 41 42 43 44 45 46 47 48 49 50 51 52 53 54 55 56 57 58 59 60 61 62 63 64 65 66 67 68 69 70 71 72 73 74 75 76 77 78 79 80 81 82 83 84 85 86 87 88 89 90 91 92 93 94 95 96 97 98 99 100 101 102 103 104 105 106 107 108 109 110 111 112 113 114 115 116 117 118 119 120 121 122 123 124 125 126 127 128 129 130 131 Last Page

Get An Email Alert Each Time SKINNYPOWELL1 Posts