| | |
| --- | --- |
| | SKINNYPOWELL1's Recent Blog Entries |



Monday, November 14, 2011
I know this really long, but I wanted to share the entire experience with my SP buddies.

My weekend started off great. Picked up the granddaughter and headed to the Fitness Expo to pick-up my race packet, my dad and DH also came along. We rode the Tide to Norfolk, which is the areas first commuter train. Kind of a neat experience, sure beats trying to park in downtown. We looked like tourists.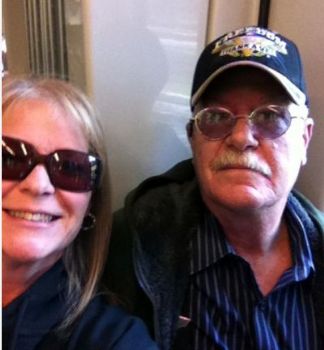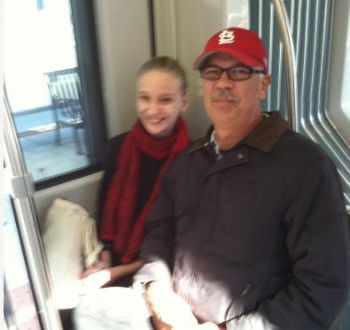 Visited the fitness expo, not a whole lot of vendors were there, but met a lot of nice people and was introduced by my dad to some fellow runners that belong to the local running group here called the Tidewater Striders. Super nice people. Found an athletic trainer there and had them tape my knee up for the race. I had very high hopes that ROC tape was going to help, however it didn't make a whole lot of difference, except maybe the psychological effect and it was kinda stylish, I picked out some black tape with skulls on it, made me look like a real athlete anyway, lol. Left the expo and had lunch at Buffalo Wild Wings. Returned home and it was such a nice day outside, DH wanted to wash my car so it would be nice and shiny to put the new 13.1 sticker he had bought me at the expo, but I wasn't putting that sticker on until I finished the race, bad karma. Thanks hubby for washing my ride and letting me ride in style.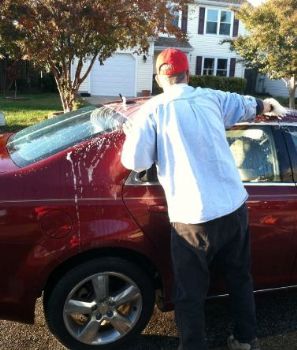 We enjoyed a great evening at home watching the pay-per-view fight Manny Pacquiao vs. Marquez. I had planned on going to bed early since I was going to have to get up at 4:00 a.m. on race day, but I got totally engrossed in the fight, but I had to finally go to bed at midnight, everyone else stayed up, but I was already upset with myself for not turning in early. Thanks Dad for treating us to the fight.

Here's a pic of my shirt and number. Was kinda disappointed in the lack of goodies in the bag, but I love the shirt. It's NOT black, seems like every race shirt I have is black.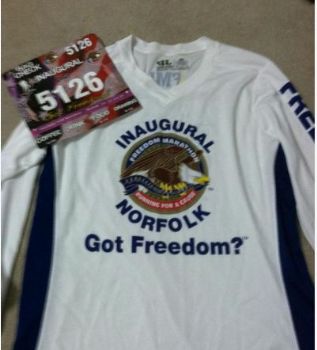 Up at 4:00 on race day, fixed myself breakfast and was out the door by 5:30, I was lucky to be on time since I spent a half-hour scrambling around looking for my camera. I never did find it so I was very upset about going to race with no camera, thank goodness for my i-phone.

I had an unexpected surprise on race day. My DD surprised me by attending the race. I was so happy that she sacrificed and got up to come cheer mom on. Thanks DD, I know it's not your cup of tea, but you knew it was important to me. Dad, DH, my sister and her friend TD completed the fan club.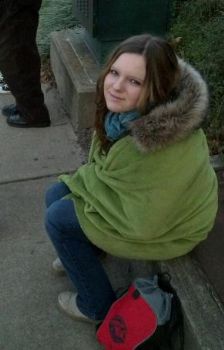 Finished my morning coffee, bouncing around like crazy, getting very antsy for race to start, and I was really super nervous because I knew that my knee was probably not going to hold out for me to finish. Put on a big fake smile to hide the sheer and complete nervousness. How'd I do?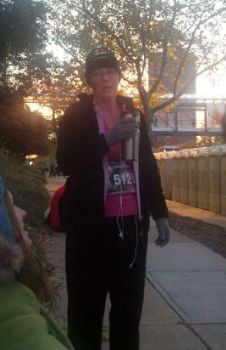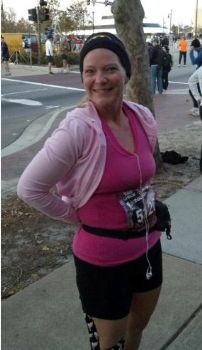 Started out with a great pace, knee was doing ok. Mile four and my knee started to tweak. I kept running, just enjoying the moment. I stopped at all the water stations (every two miles) for a brief sip of water then right back at it, so hardly any time walking. Only one brief porta-potty stop (less than 5 minutes).

Mile 7 and my knee was starting to hurt worse, I was approaching the 8 mile marker and to my surprise my dear friends Maria and Eli were there waiting to cheer me on. When I saw them I got choked up, I have never been so happy to see anyone in my life, lol. I jumped up on the curb, and ran over to them and gave them a huge hug and a kiss. Never did a hug mean so much. So great of them to be there for me. I felt like this was the boost I needed to get thru the rest of the race. Here's a pic they snapped as I ran by.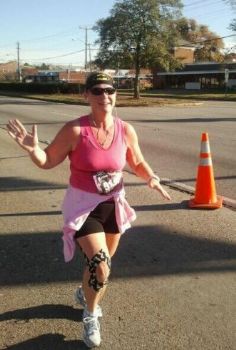 I ran alone the entire race, just in my zone, concentrating on just making it thru. I was thinking how lonely it was to run alone, but I needed to do this for myself. Besides I didn't want anyone to see what was about to happen next. My knee was starting to totally torture me, I was now running with a limp. I hit mile 10 and I started to break down, yes I started to cry, the pain was really getting to me, so I ran for a half a mile in tears. I tried to walk for a bit, but the pain was worse when walking so I had to keep running. I told myself to suck it up and I eventually regained my composure.

Mile 11.5-ish. I was totally limping and dragging my leg and really about to just give up but I knew I had to make it, I had to, failure was not an option. One of the race volunteers saw me, he ran over to me, put his arm around me and jogged with me for a few feet. He said.. "sweetheart, you have less than 1.5 miles to go, you can do it". I was so touched by this total strangers compassion. Thank your Mr. Race Volunteer, whoever you are. I needed that.

I rounded the corner for the home stretch, I had been practicing my finish line smile and had planned to speed it up and finish with a bang, however that had gone out the window around mile 10. You can see from the pics that I wasn't picking my legs up, it was all I could do to put one foot in front of the other.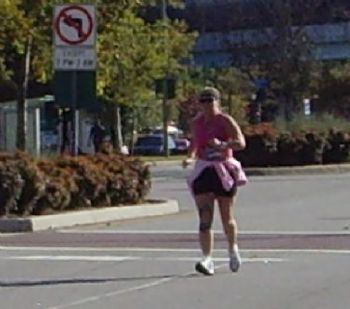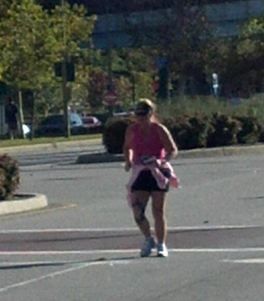 I saw the DH standing on the side waving to me and I lost it, I broke out in tears, luckily I had sunglasses on to keep that hidden and I managed a really FAKE two thumbs up, but he could tell from the look on my face I was struggling. Can't hide anything from him.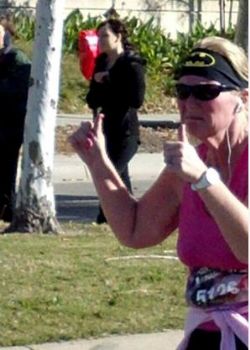 And out of nowhere, my sister came running up to me about a block from the finish line and grabbed me to hold me up, oooh the pain. How did she know I needed a shoulder to lean on? She kept saying... You got this sis, I love you, you're almost there. I was so grateful for her do that for me. She couldn't run the race since she has a major back injury and I know she was upset she couldn't run, but she unselfishly ran out to me to help me finish. Thank you Neecee, that showed true sisterly love. Another FAKE smile, well it really wasn't FAKE I was happy but I had to change from crying to smiling really quick.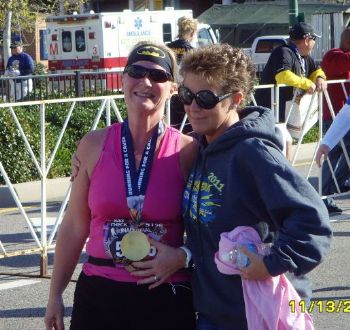 I crossed the finish line in tears and I was approaching the spot where you get your pic taken with your medal. I was wiping the tears because I certainly did not want those to be seen in the picture.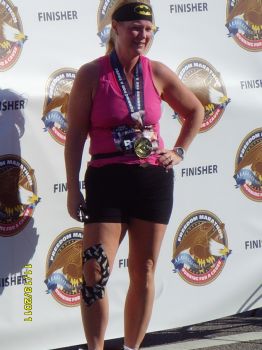 I had just earned some serious bling, taaa daaa.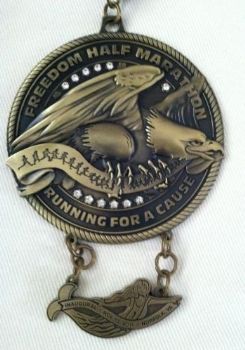 The after race party was a big letdown. two cold slices of stale pizza and only one beverage, well that certainly wasn't worth hanging around for, so home we went, besides I needed to get my knee iced and just relax.

I got home and this is what the next few hours consisted of...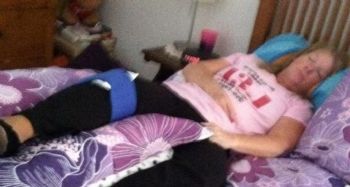 After resting for a while the whole family came over for a taco dinner to celebrate me crossing the finish line. So nice to have so much support. And the crowning moment... applying the hard earned sticker to my car. I had done it... 13.1 miles, I went the distance.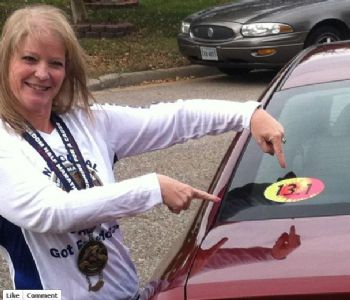 I finished in 2:47, I'm not going to beat myself up over the time since I considered this race a learning experience. I want a REPEAT, a Do-Over, when my knee is better. All things considered it was a great race, except for the pain. I know that the next one will be great.

I proved to myself a lot of things: I trained, I prepared, and I finished what I started out to accomplish. I learned that I had a lot more in me than I thought. I just ran 13.1 miles in pain. I demonstrated to myself that I have courage, courage to do things that I did not think were possible. I learned that I can run on my own. This was all about me, a lesson in hard work, self-worth, self-motivation and above all... I DID IT. Failure is not in my character and neither is quitting, even when the going gets tough. Was it worth it? ABSOLUTELY, this picture truly is worth a 1,000 words.






Wednesday, November 09, 2011
This is my last week of training for my first half marathon this weekend. I've been experiencing some knee issues and I'm just hoping that this isn't going to be a problem. I only have to run 9 miles total this week, and last night was a 4-miler.

Started out pretty good, but by mile 3 my knee was tweaking, I finished the last mile really slow as not to push my knee. I got home and did the usual ice thing. I think the devil is working overtime on me. I was doing so well and now a cranky, tweaky knee, causing pain and now causing me to just plain ole doubt myself. Will I be able to finish with a bum knee? Why, why, why now? I'm so close, but after last night's run I can see that 13 miles is really going to affect my knee.

I have resorted to desperate measures now. A friend loaned me some Kinesio tape, I tried that last night, but the tape was old and didn't stick very well, so I'm headed to the sports store today at lunch to purchase some, hoping this helps. Going to test it out tonight with a 3-miler.

Last resort is a knee brace. Hoping the tape will do the trick, but I do have a brace, just in case. It's really going to stink having to run with a brace on, but.... I am determined that nothing, even a little pain is going to stop me from this race. I have been training for 14 weeks and I'm not about to throw in the towel. Run, walk, or crawl I'm crossing that finish line.

I've never wanted anything so badly. Cross your fingers SPARKERS, this race is so important to me. I've trained for it, I've worked very hard at it, I dedicated myself from start to finish with each and every run and now.... the moment of truth. I want that mermaid medal, I want that 13.1 sticker for my car, I want to wear my new 13.1 tee-shirt, I want the feelings of elation at the finish. Want, want, want and I'm going to... DO IT PERIOD !!!!

I don't doubt my ability to run this race, I'm just not able to count on the knee cooperating. Any advice? Words of wisdom ?????







Monday, November 07, 2011
I was off on Friday so took advantage of that and decided to get in my last long training run before next weekends race. Set out to run ten miles, did great until 7.5, then my knee starting getting really cranky, it was hurting so I walked for a few minutes, then decided to call DH to come get me. I didn't want to push the knee this close to the race. I was soooooo disappointed, but it feels fine now. I told DH that if this happens during the race, I will be crawling to the finish line, but I"m really hoping that this was just a freak incident. Cross your fingers.

Saturday - went to the mall to spend my JCPenney coupon, holy ham no one told me that they were having a pre-Christmas door buster sale, the place was mobbed. So after all that craziness I glad I had already decided that Christmas shopping wasn't going to happen this year, I'm not going to stress myself. And I'm definitely convinced it's not worth it after that experience, but I did pick up a couple new items to add to the wardrobe. Here's a new outfit.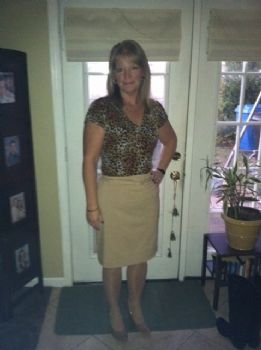 I ended up getting a sweater dress, two shirts and two pair of boots (the boots I'm sharing with my daughter, lol)

I cooked another new SPARK recipe. Three Cheese Macaroni - OMG was it tasty. The DH and DD gobbled it up, it really was delicious and a perfect way to disquise whole wheat pasta, lol. YEAH, I slipped some healthy stuff in on them.



Couldn't resist one last pic, isn't he handsome?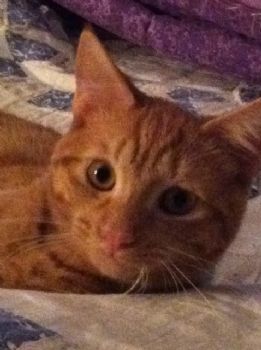 DH and I drove my half marathon race route yesterday, the nerves starting kicking in after seeing how long it is, and three bridges, oh my. Just praying my knee holds up. Only have a few short runs this week, tapering down before the big day.

Hope everyone is off to a great start to this week.





Tuesday, November 01, 2011
I complained, moaned and groaned at the thought of spending $20 on Halloween candy, sheesh inflation. Any how, you know you can't buy the cheap candy or someone may slash your tires these days, lol so I at least bought the good stuff (reese cups - my total weakness, hershey's, kitkats) and some nerds and airheads because not all kids like chocolate. I decided I was going to mop the kitchen floor while waiting on the millions of tricker treaters that were expected to show up, so at least I was a tad productive in crossing off my "to do" list.

Well we had 5, yes, FIVE kids show up. Holy ham, what happened to the droves and mobs of kids? I think it's safe to assume that trick or treating has become a thing of the past, gone are the good ole days. True, but sad that the traditions we enjoyed as kids are slowly being done away with. Well some things are still tradition like carving pumpkins. The grandkids came over Saturday to carve their pumpkins, they did a great job. I usually carve a celebrity pumpkin but just wasnt in the mood this year to do it, so I was the pumpkin carving supervisor, lol.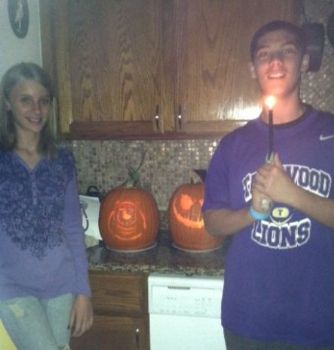 My grandson was going to a Halloween party and decided to sneak up behind me and scare the bageezies out of me. I owe him one, gonna get him when he least expects it.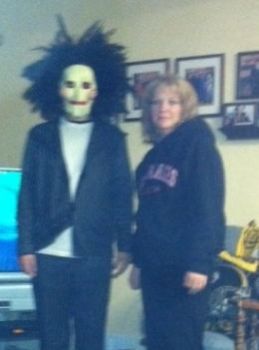 And then there is the cutest pea in the world. My baby grandson, the pea pod.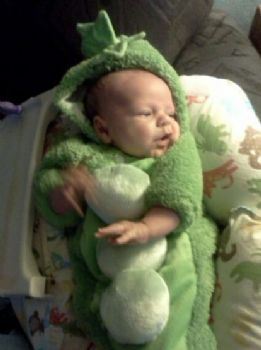 Don't have pics of the other kiddos or I would certainly post.

Well it's the day after Halloween and I'm left holding the bag.. of leftover goodies. But guess what????? after snitching two reese cups for myself, I handed over the leftovers to hubby to properly dispose of....pass it out to the fellas at work. No candy in my house now. Yeah.

Hope everyone enjoyed a Happy Halloween





Monday, October 31, 2011
I wish I would have discovered that my area has a running group a lot sooner than last Thursday. I signed up last Thursday and they had a run scheduled for Friday morning at the oceanfront. Boy was it windy and cold but I went anyway, I had to run a 9-miler as part of my training so I figured I might as well get out there and just do it. I met the ladies at 5:45 for a 9-mile run, so nice that they run the same pace as I do, so we headed off. I did pretty good, not too bad I don't guess. I wasn't in it for time, just to see how 9 miles felt. I only slowed down for two brief walking rest breaks and then I was back at it. The whole time I was running we were talking. She was sharing her running experiences and I learned a lot of great tips from her. She has ran several marathons and has been out of running for a while but now she is back into it, and guess what???? She is running the same half-marathon I am on Nov. 13th, and she is going to check to see if there is a pace group running also. How wonderful is that. I won't have to run the half marathon by myself, I get to run with a pace group. I am sooooo excited, I was really dreading running alone.

I felt great after the run but my calves were on fire, I was in pain, I have never had calf pain before. I went home, jumped in a hot shower and stretched across my bed, ouch my calves were killing me. I decided to call an expert runner to find out what could have caused this pain, so I called my dad. He said I probably had running edema and to prop my legs up above my heart and the pain would go away. Sure enough, that made me feel so much better, and no more calf pain.

This was definitely a new experience all around. I ran a 9-miler, had horrible calf pains, and I learned a lot of neat tips and tricks. Can't wait to put all the new stuff into my workouts. This is the last full week of half-marathon training and I might say that I am soooooo ready to run this race. So this set my weekend off to a great start. Going to meet up with the running group on Tuesday evening for a 4-8 miler. I think I might like this.

Hope everyone enjoyed a great weekend, Happy Halloween.




First Page
1
2
3
4
5
6
7
8
9
10
11
12
13
14
15
16
17
18
19
20
21
22
23
24
25
26
27
28
29
30
31
32
33
34
35 36 37 38 39 40 41 42 43 44 45 46 47 48 49 50 51 52 53 54 55 56 57 58 59 60 61 62 63 64 65 66 67 68 69 70 71 72 73 74 75 76 77 78 79 80 81 82 83 84 85 86 87 88 89 90 91 92 93 94 95 96 97 98 99 100 101 102 103 104 105 106 107 108 109 110 111 112 113 114 115 116 117 118 119 120 121 122 123 124 125 126 127 128 129 130 131 Last Page

Get An Email Alert Each Time SKINNYPOWELL1 Posts