| | |
| --- | --- |
| | SKINNYPOWELL1's Recent Blog Entries |


Friday, May 06, 2011
Wanted to wish all mother's out there in SPARk land a Happy Mother's Day. Whether you are a mother to your own children, mother to beloved pets, or a mother to your husband - ENJOY YOUR DAY.

This mother's day DH and SIL will be cooking a feast (not sure what is on the menu), and my sis and I are going for a bike ride and strawberry picking, while the fellas whip us up a meal. My BFF sent me the cutest card, and I wanted to share, hope you get a chuckle.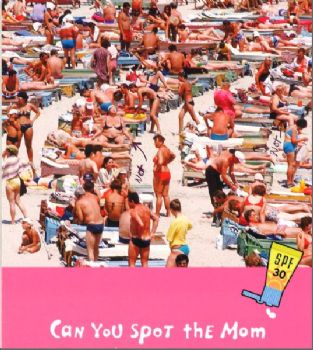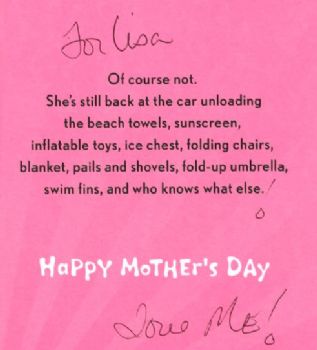 Thursday, May 05, 2011
Well last night I unleashed the inner drill sargeant and man was she tough. I got home after my daughter's concert around 8:00 and I told myself I was going to get a run in tonight, PERIOD. I quickely jumped into my running attire and headed out the door. Sis and I did a quick three miles. Half a mile warmup and cooldown and our fastest 2 miles ever. I compared us to the wildebeast stampede in the Lion King, holy ham, we were running faster than fast, lol. Look out, we were gonna run you over. Two women on a mission, be-lining it for home.

Even though I missed American Idol last night (NO RUN, NO REWARD), I still made it home in time to watch Meet the Browns at 9:00. Wow, we really worked it hard.

I think the new mantra will work out well. I used it again this morning, no morning workout, no protein smoothie. Oooooh how I missed my morning smoothie, loaded with strawberries, yogurt and chocolate protein powder. I just couldn't manage to get out of the warm bed, so I had to settle for oatmeal instead. Didn't run this morning, but I will definitely do it tonight after my granddaughters track meet.

My inner drill sargeant is on duty full time, so no slacking here. Hope everyone will work on self discipline right along with me. Make today and every day count.







Wednesday, May 04, 2011
That's my new mantra.... No Run, No Reward.

I was so lazy this morning and did not get up to get in a morning run. I am so mad at myself because I can't exactly make it up today, going to be really busy and on the go until 8:00 tonight, so I'm kicking myself. So tonight before I sit down to veg on the couch to watch American Idol, I will RUN, or no TV for me. No reward period.

Procrastinating my workout is not getting me to my goal, so it's time for action.....

NO RUN, NO REWARD

I'm not being too hard on myself.... well, YES I AM, sometimes I just have to be tough on the ole stubborn, lazy me. So I AM YELLING at myself. I'm not beating myself up and wallowing in pity, just a swift kick in the butt for me.

NO RUN, NO REWARD.

Anyone else need a swift kick in the seat of your britches to get ya going???? I dished it out for me today, so EVERYONE.... get busy. I am saying this with a






Tuesday, May 03, 2011
Absolutely NOT !!!!!

Still on a high from finally meeting the 100-pound loss goal. The response to my blog has been overwhelming and I couldn't have ever imagined so many people would stop by to congratulate me. Thank you fellow sparkers for showing the love.



Reality has set in though... I've reached the big goal and now what??????

Well for starters, the new goal is to tone and shape this new, lighter body. Got a couple of flabby areas that need some work. So I will be focusing on getting the six pack abs I've always wanted and getting rid of the ole bat wings.


Running is falling back into place. After taking so long off for surgery, I started running again last Tuesday. Ran my farthest since surgery last Friday - 6 miles, woo hoo. Last night did some speed work to try to shave a few minutes off my time. Big 5K race on May 14th and I have set a time goal and will do my best to meet it or hopefully surpass it. Not an easy task when you are used to running longer distances at a slower pace. So I am speeding things up a bit, ran a lot of intervals last night, but time was still slower than i would have liked it to be. But hey, I've got 11 days to get there. At least this is fun for a short-term goal.

Hope everyone out there is focusing on a short term goal as well as the long term ones. They can be just as satisfying and rewarding.






Thursday, April 28, 2011

Today is one of the happiest days of my life.

Today, I reached the 100 pounds lost mark. I am so excited and elated, I just can't contain the excitement. I am so proud of myself for reaching a goal that, at times, seemed unattainable. I have experienced: joy, happiness, discouragement, disappointment, setbacks, etc. - all are building blocks to SUCCESS.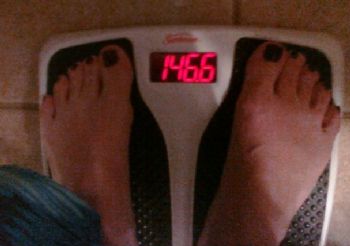 I started my weight loss journey at the beginning of Jan 2008, only a year later did I discover SPARKPEOPLE. I began my lifestyle change and weight loss journey at a whopping 246 pounds, 5 feet 4 inches, with the goal in mind of losing 100 pounds.

I have been faithfully logging my food and the past 18 months I have really amped up on the fitness part. I've learned that all calories are not created equal. I used to eat within my calorie range (1200) filling my mouth with fried foods, bread, etc. Then I discovered that losing weight had to be a lifestyle change and that I would have to cut out all the bad foods. I left behind the fried and greasy and turned my meals into fruits, veggies and lean meats and I haven't looked back. It took me a while to figure it all out but I now eat within an almost perfect balance of proteins, carbs, sugar and calories. I hardly ever eat processed foods, only whole grains, lean meat and tons of fruit and veggies.

My journey has been a total life changing experience. I have had a great support group and I have learn so many wonderful things from SP articles that now a healthy lifestyle is my way of life.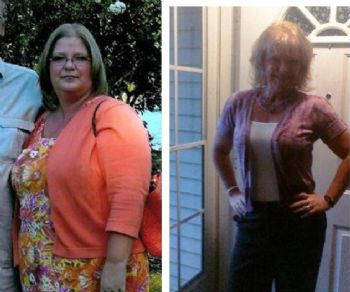 I just recently ran my first 14K and I am so proud of the fitness routine I have in place now. I run, lift weights, enjoy all types of cardio, kickboxing is my favorite. I am no longer a couch potato. SPARK has been slowly taking over my life in the fact that I am healthy, happy and I crave good foods and exercise and I have totally changed everything about me, including having a great self esteem in knowing that I can accomplish anything I set my mind to.

New goals: I would like to lose another 15 pounds and I have my sights set on running a 1/2 marathon in the November 2011.

I love the new me and I owe it all to SPARK. I am no longer ashamed of the fat person I used to be but proud of where I stand now at 146 pounds, 100 pounds lighter, knowing that I made these changes for myself, the natural way, no diet pills, no weight reduction surgery. Spark has given me the confidence to be the ME I was destined to be.



I love to share my enthusiasm in helping others to stay on track with their weight loss journey and I find joy in encouraging fellow sparkers every day, like I said previously, SPARK is a happy part of me that I want to share with the world, shout it from the rooftops. I LOVE SP.

Believe me when I tell you, if I can do it, anyone can. It just takes determination, never let failure be an option. Hang tough. The most satisfying taste in the world is success. Best of luck to you, I'm here to help and encourage you along your way. Make today and every day a great one.


P.S. Today is my 800th day on SPARK, woo hoo



First Page
1
2
3
4
5
6
7
8
9
10
11
12
13
14
15
16
17
18
19
20
21
22
23
24
25
26
27
28
29
30
31
32
33
34
35
36
37
38
39
40
41
42
43
44
45
46
47 48 49 50 51 52 53 54 55 56 57 58 59 60 61 62 63 64 65 66 67 68 69 70 71 72 73 74 75 76 77 78 79 80 81 82 83 84 85 86 87 88 89 90 91 92 93 94 95 96 97 98 99 100 101 102 103 104 105 106 107 108 109 110 111 112 113 114 115 116 117 118 119 120 121 122 123 124 125 126 127 128 129 130 131 Last Page

Get An Email Alert Each Time SKINNYPOWELL1 Posts