| | |
| --- | --- |
| | SHUDDEC's Recent Blog Entries |


Sunday, April 29, 2012
Today I was at a vendor's fair all day with my direct sales home business. Frequent sitting, lots of standing, some walking around in the building.
When telling potential customers about the stoneware Bean/Blessing Pots, I highlighted how easy they make it to make healthy, nutritious, economical meals. I picked two fresh artichokes from my yard this morning to use as a demo for steaming artichokes in a bean pot in the microwave.

Kept up with my water intake


Packed my food for all day and that's what I ate, rather than ordering from the restaurant or bar



Came home about 4:00 and had a small dinner that still fit in my meal plan for Eat Clean



Ordered myself a new insulated lunch bag today.

Will go to bed early tonight (8:30 or so) and get lots of sleep.




Saturday, April 28, 2012
Two things became apparent to me over the last two days:
1 - How important getting enough good sleep and good food are to keeping focused and able to maintain my health and fitness oriented lifestyle are.

Ans

2 - How easy it can be for other things in life to distract me.

The last few nights I haven't gotten more than 6 hours of sleep, which is always broken up by my cat that sleeps with me most of the night. My dog is no problem, she just sleeps.
Plus having to get things done in the evening - around the house, meetings, with or for my mom, etc. - pushed back to 'go to bed' time. Yesterday I was sleepy most of the day and it was a cardio day for me.
I did ok or good - not sure which - and did a full 60 minutes of treadmill with incline and walking the track, then some core work.
But in the evening on the way home on the bus, I was so sleepy. At home, even before fixing dinner and definitely after dinner ( 7:30 pm) just so sleepy. Dinner was lite - 3 oz of prawns, swiss chard, celery, onions, tomatoes, and about 1/8 cup of pasta.
So about 8:00 pm I started getting ready for bed, feeding and watering animals, doing some end if the day things around the house and online in Sparkpeople. Went to bed at 9:00 and slept until 7:00 am. Much better today!!!

Distractions - My life includes my daughter (almost 20), my mom (83, lives next door), a dog, one of two cats that live here with us (the other is my daughter's), four guinea pigs, a book club, church, being a group leader for a Christian women's group that attends an annual event, a home based direct sales business that includes home parties and vendor events on 1-3 weekends a month, plus a large extended family in the area, - oh yeah - an ME!! Plus work full-time.

I can really understand how people who are professionals in bodybuilding, fitness, etc (as in competitors) make their bodybuilding and fitness and health their main activity. It would take that to achieve what they achieve.

What I've learned for me is that I need to keep an eye on the things in my life that I love, offer them time and energy, yet keep time for myself for rest, preparing and eating good-for-me food, and my fitness and health plan. I am really beginning to understand what prioritizing myself means. Its not an 'either - or' situation, its an 'either - and' situation with a realistic knowing of there only being so much time in the day and there have to be choices made - which doesn't mean taking me off the list anymore.




Wednesday, April 25, 2012
Today I felt like I should be doing more: more intensity, longer, more gusto in my aerobic workout. I tried three short sessions on the elliptical today - my goal is to be able to do 20 minutes by mid-August (along with 20 minutes on the treadmill and the rowing machine) as part of my 60 minute cardio workout.
On the elliptical I discovered the front of my thighs are not that flexible nor that strong, I think the effect of being so overweight for so long.
Once I figured that out it became more of a challenge to change it.
And back in my office a friend reminded me that I've only been working out since the second week of March, and earlier this month I was quite sick for two weeks and still have a cough.

Ok, getting it back into perspective again.




Wednesday, April 25, 2012
Today is a cardio day for me - my goal is warm-up on the treadmill for 10 minutes
Move to the ellipitcal and see how long I can go. My goal by the middle of August is 20 minutes on the elliptical

Balance the time with rowing machine and the treadmill, maybe back to the elliptical before my cool down on the track.

Yesterday, between working out (including 1 mile cool down at the end), running errands at work, and walking home from the transit mall - 14,480 steps!!!




Sunday, April 22, 2012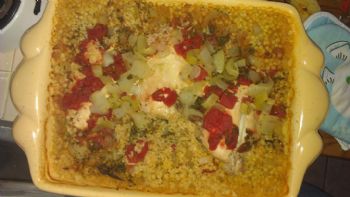 For the next three weeks I will choose to plan my meals according to the Eat Clean Recharged Cooler 1 plan to kick start my next level of getting fit.
I will prepare meals on the weekends to have available during the week for lunch and quick dinners with my family. An example is the dish above which I made today.
I will create a vision board and start using a journal to consistently track how I'm doing on my goals.
I will work out with my trainer until the start of finals week (May 5, Saturday before finals week) and then begin my workouts by myself for the summer.
My goal by the end of the summer (mid-August when the semester starts, is to do
1) 20 minutes treadmill at least speed 3.0 or better (and gradually use the programs for incline)
2) 20 minutes on the rowing machine, gradually increasing the resistance and/or using the programs
3) 20 minutes on the eliptical machine, maybe with the lowest resistance since 3 minutes is about what I can do now.
This aerobic session will be 3 X per week by mid-August.

May 10th I will meet with a dietician at Kaiser to review my food logs, which means I will track my food daily until then and after to increase my weight loss and learning new skills.
I will also take a Diabetes Active Living class at Kaiser that day and have my weight and BP checked in the afternoon.



First Page
1
2 3 4 5 6 Last Page

Get An Email Alert Each Time SHUDDEC Posts