| | |
| --- | --- |
| | SHUDDEC's Recent Blog Entries |


Wednesday, April 25, 2012
Today is a cardio day for me - my goal is warm-up on the treadmill for 10 minutes
Move to the ellipitcal and see how long I can go. My goal by the middle of August is 20 minutes on the elliptical

Balance the time with rowing machine and the treadmill, maybe back to the elliptical before my cool down on the track.

Yesterday, between working out (including 1 mile cool down at the end), running errands at work, and walking home from the transit mall - 14,480 steps!!!




Sunday, April 22, 2012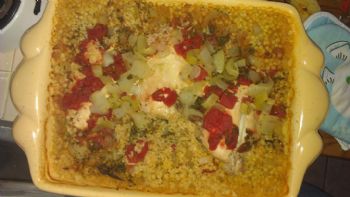 For the next three weeks I will choose to plan my meals according to the Eat Clean Recharged Cooler 1 plan to kick start my next level of getting fit.
I will prepare meals on the weekends to have available during the week for lunch and quick dinners with my family. An example is the dish above which I made today.
I will create a vision board and start using a journal to consistently track how I'm doing on my goals.
I will work out with my trainer until the start of finals week (May 5, Saturday before finals week) and then begin my workouts by myself for the summer.
My goal by the end of the summer (mid-August when the semester starts, is to do
1) 20 minutes treadmill at least speed 3.0 or better (and gradually use the programs for incline)
2) 20 minutes on the rowing machine, gradually increasing the resistance and/or using the programs
3) 20 minutes on the eliptical machine, maybe with the lowest resistance since 3 minutes is about what I can do now.
This aerobic session will be 3 X per week by mid-August.

May 10th I will meet with a dietician at Kaiser to review my food logs, which means I will track my food daily until then and after to increase my weight loss and learning new skills.
I will also take a Diabetes Active Living class at Kaiser that day and have my weight and BP checked in the afternoon.





Saturday, April 21, 2012


I'm reading two books right now: Tosca Reno's Eat Clean Diet Recharged and Charles D'Angelo's Think and Grow Thin.
This weekend I will write our clearly stated goals - both long and short term, and reasons for getting fit and losing weight. These will be posted on the fridge, in the bathroom, and at my desk at work.
I also want to include the how's or the steps and behaviors that will get me to my goals, as a reminder of what I need to do to achieve them. Realistic yet pushing myself a bit to reach them, otherwise achieving them won't feel like I've really done much.

Here's something I've learned from reading this week - I need to just start adopting the behaviors that will get me to my goals, act as if it is already a done deal and I've made it. Think about what my life will be when I've achieved my goals so that also becomes part of my normal daily life. That way when I get there, it will be easier to maintain and keep my new (by then normal) lifestyle behaviors and habits in place.




Wednesday, April 18, 2012
Yesterday was my first workout session in over two weeks. I've been off work most of that time and ill with a fever and horrible cold. Fatigue, weakness, congestion. Ugh!!! During that time, eating enough was a challenge since most of the time I had absolutely no appetite at all. Soups, easy protein, and teas, water, water water. No juices

But now I'm back on track with both my eating and my activity. Only one month until my trainer leaves for the summer, so my goal is to get my workout schedule/plan down before he leaves.

I'm still reading the Eat Clean Recharged book by Tosca Reno and have also been reading Think and Grow Thin by Charles D'Angelo.

Today at work, I'm starting to build my time on my fitness ball for my chair. Over the next few weeks will continue increasing the time to at least one hour, and plan to switch between my chair and ball throughout the day to help my weak core muscles.

I notice my legs, arms, chest and back are fairly strong, its my core that is weak. So will learn to strengthen my core as well as keep working on all my body.






Saturday, March 24, 2012
Today, I didn't enter my food for the day in the morning and ended up eating off plan. Went over in every category.

Yes, it was because I was tired - pretty exhausted really, from my kitty being sick the last three days. Today she went to the vet and one possible outcome was to put her to sleep. She's home again, on a different med, but still not doing really well.

What I learned is though that I need to have my food written down early in the day to be able to refer back to it during the day when I'm tempted to go off plan. That way, I can tell myself that I have it written down and its healthy and food I choose to be fit, healthy and have a positive outcome. Takes some of the emotion out of it, and I learn that I can rely on myself during times of emotional upheaval. Rely on myself to take care of myself.

So tomorrow - we start the day with food written down and my exercise planned and written in my schedule..Otherwise its too easy to blow it off.




First Page
1
2
3 4 5 6 Last Page

Get An Email Alert Each Time SHUDDEC Posts