| | |
| --- | --- |
| | SHRINKING_SARA's Recent Blog Entries |


Wednesday, May 02, 2012
So my boss just took a month off. No reason. He's going to a meeting in Europe for 2 days... but then staying for another 3 weeks... so yay! Lab party.

Which basically means I need to kick my own butt and stay motivated. He asked me yesterday to write a review paper, so I've got 26 days to get it whipped up into shape. Then I'll just use it as one of the chapters in my thesis so two birds + one stone.

Not having him here has greatly reduced my stress levels. Plus I've been sleeping in, eating healthy again, and working out. And you know what -- I feel great! I was kind of surprised at the turn my mood took once I ate healthy and worked out. I was kind of mopey, and felt like crap -- but the good food and exercise endorphins have turned that around.

And the weather! Its fantastic outside. I love summer/being warm, so the turn from 50/60s to 70/80s has been great -- and perfect hammock weather. So between my hammock therapy and diet/exercise I feel as good as I did last month.

And now the annoying news: I only lost 2 pounds in April. Admittedly I didn't watch my food, binged a bit, went on a 2 week business trip/vacation, and went through an emotional roller coaster. So all in all, trying to eat smart and walk/exercise a bit kept me from backsliding. I won't reach my birthday goal of 176 in a week and a half... but I've switched it to the 4th of July. I think that's pretty reasonable. Freedom from obesity!




Monday, April 30, 2012
Okay so I think I snapped out of it and got my Spark back!

Yesterday I mentioned I bought Bob Harper's (the trainer from the Biggest Loser) DVDs from his website: mytrainerbob.com. He has them all listed for $5 -- cheaper than Amazon, so I thought why not.

I'm a twitter newbie. I've had an account, but I don't really use it -- so I thought what the heck I'll tweet @mytrainerbob and see what happens. I know some of my Spark friends (Michelle) have gotten responses before... and he retweeted me! I just said I was close to 100# gone and included a pic of my current profile photo off Spark.

I got a little bit of an adrenaline rush from that. That coupled with the fact that I am literally so sore (!) from the first 20 minutes of "Totally Ripped Core" shows me that I am in for a painful next 30 days while I get used to the new exercise routines. I thought I had a great core, but after 3 weeks off, and all of the new moves my obliques and lower back muscles seem to disagree.

So tonight I'm going to do the quickie 10 minute video of "Totally Ripped Core" do some pilates and stretch out my back, and then try and get on the treadmill for 30 minutes.

I'm going to miss my goal weight of 176 by 5-10, so I just gave myself another month. That's also pushing it, but honestly, I don't know if I even care if I get there as long as I stay and healthy and happy as I have been recently.





Sunday, April 29, 2012
Sorry -- that Elton John song was on Glee two weeks ago and I've been playing it in my car ever since...

So I'm still here. I've been off Spark for awhile. I think it was three weeks ago, my mom spent the week with me. That was a little stressful. I was trying to get her moving; she wanted me to show her how I lost the weight. And needless to say I more often saw her eating on the couch watching The Biggest Loser on Netflix than doing anything else. I used to do that. I get it. You're "learning," you're watching... but I reached a point during BL11 that I didn't want to just watch the girls lose weight. I wanted to join Olivia, Courtney, Hannah, and Irene too! So I got on the floor and worked out while I watched. But my mom hasn't reached that point yet, so I had a stressful week balancing working at work, working out at home, keeping my mother entertained and fed, and not going batsh*t crazy in the process. Needless to say I think my cortisol levels spiked that week. Oh yea, and I hid one of the guys I was dating from my mother! That was a little bit of a trip. I spent a night over at his place... and then he didn't call or text me for over four days. So yea -- I've erased him from my phone, but that was still like a WTF, seriously? moment. I'm still ignoring my stupid girl brain that wants to text him, and trying to listen to my strong, independent woman brain.

The next week I only had like 4 days alone at home. One of my good friends Lucy was having a bachelorette party and bridal shower on Friday and Saturday of that week in Chicago. AND it was Life Sciences Week here on campus which meant I could pretty much goof off. ;-) Until Thursday when I had a job fair and career advice day. Since I want to graduate that is pretty important. Thursday was good... busy. I was up at 6:30, at school at 8. Left school at 6, went home packed, and drove to St. Louis. Then the next day I was up at 6:30 again and drove to Chicago. Oh and at a poster session I gave my number to a new guy I was flirting with online... ;-)

Chicago was a blast! The bachelorette party was nuts (as expected) but I got a liiiittle too intoxicated, so I was completely hungover the next day for the bridal shower.
Here's a comparison pic of last March when I saw my biochem girls and this year at the bachelorette party: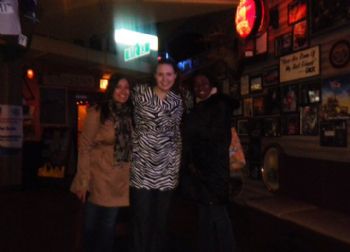 So that was a ton of fun. Sunday I met up with another friend I rarely see for lunch before driving back to StL. I also spent quite awhile on the phone with an Army guy I had met on eHarmony, but still hadn't met in person. We were meeting Tuesday of this week... Monday morning I drove home to Columbia, furiously cleaned my house, and had to spend some time with my sister who drove in town to do some shopping.

Tuesday I met the Army guy. Got stupid... went "exclusive" with him and called off the other guy. Then the Army guy went a little nuts, started talking about our future kids, and how I was going to meet his parents this weekend. *screeching brakes* Say what?!? So yea, he's out of the picture 'cause that freaked me out. So now I have no guys really. I'm trying to figure out what I want... and oh yea stay healthy!

So dieting has been on the back burner. I wasn't getting in workouts. I wasn't eating horribly, but I definitely did not count calories. So according to the scale I was doing more of a maintenance program over the last three weeks, so I didn't gain a scary amount of weight from being bad. I think in the back of my mind, I was mindful of my eating even though I didn't make it a priority. Basically lots of emotional stuff, and trying to figure stuff out. I'm going to do an official weigh in tomorrow.

One thing I can tell you is that my body noticed the difference. I'm stiff, my stomach is having issues, I had really bad migranies, and my body is like what the hell are you doing to yourself? Didn't you learn that if you eat crap, you feel crappy?!?

So I'm getting off of here, and I'm going to go workout. Its been awhile so I'm not doing anything too crazy. Just some stretches, Pilates, and core workouts. I may get on the treadmill for a bit, but not too long. I need to ease back into working out at the level I was at two weeks ago. I also just ordered all of Bob Harper's DVDs off his personal website (mytrainerbob.com) -- they're on sale for $5/ea. I'm going to have a 30 day Bob kickstart -- I think I need it. I also wanted to try his kettlebell workouts. Has anyone tried them? I'm using 10lb weights for most stuff, so I don't know if that's the right size kettlebell to start with... I'll probably go get a few at Marshalls and see what works best. Anywho -- that's what I've been doing here lately.





Monday, April 16, 2012
So I thought being in a bad mood would be a bad time to write my photo blog -- but you know what -- this is just what I need to snap myself out of my funk and get Sparking again.

I was digging through old photos getting ready for this blog, and I came across one from 2004/2005 when I was at my highest weight. It was summertime, and my mom and sister were touring the Missouri Botanical Gardens. The Gardens aren't that big, but they're gorgeous and walking around looking at all of the flowers is one of my mom's favorite things to do -- and of course pictures are a big part of these trips. I use a lot of them as my desktops and screensavers... and then I ran across this one:


Not only is my face super puffy, I'm red, sweaty, and I just look tired.... from walking for maybe 30 minutes. It was hot out, but both of my sisters and mom weren't red, weren't pouring sweat, and didn't have sweat curls forming off their head. My mom forced me to wear her hat since I started to get so red... Anyway, that's one of my "fat face" pics that I have started to use as motivation.

Now onto 2011. I had left undergrad behind and was thouroghly entrenched in my PhD. I'm a cancer researcher. I'm trying to show that diet and lifestyle will drastically change your incidence of developing cancer. But more on that later.

In Feb 2011 I had to go to a friend's wedding. I had a cute dress, it was a size 14/16 from Igigi (great designer BTW!). I usually am very careful about who takes my photo and from which angle. And then I delete everything that I think is unflattering (doesn't everyone though?), so I don't have as many photos as I'd like to post in this blog, but I'm doing my best. Here's a few photos from that wedding, that I didn't get to control: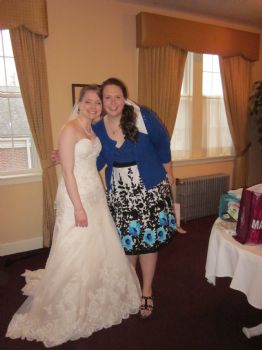 I'm around 260ish here. My first thought is that the dress is super cute. I'm still mad I can't alter it down. 2nd thought: holy crap I look wide. A flared skirt covers my hips, but the fact that you physically took up a lot more space at that weight just doesn't click until you see it in a photo.

So around this time I started to think about making a change. I started small. Maybe I won't eat as much fast food. Maybe I'll drink less soda. That's it. I didn't even think I was going on a diet -- I just wanted to be healthier.

Back to my PhD -- I was working on how a high-fat diet might cause more prostate cancer. Obesity is clearly linked to cancer risk. Ditto for high-cholesterol. To date 50,000 people died from cancer caused purely by obesity. By the year 2030, 500,000 people will have died from cancer caused by obesity. If that's not a shocking statistic -- I don't know what is. Childhood cancer is on the rise due to our kids being obese. My future as a cancer researcher is assured simply due to the fact that we are all killing ourselves with obesity, diabetes, heart disease, and cancer. In March I had to attend a meeting in Chicago. Getting ready and packing, then coming to the realization that I had to wear my fat dress pants was a bummer. My size 18s were a little too tight, so I wore my size 20s. That was another nail in my coffin as far as I was concerned. Here's a photo from that trip: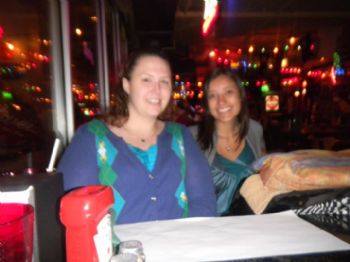 Its a little blurry, but that was another one of my moments where I realized I had let myself get out of control.

Now in April -- April 1st, 2011 I realized I had to stop fooling myself. I felt like a complete hypocrite standing in front of a poster telling men to stop eating a high fat diet if they didn't want to get prostate cancer... wearing size 20 pants. Lucky for me the conference was in Orlando at the giant convention center. I walked miles and miles each day between talks. I didn't eat a lot of food because it was expensive and I was busy. Every night I didn't snack and binge because I was too busy and tired from my day, and planning for the next day at the conference (there were 5). Then after the conference, Hui -- another girl in my lab -- and I decided to go to Disney. Once again I walked A LOT and didn't eat as much since it was expensive. Here's a pic from Disney. In size 18 red Lane Bryant jeans and a size 16 or 18 tank top: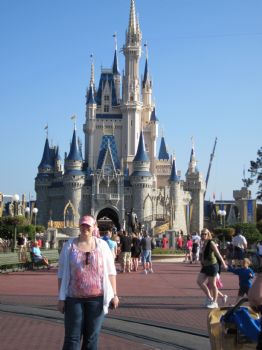 Wouldn't you know that when I got home I had lost five pounds in a week? That was motivation to keep me moving... also pictures like this were a good motivation (ignore the fact that my dog and I are in matching outfits, please!)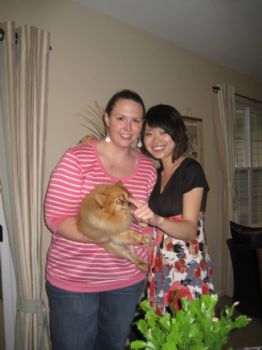 My middle sister Erin got married at the end of May. For that wedding I was able to wear a size 14 Igigi Tropical Beauty Maxi Dress. So pretty. To get ready for that wedding I started getting more serious about my health. If the small change of walking and eating less led to five pounds gone, what would happen if I started incorporating exercise into my everyday life? I started moving. Small steps once again. I didn't throw myself into a gym and force myself to do 3o minutes on a machine I wasn't ready for. I started at home.

I focused on my core -- mainly due to a previous back injury. I started doing all of the exercises that my physical therapist had prescribed. Leg lifts, balance ball stuff, and crunches. Maybe 10 or 25 to start... then 50... then 100... then 500... then 1000... You don't have to be nuts about this though. I think I am proof that starting small and building will work. Just don't get too discouraged, don't beat yourself up when you can't get in 500 situps. Did you do any? Yes--well then that's better than doing nothing!

I also started being more serious about my diet. Not really eating out. Bringing my lunch every day. I wasn't counting calories but the weight started to really come off. A few pounds per week, and I felt fantastic. And I ended up having to get a smaller dress for my sister's wedding than we had originally planned. Here are a few pics, I'm still smaller than I was, but I still took up a lot of space: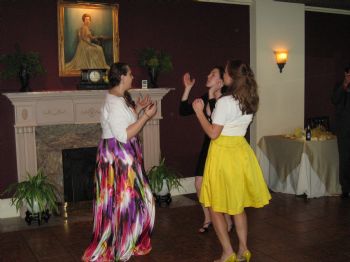 You know what though, people had started to notice! I was around 24o or so at this point and I was starting to get compliments on how nice i looked. That was heady! Hearing that people are noticing your hardwork and are supportive of it, was fuel to keep me going. And of course my other sister also decided to get married last summer... so I had another dress to get into.

Her wedding was a more casual affair. I had a size 14W dress I found at Dillards for the ceremony, and then... denim shorts for afterward. Shorts. I don't wear shorts (well I didn't). Shorts were something that would show off my fat legs and especially my thighs. I just never wore them... ever. If it was 100 degrees outside, I'd still be in jeans. You might rarely see me in capris, but never shorts! Until now. I had lost a jean size or two and was now wearing size 14 jeans from Lane Bryant. Here's a few pics from last July including one from the 4th of July party I was at: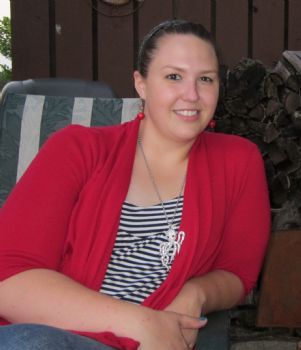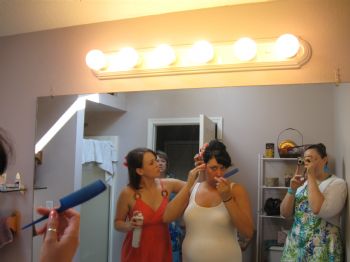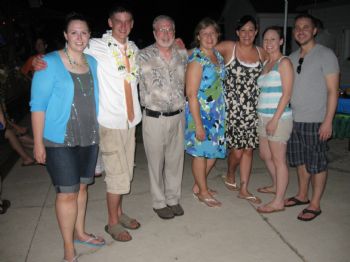 So now I was down about 30 pounds... feeling good. But I felt like something was missing. In August 2011 I joined SparkPeople and slowly started using the website. Scarily dipping my toe into message boards and slowly adding SparkFriends. And blogging. I think blogging helps get out emotions that I would otherwise have smashed down with food. I also got better advice on my diet/lifestyle. I used the calorie tracker, and the graphs of my progress kept me motivated. I wasn't really losing inches in my thighs or arms, but my waist was shrinking. And I appreciated the feedback and support I got on the site. I don't know about you, but I was always uncomfortable talking about my weight loss in public. It wasn't a secret, but its almost shameful at some point to tell people you've lost 40, and you need to lose another 60. That's blatantly admitting you are REALLY overweight. I used to hate my Wii fit since my poor Mii was well, well into the Obese category. It was just another visual reminder that I was sick and unhealthy.

So August led to September, and I kept moving down on the scale -- hitting goals and feeling great. In October two of my good friends got married and I had my Igigi dress altered down in September. By the time October rolled around, the dress was already too big again! I wore it anyway, 'cause one again -- its supercute.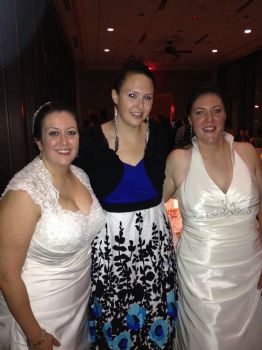 And then there was yet ANOTHER family wedding in December... this time it was my cousin John. And shocker -- I bought a size 14. Not a size 14 Women's... just a regular old size 14! And by this time I had long past Lane Bryant by... I had a torturous affair finding new jeans, but I was firmly in a size 14 long and lean jean from the Gap. Here's a pic on my journey from December -- I was nearing Onederland at this point: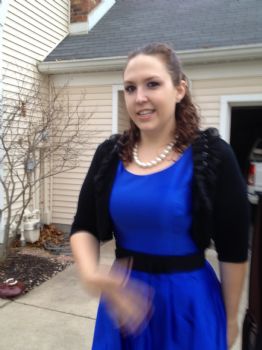 I'm waving at my mom -- look I have a waist!

I kept up with Spark, working towards my goal of getting to Onderland by the end of the year. With the help of a really bad stomach flu -- that just so happened. I also somehow managed to slip down to a size 12 Gap jean in the process. By the end of the year I was 199-198, and it felt great. Never in a million years if you had asked me at the wedding in February, would I have guessed that I would be there. I had lost 65 pounds in 8 months, and I felt fantastic. I bought a treadmill sometime in the fall -- so I had upped my exercise even more -- but once again I took it slowly. I think that was my only secret. I took my time and made small changes that I knew I could stick to. I don't beat myself up if I cheat or don't work out as much as I should one day, I just try to slap myself and get back to work as soon as possible.

2012 started out great. I even bought size 10 Gap jeans and managed to get into them by the end of January. For some reason I'm losing weight around my middle, in my boobs, and in my face. I've still got larger arms and thighs -- so I'm just working to balance out all of myself now. People have started to call me skinny -- and at 185 I know that's not entirely true -- but when you look at where I've come from, I started to understand what they meant. A few of my friends were trying to describe my weight loss and they told someone "you won't hardly recognize her." I take that sort of as a compliment, but now I'm trying to understand my identity as the new shrunken Sara.

I was trying to blog a lot these past few months so I'm going to breeze by February and March. I haven't lost weight as quickly this year, partly because I was down over 80# and it has to slow down sometime. Right now I'm trying to focus on getting used to my lower calorie range, adjust my exercise routines as needed, and always - always - always staying positive. If have a negative thought, I instantly force myself to say three positive things for every negative thought I have. I used to think "oh god I hate my life" all the time. Now I think about how my life has changed and how much better it can only get!

Here are some more recent pics of my over 90# down. My latest goal was to be down to 176 by May 10th -- my birthday so that I can officially have 100# down by my birthday. 276 was my highest recorded weight at the doctors office in 2004 -- but according to some people, they thought i might have actually weighed more, somewhere in the 280s. Either way, I'm never going back. The changes I've made to my lifestyle are changes I can keep forever. I drink 2-3 liter of water a day, I'm completely off caffeine (no coffee, and only decaf tea, and my sleep and energy levels are through the roof!), I eat a lot of fresh fruit, I try to bake food instead of fry, I tend to avoid fast food, I eat a lot of egg whites + 1 whole egg ('cause the yolk is yummy), I have started to avoid dairy to make both my lactose intolerance/IBS better -- and in turn this has drastically made my seasonal allergies better, I don't eat as much wheat/gluten as I used to since it affects my IBS and allergies as well -- but here again, I didn't go completely gluten free -- I'm just gluten reduced, and I'm also on an anti-kidney stone regiment to avoid certain trigger foods (goodbye spinach!). I don't ban any foods though (well, except spinach) -- nothing is off limits, you just have to put a limit on it. Moderation is key, and honestly I just try and keep my house stocked with healthy options. I can't have my cupboards stocked with cheat foods . I will eat them eventually. So instead I just don't buy them, or I'll buy a small serving of them and try and savor it. Honestly though I would rather have 2 cups of honeydew melon over chocolate cake right now, hands down. My taste buds have changed this year; fresh food cooked cleanly takes better than over processed fried foods. It takes some time, but once your body figures out that you are fueling it with good stuff and not crap -- it gets on board and you will start to crave water over soda, broccoli as a side over mashed potatoes, grilled asparagus over chips.... it sounds crazy, the Sara of 2010 wouldn't have believed the words I'm typing now, but the Sara of 2012 couldn't be crazier about fresh fruit and veggies and baked chicken.

So basically what I'm saying is I don't have a magic cure. What I am doing won't work for everyone. You probably wouldn't want to have my strict of a diet -- I mean I avoid cheese people, that's almost torture! -- but by adopting small healthy choices, you can make a huge difference in your life.

Here I am -- a year later from my reality check. I'm happy. I'm dating. I feel great. My energy levels are super high. I'm going off medications. I sleep better. I have a positive outlook on life, and I can honestly say I am happy with my life and hopeful for the future.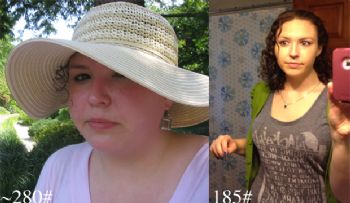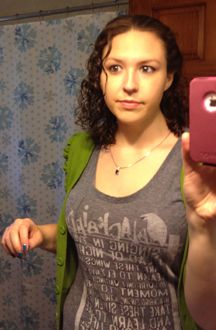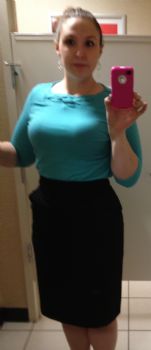 Here's the latest pic from the Botanical Gardens -- much different from the one I used to start the blog!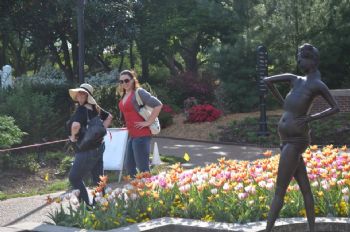 Monday, April 16, 2012
So I have no idea what is going on... I workout hard

, eat well, gain 2 pounds.

Completely ignore counting calories this weekend, ate chocolate

, lost 2 pounds.

WTF? I am either doing to much and not eating enough or vice versa. My body is clearly telling me that I need to eat chocolate to lose weight

. That and honeydew -- I'm still devouring those.

So anyway. I'm still alive. Some boys are stupid -- I'm finding that out now that I'm dating a few of them at the same time

. One of them really pissed me off this weekend, and since he hasn't contacted me for well over a day -- in a situation where he should have contacted me later that same day... yea.



I was going to start my 1 year blog, but I'm in kind of a crappy mood with trying to figure things out... so I might wait until I'm more chipper.



First Page
1
2
3
4
5
6
7
8
9
10
11
12
13
14
15
16
17
18
19
20
21
22
23
24
25
26
27
28
29
30
31
32
33
34
35
36
37 38 39 40 41 42 43 44 45 46 47 48 49 50 51 52 Last Page

Get An Email Alert Each Time SHRINKING_SARA Posts