| | |
| --- | --- |
| | SHERRYLHBB's Recent Blog Entries |



Saturday, January 05, 2013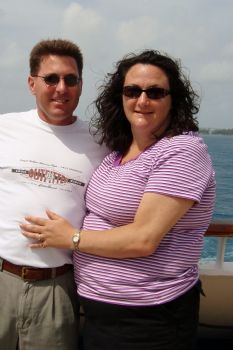 (Near my 231.5-pound max.)

At 231.5 pounds, the heaviest I'd ever been in my entire life, I was a big girl. I knew I was big. But as big as I was, I don't think I saw myself as being THAT big.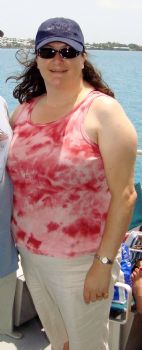 (Near my 231.5-pound max.)

(How could that be?!) No matter what my mind thought, I was having trouble breathing while seated, because my stomach fat was pressing up on my lungs. In addition, I thought a thinner me might have better luck at finding a job. I started eating more healthfully and exercising (45-60 minutes a day, five times a week), but progress was slow. The more I exercised, the hungrier I was, the more I ate, the less weight I lost. I was frustrated.

In March 2010, still at 228 pounds, I joined SparkPeople and immediately started reading articles and blog posts. I joined a few groups and started writing my own blog posts. I used the nutrition and fitness trackers. I learned about portion control and about daily caloric ranges. The very first week I saw results. From there, I made a slow, but consisted progression downward. Until April 2011 when I found out that I would be moving to England.

My weight slowly crept back up between April and December 2011. I was stressed and busy finish up at my job, then visiting friends and family all over the United States before my move, then packing and moving, then adjusting to a new country and all its wonderful and delicious new foods that I had to try (every single last one of them!).

One year ago, on the first of January 2012, I weighed 194.5 pounds.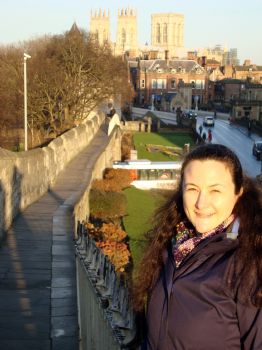 (January 2012 at 194.5 pounds)

With a goal weight of 163 pounds (65 pound loss from my 8 March 2010 start date on SparkPeople), I had a ways to go. I rededicated myself to my weight-loss efforts, resolving to reach my goal weight by the end of the year.

I recall the first 8 months of the year as being a slow struggle to lose weight. I ate well, was mindful of portion sizes and calorie counts, and exercised regularly; but I was leaning too much, once again, on food for comfort. I found that each bout of emotional eating set me back, undoing so much of my positive efforts. This led to frustration at my seeming inability to control myself and disappointment in my progress.

In September, I was becoming disillusioned about my ability to reach my goal weight by the end of the year. After all, I'd lost only 13 pounds in over eight months. A loss is better than a gain or even than staying at the same weight, but how was I going to lose 18.5 pounds in four months when I lost only 13 pounds in eight?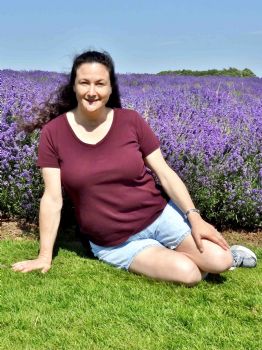 (September 2012 at about 181.5 pounds)

Then something amazing happened.

I was walking on the treadmill at my gym thinking that what I needed was a weight-loss mentor. Someone who was an expert and could offer me guidance. Someone who could show me what I was doing wrong and guide me to a better way. Just as I was thinking this, one of the personal trainers at my gym came up to me (mind you, while I was still walking on the treadmill) and asked me whether I was taking advantage of what they gym had to offer to reach my health and fitness goals. I told him about my challenges and he replied that he actually worked successfully with clients with similar issues. At this point I didn't really believe in the benefits of a personal trainer, because I was self-motivated and knowledgeable about exercise and fitness equipment. I had also tried working with a personal trainer twice before (3 sessions with each trainer), but both trainers worked me so hard that I ended up almost passing out. BUT I had just mentally asked for a mentor so I thought the least I could do was listen to what he had to offer.

A few days later, after hearing about the science behind his program and about the great results some of his clients had achieved, I signed up for five weeks of diet menus, an exercise plan, and personal training sessions (one per week). After the five weeks, I had all the knowledge I needed to continue on my own, but I had such good results (almost 10 pounds down) that I ended up signing back on for an additional 10 weeks.

While working with my personal trainer, I learned new and effective exercises, received diet guidance, including evaluation and menu adjustments, as needed, and discussed diet and exercise struggles, which resulted in a lot of mental-barrier breakthroughs. In 15 weeks, I lost over 22 pounds. Not as much as we'd predicted, but I had to be happy as the time frame included Thanksgiving and a trip to Belgium (think Belgian waffle topped with melted Belgian chocolate and whipped cream! Okay, not a good idea. Think carrot sticks!). In addition to the weight loss and mental-barrier breakthroughs, I also discovered a way of eating based on glycemic load that completely eliminated all my cravings, allowing me to eat real food when I was actually hungry and to avoid emotional eating. This truly was a life-changing development!

By year's end, not only had I reached my goal weight, but I'd surpassed it! I lost 33 pounds in 2012 and rang in the New Year at 161.5 pounds! Instead of losing a total of 65 pounds since starting on SparkPeople, I lost a total of 70 pounds since I started my weight-loss journey. Amazing!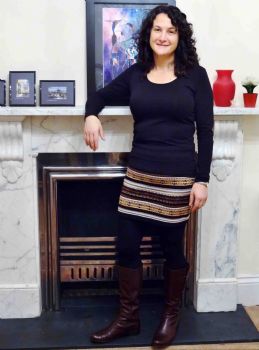 (November 30, 2012, at 164.5)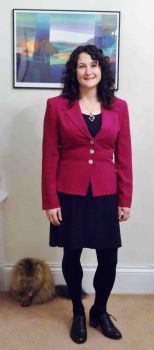 (November 30, 2012, at 164.5)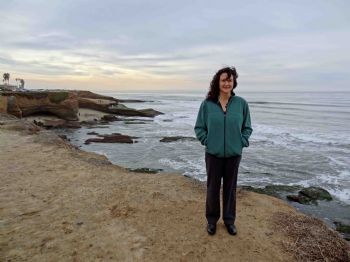 (Christmas Day 2012 at 161.5)

Although I gained so much from working with my personal trainer (who is always motivating and never degrading), I spend only one hour a week with him. The rest of the time I am on my own, so I still find myself logging in regularly to SparkPeople for motivation, information, and support. My trainer, SparkPeople, and SparkPeople's people were all instrumental in 2012's weight loss success. So, thank you!!!!

Even though I'm below my goal weight, which had been chosen somewhat arbitrarily, I know that I want to lose more weight, because I'm still carrying too much fat on my abdomen and back. But I'm feeling very positive about the process and can continue eating as I am doing well into the future. I don't know what weight is best for me, so I've decided to set 5-pound weight loss goals, reevaluating as I go, until I'm at a weight where I look and feel my best.

Year-end goal for 2013: Reach the ideal weight for my body where I look and feel my best.






Wednesday, March 14, 2012
I really can't believe it myself!

First, I haven't been able to do the splits since I participated in gymnastics in my youth.

Second, this was a goal of mine for the year. It's only March!

I've slowly been increasing my flexibility because of my regular yoga practice. Today, I felt particularly limber and thought I'd give the splits a try just to see how much farther I needed to go. Turns out that I could do a full side split on both sides. Woohoo!!!!! (I never have been able to do a middle split...maybe that should be my next goal.)

I am so PROUD of myself.







Monday, February 06, 2012
Today I read the perfect quote painted on the wall at the gym:
Motivation is what gets you started. Habit is what keeps you going.

What a great quote. The trick is to get to the point where you don't even have to think about it. Because if thinking is involved, choices may be considered. Then decisions are made, not always in the right direction.

This morning, as usual, I woke up in time to make my Body Balance class, but when I did I SOOO wanted to pull the covers over my head and go back to sleep. I have a standing appointment with myself. I should keep it. Then I thought about how good I feel after taking that class. Getting out of bed wasn't quite so difficult then.

At that point it occurred to me, my life has always been a struggle, a battle between me, myself, and I. Every thing, even simple tasks, required coaxing and cajoling. I never realized that others didn't struggle like I did. I never knew that others didn't have a wet blanket over every day of their lives. But I guess that's the difference between minds with untreated depression and "normal" minds.

Last night it occurred to me how "normal" I feel since finding the proper medication. I realized that I'm not the same person I always thought I was. Everything does not have to be a struggle. I don't need to constantly push and push myself to get things done. I can just make a list and cross one thing off at a time. I need to stop thinking like the old me and embrace the new me.

My first step this morning was a huge success! I got out of bed, ate a nutritious breakfast. Got dressed and out the door on time. Took my class, then did my first day of 5K training on the treadmill. Now, I'm back home and ready for my next project.





Monday, January 02, 2012
2012: Day 1 – 194.5 lbs

My goals for this year are to write a book and reach my goal weight. Big goals, I know, but absolutely doable if I keep focused on the ultimate prize: accomplishment of goals that truly matter to me.

To write a book, my first short-term goals are:
- read my book on outlining, and
- read or write for one hour per day.

To reach my goal weight, my first short-term goals are:
- work out five times per week, preferably at the gym (to take advantage of my membership and to get out of the house),
- drink 8 cups of non-caffeinated beverages,
- be mindful of portion control,
- eat when hungry, and
- eat as "cleanly" as possible.

To work out regularly, it would be very helpful if I could wake up by 8 am each day.

To do this and not be tired all day, I plan to get to bed by midnight. This may be the most difficult, but also the most necessary if I want to accomplish my larger goals. To facilitate sleep earlier, I plan to finish chores by 11:30pm so that I can have half an hour to relax before bed.

I know that I will not be perfect. I expect that I will fall short on occasion, but failure is not measured in a day. It is measured at the end of the year when goals are met or not. 2011, 2010, and 2009, all difficult years, are behind me. They are over. No more dwelling. Focus on today. Start fresh every tomorrow. You can do it! I know you can.





Tuesday, May 17, 2011
I can't believe it's been almost two months since I posted a blog. I could say that it's been because I'm really busy, but the truth is that I've been pretty depressed and just didn't want to be a total bummer. Turns out that I wasn't just pretty depressed...I was clinically depressed. Life really took a toll on me these last two years, but I'm working my way out and am already feeling a lot better. Hopefully, I'll feel up to posting regularly again. We shall see.

I have not lost weight, but I am very happy to be maintaining. By maintaining I mean that I keep gaining and losing the same pound or two over and over, but I'm keeping within a very small range so that is very good. I hope to exercise more once I stop working. That's right! I finally got a paying job (it's full-time temporary), but just in time for me to leave it, because I am moving to England in about three months. Yay!



I'm really excited (and a bit scared). There's so much that needs to be done to get ready for the move, including finishing up at work...the sooner I finish my two final projects the sooner I can stop working and start focusing on the move and my health again. I also hope to have a bit more time to dedicate to SparkPeople. I miss my Peeps!

I hope you are doing well, feeling well, and enjoying spring!









First Page
1
2 3 4 5 6 7 8 9 10 11 12 13 14 15 16 17 18 19 20 21 22 23 24 Last Page

Get An Email Alert Each Time SHERRYLHBB Posts