| | |
| --- | --- |
| | SHERRYLHBB's Recent Blog Entries |


Tuesday, March 19, 2013
How many times have I started a diet saying, ďThis time itís going to be different. Iím going to lose the weight and THIS time Iím going to keep it off.Ē Well, I can honestly say that Iíve said that every time Iíve ever gone on a diet, including this time.

So why do I think this time really IS going to be different? Because, for the first time, Iím not on a diet just to lose weight. This time itís not about the calories; itís about being and feeling healthy.

On past diets, I followed the philosophy of ďin order to lose weight, calories in must be less than calories burned.Ē Sounds pretty straightforward as far as a weight-loss strategy is concerned, but it allowed for too much wiggle room. I can be very dedicated and strong-willed to my diet-du-jour. In every case that I can remember I did eventually reach my goal weight (only to eventually put it all back on again and then some). However, willpower only works for so long when confronted regularly with circumstances requiring willpower. At some point the sadness or frustration or anxiety or boredom would overpower my dwindling willpower reserves and Iíd rationalize that I could eat some [enter yummy calorie-laden food item here] as long as I exercised more to burn off the extra calories I consumed. I was even pretty good about following through with my plan, at least at first, but at some point calories in was not less than or even equal to calories out.

Since learning that my body cannot tolerate much sugar/concentrated fast-release carbohydrates, I have discovered that all the exercise in the world may burn off calories but wonít rid me of the negative physical and mental effects of too many carbs. I know now that if I eat a little bit too much Iíll probably start feeling agitated and possibly irritable and quite possibly a little acid stomach-y. I may or may not have cravings to contend with on the following day. However, if I give in to those cravings or really overindulge I begin to feel really lousy physically, mentally, and emotionally. In other words, I will start to feel as lousy as I used to feel for most of the years of my life. I now know what it feels like to have a body in balance. I like feeling this way. I donít like feeling like a slave to carbohydrates (not all carbs, just sugar and dense carbs like potatoes, pasta, rice, and bread).

So thatís how I know this time really IS different. Since starting this diet, Iíve ďgone off the wagonĒ twice (not including the occasional indulgence, but only the two really gung-ho carb-o-ramas). During those two episodes, I suffered intense cravings and binge-like behavior several days running (because of a string of ďspecial occasionsĒ and not, thankfully, depression or some other negative reason). But each time I recognized how lousy it all made me feel, so I recommitted to eating healthful foods that work with my bodyís chemistry and not against it. Each time that I recommitted Iíve felt so much better Now, I generally try to choose foods for their nutritional content and not based solely on calorie count. I finally understand when people talk about food being fuel for the body. That doesnít mean that food canít also taste great and be very satisfying, but that it is nutritious first and foremost.

I finally feel in control of my food as opposed to how I used to feel for so many years of my life. I now appreciate the drug-like effects certain foods can have on me. Even so, I still have the occasional ďtreat,Ē but try to limit portions and frequency so as not to trigger cravings or other nasty side effects.

In the past, as many times as I said, ďThis time is different,Ē Iíd been doing the same as before, but expecting different results stemming from optimism and new-found determination. But optimism and determination eventually disappeared as did my hard-fought weight loss. Now, my relationship with food is so very different from before. This time itís not about optimism or determination or even willpower. Itís about taking care of me. My mind is no longer at war with my body. Body and mind have joined forces at last. That is how I KNOW this time really is different.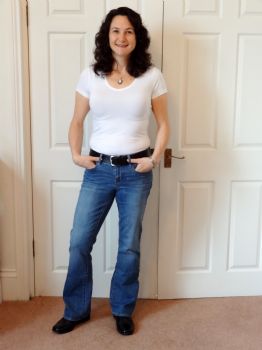 Me at 153 lbs on March 8, 2013.





Thursday, February 21, 2013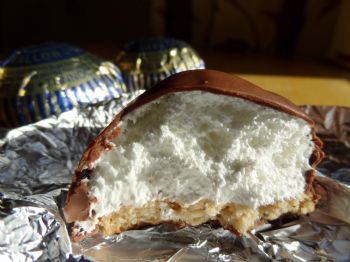 Just last week I was approaching the 80-pounds lost mark, bumping up to it, actually, when I went off the rails and gained three pounds in the past week. Granted, some of that weight is probably water retention, but itís not the total weight gain or even any weight gain that is troubling. What scares me is how I got here.

I learned that for me to have any control of my weight I have to control my cravings. When I crave, I constantly think about food, particularly sweet foods, and can only be strong for so long, usually caving when overly stressed, frustrated, or sad. I struggled with the cravings beast for years, thinking I lacked willpower, thinking I was weak to obsess over food day in and day out. I also felt agitated on a regular basis. I would feel uncomfortable in social situations and mentally review, blow-by-blow, all the wrong things I said or did. I felt socially inept and anxious and thought it was another character flaw confirming how weak and worthless I already knew I was. I was depressed* for most of my life, running on an emotional roller coaster with the troughs being the norm. No matter how hard I tried, I just couldnít seem to get control of my internal life. What I never knew, from puberty until last year, was that NONE OF IT WAS MY FAULT!!!

I learned that, for me, sugar is a drug and all those nasty mental struggles were primarily side effects of a diet far too high in easily digestible carbohydrates. I know this might sound crazy, but what if I told you that all of that nastiness virtually vanished (along with a lot of weight) when I gave up certain foods?

My discovery came about when I modified my diet to, hopefully, speed up weight loss. I had a very strong desire to eat junk food every evening after dinner and, generally, to have something sweet with my afternoon coffee. I knew that all my efforts during the day were not going to add up to much if I ate back the calories in the evening. Although I was tracking my food and staying within my daily calorie range on most days, on the days I gave in to my cravings I could easily eat over my cumulative calorie range for the week. To put a stop to this forward-backward progress, I decided that I should set aside the idea of eating sweets in moderation and see if I could more easily stay within my calorie range over the long term by making a black-and-white rule to not eat any sugary foods like cake, candy, ice cream, pastries, etc. No meant No. No slippery slope. No decision-making. No sweets, period!

It was incredibly hard to stick with my plan. I suffered cravings something fierce. But black-and-white doesnít allow for grey, so I endured and found that my cravings lessened and eventually subsided. On one warm evening, my husband wanted a Magnum ice cream bar. I love those. I had been craving-free for weeks. I thought I could handle eating one little treat so I joined my husband and happily had one delicious ice cream bar. The next day I had to fight sugar cravings all day. By the next day I felt better again, but learned a lesson. A few moments of sensory delight just wasnít worth feeling lousy and mentally obsessed all the next day. My body obviously could not handle junk food. So I returned to my ďNo means NoĒ policy and got right back on track.

Strangely, I still wasnít losing much weight. I think I was making up for the ďmissingĒ calories by eating more carb-rich foods like pasta, potatoes, and breads. I was eating within my calorie range consistently, but weight loss was very slow. At least it was finally headed in the right direction, though. But better than finally being on a downward trend weight-wise, was the alleviation of so many other ďsymptoms.Ē My agitation and, hence, my ďanxietyĒ was greatly reduced. My mood swings seemed to be less dramatic and less frequent. My self-defeating self-talk was not nearly as prominent. Best of all, my cravings for food were very low. I was no longer obsessing over food 24/7. I barely recognized my internal self. I wondered which parts of ďmeĒ really were me and which were driven by the effects of certain foods.

My weight loss stepped up and my other symptoms improved even more when I eliminated carb-dense foods such as bread, pasta, and potatoes from my diet. (More on my diet specifics in a later post). At that point I also noticed that I had no cravings and very little appetite. My appetite only arose when I felt genuine hunger. At other times I really had no interest in food other than knowing intellectually that it would taste good if I did eat it. Without the cravings beast it was easy for me to choose health and a slimmer body over eating food for recreation. No willpower required.

So now to this past week. It started on Valentineís Day. My husband and I had cake and ice cream after dinner. It was super yummy, of course. The next day we went on an out-of-town trip for four days. Being out of my routine and facing tempting foods while suffering post-deliciousness cravings, I ate fries (x2), hash browns (x3), baked potatoes, toast with jam (x3), cookies (x?), ice cream, candy (x2), chocolates (x4), alcoholic cider (x2), scones with jam and clotted cream (x2), sugared tea, fudge (x2), a meringue, barbeque sauce coated ribs, and onion rings (along with other good food choices). I was beyond obsessed with food. I couldnít seem to control myself. The cravings were so strong and so constant by the end of the trip that I suffered from cravings for several days after returning home.

The strength of the cravings was not just from eating the initial cake and ice cream. Although I did crave after that, it was giving in to those cravings that caused stronger cravings, which set up a vicious cycle that I gave in to (giving myself mental permission, at first, with the excuse that I was on vacation, deserved it because I had already lost a lot of weight, and would get back on track after returning home).

On my third day home I am finally not craving sweets and feel like my new-old self again. The last few days have been REALLY hard. But I learned a few good lessons. My body still canít handle sweets, so ďNoĒ must still mean ďNo.Ē Eating junk is NOT worth the suffering it causes both in weight gain and in feeling lousy mentally and physically. Oh, did I mention that mental symptoms such as food obsession, anxiety, agitation, irritability, depression, self-doubt, and negative self-talk all reared back with a vengeance? By the end of the trip I was a grouchy, irritable, pouty mess. My poor, poor, patient husband. At one point he even pleaded with me not to keep eating cookies, telling me I didnít really want them, but I really, really did. I caved and he gave up trying to reason with my cravings beast. Now that I am once again out of the clutches of the food fog I really canít believe how truly compelled I was to eat and eat and eat.

Willpower? More of it would only help until cravings get to be too much. But eliminating the need for willpower? That makes all the difference. Without cravings, I feel sane again.


* I had under- or untreated depression since puberty, but was put on effective antidepressant medication mid-2011. Although generally effective, too much sugar can override the anti-depressive effects, leaving me feeling very low emotionally.






Wednesday, February 06, 2013
I cannot believe the responses that I have received from my last blog post. I am overwhelmed in a very good way! I knew SparkPeople is a community of supportive and generous people, but I was still bowled over by the incredible amount of support, encouragement, and warmth that Iíve received from so many of you. Sparkers are truly incredible people. I hope to respond to many of you, but given the large response it might take a bit. But please know that I appreciate each and every comment, SparkGoodie, and email.

A number of people have asked me to share something about my diet and exercise plan that helped me to achieve the weight loss I have so far. Iím planning on writing several blog posts about some of the components that I found to be very beneficial to me. This first one is about my exercise schedule.




If you read my previous post, then you know that Iíve been working with a personal trainer since September 2012. Before working with my trainer, I had been exercising four to five days a week, often for several hours a day (back-to-back hour-long exercise classes or a class followed by an hour on the treadmill). I didnít spend any time on the weights, because I wanted to burn calories and that meant cardio, right? Wrong.

My trainer explained to me that high-intensity or long-duration training has its place, for instance training for specific athletic events, but such exercise can be counterproductive to weight loss because when the body is stressed it releases stress hormones, which can interfere with a bodyís ability to lose weight.

My trainer started me on a program to do cardio and weights three times a week for one hour total each day. I am to warm up for ten minutes (either treadmill, elliptical, rowing machine, or cycle), then do 20 minutes of cardio (same), followed by 20 minutes of weight-bearing exercises (which vary day to day and week to week, often focusing on activating as many muscle groups as possible simultaneously such as walking lunges while moving an overhead medicine ball from side to side or doing squats while balancing on a BOSU ball and moving a medicine ball on a diagonal, twisting side to side), followed by five minutes of cardio on a different machine, and then, finally, five minutes of stretching. On the other days of the week, Iím supposed to take long, vigorous walks or other activities that get the heart rate up. And, besides regular living, thatís it.

The weight training is important for muscle tone, endurance, and strength, but also for building muscle, because muscle keeps the metabolism up thereby burning more calories throughout the day. Cardio is good for burning calories immediately and for keeping the cardiovascular system strong and healthy.

So Iíve shared with you the ideal. The truth is that Iíve hardly been to the gym in over a month, because I was suffering from a severe cold for weeks. Over a one-month period, which included Christmas, a trip to California for five days, and becoming one with a Lay-Z-Boy as I recovered from my nasty cold, I lost six pounds. How was this possible? Because I was still eating according to my diet guidelines (with a few exceptions, such as Christmas when I ate what everyone else was eating just in small portions). You may argue that I lost muscle, and you might be right, but I know I lost fat by sight, feel, and measurements.

My trainer says it and that month confirmed it for me: weight loss is 80% diet and 20% exercise. If you exercise more but donít adapt your diet, then you may just increase your calorie consumption to match the extra calories burned. On the other hand, if you control your diet and you exercise, each additional calorie burned is one less calorie you have to carry around on your body.

Not exercising is not ideal, but if you canít exercise much or even at all for a period of time, as I couldnít for over a month, donít despair. A lot can be achieved by eating a healthy diet alone.

That being said, I missed my gym sessions while I was recovering. I missed the feeling of strength and achievement, growing confidence, and pride for following through with something that I know is good for me. Iím just getting back to the gym on a regular basis, which feels really good. I like to think that my exercise efforts are helping me to lose weight, but now I understand that weight loss can be achieved independent of my exercise efforts and that exercise is important for the physical and mental benefits regardless of whether or not weight loss is a result.

As a parting note, I want to be clear that this is my experience and what has worked for me while under the watchful eye of my personal trainer who corrects my form regularly. Also, I am writing from memory and, although I believe all that Iíve written is correct, please make sure that whatever exercise you do is right for you.







Saturday, January 05, 2013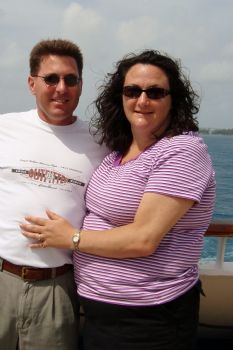 (Near my 231.5-pound max.)

At 231.5 pounds, the heaviest Iíd ever been in my entire life, I was a big girl. I knew I was big. But as big as I was, I donít think I saw myself as being THAT big.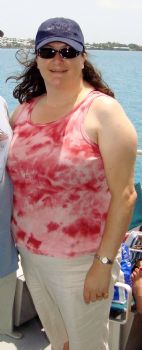 (Near my 231.5-pound max.)

(How could that be?!) No matter what my mind thought, I was having trouble breathing while seated, because my stomach fat was pressing up on my lungs. In addition, I thought a thinner me might have better luck at finding a job. I started eating more healthfully and exercising (45-60 minutes a day, five times a week), but progress was slow. The more I exercised, the hungrier I was, the more I ate, the less weight I lost. I was frustrated.

In March 2010, still at 228 pounds, I joined SparkPeople and immediately started reading articles and blog posts. I joined a few groups and started writing my own blog posts. I used the nutrition and fitness trackers. I learned about portion control and about daily caloric ranges. The very first week I saw results. From there, I made a slow, but consisted progression downward. Until April 2011 when I found out that I would be moving to England.

My weight slowly crept back up between April and December 2011. I was stressed and busy finish up at my job, then visiting friends and family all over the United States before my move, then packing and moving, then adjusting to a new country and all its wonderful and delicious new foods that I had to try (every single last one of them!).

One year ago, on the first of January 2012, I weighed 194.5 pounds.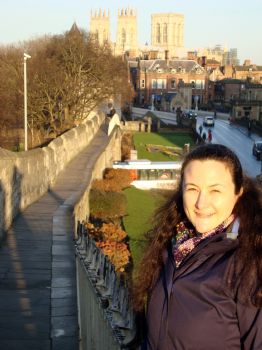 (January 2012 at 194.5 pounds)

With a goal weight of 163 pounds (65 pound loss from my 8 March 2010 start date on SparkPeople), I had a ways to go. I rededicated myself to my weight-loss efforts, resolving to reach my goal weight by the end of the year.

I recall the first 8 months of the year as being a slow struggle to lose weight. I ate well, was mindful of portion sizes and calorie counts, and exercised regularly; but I was leaning too much, once again, on food for comfort. I found that each bout of emotional eating set me back, undoing so much of my positive efforts. This led to frustration at my seeming inability to control myself and disappointment in my progress.

In September, I was becoming disillusioned about my ability to reach my goal weight by the end of the year. After all, Iíd lost only 13 pounds in over eight months. A loss is better than a gain or even than staying at the same weight, but how was I going to lose 18.5 pounds in four months when I lost only 13 pounds in eight?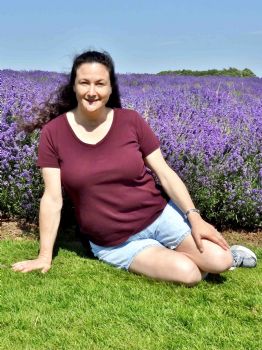 (September 2012 at about 181.5 pounds)

Then something amazing happened.

I was walking on the treadmill at my gym thinking that what I needed was a weight-loss mentor. Someone who was an expert and could offer me guidance. Someone who could show me what I was doing wrong and guide me to a better way. Just as I was thinking this, one of the personal trainers at my gym came up to me (mind you, while I was still walking on the treadmill) and asked me whether I was taking advantage of what they gym had to offer to reach my health and fitness goals. I told him about my challenges and he replied that he actually worked successfully with clients with similar issues. At this point I didnít really believe in the benefits of a personal trainer, because I was self-motivated and knowledgeable about exercise and fitness equipment. I had also tried working with a personal trainer twice before (3 sessions with each trainer), but both trainers worked me so hard that I ended up almost passing out. BUT I had just mentally asked for a mentor so I thought the least I could do was listen to what he had to offer.

A few days later, after hearing about the science behind his program and about the great results some of his clients had achieved, I signed up for five weeks of diet menus, an exercise plan, and personal training sessions (one per week). After the five weeks, I had all the knowledge I needed to continue on my own, but I had such good results (almost 10 pounds down) that I ended up signing back on for an additional 10 weeks.

While working with my personal trainer, I learned new and effective exercises, received diet guidance, including evaluation and menu adjustments, as needed, and discussed diet and exercise struggles, which resulted in a lot of mental-barrier breakthroughs. In 15 weeks, I lost over 22 pounds. Not as much as weíd predicted, but I had to be happy as the time frame included Thanksgiving and a trip to Belgium (think Belgian waffle topped with melted Belgian chocolate and whipped cream! Okay, not a good idea. Think carrot sticks!). In addition to the weight loss and mental-barrier breakthroughs, I also discovered a way of eating based on glycemic load that completely eliminated all my cravings, allowing me to eat real food when I was actually hungry and to avoid emotional eating. This truly was a life-changing development!

By yearís end, not only had I reached my goal weight, but Iíd surpassed it! I lost 33 pounds in 2012 and rang in the New Year at 161.5 pounds! Instead of losing a total of 65 pounds since starting on SparkPeople, I lost a total of 70 pounds since I started my weight-loss journey. Amazing!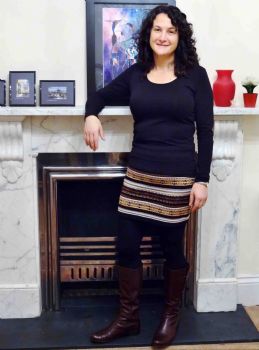 (November 30, 2012, at 164.5)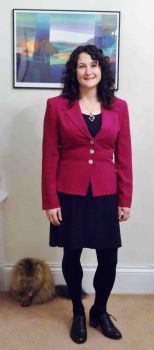 (November 30, 2012, at 164.5)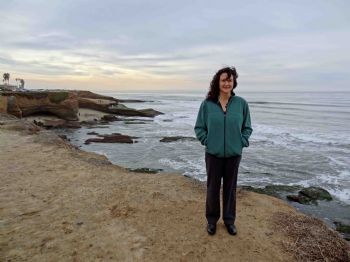 (Christmas Day 2012 at 161.5)

Although I gained so much from working with my personal trainer (who is always motivating and never degrading), I spend only one hour a week with him. The rest of the time I am on my own, so I still find myself logging in regularly to SparkPeople for motivation, information, and support. My trainer, SparkPeople, and SparkPeople's people were all instrumental in 2012's weight loss success. So, thank you!!!!

Even though Iím below my goal weight, which had been chosen somewhat arbitrarily, I know that I want to lose more weight, because Iím still carrying too much fat on my abdomen and back. But Iím feeling very positive about the process and can continue eating as I am doing well into the future. I donít know what weight is best for me, so Iíve decided to set 5-pound weight loss goals, reevaluating as I go, until Iím at a weight where I look and feel my best.

Year-end goal for 2013: Reach the ideal weight for my body where I look and feel my best.






Wednesday, March 14, 2012
I really can't believe it myself!

First, I haven't been able to do the splits since I participated in gymnastics in my youth.

Second, this was a goal of mine for the year. It's only March!

I've slowly been increasing my flexibility because of my regular yoga practice. Today, I felt particularly limber and thought I'd give the splits a try just to see how much farther I needed to go. Turns out that I could do a full side split on both sides. Woohoo!!!!! (I never have been able to do a middle split...maybe that should be my next goal.)

I am so PROUD of myself.





1 2 3 4 5 6 7 8 9 10 11 12 13 14 15 16 17 18 19 20 21 22 23 24 Last Page

Get An Email Alert Each Time SHERRYLHBB Posts