| | |
| --- | --- |
| | SHELLE13's Recent Blog Entries |


Tuesday, June 11, 2013
My leader made a really good connection this week...about brain wiring.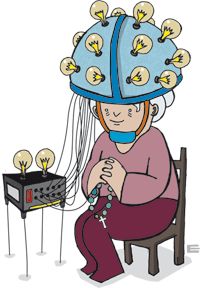 We have this old wiring that has patterns that helped us get to the weight we are at. This wiring is our old patterns, the unhealthy patterns that may cause us to overeat, to say we will start tomorrow, to throw in the towel because we already screwed up.

Then, we have this other wiring. This new wiring that we are trying to learn. Healthy wiring that includes tracking our food, making nutritious choices, exercising, using positive self talk and eating mindfully. This new wiring is new, so it hasn't quite become a pattern or habit yet. Because of that, this new wiring is very fragile, at any moment it can be overcome by our old wiring, the wiring that is easy to fall back into, our old habits.

What was interesting is that if you do not stay aware, even if you lost your weight 10 years ago, that old wiring can easily take over the newer wiring, cause you to go back up again. This is why so many of us have lost, then we think we got it and a few years (or a few months) later, the weight is back. Being mindful and aware of how we are wired, what our old wiring is and what we are working on for new wiring is important. It is also crucial that we wake up every morning and renew this commitment to new wiring.

Out of curiosity...can you relate to this? What causes your wiring to move from new to old? How do you get back on track? I think it would be interesting to see others responses because I really believe that there any many things that can affect this and that it often happens when we aren't paying attention...thoughts?




Sunday, June 09, 2013
I have spent the last week in Vegas for work. I am super tired, just drove home and got here about 8pm. I need to put myself to bed shortly.

Well...lastSunday, I went and got my food to eat clean all week and forgot I had to go to Vegas! Argh! Well, I packed a cooler with chicken, veggies and fruit before I left for Vegas. I have to say, overall I thought I did pretty well. Unofficially, my scale showed 223.5 before I left. Tomorrow I have my official WW weigh in so you will know soon how it went. Anyhow, I ate very healthy all week, even to my own surprise! I had a fridge and a microwave in my hotel room so that made things really easy and convenient. But, Thursday night, I did order a gluten free pizza from Dominos. I counted every last calorie that day and ended with 1849, not too bad!

On another note...today was a major struggle. I avoided food a gazillion times on the way home. If any of you have ever driven from Vegas to LA, you know there are billboards and fast food joints lining the 4.5 hour drive! And, because I drank a ton of water (it was 113 degrees today!), I had to keep pulling over to use the ladies room. I avoided all temptations, but did stop for lunch/dinner and got a naked burrito bowl (brown rice, black beans, grilled chicken, pico de gallo, lettuce and a little guacamole).

When I got home, all I wanted was sweets! Or, salt! I realized that its almost that TOM and that was probably the reason. I gave myself permission to get what I wanted...I am trying to stop the good/bad food categories in my brain. I ended up with some gf donuts and Cheetos. Yes, I know it's horrible. Its not real food. Believe me I beat myself up already. I got home, I ate a few servings of the Cheetos and then put them aside. I grabbed one of the donuts and ate it , quickly reaching for a second. Normally, this would continue until the box was gone. Of note, gf items are NEVER low calorie! The two donuts I had set me back over 500 calories.

But.

I am happy to report that I stopped there, at two. I didn't allow myself to eat anymore donuts or Cheetos. I know I am going to feel like crud tomorrow because of eating that after doing a week of 85% clean foods. But, I think it will be good to remind my brain, how my body feels when I choose anti-foods.

Before I left Vegas tpday, I went to see the Bodies exhibit at the Luxor (http://www.luxor.com/entertainment/bodies
.aspx). It was really amazing. If you get a chance (and you're not grossed out by anatomy stuff), it is really worthwhile. The exhibit explained all of our bones, systems, muscles, blood, etc. within the body by preserving donated bodies in an innovative way I have never seen before, even as a medical sales rep! Interesting that I just saw this exhibit hours before my mini binge, physically seeing how hard I am making my body work. Yet, I still decided to put (essentially) poison, donuts/Cheetos, into my body.

When I think I have a handle on this, it goes haywire. Why is losing weight tied into the brain, making it so difficult and complicated?!

The positive of today is that I am making progress.

Great things I did today:
1) Drank 2+ liters of water today
2) Had a healthy breakfast and somewhat healthy lunch/dinner
3) I tracked every bit of food that went into my mouth
4) I got just under 8,000 steps without an exercise session. Just doing a little extra here and there.
5) I stopped a binge before it became a massive binge.

Things to work on:
1) Remember that you are what you eat. What you put in your mouth will show on your body, one way or another.
2) Continue positive self talk and try to avoid labeling food good/bad
3) Get more steps in tomorrow, daily goal of 10,000 steps





Tuesday, May 21, 2013
I was almost back on track for 3 days in a row...and yesterday just was terrible! I had a very bad binge day, of which I have not binged like that in about a year. I am frustrated with my job, it's not what I want to be doing, but I have bills and student loans to re-pay. My boss is a micromanger and has litterally told me that "micromanaging works." He has never worked for any one else in his life and doesn't understand the problems that mm causes. Anyhow, it was a rough day and after spending 2 hours on L.A.'s finest freeways, I got a call from my boss that I had to go into the office. It was already past 5:30p. We ended up having a conference call meeting while I was still on the freeway. When I got to the office, he wasn't there. I missed my Zumba class, which I really needed yesterday and by the time I got home, there were no more classes of anything for the night.

I ended up eating my gluten free cookies, the entire container. Then decided I should actually eat a normal dinner...so had some turkey black bean soup. I felt horrible. What did I do? I ate more, 4 popsicles (yes they were low-calorie, but still) and then a handful of pistachios. I felt really horrible before going to bed. I need to learn not to do this. It does not help me in anyway...and over the last few months...I have noticed that food doesn't even make me feel better anymore. So why the heck am I still doing it?!

I think there is also one other thing that is put into play here that I didn't realize until this morning. My new insurance has caused an issue with my prescriptions and Target just changed my birth control pills. That isn't the issue...I just realized that I had missed 3 days of my birth control pills and was greeted with that mistake this morning.

This morning, I don't feel like eating anything. I can't even believe that my stomach is growling, how is that even possible?! Anyways....I am going to make a healthy lunch (sandwich, apple, carrots and a banana for a snack) and I think I will just take a banana with me for breakfast. I have to be out in the field today, so I don't want to be left with the easy drive-thru option. I think I will also stop and get some coffee this morning.

I just really want to end this horrible cycle once and for all. I really think that I need to take sugar and sugar substitutes out of my diet. They make me crazy and I think they are contributing to my cravings. I am considering doing a Clean-eating program, since I am already Gluten Free... I was recommended the Eat-Clean Diet Recharged by Tosca Reno.

Has anybody been doing clean eating? Has it helped you? What recommendations or tips do you have? Would love to hear your thoughts and feedback!

Thanks!

Kristi~





Wednesday, May 15, 2013
I turned 35 on Monday. I was a little worried about it...I never had an issue with 20 or 30, but the years with a "5" in it always seem to wig me out. 25 was tough, now looking back on it...I kinda feel like what was I thinking?!

But...at the same time...25 was hard for the same reasons that 35 was hard this year. I am not where I thought I would be in life. Yes, I did let go of the "planning" ideals when I hit 30 and just let things happen. But the two things that were frustrating at 25, are still frustrating at 35.

For those of you that follow this blog, I'm sure you already know what I am going to say. My weight. I am still struggling with my weight. Even at 15 years old, I wasn't happy with my weight. Yes, I was dancing much more, about 20 hours a week and I was on Cheer. But, I was still carrying weight. I was about 188 in high school, a size 14. I didn't really self-sabotage at 15, but overate often, then diet, then overeat. It was a cycle or pattern. However, I didn't lose the weight at 15, nor at 25 and now I find myself at 35 and still struggling.

I truly believe that weight is a symptom of something else that is going on inside us. I know for me that is 100% true. I have never really been self-confident or had a positive self-image...I tried to fake it and it's a hard thing to fake. Especially being in sales! I think once I have a little faith in myself, I can start turning this around...but I get spooked and self-sabotage. I don't want to, but it happens. I have more or less figured out WHY I am doing this....and it relates to something that happened to me a few years ago. I am choosing to keep that private for the moment because I still haven't figured it out totally in my head and it is still very painful for me.

The other thing I really expected at 25, was to be married or at least in a long-term relationship. That didn't happen at 25 or 35. Again, I think a lot of this is tied into my weight and my self perception. And...the fact that the guys that I have allowed into my life were terrible for me. Looking back, I now realize that a lot of the guys I have dated haven't been right for me because they needed me for something, but there was nothing I needed from them. When I say needed, I am referring to emotional needs, lots of "mother" issues with these guys and I often fall into the mother hen type of girl when people need me. If they tried to use me for money, I immediately dropped that guy. Fortunately, that's only happened once.

Looking at the larger scope, I need to realize that I want to be with someone who "wants" to be with me and not someone who "needs" me for something. I guess it's hard for me to gauge that because my head just keeps thinking, "Well, who would want to be with me? I'm fat." I need to realize and truly understand that I am MORE than my weight. It's not going to be an easy thing to overcome since I have told myself this for so many years. I know it in my head though...now, I just need to teach my heart to learn and accept it too.

Needless to say, this past week has been difficult because it really did get me thinking about these two things. These are my road blocks. I am thinking...the best thing I can give myself this year is to learn how to get over these hurdles, and no matter what, accept and love myself unconditionally.






Tuesday, April 30, 2013
I thought I would be able to drop about 10 pounds before my birthday....I am about 2 pounds down. I turn 35 in 13 days and that means that I will have been trying to lose weight for 26 years now! Ugh! I really hate that it has been this long and I am still trying to work my way through this.

So, I tried out for Biggest Loser last year and didn't get a call back. I had people staring me down and telling me I wasn't fat enough for the show. Of course, it wasn't the show people, but other people in line.

I am considering trying out again this Saturday since they are holding auditions about an hour from my house. I was also thinking of making a video because the auditions are only about 20 seconds long and I might have a better shot with a video than the audition...I am not sure. Maybe both???

In a way, I am a little uncomfortable about weighing in on a huge scale in front of the nation on TV, but at the same time, I am much more uncomfortable in the body I am in right now. What makes me nuts is I know what to do, but I am not doing it. I can exercise and I enjoy it, but I am not consistent. I eat healthy most of the day, but at night I have my biggest struggles. I even opted to not get cable after I moved so I wouldn't eat in front of the TV...which I have to say has worked. But I am watching a few shows online. However, my TV time has decreased from about 3-4 hours a day to about an hour a day, 3 days a week.

I just really don't want to begin my second half of life in an overweight, unhealthy body.



First Page
1
2
3
4
5
6
7 8 9 10 11 12 13 14 15 16 17 18 19 20 21 22 23 24 25 26 27 28 29 30 31 32 33 34 35 36 37 38 39 40 41 42 43 44 45 46 47 48 49 50 51 52 53 54 55 56 Last Page

Get An Email Alert Each Time SHELLE13 Posts