| | |
| --- | --- |
| | SHELLE13's Recent Blog Entries |


Thursday, April 05, 2012
I have been thinking a lot this week about my ups and downs with weight. I have also been thinking about what I DO know about health, nutrition and the WW program. I came to two conclusions.

1) I know a WHOLE LOT about health, nutrition and the WW program. I can be a leader when it comes to knowledge. LOL!
2) I am being LAZY. I know what to do, I am just not doing it. And, this time around I am not allowing myself excuses. So there is no reason why I can't. I am just not.

That only leaves one possible path for me. To just DO THIS already! I know exactly what to do. And, I know my body better than any leader, friend, family member or even doctor for that matter.

I did find out yesterday, that I have a thyroid issues. My anti-bodies are supposed to be under 35 and they are at 105! So, I am being put on a new prescription and that should help balance me out a little since my hormones are going crazy and causing hair loss, brittle nails, achy joints and weight gain.

Despite all that, I can control some of this weight gain. I know it in my heart. I just need to get off my duff and do what I need to do. I read a great quote this morning....

"You might well remember that nothing can bring you success but yourself." ~Napoleon Hill

Update:
I was starving today! I didn't plan very well. I had to go to Target on my way home to pick up a prescription and I so wanted Robin Eggs! Then I got the shakes...I needed to eat. Felt like I was going to pass out. Considered chips, then a bag of M&M's...but guess what? I bought two low fat string cheese's and ate them in the car, with a bottle of water. When I got home, was still starved. I think I just let myself get too hungry. But, instead of eating a yogurt, then an apple, then almonds, you get the picture. I actually MADE a real dinner! Check out my pic!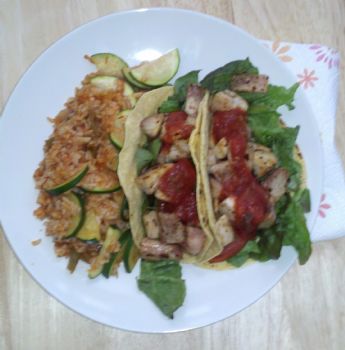 Very proud of myself today. I could have trashed the day so easily with the 30+ ppts bag of Robin Eggs, but I didn't! One win for the brain! Woot woot!




Thursday, March 29, 2012
Yesterday, I went to the doctor for the first time in a long time. She was new to me, as my old doc moved to Sacramento. I needed to have my thyroid checked again as my hair is falling out like you wouldn't believe and both my mom and grandma have Hypothyroidism. I have to pay for my health care out of pocket cause I have a stinky job that doesn't pay for it...so $500 later I realized that I think this was a really important visit for me.

This new doc surprised me. She asked me a lot of questions, she got to know me. She asked what a typical eating day was like for me and I told her. I also told her I do have a problem with sweets and that when it comes down to stress or emotions, that's what I usually grab for. She listened to me and really thought about what could be causing the struggle in my weight loss and the hair loss. I left feeling very good about the visit and I left with a little voice trying to speak up about something...

That little voice...it took me all of last night and this morning to realize what it was trying to say. I need to kick this sugar habit of mine. I need to stop buying the 100 calorie sugar "treats" that I am eating too. This is only going to make me want more sugar and perpetuate a cycle that does no good for my body. I also need to start going back to the gym . It has only been two weeks since I moved and it's time to get that membership upgraded. I am happy to say, I did do the latter yesterday and will be going to my first class tonight! So that's good!

I have a lot of this in my control and I tend to relapse to my bad habits. That cannot happen anymore. Beginning today, I am going to track both my points and calories. I am DONE playing around and going through the dieting roller coaster, that comes with the emotional roller coaster ride. It's exhausting! I just need to learn how to eat right for the rest of my life and not look back as old habits can return so easily. I am deciding right now that this is going to be my new way of life.

New Short Term Goal: Hit 180 by Sept. 29th
New Immediate Goal: Lose 1.5lbs per week or 6 pounds per month and work out at least 30 minutes each day or more





Wednesday, March 21, 2012
This past week has been a week of massive change for me. I moved and no longer have a roommate, my mom had a tummy tuck and today I am back on track.

I was a little mad at my mom for getting the tummy tuck. She had lap band surgery about 4years ago, but has gained back 20-30 pounds. I am not sure the exact amount gained back because she keeps fudging the numbers. But, she tried to convince me that she had loose skin...when in fact, her stomach looked like mine, no loose skin just tissue.

She had gotten down to a size 10, but is now a size 14. Now, the reason I was upset with her is that my mom lost this weight by eating less yes, but she does not eat healthy foods at all. She lives on processed foods and fast food. She was still eating Fritos before the surgery and said they were made from "corn" so it's healthy. It's kinda ridiculous. My mom was the one to get me dieting at 9 (when I wasn't fat) and to this day, even after the tummy tuck...she was talking about doing another fad diet. I went to visit her on Monday to see how she was doing and she was eating ice cream. First she tried to hide it, then she tried to convince me that it was healthy for her because it was gelato. Gelato is healthy she told me because it's not real ice cream.

Anyways...my reason in posting this is not to harp on my mom. She will always be this way, it just makes me upset, concerned and frustrated when she opts to go under the knife instead of learning healthy eating. But...what I have realized is that although I do eat healthy 90% of the time, I also have binge moments and have a really bad addiction to sugar.

I want to lose this weight without surgery or pills...and this was re-confirmed after taking my mom to her surgery and seeing her after the surgery. I know I need to get my thyroid checked again too..and I just made a doctors appt for this Friday. But what I really want is to be a healthy example for my mom. I want her to understand that if you eat healthy, you can lose weight without going to drastic measures, putting yourself at risk by undergoing surgery and scaring the heck out of your family. I also want to win this addiction to sugar. One good thing is that, unlike food, I don't need to eat sugar. Sugar is not required for healthy living and I know once I break my bad habit, I will probably lose weight a little faster.

So today is day 1! I have tracked my food (both points and calories). I am going to my new gym to upgrade my membership and will go to the gym tonight and I will take control of my life and make it everything I wanted it to be in the first place!






Friday, March 02, 2012
I have been struggling. I gained 2lbs last week and I didn't think I did that bad. However, I have had stress higher than I have had in a long time and no sleep. Bad combination for weight loss.

I haven't been posting much, I have just been trying to figure out what is going on with me. Work is still ho hum. I got my check, deposited, paid bills and have about $300 for the next two weeks. That has to pay for groceries too! The living situation is still uncomfortable. My roommate is gone this weekend, thank goodness. I was in the livingroom watching TV, but noticed that I still feel so uncomfortable there. I am back in my room. I have been trying to eat as healthy as possible, but don't really have much of a kitchen to work with when the roommate is here.

What I know is that there is a lot of unsettled, transitional feelings going on here. Money is no help and I am convinced it is the root of all evil whether you are poor or rich. I have been trying to eat my feelings, yes, I know it's bad. But guess what? It doesn't really work anymore. I feel like I am constantly having to re-start my engine and try to get back on track again. The one thing that is standing out more and more as each day passes is that there really is no track for me to put myself on. I don't want to go in the direction that I was going, so I need to build new tracks. I think I know the destination, I am just not sure how to get there. I am trying to figure out how to build that track, but it's not very easy.

Everything seems so difficult right now. I think that's how I know its not right for me. Life is tough to figure out sometimes and I feel so lost. I know I will come out of this, but it is not going to be easy. A year from now, I know that my life will be completely different. I can feel it in my bones. This is a major transition time for me and I know that I have the opportunity to make changes in my life for the better. One day, I will wake up in a beautiful home, be able to buy something without balancing my checkbook first and will be excited to wake up every morning to go to work! I know it will happen and I will look back on this time and be so grateful I made it through this difficult time in my life.

Thank you all for your support throughout the last year...it has helped me so much more than you can imagine and I appreciate every word!





Saturday, February 11, 2012
This past week has been terribly difficult for me. One of my family members is causing havoc on our entire family. I think a lot of it is stemming from that family member's significant other. I haven't been able to sleep well, my hair is falling out by the gobs (so much so I had to put Drano in the shower) and staying OP has been a challenge each and every day. I find myself in tears pretty easily when anyone asks what's wrong...I used to be able to avoid crying, now I can't. I have always been a very strong, independent woman, but this has just tore me apart like nothing else in my life has.

My leader noticed that something was wrong today and she asked me if I was okay. I tried to keep myself together, but my eyes welled up and tears came down my face. My entire life I have take responsibility for things that I didn't do, because I was brought up that way. I was the oldest and always "should have known better." I have unfortunately brought that into my adult life and now I am understanding that you can't take responsibility for other peoples actions just to make everything okay. It's not right and it doesn't resolve anything.

I know there is nothing I did wrong here, even though I am being blamed for a lot I have never done. I know that the things that are happening right now are things that I have nothing to do with and they make absolutely no sense. I know that I am being used as a scapegoat here and I now know that it is easier for some people to blame others for their own problems in life, rather than taking responsibility and being accountable for their own choices in life.

I know now that when I am stretched beyond the stressed point, I want to eat. I am slowly learning to re-train that response. It is not easy. I need to remind myself that the only thing I can fix is myself. I only have choice in the way I choose to handle myself, how I respond to things and what I choose to do with my life. I can't change situations, I can't fix problems...all I can do is do the best I can with what I have.



First Page
1
2
3
4
5
6
7
8
9
10
11
12
13
14
15
16
17
18 19 20 21 22 23 24 25 26 27 28 29 30 31 32 33 34 35 36 37 38 39 40 41 42 43 44 45 46 47 48 49 50 51 52 53 54 55 56 57 Last Page

Get An Email Alert Each Time SHELLE13 Posts