| | |
| --- | --- |
| | SHELLE13's Recent Blog Entries |




Wednesday, September 21, 2011
My friend has been with me for years. At times, she is very helpful. Other times, she is there purely to block me from what I actually need to do. She is a peculiar friend who can often overstay her welcome. I do get frustrated with her from time to time, but have noticed something lately that I never realized before.

She, Procrastination, has been a really close friend of my other friend Diet. Diet and I go way back! We have been best buds since I was 9 years old. I'm not sure why Diet wanted to befriend a 9-year old, but she did. Because my mom was good friends with Diet, I thought, "Well, this Diet must be something good!" Little did I know that Diet would argue constantly with my other friend Self-Esteem. Self-Esteem fought with Diet a lot and it seemed they could never get on the same page. If Diet had won the last argument, Self-Esteem wouldn't show his face. When Self-Esteem won, Diet was out the door. It's so crazy to me why these two couldn't ever be friends. It was really hard for me since I was the one they had in common.

When Diet decided to creep back in again...Procrastination followed. But, I am now seeing with my clear eyes that Procrastination works in two ways. Yes, you know the typical Procrastination and how she can be. But I also noticed that Procrastination had also been secretly blocking me from other things I want in life. She encouraged me when I said things like, "When I am thin, I will be more successful," "When I am skinny, I will find love," "When I can fit into a size 7, I will become a runner," "When I lose this weight, my life will fall into place." Procrastination is a little devil in disguise. Why haven't I noticed this before? Why didn't Diet tell me? They are in cahoots! I just know it!

So, with Diet at bay, Self-Esteem in the wings and Procrastination in full pursuit, I watched the Biggest Loser last night. Yes, I know the show is unrealistic and it's getting repetitive, yada, yada, yada. I like the show, especially in the beginning because those contestants are where I am right now. Somewhere between Week 1 and Week 3, a lightbulb turns on and they seem to kick Procrastination and Diet out the window, welcoming back Self-Esteem. That is what always intrigues me. How did they "get it" all of the sudden and I have been going at this with Diet and Procrastination for like 24 years! And, still haven't gotten it right? What am I doing wrong? How did they make the break and become bff's with Self-Esteem?!

Ding! Lightbulb! I have friends Procrastination and Diet on my shoulder preaching the "shoulds" and I left my friend Self-Esteem about 5 miles behind me on the side of the road. This is the difference. The contestants left Diet and Procrastination down the road and are jogging along with Self-Esteem. What am I thinking?! I picked the wrong friends!

I need to stop allowing myself to believe that everything will be better in life as a thin person. This is not the truth. What is the truth is I will have my health in check, I will have my Self-Esteem in check and my fear about doing a lot of things I want in life will be a little bit less because I won't have to worry about how my weight factors into it. That's it! I am not going to automatically become independently wealthy, fall in love with the perfect man and travel the world just because I lost 80 pounds. That is just ridiculous....

C'mon Self-Esteem, we are leaving these two nut cakes, Diet and Procrastination, behind!





Monday, September 19, 2011
This weekend was jam packed. Friday night had a wedding, then a birthday on Saturday morning then one of my close friends had her baby. Yesterday, I did absolutely nothing. I had a great weekend, except for yesterday.

I am frustrated with my weight and frustrated with my life right now. I am not happy in my job, but the economy does not make it very easy to just move on to something else, especially since I live in L.A. and our unemployment rate just went up to 12.1%. Also, I have been struggling financially. It stinks.

I will say this...I have seen a pattern here. When I struggle financially, my weight goes up. Can we say stress eater?

Last night though...I had a little come to Jesus talk with myself. Basically it came down to this...No one can make my life better but me. No one can change anything in my life or with my body but me. I don't have a fabulous fairy godmother who can wave her wand and make everything okay. It's time for me to step up and face a lot of fears that I have that I have run away from over the years.

The main fears I have...
...Fear of success and fear of failure - Which will get me ONLY stagnation
...Fear of being thin....I don't know any other identity but to be the fat girl
...Fear of making a mess of my life - But, that is better than not living it
...Fear of financial failure - I need to be more frugal with my money and start saving so this fear is not so strong

Life is not easy and weight loss, well in my case, seems to be about everything but weight! I suppose this is why there is no easy cure and no easy way to lose it but to deal with the emotions, triggers, drive, impulses and re-learn how to deal with things in life other than turning to food.

On another note...today is Day 103 - I got up this morning, albeit a little late, but got out and walked for 30 minutes. I do feel better about today.




Wednesday, September 14, 2011
Well, yesterday was okay. I could have made some better choices and used my calories for actual food instead of Gluten Free cookies. But, I tracked it and found myself starving last night. Well, duh Kristi! Cookies are not food! I did eat some carrots with PB and an ounce of mozzarella. I did try to eat an apple first, but cut into 3 of them and they were all icky inside. Had to throw them out.

Last night I set my alarm for 5am. Well, I snoozed until 530a, but I did get up and put on my workout clothes.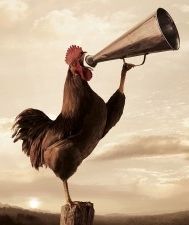 I was going to go to the gym in my complex, but decided...I am just going to go for a walk around my neighborhood. So I did...I was planning on walking 15 minutes out then turning around and coming back for a total of 30 minutes. Well, I walked an hour! I also did a little more than a 5k. I didn't realize I lived in such a hilly place, but I do! This was the first time I walked in my neighborhood....I moved about one month ago or so.

What else is really nice about walking outside? It was really peaceful, despite the traffic, I loved smelling all the different scents from jasmine to fresh coffee to roses, but most of all, I feel happier! It sounds strange, but it was a great way to start my day!

I already know that I will be sore, but oh well!



First Page
1
2
3
4
5
6
7
8
9
10
11
12
13
14
15
16
17
18
19
20
21
22
23
24
25 26 27 28 29 30 31 32 33 34 35 36 37 38 39 40 41 42 43 44 45 46 47 48 49 50 51 52 53 54 55 56 57 Last Page

Get An Email Alert Each Time SHELLE13 Posts