| | |
| --- | --- |
| | SHELBEY74's Recent Blog Entries |


Friday, October 19, 2012
It's amazing when things just sort of fall into place. I bought a FitBit about four months ago and I've been wearing it pretty consistently. Up until two months ago, I hadn't made any adjustments to my eating. At the beginning of September I began tracking EVERYTHING. If it went in my mouth, I put it in SP. At the end of the day, I entered the numbers in the FitBit food log (100 Calorie food was my most commonly used food). I told myself that I had to end each day with a calorie deficit, even if it was only five calories. My goal was 500. Most days I came pretty close to 500 and a few times I had a little more than that. By the end of September I was down five pounds.

What? In addition to being active I had to make healthier food choices? Who knew?
(Um, you did. You've know this for years. It's just really hard to actually start to do it)

But you know what? It actually wasn't that hard. At the end of the day I'd log into FitBit to see how I did. Each morning I would track how many days I had a calorie deficit. You know what? I made it 40 days. Day 41 was appetizer day with the in-laws. No biggie, because the very next day I started working on the next streak. I'm gonna beat 40 days.

Even more importantly is that the weight is slowly but surely coming off. Well, I say that, but it's actually coming off faster than I calculated. I was aiming for 1/2 to 1 pound each week. It's been closer to 2 pounds each week.

When SP announced that we could FINALLY sync our data SP data with FitBit... well, I did a little happy dance. Less double entry. Here's the thing, though. When I synced my fitness data, SP started yelling at me that I was eating too little or exercising too much. I had to make some adjustments. Like the fact that I burn an average of 6000 calories each week. Or the fact that I'm averaging 13,000 steps each day.

So, I adjusted and now I'm going to go back to doing my thing.

I think I may have done a lot of rambling, but whatever. I'm exhausted from the 65 flights of stairs I apparently climbed today. I think I deserve to ramble a little bit.

Heh. I'm going to aim for 75 flights of stairs tomorrow.




Monday, July 23, 2012
I went to my 20 year high school reunion this weekend and had a couple of revelations.

1. I am very comfortable with myself and who I am.

2. People are just people. Yeah, I know that, but try applying that to the people you went to high school with. The prom queen that I was so intimidated by? Now sheís just as big as I am and struggling with the same issues. The football quarterback that I was afraid of? Now heís the nicest guy in the world and a lot of fun to talk to. Chances are, he was probably the same back then but I was so focused on the rules of our various cliques that I never bothered to realize that they were all justÖpeople.

Itís important to remember those revelations to explain my reaction or lack thereof, to the following picture.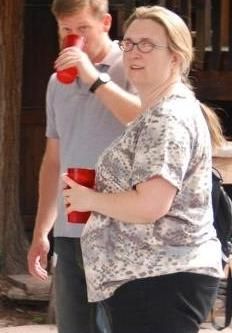 Normally Iím the one taking the picture, or Iím posing with a group and my body is hidden. This time I was caught by surprise. First, letís talk about my mental state all evening. Occasionally I would look at the other women, the ones that maintained their figures over the years, and Iíd think wistfully about the extra 80 pounds I've been carrying around. It was a momentary thought and then Iíd get caught up in talking with an old friend and forget about it. See, not a single person hugged me and said ďWow. You got fat.Ē I donít think they were even thinking it, and if they were, so what? I am not defined by my weight. Thatís right I said it and Iíll say it again.

I AM NOT DEFINED BY MY WEIGHT

Let's say I keep walking and running and strength training but never lose another pound? I have a loving husband and children; I have a good career and hobbies that really fulfill me. If my weight remained at 220 for the rest of my life, none of that will change. I repeat, NONE OF THAT WILL CHANGE. My family will love me and I will continue to work and play and enjoy life.

Will I stop walking? No. Will I stop playing with my children? No. Will I stop writing, designing jewellery, reading trashy romance novels, cursing the black berry vines that are slowly taking over my yard? No, no, no, and no.

Thatís not to say Iím giving up the fight to lose the weight. I know I will feel better and my risk for certain diseases will drop. My body will certainly thank me for removing the burden itís carrying.

Hereís another point that I need to remember. At the beginning of the year when I realized how close the reunion was, I set a goal for myself to lose 50 pounds by July. Certainly doable in theoryóit was slightly less than 2 pounds a weekóbut my body had other ideas. Like the fact that it was starving and I felt like crap when I tried to lose that much each week. When I stopped fighting myself and started listening to my body, I felt a million times better and the weight started slowly coming off at about a half pound each week. Iím down 10 pounds and, sure itís not dramatic, but I donít feel abused either. Slow and steady.

This profile picture? Yeah, itís slightly disturbing to me, but only in the sense that I didnít really know that I looked like that from the side. Does it matter in the long run? Nope. My only regret is that it doesnít show my shoes. They were fierce! In a room full of heels and sandals, I was the only one wearing Chuckie Tís. Rebel!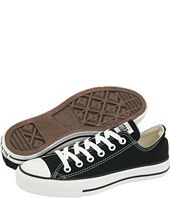 Friday, June 29, 2012
Today's word is awesomosity. The state of being so awesome that awesome cannot describe how awesome you are.

My task this weekend is to remember that even though it's been slow going recently, I am still making progress. As DH pointed out yesterday, I haven't gained weight which sometime is the bigger challenge when faced with the blues. So, I am slowly picking myself up and challenging my inner awesomosity to show itself.

Goals for the weekend:
1. Be as active as possible. I am putting my e-reader away and will stay off the couch. Better yet, I think I will take the kids on an adventure hike tomorrow.

2. Let my inner awesomosity shine through. Yep. I think I'm going to be irritating this weekend with this word. It just kind of rolls off the tongue... awesomosity, awesomosity, awesomosity.

Have a great weekend! Oh, and to everyone that has started your holiday week early? So jealous! Make sure to enjoy it responsibly. Don't let your awesomosity run away with you.




Thursday, June 28, 2012
First, the pet peeve:
Why is that some people think it is all right to clip their fingernails in public? A couple weeks ago I was sitting behind a woman on the bus and got hit in the cheek with one of the clippings. Ick. Today someone on the other side of the wall is clipping. What gets me is the visual that goes with the sound. I can only hope he's hovering over the wastebasket as he's doing this.

Moving on to the major win:
Sometimes the hardest thing you'll ever do is take that first step. After spending the month in a major blue funk, I got up this morning, took my shower, got dressed and headed out the door. I was tempted to take the bus, but I walked right on past it. 2.5 miles later I was at the Health Sciences Express shuttle, a little breathless and a little sweaty. I felt good. Not exhilarated, mind you, but good.

The facilitator for my 9:00 meeting brought pastries from Bakery Nouveau and I had the power to resist. I'd had my walk, eaten breakfast and tracked it. A scrumptious pastry wasn't on my list today. Plus, I was one of the last people as the box made its way around the table. What was left wasn't as appealing as the pastries with the fresh fruit on top. I passed it on.

It's nowhere near the accomplishments I was making in April and May, but because today is a first step day I feel like this accomplishment holds that much more weight. Fake it till ya make it, right? Well, today I'm going to fake it for all it's worth.






Wednesday, June 27, 2012
Be consistent and you will get results. We all know this to be true. Keep plugging away and eventually you will get to where you need to be. Persistence and consistancy will achieve what fad diets promise but rarely deliver.

I know this. I've gotten results from this (April and May were GREAT months for me). I've been in a different place for the month of June.

1. I have consistently NOT logged into SP.
2. I have consistently NOT tracked my food.
3. I have consistently NOT exercised.
4. I have consistently moped and fretted. About what? Still not really sure. I've been in a funk, that's all I know.

On the other side...
1. I have consistently listened to my body and stopped eating when I was full.

Granted, I didn't make the best choices, but I didn't over do it.

The results for the month of June? I didn't gain. I would call this a plateau month, except that I believe a plateau is when I'm doing everything right and my weight doesn't budge.

Now I have to ask myself--how do I feel about the month of June? Well. I'm not beating myself up about it. Yes. I could have worked out more. Yes, I could have tracked my food better. But I didn't do any damage to my progress. I just took a time out.

I'm still getting over the nasty bug my daughter (AKA The Plague, AKA Typhoid Mary, AKA Contagion) brought home, so the last couple days of June will be days of rest as well. But I can get back on the horse and start logging into SP, connecting with my SP friends, and tracking my meals. Consistently, starting today.

How do you get yourself back on track?



1 2 3 4 5 6 7 8 9 10 11 12 Last Page

Get An Email Alert Each Time SHELBEY74 Posts