| | |
| --- | --- |
| | SHANNONPIXIE's Recent Blog Entries |


Friday, July 29, 2011
Apparently I need to work out some kinks in my healthy lifestyle. I find it ironic I am in this situation. Long story short- When I first moved to this area, it was always my husband and I going out to our friends place, and rarely was it them coming here, despite the fact that we really struggled to find a babysitter. Now my mom lives in the area, so we have a babysitter almost every Saturday, AND our friends have finally started coming over to hang out, almost once a week.

Now, hanging out with my friends is drinking beers (or whatever), eating chips and playing cards. And yes, our purpose is to get drunk and relax. I stay at home with the kids, which can get stressful, and lonely at times. My husband is a professor, and my friends all have their respective, yet stressful jobs. We have a good time, and it's become an important part of my life.

Rewind to last night. Impromptu garage beers, as we like to call these evenings. One of friends, who lives far from all of us was in town, and the gang is either doing Irish fest or going camping this weekend, so it was our only chance to get together.

I tried to limit myself. I had over 500 calories to spare, so I set out some cheese (instead of chips) and ate a ton of carrots before everyone arrived, so I could feel full. I decided to stick to wine, and I grabbed some seltzer water to drink between glasses and to top off the wine. My plan was to only drink 2-3 glasses, splitting the bottle between my husband and I.

The plan backfired though. Once I started drinking, my resolve faltered. Less seltzer was added to my wine, and I wasn't drinking between each glass of wine. And my husband stuck to beer, so the bottle of wine became mine. After a couple of rounds of various card games, the bottle was empty, and so was the last bag of gummy bears I stupidly saved.

Before, I think this would've ruined my momentum. I would've sulked and beat myself up, and "dug myself" further into a hole. Instead, I'm re-approaching the situation, planning for next time, and just moving on. I don't think one night is going to ruin anything, except maybe a headache-free day the next day. I'll work all the harder in the next few days.

Learning to forgive myself is hard, but I think its necessary. I am only human, and have my weaknesses. Cutting out these get togethers would make me sad and miserable. Instead, I'm going to have to learn to handle them better, making better choices, and limiting myself. Better game plan!

So here's a few positives from last night: I didn't touch the chips. We did end up breaking out SingStar, so I did quite a bit of dancing. And I have an awesome husband who let me sleep in.




Thursday, July 28, 2011
I'm making my way through "The Spark". I'm starting off so slow, but I'm going to do it this time. I have the support, I have the motivation. I cannot fail. I'm tired of this "Me", and the healthy, skinnier ME is in here some where, screaming it's time to come out.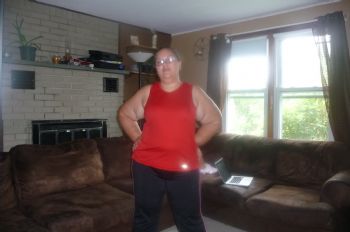 So here it is...my before picture. In a year, this person is not going to exist. She is going to be thinner, healthier, filled with energy. She won't wince when looking at pictures of herself. She's going to smile and say "Hey! Check out that sexilicious chickie!"

So Good bye, person in that picture. It's time to make the cover as awesome as the book.





Monday, July 25, 2011
We all know that deprivation diets are bad. And yet that's what my doctor has asked me to do. A deprivation diet- No breads, no sugars, nothing with flour...no pasta, no rice, no corn, no potatoes, no splenda or other artificial sweeteners...no no no no no no no no no.

My gut feeling is that this is all wrong. I can't get rid of this gut feeling. I don't think it's healthy. So I don't know what I should do.

I think moderation is the key. Yes, I think I could get rid of most of the white stuff- white flour, white sugar, white rice...but to not even be able to go to a healthy alternative...I think bread is important! I think whole grains are important. I don't think I should be eliminating them, I should be reducing them.

And I wouldn't think that this is all weird but for some reason fruit is ok. Now don't get me wrong, that's a plus if I have to look at it from a positive perspective. But how is eating fruit different from eating a whole grain bread. They both have sugars. I just don't get any of it.

I'm debating. A part of me thinks I should just shut up and do what the doctor says. Can it hurt to just try? (Yes.) But a bigger part of me says that I should do what I think is best, and that's an overall healthy change. Reduce the stuff that affects my blood sugar, but don't eliminate it completely.

I feel that if I focus on the weight loss from a moderation lifestyle, I'm going to succeed. If I focus on losing weight on a deprivation diet like the one the doctor suggested, I'm going to fail. I'd rather succeed. I honestly believe that if I lost 20 lbs, my numbers would go down no matter what I did. If I lose 50 lbs, my numbers would get even better. If I dropped 100...maybe the diabetes woud be reversed. I don't know, but I do know that if I sit here and focus on what I can't eat, what I see my friends and my family eat...I'm going to be resentful, deprived and I will fail.

So I think the answer is right there in front of me. I'm not doing this deprivation diet, and if the doctor wants to drop me, that's fine. I'm still going to lose weight, and my sugars are still going to get better, as long as I stick with moderation. Weight loss and exercise are going to be the weapons pick in this battle. I will walk out of this stronger, fitter, and healthier.





Monday, July 18, 2011
So I am officially a Type 2 diabetic. (My A1C was 6.8, and Insulin 17.7.) And I don't know what to do.

I went to the doctors, and expected her to give a recommendation to see a dietician. I expected either Metformin, or Insulin. I expected glucometers, and information on diabetes and care, treatment options.

I got none of that. I got a spiel on eliminating most carbs, in particular flours, sugars, breads, pasta, rice, etc. I got a 4 page pamphlet on the "Mediterranean Low carb/glycemic index diet load." I got told to exercise (ok, so that part was good advice). I was told to be strict, 3-4 months, and come back with more blood tests in October and we'd go from there. She wanted to send me to a dietician, but claimed the ones around here were "limited" as they'd just tell me to count carbs and use Splenda, which I guess I'm not supposed to do.

Am I wrong for being uncomfortable with all of this? Is this woman a quack, or is she right? Should I be seeking a different doctor? The only positive I see to all of this is she seems to think the diabetes was reversible at this point, whereas I thought that was just a myth.

So what should I do? Do I give this whole "glycemic index" diet thing a try, against my better judgement? It seems like it's against the spirit of the Spark too. She said not to calorie count, not to carb count. I'd be eliminating carbs, which Spark says not to do. It even seems to be against what the American Diabetes Association says. While I have no problem with not getting on medication, I guess I need to feel like this is the safe way to proceed.





Friday, July 15, 2011
I turned 33 today. For my birthday, I got blood work and a probably diagnosis of Diabetes. Talk about a time for reflection, and a time for change. I know it'll be ok, and with the support of my loving husband, and beautiful family, I'll succeed at making the changes I need to make. I have informed myself, particularly the part of me that loves to sulk, that I will not get down about this. This is the push (well, closer to the shove, slam and shatter) I need to make some positive changes in my life.

And when all is said and done, it's going to make me feel so much better, instead of the constant pain, depression and sickness I feel now.



First Page
1
2
3
4
5
6
7 8 9 10 11 12 13 14 15 16 17 Last Page

Get An Email Alert Each Time SHANNONPIXIE Posts