SEVENKITTY's Recent Blog Entries



Tuesday, February 02, 2010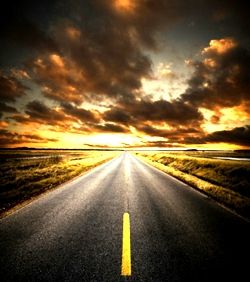 "It's a journey, not a destination."

"I will never arrive."

"It's not over until I'm dead."

It sounds so harsh…because it has to. I cannot get soft on myself now. I have come too far. I know for me, it will never be over. I will struggle with my weight for the rest of my life. It is just as much a part of who I am as my green eyes. To deny this fact would be to deny that the sky is blue.

Before I lost the weight I always felt like the "real me"…the thin me…was just hiding inside and all I had to do was let her out. Now, I feel like the person hiding inside is the fat me, poised and waiting to come out again…who IS the "real me"? This is the question that I have yet to answer.

Even though the pain of all the shame, disappointment and self-loathing that I used to feel every day is slowly fading away, I feel like I cannot let myself forget it. Because if I do, I feel like it could all just creep back up and take me over again.

I am not the skinny girl who can eat whatever she wants. I can't just stop working out. I WILL be what I consistently do… it is as simple as that, and I know it. If I overeat, I will gain weight. If I follow my maintenance plan I will maintain my weight…simple but scary.

I really had to go into this knowing that it wasn't over once I reached my weight loss goal. It will never be over. I know darn well that I can gain all the weight back just as quickly as I lost it. So I will walk this long road, but I won't have to do it alone, thanks to all of you!

SparkFriends, you help me keep it real! Thank you.








Wednesday, January 13, 2010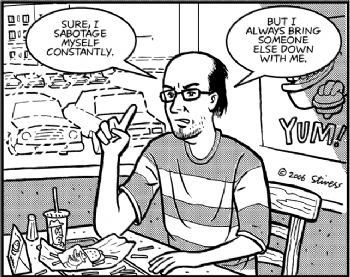 In a perfect world, our friends and family would support us in our efforts to lose weight and be healthier. But sometimes, those closest to you -- those you need the most help from -- may actually try to cause you to fail at weight loss by undermining your success.


Why does this happen to us?!?!

It can be the person you least expect who attempts to sabotage your weight loss -- your spouse, a sibling or your best friend. While this situation can happen for different reasons, it is quite likely that the "saboteur" finds themselves threatened by your efforts to lose weight.

Why would they be threatened?

•Friends may think you want to change your life in other ways -- maybe you'll be leaving them out of your "new and improved" circle of friends along with your new, healthy lifestyle.
•A friend may feel your weight loss makes her extra weight seem more noticeable to others.
•Your spouse may be jealous of or dislike the attention you are getting from other people.
•A family member may resent the time you spend exercising or preparing healthy foods (particularly if they themselves partake of neither) when you could be spending time with them.
•A friend may feel guilty about continuing to eat your formerly favorite foods while you eat lighter fare. Or she may miss her "partner in crime" if you frequently ate together or shared "bad" foods.


How will you know if you are being sabotaged?

•They may urge you to cheat or say "one bite won't hurt".
•They may try to undermine your efforts by saying things like "No one ever keeps the weight off!" or "You'll never make your goal weight. You always quit."
•They may continually offer you second helpings of food despite the fact that you say you are no longer hungry.
•They keep a watchful eye on everything you eat, make snide comments, or check the fridge or food packages to see if you have eaten "bad" foods in their absence.
•They are overly critical of your weight loss methods.
•They discourage you from getting regular physical activity.
•They belittle or make fun of you.


If this is happening to you...what do you do?

If you find that someone in your life fits these characteristics, it is likely you are dealing with someone who -- consciously or unconsciously -- does not want your weight loss efforts to work. It is important to recognize if someone is making your weight loss efforts harder rather than easier; not acknowledging this will only lead to failure and resentment in your relationship. After all, weight loss changes a lot more than just your dress size and you may have to change the way you relate to your loved ones if this becomes a problem.

What We've Got Here is a Failure to Communicate!

By having an honest talk about your weight loss efforts and your loved one's influence on them, you will be able to get to the heart of the matter. Explain to them that losing weight is very important to you and that the support of those around you means a lot. Don't be afraid to point out things that make it harder for you to lose weight or give examples of statements that have hurt your feelings.
Asking someone for their unconditional support isn't like asking someone to change a light bulb; it takes a little pride-swallowing. But admitting to this person that you need their help may be the first step in improving the situation for both of you.

Here are some ideas:

•"When you prepare a meal for us, I would prefer it if you didn't offer me seconds. Please don't take offense when I refuse."
•"When you bring snacks or fast food into the house, please try to eat them in another room or at least, don't offer me any of yours. These are problem foods for me and hard to resist them."
•"I feel more likely to stick to my walking routine if you will join me every now and again. It's something we can do together.
•"I am carefully watching what I do and don't eat. If I do slip now and again, believe me, I am aware of it. I don't need you to point it out.

In turn, ask your loved one to tell you about their feelings. You may be surprised at what comes to light. Ask them what you can do to help them adjust to your new lifestyle. (If your friend, for example, feels threatened you'll leave her behind for a "new crowd," a simple heart-to-heart may be all it takes for her to put those feelings of fear and resentment behind her.)


So how can you deal with it?

If you find that your relationship doesn't change, you may have to simply come up with your own ways to either ignore or cope with the situations as they crop up.
You may wish to keep a record in your journal of the occasions when someone says or does something that you feel undermines your efforts. At the end of each day, look over these instances and try to come up with ways you can handle the situation better. Often, dealing with these types of influences comes down to avoiding them, ignoring them, or giving yourself the positive self-talk that undoes the damage caused by your loved one's negative influence.

You may find that simply avoiding eating in social situations is a good way to keep these issues from cropping up. Try planning non-food activities with friends and family as often as possible. If you're used to drinks and appetizers with friends, get together for bowling instead; instead of going to your Mom's for dessert, ask her to play a game of cards with you.

The worst case scenario is that you'll have to distance yourself from the person who is causing your weight loss efforts to suffer. Sometimes a breather from a relationship is a good thing. Don't look at it as break up; remember that when you feel stronger or once you've met your weight loss goal, you can pick up where you left off.


The Bottom Line

Each situation is different and only you can decide what is best for both your relationship and your weight loss journey. Remember, no one is able to make you eat or do -- or not do -- anything you set you mind to. It is your body and your health at stake and you have to take charge of it ... no one else can!








Wednesday, October 07, 2009
People always ask me… "How do you stay so motivated?" My answer to that is...I DON'T!

The two words, "even though", have got me started more times than I can count! One of the things that I have learned about myself is that sometimes I don't feel like doing some things….but if I just move forward and taking action "even though" I don't FEEL like it, that is often all I need to get in the groove again…and before I know it I DO feel like it!

This can be applied to so many areas of my life, cleaning house, working out, making dinner, …even (sometimes) making love to my dear husband! Yes, I did just say that! Sometimes we don't feel like doing some things, but once we get moving, before you know it we are really enjoying whatever it is we thought we didn't want to do in the first place! Has this happened to you?

So my point here is, take action first, and very often good feelings and motivation will follow!







Tuesday, September 01, 2009
As a former personal trainer, I was mortified when I could NOT lose the weight after having our daughter over six years ago. Dozens of failed attempts left me feeling hopeless...like I would never get my old self back. I felt awful...like a big failure...like I was letting myself down and I couldn't stick to anything. I used to help people lose weight and I couldn't even do it for myself!

A lot of the times I didn't go anywhere or do anything because I was depressed and felt ashamed of how I looked. I was afraid of going out and running into someone I knew from back when I worked at Gold's Gym. There are hardly any pictures of me during those 7 years because I would hide from the camera. I missed out on so much during that time! Sad :(

Thankfully, I decided to give losing the weight one last try...I am so glad that I did! I lost 50 lbs in 5 months with a very effective program (www.yourhealthcoaches.com). I have been maintaining successfully and I am working on incorporating more healthy habits into my life. I joined the SparkPeople community to stay motivated and help others in any way that I can.

I feel like I am really living life now and I am helping others get their lives back too! I really enjoy helping other people make the same changes that I did...and I am loving every minute of it!



1

Get An Email Alert Each Time SEVENKITTY Posts