| | |
| --- | --- |
| | SEAGIRLRUN's Recent Blog Entries |


Thursday, March 22, 2012
Yesterday after I worked out, I had a beautiful bowl of oatmeal with blueberries, walnuts and a smidge of dried fruit. It was delicious, but I neglected to eat some protein with all those carbs and the result was that I was famished the rest of day. I just couldn't get full, and I blame it on my breakfast! Whenever I eat a balanced breakfast, including healthy fat, protein and carb, I am satisfied for many hours! Anyway, it reminded me that my favorite breakfast also happens to be the things that keeps me satisfied the longest! Here it is!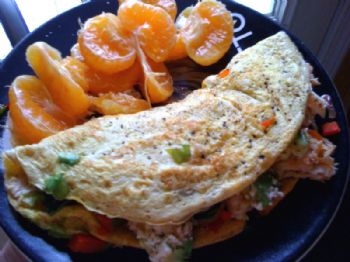 1/2 teaspoon olive oil
1 cup mixed vegetables (green and red pepper are my favs.)
1 cup spinach
1 tbsp red onion chopped
2 oz Boars head blazing buffalo chicken breast (or protein of choice)
1 Tbsp feta cheese (my fav is tomato & basil feta)
1/4 avocado
1/3 cup eggbeaters
tangerine or 1 cup berries

In small frying pan, heat olive oil and saute the vegetables (spinach, peppers , onion) to desired doneness, about 3 min on med.
Add broken up chicken and stir to heat. Remove from pan and set aside.

Spray pan with cooking spray. Add eggbeaters and swirl until it fills the pan and starts to move up on the sides slightly..you want to make it as large a circle as possible! When the eggs are cooked enough to slide back and forth in the pan, flip the omlette to cook the other side. Immediately add all the filling you cooked to one side of the omlette, plus the avocado and feta. With a spatula, fold the empty side onto the full side and serve!

I like to sprinkle Texas Pete on my omelettes for some pow!

Total load: Calories 274, Carbs 20gr, fat 12gr, protein 24gr, fiber 7 gr, sodium 635, cholesterol 40 gr.
Weight Watchers PP: 6 points!

You can add a nice piece of whole grain toast or some oatmeal to round off your carbs if you like! My favorite toast is Ezekiel Sesame Sprouted Grain Bread. You can find it in the freezer section of your grocer.

I also have an almond milk latte each morning to really make me feel like I'm getting the rich treatment!
Enjoy!!!




Wednesday, March 21, 2012
Do you need an attitude adjustment?

Watch this hilarious video from Mad TV with Bob Newhart. I consider it a public service announcement for all of us in denial.

Have a great night!
www.youtube.com/watch?v=Ow0lr63y4Mw




Wednesday, March 21, 2012
Yesterday, when I had already planned all my points and sparkpeople calories, I found myself trying to figure out to how to make a great satisfying treat without going over for the day, so I revised the Starbucks Yummy Iced Chai Latte that my sweetie and I love so much!

The result was a convincing refreshing chai latte for less than 20 calories! Try it today!

So, go to the grocery store and buy the Tazo Chai Tea box of tea bags (instead of the carton of liquid.)

Steep two tea bags very strong and let them cool off a bit.
Fill a 16 oz cup with ice and fill the glass about 3/4 full with the tea.
Add at least one splenda packet (I used two)
Shake the almond milk and pour to fill the glass, the amount depends on your taste. I tried 1/3 cup (about 13 calories!)

Ingredients:
2 Tazo Chai tea bags, brewed strong, about 8-10 oz.
Almond Breeze Vanilla (40 calories), 1/3-1 cup as desired.
Splenda, sweetened to taste
ice

Enjoy!!!




Tuesday, March 20, 2012
Regular brown rice aint got nothin' on this little gem!

Brown Basmati Rice, also known as popcorn rice because of it's awesome flavor has 2 grams of fiber per serving! The flavor totally rocks and goes with anything. Teriyaki, American, Spanish, whatever!

Cook with 1/2 or all chicken broth for extra yumminess! be careful not to burn though because brown rice has to cook for so long, it's easy to burn if you don't have enough water or turn the stove down to low.

Happy eating!!!





Monday, March 19, 2012
I have done all the work of the 28 day bootcamp challenge, well, ....with one caveot...I keep missing a day every week. or two, then making it up by completing missed daily videos the next day. Because I have made a goal to do it to plan, I keep having to start over so I can do a complete 28 day cycle without missing a day of the program.

So, today is ANOTHER day 1. Why am I happy? Because I'm working out like crazy! I have been very consistent and even though I'm missing 1 or 2 days sometimes, heck, I'm up to a solid 5-6 days EVERY week! This has been going on for about 6 weeks (several weeks before I started the bootcamp.)



I feel so great, my energy levels are really improving, my knee doesn't hurt anymore, and my body is starting to change!



So, if you're blue or ticked or frustrated about having to start over, STOP IT! How great is it that you're trying and getting into better shape because of the small changes you're making?! GREAT! The small changes that become big changes! One 10 minute daily workout at a time.

I can do it, and so can you!

Have an awesome day!emoticon




First Page
1
2
3 4 5 6 7 8 9 Last Page

Get An Email Alert Each Time SEAGIRLRUN Posts