| | |
| --- | --- |
| | SEAGIRLRUN's Recent Blog Entries |


Thursday, February 23, 2012
Weight Watchers is so popular that they are having problems keeping the calculators in stock. If you don't have etools, it makes it darn near impossible to stay on the new plan without the calculator, so they have it on their website for use to anyone!

Here's the link! www.weightwatchers.com/templates/gat
eway/gateway_dyn_3col.aspx?pageid=1217911

If you are a Weight Watchers member, see you at a meeting in Kennesaw, GA! If not, consider going....it's a great place for live moral support and reassurance!

Rebecca




Tuesday, February 21, 2012
Just wondering if there are others out there who are barely losing on Weight Watchers new plan?

I love the plan, because I love vegetables and fruit and don't eat junk food.
I eat nearly all whole foods except our night out each week.
I track every bite!
I have been eating all my points, and getting my fats in too!
I have been exercising a lot, eating exactly to plan and the scale is barely moving.
Words of encouragement I have heard (that haven't helped my psyche):
"When you exercise a lot, you weight can stall temporarily." -dangit, I just started 2 weeks ago! My first week, down 2.2 lbs. second week only .5, now, half way through week 3 and I haven't lost anything yet this week.

How about:
"You don't have that much to lose, so it will go more slowly for you."

or

"Well, if you were already eating mostly to plan BEFORE you started back, you may lose more slowly." I have 18lbs to get to my maximum weight range, but it isn't really my goal, just the goal to get back to lifetime so I don't have to pay anymore!

Stop the madness girlfriend! Just keep doing it!

I keep chanting "any progress is still progress! A 1/4lb. is a stick of butter off your thighs! You're doing great, it WILL come off! Pay attention to your clothes, they'll tell the story! (my clothes barely feeling looser, ug!) One step at a time, you'll see the difference over the weeks! I just want to see some weight loss, for crying out loud.

The benefit I do see?---Like Tony the Tiger, "I feel GRRRREAT!" Never forget, how you feel is sometimes all the motivation you need to keep going! (that's what I'm going with today).

I'm off to do day 3 of the 28-day bootcamp!! Woot woot, 9 day workout streak! weight loss or not, I keep on going! In this case, It's how you feel, darling!

Never EVER give up!





Monday, February 20, 2012
OMG, a 7 day Sparkstreak! Doesn't seem like much, but this streak is different....
I actually exercised 7 days in a row. I usually tank on the weekends, but not this time!

Now, I'm nuts about making this streak last. I was inspired by reading another Sparkpeople blogger's exercise streak! Can't remember who now, but I sure am grateful you wrote your post that day! ;)

I even joined the 28 day bootcamp to help keep me there! Day 2 of bootcamp, day 8 of exercise streaking!

woot woot woot. Bow chicka bow wow...
oompa, loompa, dippity do. I've got another 20 days for you! 20 days? Piece of cake!

Wish me luck!

update...oh wait a tic. that's an 8 day spark streak. DUH! snort






Friday, February 03, 2012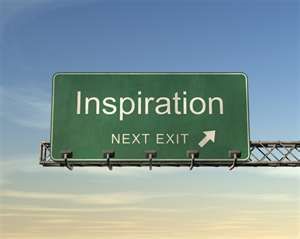 I don't have a work out buddy.
I don't have a real live motivating buddy....sniff sniff.
So, I drug my butt back to a Weight Watchers meeting today and checked in.

I'm a lifetime member. A naughty one.

Would you believe I was mad? Mad that I hadn't been in a year, and I have to admit that even though I lost 1.8 lbs in a year exactly one year ago to the day since I checked in last time, I was mad that I had to go to the meeting. The leader at the meeting today became a leader after becoming a lifetime member in 1999/2000. THE SAME YEAR I BECAME ONE! I was mad that she is still thin and teaching and here I am, looking at how many meetings I will have to pay for before it's free again to attend! I was 'like a child' mad.

Eventually, this evening, I decided to do myself a favor and feel the anger, apologize to myself, and then accept my apology and thinking of how blame may be the cause of my reaction, I opted for forgiveness..and a goal of self-awareness.

So, turning a new leaf, I am realizing that there is really ONE thing I need to learn that is key to reaching my weight goals: My mouth is not attached to my partner's mouth. I get to control what goes into it and when. period.

Ok, two things...TWO things I need to learn: I need to learn my hunger and satisfied signals. EAT THOSE SNACKS! Know when to eat the snacks..when I know it will do the most good...to keep me from eating way too much at my vulnerable times, like right before dinner, or at the restaurant (on the chips or bread basket!) Then, learn to stop after a normal portion, and wait. and know that the rest of the plate doesn't have to go into my mouth just because I bought it or because it tastes soooo good. In fact, I'm pretty sure I'll have the opportunity again in the future to eat that same thing, just until I'm satisfied!

Ok, THREE things: The third thing to learn is that no amount of hard work on my eating/cooking/portion control will have a long term benefit without moving my body regularly...every day!

Ok, FOUR things: The fourth thing I have to learn is that getting to my goal weight is only the beginning of the active, healthy eating, smart choice making rest of my life! It will not stop suddenly when I reach the magic fleeting number on a scale. I WILL keep moving forward!

Ok, FIVE things, really this time: The fifth thing I have to learn is that I AM OK, exactly how I am right now! It's ok to love ME right now, the overweight me, the not-so-perfect me, the me who is afraid to write this and tell you all that I need help controlling my eating, because I am not a superstar athlete or a supermodel (both who may also have eating disorders). I don't have to wait to reach my goals until I love myself! Afterall, I DO want to reach them. So, I think, (merely a suspicion) that if I learn to remind myself that I am worthy and that I love myself each and every time I go to take a bite to nourish or, yes, even indulge, my body, then maybe, just maybe, I will make a better choice for my life.

..FOR MY LIFE!






Tuesday, January 31, 2012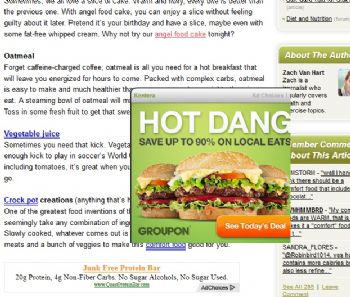 This is the popup that appeared when I hovered over the blue letters "comfort food" while reading the article "7 comfort Foods that are good for you."

What the HELL Sparkpeople????

Talk about the power of suggestion....Now, I just wanna go get some real comfort food like that cheeseburger!!!---NOT the oatmeal and yogurt that you include in your article as things that will satisfy my winter comfort food cravings.

I wonder if you consider the types of advertisers or the ads that might show up on your website as a result?

Just saying....

-Rebecca



First Page
1
2
3
4
5 6 7 8 9 Last Page

Get An Email Alert Each Time SEAGIRLRUN Posts