| | |
| --- | --- |
| | SCUBAMUM's Recent Blog Entries |


Monday, January 13, 2014
Today's Report:
Steps: 9,901
Miles: 4.38
Floors: 10
Calories Eaten: WITHIN my range

Eureka! I found it! I was mucking about in my SP account yesterday, when I found that I could change my calorie range back to the old static range instead of the one that floats with activity. I know SP told us we could do that if ours were old accounts; but, for some reason, I got it into my head that once I had chosen the floating range, I was stuck with it. Not so! I was quite happy to find, also, that the static range SP gave me was almost identical to the range I'd worked out from last year's successful period.

I was quite active yesterday. The temperatures were FINALLY above freezing, so I took the pups for two 2-mile walks (which is what they should be getting normally).

Other than that, I had a lovely Skype with my cousins from Liverpool. My little 5-year-old mate was in top form. My cousin's daughter (25 years old) is training for a half-marathon in March. I'm so proud of her!






Sunday, January 12, 2014
Well, as you may or may not know, I was making great progress last year about this time, but stalled and started climbing over the summer and autumn. I have been working hard lately, and I'm starting to see the results. I lost 4 lbs this week, which is great. I've still been feeling fairly guilty, though, for backsliding as much as I did.

Trying to stay proactive, though, I thought I'd take my measurements for the first time in many months today. That way, I could see exactly what damage I had done and set a baseline for improvement. What a surprise!!

Even though I'm only 3 lbs lighter than I was this time last year; since that time, I have lost 1" off my waist, 1.25" off my hips, 1" off my thighs, and 1.25" off my chest! I was sure I would be lucky to have the same measurements and never expected that I'd actually shrunk!

So, what that tells me is that, although I may only be 3 lbs lighter, I've obviously traded fat for muscle over the past year. I know I feel much stronger than I did a year ago.

WOW! What a nice surprise that was!!







Sunday, January 12, 2014
Today's Report:
Steps: 7,771
Miles: 3.44
Floors: 5
Calories Eaten: 440 calories HIGHER than my new, self-imposed range

Well, yesterday was not as bad as I had expected. I knew I would be sitting in a car for 6 hours (we went down to the U.S. for a payroll run) and that I would be eating a restaurant meal. So, I planned ahead. I ate below plan the day before, knowing that I would probably be over plan yesterday; and I made sure to take the pups for a good, long walk when I got home.

My reward is that the scale didn't move, and I'm pleased with that. I've kept the four pounds off that I worked so hard for over the past week.

So, on to my weekly virtual walking tour from Heathrow to Liverpool and then to Llandudno Junction. I did 19.94 miles over the past week. So, that brings me to New Street in Aylesbury, Buckinghamshire. According to the sign on the roundabout, there's a farmer's market there on Tuesday.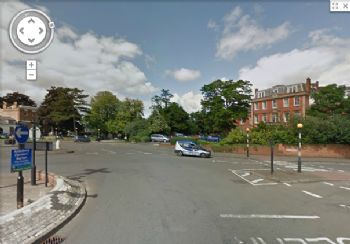 Aylesbury is fairly close to Milton Keynes, where my DH's favorite F1 team (Red Bull) are headquartered and Bletchley Park, the code-breaking centre during WWII (my DS is amazing with military history, so I know he'd love to see that place).






Saturday, January 11, 2014
Today's Report:
Steps: 9,092
Miles: 4.02
Floors: 13
Calories Eaten: 82 calories LOWER than my new, self-imposed range

It was a pretty good day yesterday. I did my half and hour on the elliptical in the morning and then spent the day running around like a chicken with its head cut off. Out to the city in the morning to take MOI to buy a new coat and out for early lunch; dash back home for a couple of conference call meetings; dash back to the city to do banking and shopping I didn't have time to do in the morning and couldn't wait until today. So, although I didn't do any other formal exercise, I definitely did well on my step count.

I'm not at all worried about eating slightly under my calorie range today. I ate a lot of fruit and veg, so I was not at all hungry; and I knew I would likely overeat today (which I did - I'll talk about that tomorrow). So, it's just "banked" calories.

Work is REALLY heating up right now, so I'm going to have to be very careful in the next few weeks to purposely make time for myself to exercise and make proper meals rather than eating at my desk (which is a downfall for me). This is a GREAT time for our business, but I must admit to feeling a little overwhelmed. I have to recognize that and not allow myself to start eating from stress.




Friday, January 10, 2014
Today's Report:
Steps: 10,189
Miles: 4.51
Floors: 9
Calories Eaten: WITHIN my new, self-imposed range

I did well yesterday, despite it being such an astoundingly busy day. I did half an hour on the elliptical first thing in the morning, so I got that accomplished before the avalanche of work hit; then I FINALLY took the dogs for a 2 mile walk in the late afternoon to clear my head. So, I'm quite pleased with myself.

I'm also pleased; because despite the fact that my "morning" meeting ran until 2:30 p.m., I didn't wreck my day's calories. By the time I got out of the client's offices, I was famished and dying for a wee; so, DH and I headed for the nearest restaurant. However, I was still careful about what I ate (he and I shared a meal) and watched my calories for the rest of the day. This is exactly the sort of situation where I would normally have grabbed the most "calorific" meal on the menu and then not stopped munching for the rest of the night, thinking I'd blown the day anyway. Yay me!





First Page
1
2
3
4
5
6
7
8
9
10 11 12 13 14 15 16 17 18 Last Page

Get An Email Alert Each Time SCUBAMUM Posts