| | |
| --- | --- |
| | SCUBAMUM's Recent Blog Entries |


Sunday, December 29, 2013
Today's Report:
Steps: 3,984
Miles: 1.76
Floors: 6
Calories Eaten: 742 LOWER than suggested range

I'm not worried about my calories yesterday. I purposely ate well below my range, because I was STILL feeling full from the day before. As a weekly average, I'm still above my range. I'm feeling much more "normal" today.

I also drank all 8 glasses of water yesterday, so that's one goal met.

I'm a bit confused by my steps and miles, though. I think I may have to see if I can adjust the sensitivity of this new FitBit Force I'm wearing. I was surprised the other day that it said I'd barely made it over 2 miles when I'd done a 2 mile dog walk alone, not including other exericse. Yesterday, I did a 1 minute strength test of push-ups (did 20, which is considered "good" for my age), a 10 minute kick-boxing workout, and 20 minutes of hard slogging (high incline and high resistance) on the elliptical; yet it only tells me I've done 4 minutes of "very active minutes." I understand it may not have picked up on the push-ups, but surely it should have given me credit for the kick-boxing and elliptical work. I'll look into that.

Meanwhile, my SparkFriend SarahG2014 gave me a great idea to use Google Street View to do a virtual walking tour. I had done something similar to this years ago when I was moderating a team for eDiets. We put each of our cities/towns on a map of North America, and planned a route to go from the east coast to the west. Each week we would add up how far each member had walked (or convert their exercise time into miles), and I would figure out how far we had moved in total on our route. Then I would figure out where that was and do some internet research about the place (this was before Google Street View). I had a lot more time then.




This time, I've set up a route in Google Maps taking me from Heathrow Airport to my cousin's in Liverpool, and then to my auntie's in Wales. I'll try to post a picture from Google Street View every week to show where I have gotten to. For my first post, here is my starting point: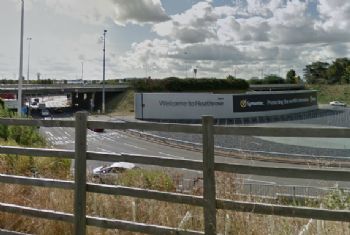 Saturday, December 28, 2013
Today's Report:
Steps: 8,126
Miles: 3.6
Floors: 12
Calories Eaten: WITHIN suggested range

Today's report SOUNDS fairly good, but it wasn't really an "on plan" day at all. The good news is that I got some decent exercise (pilates and a 2 mile dog walk), but the calories were almost completely from junk. I ate very little all day, knowing that I was going to overindulge during our "second Christmas" with our friend Wade.

Sure enough, well over 1000 calories of yesterday's count came from cookies, hors d'oeuvres, cakes, Wade's home made bits & bites (which are so salty, I'm STILL dying of thirst), and Bailey's Irish Cream.

This morning, my weight is up 3 lbs, and I feel horrible. No, I'm not hung over - I don't drink much alcohol at all. It's just the result of 4 hours of sleep (he didn't leave until 4 a.m.), WAY too much sugar, and an ocean of water retention after all that salt.




Today's plan is to drink gallons and gallons of water to flush my system out and to exercise (once I start to feel like a human). Unfortunately, there won't be any dog walking today, as we woke up to our first blizzard of the year. It's actually snowing SIDEWAYS right now.







Friday, December 27, 2013
Today's Report:
Steps: 6,678
Miles: 2.95
Floors: 8
Calories Eaten: 326 HIGHER than suggested range

So, it was Boxing Day yesterday. I didn't have to eat higher than my range yesterday. I was actually doing very well until deciding I should finish up the last jelly roll before it went stale and getting into my DH's Doritos.

I'm actually a little surprised at how low my step count was. I did a 10-minute SP workout, walked the dogs 2 miles, and spent 20 minutes on the elliptical. I guess my downfall was that I spent the rest of the day lounging about watching the old BBC Pride & Prejudice (all 6 hours of it) and even napping in the afternoon.

Today's going to be a real struggle for me. I'm back to work (although it's so slow around here that I'm sure I'll be able to fit a dog walk into the afternoon) and our dear friend Wade is coming over for our second Christmas tonight. We always do a second Christmas with Wade. I know we'll have puff pastry hors d'oeuvres and little cakes, etc., because I have them ready here. Then, he'll bring candies, chocolate, and his own home-made Bits & Bites (probably about half a dozen large biscuit tins full - I'm NOT exaggerating).

I plan to eat very lightly all day in preparation for a night of FAR too many calories and a sodium overdose. So far, I haven't gained any weight over Christmas (just holding steady), but tonight may push me over the edge.






Thursday, December 26, 2013
Today's Report:
Steps: 10,744
Miles: 4.75
Floors: 12
Calories Eaten: 315 HIGHER than suggested range

Well, the calories were no surprise at all. After all, it was Christmas. I was quite pleased with myself about all the exercise I got in, though. I beat my goals for both steps and floors, and narrowly missed my miles.

Yesterday was the BEST Christmas I've had in years! We were invited "virtually" to my cousin's in Liverpool. We were the iPad on the table.




It was so much fun to visit with her family and my uncle and aunt (her parents). Her five-year-old was SO excited!

Today's plans are to relax and eat very little.







Wednesday, December 25, 2013
Today's Report:
Steps: 9,704
Miles: 4.29
Floors: 15
Calories Eaten: WITHIN suggested range

Well, THAT was a surprise! I can't believe I ate within my range yesterday (Christmas Eve). I must admit, though, I did skip one meal and ate a lot of junk; so, it wasn't a particularly nutritious day.

Although I just fell short of my steps and miles goals, I still had a very active day with a 2 mile dog walk and 20 hard minutes on the elliptical.

Today is Christmas, and I've already started making the trifle. I don't hold out much hope for staying anywhere near my calorie range today; but I'll try to get some exercise in to mitigate the damage.



First Page
1
2
3
4
5
6
7
8
9
10
11
12
13 14 15 16 17 18 Last Page

Get An Email Alert Each Time SCUBAMUM Posts