| | |
| --- | --- |
| | SCUBAMUM's Recent Blog Entries |




Sunday, December 22, 2013
Today's Report:
Steps: 8,742
Miles: 3.87
Floors: 7
Calories Eaten: 130 Calories LOWER than suggested range

LOL! I scared myself this morning! I had faithfully recorded every bite that went into my mouth yesterday, including using the mobile app when I was away from my computer. Everything seemed to be going well; but, when I pulled up my stats this morning, it told me I had eaten well over 25,000 calories yesterday!!! The last thing I ate yesterday was 1/4 of a bag of crisps; but I guess the app didn't register the decimal I had entered (i.e. .25) and recorded that I had eaten 25 bags of crisps!




Anyway, that's sorted out now, and I was actually a little under plan for calories yesterday. That's fine as I was over the day before.

I didn't get all the way to my goals, but I still did quite well. I spent 40 minutes on the elliptical and did the 16 minute Bongra video from SP. We couldn't walk the dogs yesterday as it was too cold to be safe for them.





Saturday, December 21, 2013
Inspired by my new friend Sarah G on the Welsh Sparks team (she of the GORGEOUS view from her front door), I have decided to start up a daily "no holds barred - the truth about what goes in and what's burned off" blog. I'm hoping that making this a public blog will make me think twice about some of the choices I make, particularly in the "arsenic hours" of the evening.

I guess I should start my first day off by taking stock of my goals and how I plan to report them. The good news is that I have a FitBit Force (which I LOVE and sync's with SparkPeople), and I have been very good about logging food in SparkPeople's nutrition tracker in the past.

So, here are the goals I plan to report on daily (reporting yesterday's stats):

Steps: 10,000 (I know this sounds high, but it's completely do-able for me)
Miles: 5
Floors: 10 (these are flights of stairs or equivalent inclines like hills)
Calories Eaten: Within SparkPeople Range, Higher or Lower

If I can hit my fitness goals and stay within SparkPeople's calorie range, there should be no reason why I cannot lose at least an average of 1 lb per week. That would see me 10 lbs lighter by the time I go to Walt Disney World in February. So, let's set that as my short-term goal.

My first report, however, is not going to reflect too well:

Today's Report:
Steps: 11,552
Miles: 5.11
Floors: 17
Calories Eaten: 225 Calories HIGHER than suggested range

As you can see, I was doing great yesterday with fitness (elliptical workout, 2 mile dog walk, etc.), and good calories all day until I completely messed up with 1100 calories of junk in the evening. That stops TODAY!

Among other things, here's what I'll be doing today (this is Nia and I last week after a frosty walk):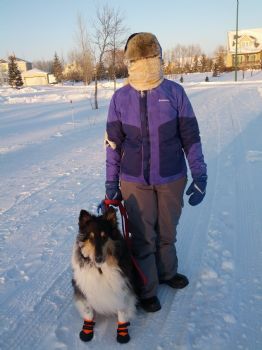 Sunday, November 03, 2013
My biggest excuse for not doing what I know I should is that I don't have the time. Well, I read one of SparkPeople's motivational quotes a couple of days ago, and I can't get it out of my head:

Don't say you don't have enough time. You have exactly the same number of hours per day that were given to Helen Keller, Pasteur, Michaelangelo, Mother Teresa, Leonardo da Vinci, Thomas Jefferson, and Albert Einstein.
- H. Jackson Brown, Jr.

That puts things into perspective, doesn't it?!

How can I read that quote and say, "I don't have time to make a proper supper." or "I don't have time to unpack the boxes that have been sitting around since we moved two years ago." or "I don't have time to exercise."? All of those excuses seem SO lame when you think of it with reference to that quote.

That started me thinking - surely those people slept! So, how is it that they were able to fit in so many fulfilling activities into their lives when I can't seem to do anything beyond my daily grind? Then it hit me - perhaps if my "daily grind" didn't include three or four hours of television every day, I might get a lot more done! I mean, if we just say I watch three hours a day; that means 21 hours a week (that's almost two whole days in a week that I'm wasting watching TV). Let's keep going - that's 90 hours a month (almost four 24-hour days), or 1095 hours in a year (that's A MONTH AND A HALF of 24-hours days doing nothing but sitting in front of the TV!!!) No wonder I don't feel like I'm accomplishing anything!

Here comes the hard part, though. I've figured this out, and I'm sold! I HAVE to cut back drastically on television watching. ...but how do I sell my family on it? Sitting down at the end of the day together to watch television is our "family time." I don't think they're going to be thrilled if I tell them I don't want to do that anymore.

I could try saying, "I'll only watch an hour a night." I'd probably still get some push-back; but it would be a start, and it would be much more likely to succeed than if I just said, "I'm not watching TV ever again."

I could also try to come up with something different for us to do together - something that was still fun (no-one's going to go for "let's all do an hour of house cleaning instead of watching TV"), but accomplishes some other goal. We used to enjoy playing active games on the Kinnect before we moved and piled a bunch of boxes in the exercise room. Maybe that should be my first goal - clear out that room so that we can play on the Kinnect together. At least, then, we'd be spending our time together getting fit.

OK, that's Plan A. Wish me luck!



First Page
1
2
3
4
5
6
7
8
9
10
11
12
13
14 15 16 17 18 Last Page

Get An Email Alert Each Time SCUBAMUM Posts