| | |
| --- | --- |
| | SCUBAMUM's Recent Blog Entries |




Sunday, March 09, 2014
WOW! What an intense week! I can't remember the last time I worked so long and hard! Unfortunately, that included working all day both Saturday and Sunday this weekend. I had meant to take Sunday off, but we found a bug in our code Saturday night, and it took all day today to fix it. Deployment is at midnight tonight; so it HAD to be done today.




Other than the work, though, today was a lovely day. We spent a couple of hours Skyping with my cousin and her kids in Liverpool. Every time we do that, I'm set up for the rest of the day.

My cousin's DD is running a half-marathon to raise money for Alzheimers research in a couple of weeks, and I'm SO proud of her!

In other news, my poor little Anwen is still limping fairly badly after hurting her leg in the snow on Monday. We're trying to keep her resting it, but it's been a real battle. She only turns three this month, so she's still quite a young dog; and she loves to run and play. It doesn't help, either, that Nia keeps pushing toys in Anwen's face trying to encourage her to join in a game of "chase me." We've been told by the vet that we have to be very careful, as it's her elbow that she's hurt; and, if it doesn't heal properly now, she could be lame for life. I'm so glad we work from home, so she's not left to her own devices for hours on end. If it was up to her, she'd be swinging from the chandeliers (if we actually owned chandeliers).

The other newsworthy snippet from this week is about my Fitbit Force. I absolutely LOVED that device. It was exactly what I wanted - the convenience of a bracelet that you never took off, along with a fully featured "lifestyle monitor" (Like that phrase? I just made it up.) that gave me my daily steps, distance, stairs, calories burned, vibrating alarms, and even told the time. It really helped me stay accountable.

Unfortunately, I'd been hearing for a while about the fact that it was causing serious skin irritations for some people. I didn't worry about it, though, as I'd been wearing mine for four months and hadn't had any issue. ...famous last words... A couple of days ago, I noticed that my wrist was itching under the band where the charging port touched my skin. It was so bad by that night that I took my Force off to sleep (first time since I got it). By the morning, it was a full-on horrible red, bumpy, itchy, burny rash that hasn't gotten any better yet. So, I've had to contact Fitbit about returning it, and I'm wearing my old Fitbit Flex (a far inferior product IMO) now. I'm very disappointed.




As far as my virtual walk goes, I haven't done too badly on distance this week; especially when you consider that I wasn't wearing a Fitbit for most of Saturday while I sorted out what I wanted to do about that rash. I've done 15.7 miles this week, and that puts me in the lovely little village of Appleton Thorn, Cheshire.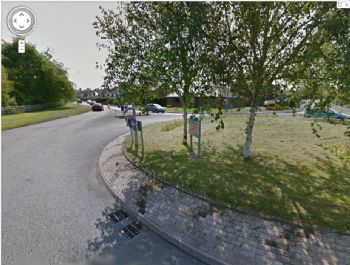 Isn't that pretty?

Look at how far I've come since December 29/13:

I'm so close to my cousin's house (marked "B" on the map) that I swear I can smell the tea being made for me.

Talking about a cup of tea...I think that's exactly where I'm headed now.







Sunday, March 02, 2014
This Week's Progress:
Calories: Did not track over the past two days
Calories Burned: 12,919 (average of 1846 per day)
Steps: 28,075 (average of 4,011 per day)
Distance: 12.44 miles (average of 1.78 per day)

Thank heaven for FitBit. If it weren't for it tracking my exercise for me, I wouldn't have a clue of how I did this week. I was doing alright with exercise and nutrition tracking until Wednesday, but then work got the better of me. I'm back, though, and ready to go.

First off - a belated "Dydd Gwyl Dewi hapus!" (Happy St. David's Day) to all my Welsh friends! Sorry - I worked every minute yesterday and didn't have a chance to do anything special, even just posting that happy thought. Normally, I make a nice leg of lamb, maybe some bara brith, and find some daffs for the table - but I'm afraid this year went by with only my mum sending me a quick email to mark the occasion. Oh well - hopefully, next year won't be so busy.

OK, my 12.44 miles puts me near the lovely little village of Church Lawton on the boundries of Cheshire and Staffordshire, just north of Stoke-On-Trent. Although I didn't get anywhere near as much exercise this week as I have in other weeks, I'm still moving and still thinking about what I'm supposed to be doing.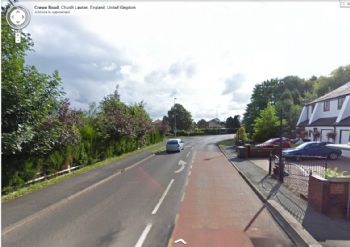 In other news - yesterday, we bought the blue-ray of the movie Gravity with Sandra Bullock and George Clooney. It was an excellent sci-fi film, but what I couldn't get over was the fact that I'd read that Sandra Bullock is 49 years old. That's only two years younger than me! I had no idea we were so close in age! Watching her floating around in space stations in her underwear, she's AMAZINGLY fit! It made me realize that I have NO excuses for not being just as fit as she is. If she can be that strong at 49, I can be that strong at 51. It's just not that big a difference.

I'm inspired!







Wednesday, February 26, 2014
Yesterday's Progress:
Calories: 1,605 (WITHIN range)
Calories Burned: 1,938
Steps: 5,919

OK, I'm getting back in the groove, burning more calories than I'm taking in. This morning's unofficial weigh-in put me back where I was before I travelled last week; so, that's good news. I always think that if you're able to lose any weight you gained on a trip within the first week, it was probably just water retention anyway. I tend to swell up whenever I fly, so I think that supports my theory.

Today has been a very busy work day, but I started the day off with 45 minutes of very vigorous house cleaning and have purposely taken several "dog play" breaks throughout the day, so I'm on track with my exercise.

My cousin from Gwynedd has invited my DH and I to join a Fantasy F1 league with him, so we're going to have some fun picking our drivers and teams tonight.





First Page
1
2
3 4 5 6 7 8 9 10 11 12 13 14 15 16 17 18 Last Page

Get An Email Alert Each Time SCUBAMUM Posts