| | |
| --- | --- |
| | SCUBAMUM's Recent Blog Entries |


Tuesday, February 25, 2014
Yesterday's Progress:
Calories: 1,387 & 1,585 (both WITHIN range)
Calories Burned: 1,719 & 1,867
Steps: 2,359 & 4,474

OK, not fabulous, but not a bad couple of days. I tracked my nutrition carefully, and I'm burning more calories than I'm taking in. I didn't do any proper exercise over the past two days. I spent most of Sunday recovering from the hairy trip home on Saturday, and yesterday was your typical first day back at work after holidays - so I was at my desk until well into the evening. I did get some playing with the dogs in both days, though, so that was a bit of running around the house like a mad woman with squeaky toys.






The whole week is going to be a bit bonkers until I get myself caught up, but I'm making progress.





Sunday, February 23, 2014
WOW! What an insane couple of travel days. Friday, our plane was supposed to leave just after 9 a.m. The airline knew it was going to be delayed by hours the night before but still insisted that we were there for our original time. So, we had to get up at 5 a.m. to get ready and eat before our 6:30 a.m. bus. Then, when we got to the airport, it was delayed twice more. We finally lifted off after 2 p.m.

Then, when we got to Minneapolis, we found that they'd just had a snow storm with more than 9 inches of snow and the roads were TERRIBLE! I've never seen roads in such bad shape, and I live in Manitoba! The main issue on the roads we were using was that they were spraying a water/salt mixture. At those temperatures, the water/salt mixture won't melt the ice as hoped - it just adds more ice itself when the water freezes. What we needed was sand to give people some traction. We drove out on Saturday (even though they were urging people not to go on the roads), because it wasn't forecast to get any better in the near future. The first 100 miles was a white-knuckle drive the whole time. People were spinning out in front of us, we saw loads of vehicles in the ditch, and my poor DH was just holding the car on the road through sheer force of will (and 30+ years of experience driving on ice). What a nightmare.

The roads improved after that until we got past Grand Forks. Then it was blowing snow across the highway. We finally made it home in one piece, went to the breeder's to get the dogs, and went into the ditch right next to her driveway on our way out. We're so tired and headachy today. I guess it's not surprising after the past couple of days.

So, obviously, I got virtually no exercise on Friday and Saturday, but I think I made up for it in the previous week. I've started carefully counting calories today again. Let's see where I am in my virtual walk:

My last virtual walk posting was on Feb. 9, and I'd made it from Heathrow airport to Royal Leamington Spa. In the two weeks since then, I've done a whopping 66.57 miles!






That puts me in Stafford, Staffordshire, in the West Midlands. I've never been there personally. The picture below isn't particularly attractive, but it might have been nicer on a sunny day. Apparently, there's a monkey forest there, where you can walk amongst 140 Barbary macaques roaming free. That would be interesting. There also seem to be some lovely historical buildings from Elizabethan timber framed houses and thatched cottages to beautiful manor houses and churches.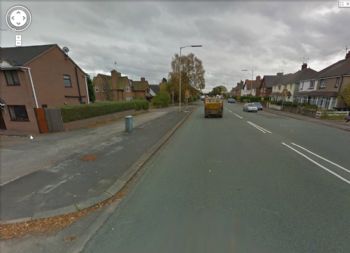 www.visitstafford.org/






Thursday, February 20, 2014
Wow! What an insanely busy week! I'm on my way home tomorrow, but this is the first time I've had a chance to even glance at anything personal on the computer since I've been away.

Since all of my meals have been pretty well out of my control, I haven't been tracking calories. I have, though, been trying to be mindful of portion sizes and leaning heavily towards the veggies as opposed to fried things.

The good news, though, is that my exercise minutes have been through the roof this week! Every night, I've been going to bed with my legs and feet just screaming after all the walking. Here's a quick recap:

Friday (last day at home) - 5278 steps (2.3 miles)
Saturday (travelling) - 7923 steps (3.5 miles)
Sunday - 13,232 steps (5.9 miles)
Monday - 19,323 steps (8.5 miles)
Tuesday - 24,943 steps (11.1 miles)
Wednesday - 18,888 steps (8.4 miles)
Thursday (today, with a load more walking still to do) - 12,693 steps (5.62 miles)

So, all in all, it's been a very productive and SUPER ACTIVE week!





Wednesday, February 12, 2014
Yesterday's Progress:
Calories: 1,644 (just WITHIN range)
Calories Burned: 1,815
Steps: 3,912

Work is getting intense, and likely will continue for the rest of the week. No exercise yesterday except for some running around the house, playing with the dogs (Yay, dogs! Without you, I would truly be a mess!)





Not much else to report. Almost prepared for the big meeting next week. Now I'm just trying to finish up as much project work as I can before I'm unavailable. Wish me luck!







Tuesday, February 11, 2014
Yesterday's Progress:
Calories: 1,346 (WITHIN range)
Calories Burned: 2,202
Steps: 9,876

A pretty good day, yesterday. Calories were towards the low end of my range, and I made it to quite a good step count with elliptical in the morning and a 2 mile dog walk in the afternoon.

Work is starting to REALLY heat up right now as we'll be having our corporate annual meeting next week. Besides all the preparations for the meeting itself, everyone is trying to clear up other projects as we won't be doing any other work during that week. (BTW, I'll try to post every day next week, but it might get a bit spotty.)

I'm doing the Winter Wellness Challenge right now (so far, so good - 11 day streak), and today's task was to read an article that listed a number of stress relieving techniques: www.sparkpeople.com/resource/wellnes
s_articles.asp?id=779 It's as though they knew exactly what I needed and delivered an article for me. The techniques they talk about are all quick and easy, and they can be done anywhere (even for a few minutes at work). I'm going to give a couple of them a try today.





First Page
1
2
3
4 5 6 7 8 9 10 11 12 13 14 15 16 17 18 Last Page

Get An Email Alert Each Time SCUBAMUM Posts