| | |
| --- | --- |
| | SCUBAMUM's Recent Blog Entries |


Wednesday, February 05, 2014
Yesterday's Progress:
Calories: 1,421 (within range)
Calories Burned: 1914
Steps: 4,736

I purposely took the day off exercising yesterday, as I was a bit sore after the active day before. I still got some good steps in, though; so, I'm happy about that.

Calories were not only within range, but more toward the lower end of the range. I was quite pleased with that.

Watched the grand finale of The Biggest Loser last night. ****SPOILER ALERT!! DON'T READ FURTHER IF YOU DON'T KNOW WHO WON! ****

The girl I wanted to win did win, and I'm happy about that. However, I was a little shocked at how she looked. Just my opinion, and I applaud her hard work, but I thought she looked TOO skinny. It actually upset me a bit, because I sincerely hope she's not going to go the other way and end up with anorexia. What a shame that would be! She was doing so well, getting back to being an athlete (she was formerly a competitive swimmer) and she really inspired me; but seeing her last night was a bit of a shock. I hope she just hammered it to win the competition, and then she'll get back to a normal weight now that it's done.




Tuesday, February 04, 2014
Yesterday's Progress:
Calories: 1,627 (within range)
Calories Burned: 2218
Steps: 10,391

Well THAT's more like it! Finally, a day where I hit all my goals.

Calories were within range. I'm actually surprised about that, because I got "munchie" in the evening and had a couple of cheese wedges with crackers - not a crazy splurge, but I was sure it would have put me over my range. When I checked the packet this morning, though, it turns out it was "light" cheese and only 25 calories per wedge! (I'm going to have to thank the friend who gave them to us for Christmas for being thoughtful enough to make it light cheese.)

I also had a properly active day. I started off with the elliptical first thing in the morning, and then bundled up and did a 2 mile dog walk with my DS in the evening. That put me over my 10,000 steps. I'm quite happy about that!





Best of all, since the dogs have been walked three days in a row now (I can't even believe I'm writing that, it sounds so awful!), they've slept through the night two nights in a row. YAY!

I'm keeping up with my Winter Wellness Challenge also. Yesterday was a reading day with a "smart snack" challenge, which is what brought the cheese wedges to mind in the evening.





Monday, February 03, 2014
Yesterday's Progress:
Calories: 1598 (within range)
Calories Burned: 1995
Steps: 6778

Yesterday, I jointed SP's Winter Wellness Challenge. I wanted something to keep me accountable each day of February, but something that I could commit to even with a holiday coming up in the middle of the month. This seemed to fit the bill, as some of the days are just "reading" days.

I did alright for exercise - walked the dogs 2 miles and did a 10-minute jump workout for Winter Wellness (that was hard). I also did well with my calories. So, I'm feeling comfortable with that.

I spent over two hours Skyping with my cousins in Liverpool yesterday as well; so I feel like I did something that was good for my soul, not just good for my body. My youngest cousin is turning 6 this week. He's SO excited about his birthday party. What a sweetheart!






Sunday, February 02, 2014
Yesterday's Progress:
Calories: 1546 (within range)
Calories Burned: 2107
Steps: 8626

I have lots to talk about today. First, it's Sunday, and that means it's time to update my virtual walking tour. Since I didn't record the walking tour last week, I'm combining the two weeks' mileage. In those two weeks, I've gone 26.17 miles (definitely NOT any of my better weeks, as I was averaging around 18 miles per week earlier). However, it is what it is. So, let's get started.

That 26.17 miles puts me in Banbury, Oxfordshire. So, I've moved into a new county now. This is the same Banbury from the old nursery rhyme: "Ride a cock horse to Banbury Cross to see a fine lady on a white horse." Apparently, Banbury Cross is still there.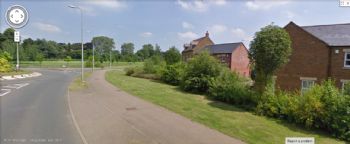 Looking at the map, I'm guessing I'm around 1/3 of the way through this journey.

Meanwhile, I discovered something quite interesting yesterday. As it was the first of the month, I did my measurements:

Weight & BMI - same as last month
All measurements except hips down 1/2" or more




As I was recording them in SparkPeople's measurements log, though, I did something I'd never done before. I actually tried to figure out what all those other mysterious calculations were (i.e. Lean Body Mass, Body Fat Mass). What I discovered was VERY interesting.

First, in case you (like me) didn't know, here are a couple of quick (and likely highly inaccurate) definitions:

Lean Body Mass (LBM) = the weight of everything in your body that is NOT fat (e.g. bones, blood, muscles, organs, etc.)

Body Fat Mass (BFM) = the weight of ONLY the fat in your body.

So, if you add LBM + BFM, you get your total weight.

I found some calculations on the Internet for those two figures and ran them for myself. It answered a LOT of questions I'd been having.

You see, I was starting to get a bit disheartened that my weight was pretty well the same as it was last year, even though I'd been working hard for the past couple of months to bring it down. (The story is not exactly as simple as that, because I did put weight on this summer. So, I should be happy that at least I got rid of it.) What was frustrating me the most is that I FEEL slimmer than I did this time last year, and my measurements bear that out. The scale just wasn't cooperating with this fact.

Once I ran the numbers on those two calculations, though, it all made sense. I have gained three full pounds of Lean Body Mass (i.e. muscle) in the past year. I had guessed that I'd gained muscle when I realized my measurements were down, but I didn't realize it was that dramatic until I saw that number.

It really does make sense, because I have been exercising consistently (even when I let my eating habits go, I still kept the exercise). It makes me really happy, because I was athletic for most of my life. Thinking back on it, I don't even know how I did it all. When I was a teenager/young adult I ran hurdles for the track team, made it to the Red Cross Bronze Medallion level in swimming, played tennis, did yoga every day, rode my bicycle for miles, went out dancing with my friends every weekend, and RAN (not walked) everywhere. Gaining that muscle has made me feel like I'm getting back to being that athlete again.







Saturday, February 01, 2014
Yesterday's Progress:
Calories: 2010 (350 over range)
Calories Burned: 2242
Steps: 9698

Contrary to the usual, yesterday started out not that great. Normally, I do well during the day and then blow it all in the evening. Yesterday, I was out running errands and got super hungry. I ended up going out to eat lunch at a restaurant even though I knew we were meeting friends at a restaurant for tea the same day. Also, because I was so hungry, I wasn't careful about my choice (although I wasn't a complete idiot - I still did split the meal with my DH; so it was 1085 calories instead of a whopping 2170 for one meal).

Anyway, rather than let that ruin my day, I ate very sensibly at tea (a salad and 2 chicken souvlaki kebabs) and then went home and figured out my calorie count. I then proceeded to exercise (elliptical and SP Bollywood cardio workout) until I had burned more calories than I had eaten.

So, bottom line is that I may have gone over my recommended calorie range yesterday, but I did something about it; and I still ended up burning more than I took in. That's not bad.




First Page
1
2
3
4
5
6 7 8 9 10 11 12 13 14 15 16 17 18 Last Page

Get An Email Alert Each Time SCUBAMUM Posts