| | |
| --- | --- |
| | SCOTMAMA's Recent Blog Entries |


Friday, December 04, 2009

This morning I decided it was a good time to again enter my weight and the various measurements. I was feeling just a little despondent over it because my weight was up about a pound from the last time I did it.

But by the time I had checked the waist and abdomen measurement there was a definite smile on my face! Amazingly I had lost 2.5 inches around the abdomen and 1.5 inches on my waist! What a grand feeling -- I don't mind that measly pound at all now. And to make sure I don't subconsciously cheat when I take measurements I always see where the tape goes without looking, just by the feel and mark it with my finger -- a surprise (or disappointment) when you actually look to see what it is!

It just goes to show that it isn't always WHAT you weigh, but how you are toning up! I think it must be the stairs I was constantly climbing up and down while at my daughter's -- she has a huge 3-story home and it seemed I was always on the wrong end of the stairs!

A happy Eve!





Wednesday, December 02, 2009

Some years ago I was vain enough to think I'd try Lasik surgery so I wouldn't have to wear glasses! Do I regret that decision? Oh Ya! I can't believe all that I went through and although for me the outcome was successful, it could have gone so very differently.

I had my surgery and went home with the dark, dark glasses in place. Returned the next day and was assured that my vision was great and I felt good. That night, somewhere in the early morning hours my right eye began to feel like there was ground up razor blades in it....not a good feeling at all. By 6:00 a.m. I was frantically calling the emergency number every 15 min. I finally reached someone (a real person) by 11:00 a.m. who told me to come right in.

The doctor acted like this was routine and proceeded to lift my flap and rinse my eye, telling me it was most like "an inflammation." Several days and several visits went by when they again lifted the flap and did more rinsing. Finally after 3 weeks the doctor announced that I had a serious problem and I was referred to a specialist.

Upon checking in with the specialist I found that the doctor performing the Lasik surgery had pulled my flap off as he was removing the protective lens from the last lifting of the flap. Of course he didn't bother to tell me -- I was only the "patient." The specialist, someone I was to become very well acquainted with over the next 4-1/2 years told me he wanted to see me every day -- and he MEANT every day -- Sunday, Memorial Day -- every day! Of course his office was 30 to 40 miles one-way from where I lived, and I soon found my days revolving around the visit to the doctor. The rest of my time was spent taking pain pills and sleeping!

I won't go into details about all that I went through. It ranged from having my eye sewn shut for a short period of time, putting more medicine in my eye than I care to remember, and culminating in a cornea transplant. Then after a year, when all the stitches were finally out from the transplant, I was told to be able to see I would have to have a special contact lens.

Yes, I sued the doctor for malpractice and today I signed the insurance check made out to me and to my attorney. It was not nearly what I thought I was entitled to for all that I went through, but sometimes that's how life goes. I'm happy it's over, I'm very thankful that thanks to the excellent cornea specialist I've worked with I can see perfectly again (I think of him as my ANGEL in disguise!)

Surely there is a moral to this story, but perhaps it will be a different one for different people. I'm just happy that it's over and that I can see!

Eve





Tuesday, December 01, 2009

The way 2009 is zooming by I think I know what they mean by the "Speed of Light." And the term "molasses in January" is more apt for the way the pounds have been dropping off. As I gaze into my globe trying to foresee my future, it all looks a little hazy, so I'm not sure what the end of the year will bring, but probably about 3 to 5 pounds drop in my weight on December 31, 2008. I know that sounds like a very trivial thing to most of you out there, especially those of you who brag about your 50 and 100 pound losses! But when I joined SP 2 years ago my recorded weight was 157 and now it is more than 10 pounds gone and although it went slowly, it seems to be definitely staying off.

All in all, I think I'm forming some good health habits. I drink considerably more water than I did in the beginning. I never drink soda's any longer. Pizza is a treat for 2 or 3 times per year only! I have said "no" to temptations more often over the past 3 months than I can remember doing over my entire LIFE!

Some changes take place so slowly you don't notice them happening when it's taking place right before your eyes! There are times I purposely keep temptations blatantly on my coffee table or on my counter. It's like the alcoholic who tells his friends it's OK to drink in front of them -- I don't mind if friends stop by and enjoy the Caramel Clusters or the Candied Pecans and by having them in plain sight I am reminded every day of my new Healthy Lifestyle!! And I secretly smile to myself as I slip into my jeans that are size 10 instead of 14!





Thursday, November 26, 2009

There was a time, not so many years ago, when I was in the kitchen early in the morning on Thanksgiving Day! The turkey was thawed and there were giblets to boil, stuffing to prepare, potatoes to peel, cranberries sauce to prepare, pumpkin pies were cooled and put in the refrigerator for later in the day. Crescent rolls -- I remember the year I forgot about them until we were halfway through dinner! No one in our family enjoyed marshmallows on their sweet potatoes (so I was thankful I didn't have to make that!) but there was lots to do. And who did all the work? Mostly it was me! The rest of the family was all having a ball visiting around the TV which was turned to some football game. The day would end with everything coming to the dining room table more or less at the same time, everyone was in a good mood, my DH said grace and all was well with the world. It really was a wonderful tradition. And although most of the burden of preparing it fell on my shoulders, it's something most women, as mothers, go through very willingly. I was no exception. And I savor the memories. Even though most of the clean-up was left to me also it was still enjoyable. The little ones were getting tired and cranky, and it was as good to have peace and quiet restored to the household as it was to have help in the kitchen.

Besides when my good china was used, I was very particular about the way it was handled, no dishwasher for those delicate pieces. And can you blame me with the 24-kt. gold trim on each of the exquisite pieces I held so dear to my heart? During the lull between the main meal and the dessert I usually managed to have the soup or salad plates washed and dried and sometimes, when lucky, even the dinner plates. And one nice thing about having dinner at our home with all the children was the leftovers. I packaged everything up and there were many evenings when I was tired out that those very same dinners came to my rescue.

And now I am alone and I find myself driving to the next state to visit my daughter's home for the holiday! Now it is I who gets waited on and who goes home in two or three days laden down with leftovers of dark meat (my daughter and her family eat only white) and anything else she feels she does not want to be bothered with. It rather reminds me that the tables have been turned and now SHE is treating ME the way I once treated HER. And I rather like the feeling -- and although at times it makes me feel my years, in other ways there are benefits also. No extra pie around to put on extra pounds, no messy kitchen when I get back home, just a nice clean home where I can once again enjoy my new healthy lifestyle!

Face it Seniors -- this must be what is known as the Golden Years!
Eve





Tuesday, November 24, 2009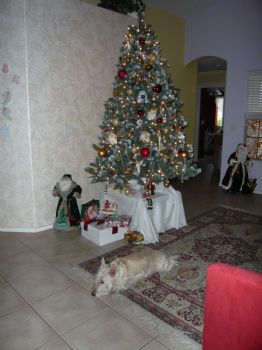 'Tis the season to be jolly, tra-la-la-la.....and on it goes! I am one of those people who cannot wait for mid- to late- November to roll around so I can begin dragging in all the Christmas decorations and plan on setting up my Christmas tree and decorating it with one of my theme's.

I have three themes that I have decorations to achieve. #1 gold/silver/crystal for those years I want a sophisticated, but beautiful ambience. #2 a mixture of gold and red to put all who gaze upon it into the Christmas spirit and #3 my "country" theme where I pull out all my cute little teddy bears and literally load down the Christmas tree with the little cuties.

The photo I have shown in the above corner to add a little cheer to this blog was my tree of last year. I placed it in my extra big entryway (it's as big as a room!) but this year I decided to be different and placed it in front of a big window in the great room. It can be seen from the back yard, but unfortunately is not visible to passers-by from the street. But I'm the type who loves changing things, so I try to move it from place to place. Next year - who knows??

I devote an entire day to setting up the tree because, after all, it includes moving furniture around a bit to accommodate a spot for the tree, and that's no small task! But I enjoy it so much, I would gladly devote 2 or 3 days if necessary. I turn Christmas music on as I work merrily away, placing each ornament just so as I move along, working my way up to the top of the tree. Finally on the stepladder comes the upper-most branches and finally -- Wow! It's done, the lights are turned on and I can sit back and enjoy my creation. I normally enjoy a cup of coffee or tea and sit listening to the Christmas carols -- giving thanks for another year of good health and happiness!

I know it's early, but Merry Christmas everyone! Eve



First Page
1
2
3
4
5
6
7
8
9
10
11
12
13
14
15
16
17
18
19
20
21
22
23
24
25
26
27
28
29
30
31
32
33
34
35
36
37
38
39
40
41
42
43
44
45
46
47
48
49
50
51
52
53
54
55
56
57
58
59
60
61
62
63
64
65
66
67
68
69
70
71
72
73
74
75
76
77
78
79
80
81
82
83
84
85
86
87
88
89
90
91
92
93
94
95
96
97
98
99
100
101
102
103
104
105
106
107
108
109
110
111
112
113 114 115 116 117 118 119 120 Last Page

Get An Email Alert Each Time SCOTMAMA Posts