| | |
| --- | --- |
| | SCOTMAMA's Recent Blog Entries |


Thursday, June 10, 2010

After only one day in the mountains I am already feeling very much revived and full of peace! Tranquility abounds when the day is a very mild 75 degrees and the skies are a peaceful, cloudless blue!

With 2 other 4-legged buddies to get acquainted with, my little Scottie was full of energy and eager to explore. Our walk this morning had each of them trying to out-do the other in the number of times they could "make their territory" before becoming completely empty. The neighbors were friendly as we walked up one street and down another, reminding me of my small town childhood. The dogs thought it great to get some extra pats from friends we met along the way.

And late this afternoon I took a favorite book to their front porch and sat, with my dog, enjoying the weather as I read. My dog was content to observe anything that moved, without making any plans to stray from the porch. This made me both proud and thankful.

By the time I am scheduled to return home to the Phoenix heat I will be totally rejuvenated and ready to face some more HOT weather! Wonderful to have a little reprieve!







Monday, June 07, 2010

The clock is a funny thing, it can evoke different emotions in different people. You may look at it and think how time is dragging. You may look at it and feel you have no control any longer, time is slipping by faster and faster. It could bring despair or elation, depending on what you feel is going to happen next.

Being happy with your life as it is now is an important step in a healthy lifestyle. And I'm not saying everyone needs to go around smiling all the time, or that you shouldn't try to continually better your life. But being unhappy with your life, your situation, how you look, financially -- whatever it is that is bringing the "unhappiness" into your life; it's doing more harm than good. It's eating at you the same way holding a grudge on someone eats at you. Constantly burning away at your insides.

"So! You may say sarcastically! What do you suggest I do?" And while there is no fix-all answer for all the problems, there is a way to change your attitude. You are the only one that can do it. It's hard, but always try to see the silver lining in the cloud. You've all heard the saying "every cloud has a silver lining" and it is an old-fashioned term, but it still applies. What it means, basically, is to try and not let your troubles get you down. Hang onto that sense of humor, try to still do things for other folks, see the best rather than the worst, and most of all, try to see yourself in the best possible light. If you don't love yourself how do you expect other people to love you?





Sunday, June 06, 2010

I finally broke my plateau of 145 pounds -- which had been the very same for the last 6 days! So -- on the 7th day he rested -- and my scale dropped down to 144.6; which to me indicated time for a little reward. I went to Costco and bought a new pair of shorts, and don't ask me why I picked up a size 12 instead of a 10 -- habit perhaps! I tried them on when I got home and they fit me perfectly, or so I thought at the time. In fact, I wore them the rest of the day! Now I'm noticing they are actually quite large around the waist -- I should have chosen the 10! They were such a terrific buy I think I'll go back and buy a 10 and also an 8 (as incentive material).

Another treat I allowed myself was a leisurely soak in the tub complete with bubble bath, candles and a good book. This treat is a very relaxing way for me to end my day, and ensures a good night's sleep.

I ended my day as I stretched out in bed, spoiled and pleased, by feeling very good about my life and the way I am progressing. It's a good feeling to get a pat on the back every so often (even if it's from yourself).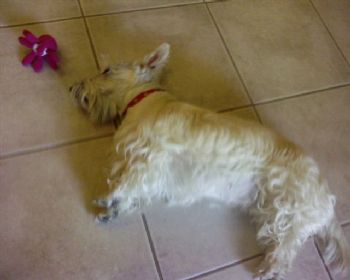 Friday, June 04, 2010

When my husband was diagnosed with stomach cancer we were devastated. The doctors at Mayo did not pull any punches and he was told up front there was no chance for surgery, chemo or anything -- they would keep him comfortable with medication and that was all they could do.

With sad hearts we returned home, neither of us wanting to face the truth. We knew in our hearts that the end was inevitable and within six short months we would no longer be a happy couple. Each day changes became apparent as the scale continued to show the tale, down, down, down. Finally at 110 pounds we decided to no longer have him step on the scale.

Our Scottie, JB, knew something was wrong. She would lay at my husband's side for hours on end. If he layed down for a nap, she would lay beside the bed. We did not trust her to lay on the bed with us any longer for fear she would jump on my husband's stomach and hurt him; but she would lay in a chair watching us, or lay as close to the bed as possible. For a dog that was used to spending many hours each day running and playing outside this had to be a supreme act of love to put it all aside and take up a position of guarding a loved one. Dogs have an inner sense and it was proven each and every day as she kept her vigil.

One Sunday morning was the final day, the last breath, and as tears fell in the final goodbye, I lifted JB and placed her next to my husband, thinking she may wish to say goodbye also. But dogs think differently than humans when it comes to death, and knowing her master was no longer occupying the body on the bed, JB simply turned her head and stared at me. I understood her chore of keeping watch and trying to keep him safe was over, not to be forgotten, but moving on.

It's been several years now since that happened, and I have a new Scottie. I have noticed some of those same traits in her. When I'm sick and stay in bed, she will also lay down somewhere in the bedroom to "keep an eye on me and guard me."





Wednesday, June 02, 2010

I just got home from the gym and I feel so invigorated, so alive, and deep down so downright good about life! When an hour or so at the gym can make me feel like that, it really makes me wonder what kind of an idiot I must be that I procrastinate on going there each and every day! Hey! I'm not the only one that does it..... I hear people constantly lamenting the fact that they are procrastinators about running, walking, going to the gym, anything and every thing. And when we finally DO get around to DOING IT -- we love it!

Now do we procrastinate about tearing into a pizza when one is set in front of us? Or about chicken and dumplings, BBQ ribs, a juicy steak -- or whatever your big temptation happens to be? Ha! I can see those guilty looks on your faces right now! No hesitation there, right?

As I watched the minutes adding up on the treadmill I realized how much easier it is for me to walk the 20 minutes now than it was when I first started. I love to set it on random and have the machine taking me up and down hills. Then I took a turn on the epileptic, which I do for less time because I'm still getting the feel of it. It is much harder for me to get my time in on that machine than on the treadmill, that's why I know it's important for me to push for each additional minute. The weights come next and for me it's a period of cooldown as well as working those muscles. Stretching is part of it too. And then I hit the pool for more poolside exercises (I used to do pool aerobics) and walking in the pool. In the 55+ area where I go it is considered a "walking" pool, if you want to actually swim you must go to the part that is divided off for laps. I try to get in a lot of arm and leg exercises, helping my flexibility as well as toning up.

Maybe if I do this enough times in a row it will become a habit and my body will want to go, instead of procrastinating! Do you think?

Have a great day everyone! Be a DOer, not a Procrastinator!




First Page
1
2
3
4
5
6
7
8
9
10
11
12
13
14
15
16
17
18
19
20
21
22
23
24
25
26
27
28
29
30
31
32
33
34
35
36
37
38
39
40
41
42
43
44
45
46
47
48
49
50
51
52
53
54
55
56
57
58
59
60
61
62
63
64
65
66
67
68
69
70
71
72
73
74
75
76
77
78
79
80
81
82
83
84
85
86
87
88
89
90
91
92
93
94
95
96
97
98 99 100 101 102 103 104 105 106 107 108 109 110 111 112 113 114 115 116 117 118 119 120 Last Page

Get An Email Alert Each Time SCOTMAMA Posts