| | |
| --- | --- |
| | SCARLET226's Recent Blog Entries |


Thursday, April 28, 2011
My internet was down last night so hopefully I'll be forgiven for this being posted late:

B- 5
L- 5
C- 0
*- 0
Total: 10

So not my best day, I went a bit over calories and never made it to the gym. But I tracked everything and didn't go too far over :-)

Plus I figure the fact that my job has me walking all over creation has to count for something (I've also taken to walking on my ten minute breaks, but I don't count that since it's more of a stroll and I'm smoking while walking... still better than sitting).

But all in all not a bad day. We went to steak n shake after work, I looked up what I could eat beforehand and stuck to that when we got there, I even ended up not finishing my fries, so I may not even have gone that far over my calories for the day :-)




Tuesday, April 26, 2011
So I noticed this unofficial challenge too late to actually have someone take a picture, but here are a few before pics (and one that I'd like to get back to... then past.)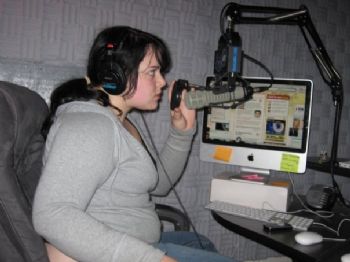 One a friend took of me doing a radio broadcast (my hair was alot longer when this was taken, i got it cut off about two months ago)




Me and my boyfriend almost two years ago. We were in our favorite bar watching the Saints game with one of my friends. It looks like we're being sweet but really we're just trying to dodge the camera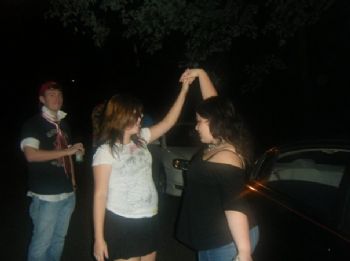 80's Party!!!!!!!!!!! (no idea what I was thinking with that outfit. You can't see it in the picture, but I'm wearing silver spandex tights, and legwarmers.)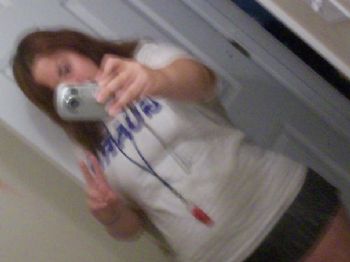 Picture of me in my lifeguarding uniform. Cute, no? I think this is when I felt the best in my adult life. I still had some parts that were slightly larger than they should be, but nothing was jiggly, everything was tan, and I was walking four miles a day getting to and from work.







Friday, July 30, 2010
... how just getting the small things under control makes me feel like I have my entire life back on track. In the last two days I cleared out my e-mail inbox, made payments on my credit cards, and put in my transfer application to switch colleges for this semester. That's it. My room's still a mess, my car still looks like I live in it, and my laundry pile is to the point that I fear I'll need a sherpa and a grappling hook to conquer it. Yet somehow just taking care of the day to day things that kinda slipped through the cracks make me feel like I'm not perpetually ten minutes late and my to-do list doesnt look like something a town criar would unroll in ye olde town square.

So maybe I'm onto something. Maybe if I just take it all one task at a time (e.i. maybe focus on moving the christmas decorations into storage, making a list of what goes to GoodWill, and boxing up things that will come with me when I move, would be less daunting than "clean the garage.")

Though I have to admit that it's a little sad that I find this to be such a noble concept.





Thursday, July 08, 2010
So, as those of you who read or used to read my blog, then have noticed my spark page lately, things have just gotten worse since I got up on my high horse about goals and weight loss and everything. I'm now over 220 lbs, I get tired and out of breath just chasing after my dog, I over sleep, I'm always tired, and all my clothes fit wierd (not to mention I've been pulling a dracula and avoiding mirrors at all costs... except make-up time, most of which is trying to conceal my face-fat.)

Every time I ty to talk to my mom about it all the says is "well you know what you need to do", which, to be entirely honest, if slightly calous, I'm not taking from someone who had lapband surgery before she REALLY tried dieting or exercising. And she still eats the same crap. But anyway, I don't know.

I feel like I need help. I dont know what plan to follow and I dont feel like I have any support here. Most of my friends are at a normal weight or just WAY too obsessed with their weight for me to be comfortable talking to them, Neil always just tells me he thinks I'm beautiful the way I am (which I love him for, but I'm not gonna lie, sometimes I don't believe him. I know he means it, but still, I feel like I should be at least hotter, if not healthier, for him... I mean, he's a photographer and many of his project are hot naked women, if he realizes he can do better, I'm SCREWED), then I already went over the thing with my mom...

So yeah, does anyone have any suggestions? For anything really. I just feel... lost, when it comes to my health.





Sunday, January 24, 2010
So, that Blink 182 song was playing last night at WhirlyBall (for those of you who have never played, it's an AWESOME cross between lacrosse and bumper cars), and now it's stuck in my head.

But it's kinda relevant. I realized lately that I get so caught up in the minutia of the big picture that I forget about the short term. So I'm picking up a new habit. I'm setting smaller goals and rewarding myself upon reaching them.

My first goal; Lose 20 pounds by my birthday (February 26). I have a full month to do this so it seems reasonable. My reward for reaching this goal? That I haven't quite figured out. I'm thinking I'll get myself a new gym bag though (mine has a big rip in the bottom, is a bit on the small side, and lacks compartments).

Details of this goal:

-between 1600 and 1900 calories a day (big girl's gotta eat you know ;P )
-30 minutes cardio daily (intense cardio 4 of those days)
-3 strength training workouts a week
-Allowed drinks: water, coffee, and tea (smoothies count as food, not as a drink, therefor they're not on here)

And that's it. Nothing more detailed and unrealistic than that. :D



1 2 3 Last Page

Get An Email Alert Each Time SCARLET226 Posts