| | |
| --- | --- |
| | SANDRAREGINA's Recent Blog Entries |


Thursday, January 03, 2013
Last year I accomplished a lot. I'm very happy with the goals I set and met. This year, I need new goals. Most of the standard goals, I've met or exceeded. I don't need to 'eat healthier' - I'm quite happy with my current eating habits. I don't need to 'get more active' - I'm quite happy with my activity level (doable, not excessive, but enough to show results). I don't need to 'lose weight' - in order to lose much more, it will require some rather unhealthy diet restrictions, and besides I'm quite happy where I am. Technically I need to lose about 1 1/2 lbs to get to 'goal', but that is still within maintenance range, so while I want to get to that number to check the box and get my free Weight Watchers membership, its not that big a deal. Its just a number.

I've been told, over and again, that maintenance is as hard or harder than losing the weight in the first place. So.
Goal #1 - maintain weight of 150 lbs (+/- 5 lbs) through maintenance of healthy eating habits and regular exercise. I'm looking at all the 'maintenance' articles on Sparkpeople now, and will likely join a group or two based on that.

I want to be strong. Physically strong. So.
Goal #2 - increase upper body strength as demonstrated by being able to do pull-ups (chin-ups) and proper push-ups. I may also look into memberships or passes to access strength training equipment at places like the "Y".

I want to get to Mordor, eventually. I made a good start last year, and made it to Rivendell. I need to keep going. So.
Goal #3 - travel the distance (in miles) between Rivendell and Lothlorien by December 31st 2013. That means an average of 1.2 miles/day. I know I can do that pace, its just a matter of continuing my daily walk and making note of it on a regular basis.

I will very likely develop and implement more goals as the year goes on, but you shouldn't overload on goals and projects, and I have stuff on my plate unrelated to my health. I think those three goals are a good start for the year.

Here's to a happy, and HEALTHY, 2013.




Tuesday, January 01, 2013
So today is the start of a brand new year. Lucky 13th. :)

I've gotten the year off to a great start - three short workouts adding up to a half an hour, and a half hour walk in the bright sunshine. It was cold but the sun made it bearable. I took the loop through the park behind my apartment, and the parking lot and laneway were full of cars and people, as the tobogganing hill was packed full of families all out enjoying the sun, the snow, and just the day in general.

Both cats spent the day sleeping indoors, on the couch, in the warmth, tails tucked over noses. Made it hard not to join them, but I resisted.

One challenge I am going to try this year is to write down positive things, or things that make me happy, and fill a jar with them. Not just noted somewhere online, ephemeral data in an endless stream, but actual physical notations of the good things of life. There is so much negativity in the world, its important to make special, specific note of the positive.

Here is to a great new year.





Tuesday, October 09, 2012
Today I hiked along Elora Gorge with my best friend. We didn't 'power walk', because every minute or so we had to stop and take a picture! The leaves were out in full force today, and while the air was cool and the sun kept hiding behind the clouds, it never got really cold or windy. We saw a blue jay (though he vanished before either of us could get a picture), a ton of black squirrels busily prepping for the winter, and a very lovely, very friendly black cat who came up to us in the park for pats and purring. There were also about a million dogs out for a walk. :)

I will have to post pictures tomorrow...I'm too lazy to upload them now.

All told - between the hike and the downtown shopping trip after, we clocked in over 11 km today. I think that's pretty darn good!





Monday, October 08, 2012
Today in Canada it is Thanksgiving Day, and today I like to think of the reason for the holiday - the thanks. It may seem a hokey ritual, but I find it very helpful to remind myself of all the wonderful things that are going on in my life. There is so much negativity it is easy to be lured into the trap of thinking that's all there is. But its not.
So, things I am thankful for:
1/ A wonderful, amazing group of friends. I wish I could show my younger self, who was in despair because she would never be 'popular', that one day she would have friends from all over the world, some very close, some more aquantinces, but all amazing, supportive, interesting, kind, funny, insightful, and just as geeky as she is. Who needs 'popularity' (whatever that is), when you have such good friends?
2/ Being an aunt. My neice is amazing. She's bright and curious and full of energy and determination. She's also in the throes of the terrible twos, but I couldn't care less. Probably b
ecause I don't live with it. :)
3/ My parents. They've always been supportive and there for me when I need them. I honestly lucked out huge when I got my parents.
4/ A body that can still do amazing things. It ran (walked, meh) an obstacle course on Saturday. I may be stiff and sore in the mornings, I may still have a tendancy to want to lay around all day, but when I let my body move, it can do pretty neat things!
5/ Being employed. I still have a job. Some days its boring, or frustrating. Its not my 'dream job', its not what I thought I'd be doing with my life. But it gives me a steady paycheck, my coworkers are good people to work with, the workplace is flexible when it comes to hours (within reason), and I am lucky enough to have this when so many people do not.
6/ Having a great apartment, with room enough for me, my cats, my books, and my stuff. A warm roof over ones head is nothing to sneeze at. Plus, I don't have to mow or shovel the driveway!
7/ General good health. Yes, I have diabetes (technically). Yes, I have a touch of arthritis. I am starting to have to take daily pills and such things as older people take. On the whole, though, I am healthy. My sugars are under control. I am rarely acutely sick. I have no chronic illnesses. In other words, I have spoons aplenty, to borrow a metaphor.
8/ The internet. The connectivity (with my friends, see above), the access to information, the access to entertaining videos and blogs, the whole vast world to explore at my fingertips...its amazing technology and I live in a time where it exists.
9/ Health care. Paid by my taxes, so when I do sick or hurt myself I can go to the doctor or the hospital and be taken care of and not worry about it. So when other people are sick, THEY can go and get care, and not worry about it, so they're much less likely to spread it around.
10/ My boys. Tanis & Icarus, my two cats, who are big furry purry pains in my butt, but make me smile every single day.






Sunday, October 07, 2012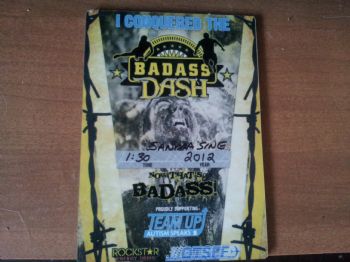 Yesterday I completed a major fitness challenge in my life. In January, I would not have thought this was possible at all for me. I still don't think of myself as an 'athlete'. But I am so very proud of myself for doing this.

A bit over 4 miles of trails, up and down ski hills. Steep ones.

15 obstacles, including a 3 ft deep pool to wade through, climbing up and down nets, climbing up a rope, a tire maze, running across a floating bridge, crawling on my belly under chicken wire, crawling on my back *up hill*, navigating up and around giant wooden logs, over-and-under hurdles, and a bunch more, culminating in climbing up a set of cars on to a school bus, and them *jumping off* (into a pile of sawdust)

I came in 2nd last, time wise. I don't care. I finished. I did not punk out of ANY of the obstacles. I pushed *myself* to my limit and found out that I could, in fact, do it. The me who would have balked at walking up just one of the hills I blithely clambered over. The me who would have taken one look at that rope and said "not in a million years". I grabbed hold, and even though I fell three times, I didn't give up and I climbed to the top.

I did it.

I am a Badass.





1 2 3 4 5 6 7 8 9 10 11 12 13 Last Page

Get An Email Alert Each Time SANDRAREGINA Posts