Thursday, December 29, 2011
I took the collie puppy for another walk AND a car ride AND into a bring-your-dog-in pet store. But still he was too high energy for the other work puppy.

So meet my new temp.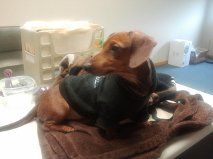 I only have her for today, but I will be sure and give her good references.

I'm so not going to get any work done today......