| | |
| --- | --- |
| | SAM60SUMTHINK's Recent Blog Entries |


Wednesday, October 01, 2008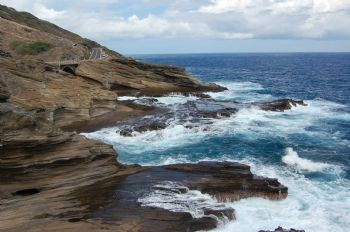 Beach after beach is lovely here!

I've been in Oahu for 3 weeks now and wish I could have a few MONTHS to explore! Not just this island, but how I'd love to ferry over to others, too. On the afternoon of October 14th (Hiawaii time!) I'll leave here, losing 6 hours in effect to travel east-bound back to upstate New York and then arriving there the next morning at 10am. So I'll be adjusting not only to times and days, but in lost sleep, since I don't sleep while traveling.

Everything here is very expensive. That said,..... What amazes me is that more people flock to stores than beaches! Now, that's not a complaint, because it means the beaches are pleasant, uncrowded.

I'd recommend anyone visiting the island drive around its perimeter on the Kam. Highway. And make detours and/or stop when the mood strikes!

Monday we're taking the Wild Child - their 4-month old Labradoodle "Snowflake" - to the first of her training classes. This first class will be a family event. :)

c






Saturday, August 09, 2008
Challenges are a big asset to many here at SparkPeople. I don't do well with them myself because by nature I'm contrary to prescribed competition. I don't enjoy comparison in competition because win or lose someone is elevated and someone put down... even if the 'loser' in fact put forth more effort. To me a winner does his or her best and is satisfied no matter the outcome!


Even when competing with others, my challenge is against some mark I set for myself. And I would hope that when others do challenges they direct their efforts to reach beyond their own norms. Self-directed competition even though in a challenge among peers.

Competition brings out the best in some people, or so goes some cliche. Not true of me. Even when I played tennis, I enjoyed it and did my best when rallying instead of scoring points. Of course, part of that was my own impatience with having to delay the rally to serve rather than just keep the ball in motion.

To me personal achievement and the challenge to self are far stronger competitions than trying to outdo some other person.

When it comes to personal challenge:
the ball is always in our own court.
Home Team Advantage!







Thursday, July 10, 2008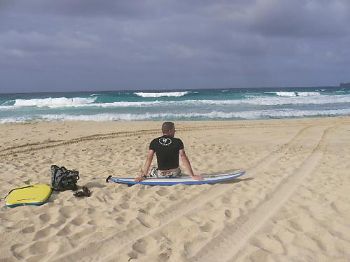 Yesterday I saw my oncologist. I'm officially 1.5 years cancer free.

Going for check-ups ever 4 months is a finger-crossing event.

I know that getting my weight WAY down will decrease chances of cancer. Having gone through this fear, I wish others would look at their diets and evaluate them in terms of cancer prevention. Lots of leafy greens, varied brightly colored veggies... the list goes on.

Next month I'll be in Hawaii. My son (in the photo) promised I can have as much beach time as I want. No one knows me so... I'm planning to actually be seen in public in a bathing suit! How's that for getting feisty?!









Tuesday, July 08, 2008
Today in one of my groups the daily question was 'what is your favorite type of food?' with reference to national origin.

My response: Continental or traditional Italian.

Well-balanced healthy meals with focus placed on use of herbs, spices, veggies. Good Italian cousine allows the diner to TASTE the food itself, not just the seasonings which are meant to enhance not mask flavours. (Ever watch Mario Batalia on the Food Network?)
=====

But beyond my response:

=====

Food. Many types exist, favoring all preferences, all palates. My tastes are varied, and my favorites include Swedish, French, Amrican, Indian, Greek, Asian.

Despite all, I learned most from my Swedish grandmother that every style offers unique delights to enjoy and that our favorites just might be a combination of some of each, not just most of one type.

My grandmother was one of the best cooks and PRESENTERS of a meal I've ever known! Even everyday dinners unfolded over a full hour, but if they had even one guest, the meal became an Event!

To her I owe so much about appreciation for the enjoyment of a slowly savored meal in the company of friends and family enjoying a meal prepared with love... over 2-3 hours of companiable conversation and dining pleasure! Indeed, what would I know of good food if I'd never known the Swedish cooking and dining experiences provided by my grandmother's skills?!

My grandparents - a Swede and a Dane - were healthy, active, trim people who enjoyed wholesome foods. They ate meals that had many vegetables per meal. Not just meat, vegetable and a starch. My grandmother's methods - and we're talking about a woman born in the 1800's, folks! - were in keeping with Spark values!



Dinner was preceded by homemade tomato juice in a 6-oz glass, then a small salad of greens with fresh veggies from the garden in the summer. Then soup. Main course. I can't remember a dinner that did not include her coleslaw-without-mayonaise, which when company was present was served in an antique cut-crystal bowl. Even a picnic in the yard was Special.



When I think about how my own nutrional background was different than that we know is common today among children and even today's younger adults, it saddens me that so many people don't already have such experiences as fond memories to which they can strive to return... rather than create anew.

My mom didn't serve the elaborate meals, because she was a working mother. But she was an RN and school nurse/teacher whose expertise on nutrition was as solid as those times allowed. Our family benefited. My mother pointed out to my sister and me that color is important on a plate. She said to go for bright colors because 'they're healthier'. She didn't go into vitamins, but left it at that. She also reitterated my grandmother's advice that a meal must LOOK good so that it is appetizing. And that vegetables were the key ingredient toward that end.



The very concept of eating fast food never appealed to me and still grosses me out, yet so many people seem downright addicted to it. To me, fast food is food one eats when desperate. (In questionaires I answer the question "what's your favorite fast-food restaurant?" with the response: "Red Lobster"!)

Concepts of favorite foods are tied in with memories. and to me my favorite foods would mean nothing without the memories from which likenesses and comparisons spring.

Beyond favorite food types is the issue of favorite ways of enjoying those or any foods. Which is one of the keys in developing healthy lifestyles, yes?

Maybe it all traces to our roots and experience. which means.... we owe it to our children to be like my grandmother!

Carol






Wednesday, July 02, 2008
Today I worked extra hard during my pool time at the physical therapist's office. If the Senate doesn't pass H.R. 6331, I have a problem. If Bush vetoes the bill... I have a problem. My physical therapy could end as of next week in either case. I'm trying to work out a 'deal' to be able to go on occasion. Not only is P.T. my main cardio, it is the one form of exercise I can do without a lot of pain. Since I'm disabled because of the pain, the lack of enthusiasm for H.R. 6331 is important not as some nice thing, but to keep the quality of my life manageable. So staying optimistic can be a struggle!

It stinks when your physical fitness is so closely tied to political moods the agendas! But I know I'll manage!
c


First Page
1
2
3
4
5
6
7
8
9
10
11
12
13
14
15
16
17
18
19
20
21
22
23
24
25
26
27
28
29
30
31
32
33
34
35
36
37
38
39
40
41
42
43
44
45
46
47
48
49
50
51
52
53
54
55
56
57
58
59
60 61 62 Last Page

Get An Email Alert Each Time SAM60SUMTHINK Posts