Wednesday, September 12, 2007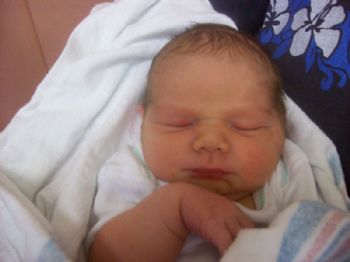 Jacob Thomas
8 pounds, 1 ounce
20 inches long

While my daughter was in the hospital having Jacob, I had the delightful duty of watching my granddaughter, Jorja. I had her from Friday afternoon to tonight, and felt so sad when she left. We had a blast!

While Jorja was here, I couldn't exercise. I tried to do my bike, but after 15 minutes, she had really had enough of that, and wanted my attention. So tonight I was able to use the bike. I did 13 miles, it took 50 minutes (45?). The only reason I stopped was because I had a headache. An old Star Trek movie was coming on television (the one with the whales)--I could have biked forever while watching that, if I had felt better. But even with the headache, it was great to get moving again.