Sunday, November 16, 2008
Friday -
Cardio: 45 minutes of Bootcamp and a 40 minute run on the treadmill
Strength: Bootcamp!
Fruits & Vegetables: 9 servings
Calories in: 2503
Calories out: 777
Not a bad day until the snackfest......

Saturday -
Cardio/Strength: none
Fruits & Vegetables: 5 servings
Calories in: 1811
Calories out: none

Sunday -
Cardio: 1 hour/9km LSD run & 2 hour/10km walk
Fruits & Vegetables: 2 servings of fruit
Calories in: 1633 + chilli and two shortbread cookies
Calories out: 958

Today's run was SO awesome! I felt great... took the hills like they weren't even there. The weather was perfect (albeit snowy) and the company was fantastic. I absolutely love running in the winter. Even when we have to dress like this.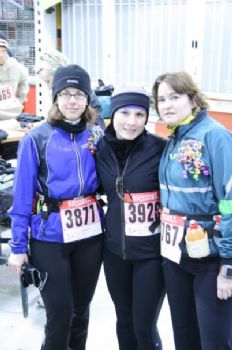 (This photo was taken at LAST year's Hypothermic Half)