Sunday, August 24, 2008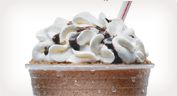 On 9/17/06 I had my last dose of caffeine. Today, I accidentally made an extra Brownie Iced Capp Supreme at work tonight and instead of giving it to Jessie like I planned, I drank it. So now it's 12:42 a.m. and I'm sitting up watching senseless television. My head kinda hurts and so does my chest. I'm thinking that my body is going to hate me later this morning when I try to make it run 16 kms. HOPEFULLY, it forgives me in 5 or 6 hours.

In other news, I'm getting more & more clients at GL. Now I have to make another life altering decision. Do I keep working at TH full-time and earn a guaranteed income OR do I take a chance on the opportunity to become a full-time PT and earn a non-guaranteed income..... I'm not good at this kind of stuff. I'm really not. I LOVE being a PT. I like being an asst. mgr. I LOVE working with my clients. I don't like .... well there's a lot of things about TH that I don't like but there's a few things I do. I DON'T KNOW!!

What I need is someone to make these kinds of decisions for me.