| | |
| --- | --- |
| | RUNNINGWILD's Recent Blog Entries |


Monday, April 21, 2008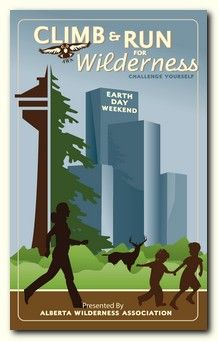 I spent so much time yesterday focusing on the bad parts of the weekend that I didn't take time to reflect on the good. So here goes:
Saturday, I got up at the crack of silliness (0545) and prepared to head down to the Calgary Tower for MY second (annual) Climb for Wilderness. Last year, I made the 1 km run and climb up the 802 stairs in 16 minutes. This year, my goals were different because I didn't do the run. I just wanted to make it up to the top at LEAST four times and, hopefully, five. Kerry challenged me to lap her at least once and I took her up on it. I'd have made it, too if the elevator didn't have such a big line up. (that's my story anyway). I reached my initial goal of climbing the four times and averaged about 9:30 for each climb. Not a bad day. I think that I might have done five but I got tired of waiting for the elevator after the 4th finish and took the stairs down. Midway, I got a weird cramp in my foot that scared me... so I bailed. I had to run on Sunday and NOTHING was going to get in the way of that. Besides, our brunch reservations were for 1130 and I was a little bit on the hungry side.


Later that night Glen and I finally got our "date night". It's been way too long since we did something like watching a movie & cuddling on the couch. We watched "live free or die hard". We're SO romantic. It was good for my psyche, tho'. And it gave us a chance to just be.
Another bit of awesome that I got to participate in this weekend. I was working and Neptune42 came in for a workout. She hopped on her favourite machine and hung out there for a while. After a bit, I heard a very excited "PENNY!" and when I went over she said "I finally broke 5 k on this thing!". It was so cool that I got to be there for that. She was just glowing. Have I mentioned that I *L*O*V*E* job #3?
OH (and how could I forget this?!) THE FLAMES WON THEIR GAME! GO KIPPER! GO FLAMES!
Anyway, I'm over the loss of mileage on Sunday and I'm refocused on attaining this weeks mileage. The Bluenose Half is rapidly approaching and I leave for Halifax in THREE weeks. (happy dance) I can't wait to see Mel again.




Sunday, April 20, 2008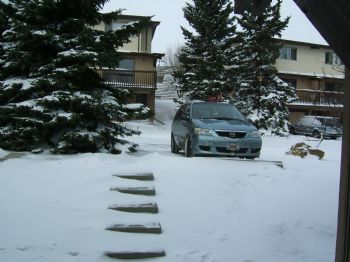 Ya know, I'm starting to think that I can't have a "nice" 20 km run. This morning, even tho' technically I was running two 10's, it was -12 with a windchill of -23. My first 10 was cut short at 7 because of wind, blowing snow and crappy pathways. My second 10 was cut short for much the same reasons with the additional joy of 6-10 inch drifts of snow. I swear, I'm just going to curl into a fetal position before my next 20k training run and stay there.
C'mon it's frickin' Spring. What is going on??
I work this afternoon at job #3, so perhaps I'll hope on the treadmill and finish the distance that I missed this morning. And do a FitFix, too. I need the endorphins. I'm so upset right now.
Ok, shower, food and no more pity-me party!





Saturday, April 19, 2008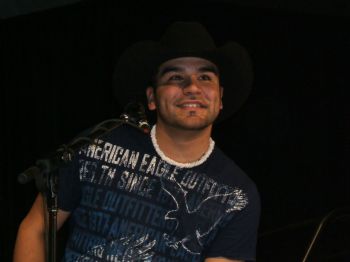 Plant Big Seeds - Tonight I went to the Centre Street Church for their fifth annual auction/concert. The music was provided by Paul Brandt, Shane Yellowbird, Carolynn Dawn Johnson, Aaron Lines, Jason McCoy and Johnny Reid. LOVED it. Didn't get the skateboard (for Logan) that I bid on but c'est la vie. It was so much fun.

Daily stats for April 16: Calories 2294 (way over), Water 9, Fruit 4, Vegetables 4, Cardio/Strength -3 km Tempo run. 17:56 (180 calories burned)
Daily stats for April 17: Calories 1608+ (probably just under. I had a wrap that I can't account for but it was all good things)Water 13, Fruit 3, Vegetables 2, Cardio/Strength - 4 kms Steady run 25:59 (247 calories burned) and 20 FitFix circuit @ GoodLife. 5 minutes on the elliptical & 6 minutes on the treadmill (warm up/cool down)
Daily stats for April 18: Calories 1592 (under but I'm full)., Water 8, Fruit 3, Vegetables 3, Cardio/Strength -Nothing. Unless you count cleaning snow off the car. FOUR times!

Tomorrow is my second Climb for Wilderness. Basically, this is where the Calgary Tower opens its stairwells to crazy people like myself who then PAY to climb the 802 stairs to the top of the tower. I signed up for multiple climbs. Hopefully, I don't hurt myself because a) I have to run 18 kms and b) work a five hour shift on Sunday. Maybe they'll let me sit down behind the desk. HA!
Night all!




Wednesday, April 16, 2008

Well, I guess even the good guys lose every now and then. I KNOW they can pull it together and come out on top in this series. I just hope that they know it.

Tomorrow is a run night. I can't wait. It's only three kilometres with the clinic but I think that I'll add in some hills for my BHM training. Watch, it'll snow. Either way, I'm lacing up the runners and hitting the pathways. Through rain, sleet & snow and all that jazz.

Daily stats for April 15: Calories 1987, Water 8, Fruit 3, Vegetables 3, Cardio/Strength -Nothing. Worked all bleepin' day.





Tuesday, April 15, 2008
OMG, what a long day: KF from 8 til 5 and then GL from 6 til 9. I'm beat BUT I'm wide awake. I hate when that happens.
I set a few challenges for the girls in LIC this morning. I hope to achieve them myself this week.
I've got three small challenges this week:
1) Do at least 3 sets of the daily email exercise and 3 sets of the Exercise of the Day. Today are the "Dumbbell Squat with Calf Raise and Overhead Press" and the "Wide Leg Wall Sit with Calf Raises".
2) Eat well. Drink lots of water.
3) Get at least 210 minutes of cardio this week. (30 mins a day or however you want to break it up)
4) Strength train and stretch at least once. (full-body)


Daily stats for April 14: Calories 1973, Water 8, Fruit 4, Vegetables 3, Cardio/Strength -3 sets of the daily exercises as described above.


First Page
1
2
3
4
5
6
7
8
9
10
11
12
13
14
15
16
17
18
19
20
21
22
23
24
25
26
27
28
29
30
31
32
33
34
35
36
37
38
39
40
41
42
43
44
45
46
47
48
49
50
51
52
53
54
55
56
57
58
59
60
61
62
63
64
65
66
67
68
69
70
71
72
73
74
75
76
77
78
79
80
81
82
83
84
85
86
87
88
89
90
91
92
93
94
95
96
97
98
99
100
101
102
103
104
105
106
107
108
109 110 111 112 113 114 115 116 117 118 119 120 121 122 123 124 125 126 127 128 129 130 Last Page

Get An Email Alert Each Time RUNNINGWILD Posts