Monday, February 11, 2008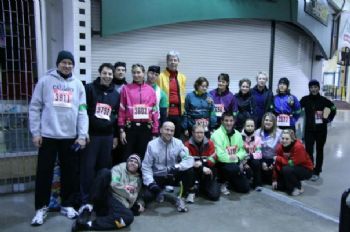 Waking up at 6 a.m. on a Sunday morning never really makes me happy but waking up to -26 on a day when I'm supposed to run a half marathon well...... it kind of stunk. On the other hand, knowing that my HM group was meeting me down at Eau Claire for our "graduation" run, THAT was pretty exciting. 21 of the participants ran. That's AWESOME! I have to admit, it's one of those bittersweet moments. I'm going to miss the people that I've been running with for the last four months but I'm really looking forward to meeting the next group, too. Hopefully, the graduates will have come to love running enough that they'll be out for Run Club.

Today I'm at home sick. Not at all race related. Glen's cold has now become my cold. My head hurts, my throat hurts... pretty much everything hurts LOL. I'm drinking Neo Citran and hoping for the best for tomorrow. Until then, it's plenty of water, fruits, veggies, and rest.
Here's to Tuesday!!