| | |
| --- | --- |
| | RUNNINGWILD's Recent Blog Entries |


Tuesday, January 08, 2008
Last night the HM clinic members & I ran a total of 9.6 kms. 400m x 8 of that was uphill. I did it with little to no pain in my shins! I am SO thankful for my new runners. My only complaint was that the wind was a little on the obnoxious side. Most of the time it was a gentle westerly wind but the gusts! Almost always when I was facing the most difficult part of the hill, it would blow so hard that I felt like a cartoon character: my feet were moving but I wasn't going anywhere. Turns out, it was blowing at 35 km/hr. Not bad by some standards but..... hm, let's just say that I was running a little more crooked/backwards/slower than I would like.
Yesterdays eating was not too bad. I went about 100 calories over but I also burned 752 on my run so I feel no guilt.
Today is a rest day from running. I've challenged the ladies in LIC to a little strength/cardio challenge so perhaps I'll get a good start on that. I have until Sunday to complete a LOT of lunges, squats, pushups, situps and planks.... it wouldn't look too good if I didn't meet my own challenge, would it?




Tuesday, January 08, 2008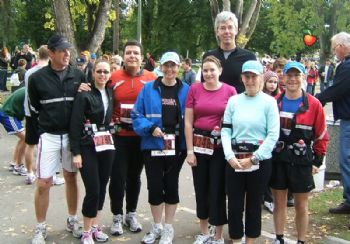 In 2007, I ran 1213.73 kms and walked 110.75
In 2007, I did 28 hours of dedicated aerobics classes.
In 2007, I did 19 hours of yoga
In 2007, I did 20 hours of dedicated strength training classes. ** have to check that one, it should be more, I'm sure.**
In 2007, I did 2 hours of Pilates, 1 hour of skating and 9 hours of cycling.

I walked one half-marathon.
I ran to half-marathons.
I ran A LOT of smaller races. (see sparkpage for more info)

Not hard to tell where I need to make improvements in 2008, but overall a good year.




Tuesday, January 08, 2008
Today is the first day of the new year. Truthfully, it doesn't feel much different than the last day of the old year. Last night, I celebrated New Year's Eve the same way I have for the past three years: I ran in the Resolution Run. It feels really good to end the year knowing I'm getting healthier with each passing day.
My committments to myself for 2008:
-eat a healthy, well-balanced diet 80% of the time
-continue training for my upcoming half marathons (February, May, July, October)
-strength train (pure or TBW) at LEAST once a week
-maintain my current weight

My commitment to my team:
-continue to support
-continue to preach what I practice and practice what I preach (lead by example)

My commitment to my family:
-more quality time
-more ACTIVE time




Tuesday, January 08, 2008
Goals met:
Calories 2/7
Fruit 7/7, Veggies 7/7
Cardio Total 2:30:52
Strength 1 session (full body)
Weight on 12/3: 122.5
Weight on 12/9: 122.0

Goals for this week - be in calorie range 5 days




Sunday, December 09, 2007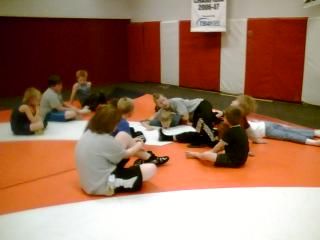 a good day. I woke up a little late to take the boys to wrestling but still got them there on time. Then, silly me, I rushed off because I thought I was late for my Pure Strength class.... I was actually over an hour early. On the plus side, I got in 45 minutes of hard core aerobics because I was able to join the class before PS. On that note, Michelle worked us hard today. I upped my barbell weights from 15 and 25 to 20 and 30. I'm DEFINITELY going to feel that tomorrow. Hopefully after my 12 k run and not before or during. So, I ate my fruit and veggies, drank more water than I set as a goal... did 45 minutes of aerobics AND an hour of strength training. Yay me! Torrow should be just as good, if not better. I think I'm on a roll.



First Page
1
2
3
4
5
6
7
8
9
10
11
12
13
14
15
16
17
18
19
20
21
22
23
24
25
26
27
28
29
30
31
32
33
34
35
36
37
38
39
40
41
42
43
44
45
46
47
48
49
50
51
52
53
54
55
56
57
58
59
60
61
62
63
64
65
66
67
68
69
70
71
72
73
74
75
76
77
78
79
80
81
82
83
84
85
86
87
88
89
90
91
92
93
94
95
96
97
98
99
100
101
102
103
104
105
106
107
108
109
110
111
112
113 114 115 116 117 118 119 120 121 122 123 124 125 126 127 128 Last Page

Get An Email Alert Each Time RUNNINGWILD Posts