| | |
| --- | --- |
| | RUNDARCYRUN's Recent Blog Entries |


Thursday, March 03, 2011
This week has been just as crazy as last week!! I still can't believe I ran my first marathon last Saturday! Between just normal busy life, and taking my friend, Amanda, out sight-seeing, this week has just flown by. Good thing I am resting, and not getting up at some crazy hour to get my runs in!!

As far as how I feel, my body feels great. I have absolutely no soreness, no aches, no pain. Nothing. I was REALLY sore in my hips on Sunday, and my knees were just so weak. I had to pull myself up the stairs, holding onto the rail. But I did a session with Mr. Foam Roller on Sunday night, that took care of most of my soreness and stiffness. And on Monday, the hip pain was gone. I went for a VERY slow jog on Monday with Amanda, and I think it really helped my body. I am thinking about going out for a slow run on Saturday, but haven't decided.

I will definitely be starting back very light and easy on Monday with my neighbor! We already have a running date in place. She has been wanting to start, and I know that for me, getting started was the hardest part. So, I will take her out next week, so she can kind of find her groove, and hopefully, I will infect her with the running fever!!!



As far as races go, I have had to keep a light schedule this year. With my schooling program, we have several Saturdays when our class meets, so it is just crazy. Plus my husband has to work about every other Saturday, so trying to squeeze in races is just tough....

BUT, don't you worry, my fellow Sparkies! My marathon was NOT the end for me!! I actually have already had my sights on other races, and already signed up for my next one! I felt a huge let-down after my second half marathon, because I didn't know what to do next. So now I know, keep my sights ahead, and make new goals along the way, BEFORE I even run my next race. That way I do NOT lose momentum!! I have also heard from another runner, that it's always good to make your next running goal, or sign up for your next race within a week of your last race, but I try to even sign up for my next one BEFORE I finish whatever I am training for.... Just my way of doing things.

My next registered race:
Mittsommernachtslauf 30K at Krakower See in Germany, June 18th, 2011

This one is also quite small, much like my marathon. Maybe even SMALLER! But it is supposed to be a beautiful run! It is 30K, so not quite as hefty as a marathon, but still a great distance, I think. I am really looking forward to this one.

Other tentative races:
Hamburg Run 10K, July 9th, 2011
Kl. Meckelsen Volkslauf 10K, July 16th, 2011
Harz Gebirgslauf Marathon, October 8th

The ones in July are just for fun. I am not sure about both of them, maybe they won't work out. The one in Hamburg is already scheduled, but the one in Klein Meckelsen is in a village right next to us, and they have not set up an official date for that one yet, so I have to see.

Yes, I know, I know, I said I would NEVER run another marathon during my marathon, but I got over that pretty quickly!!! The Harz Gebirgslauf Marathon is a trail marathon, and it will NOT be something I am pushing for a PR. It is simply for the accomplishment of DOING it! It is called the "most difficult marathon in Germany," so I have heard. Here's a photo of the marathon: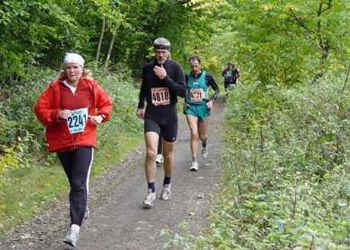 Here is the profile of the altitude:




I did the HM there in 2009, and absolutely LOVED it!! Even then I said that one day I would like to try the full marathon, even though you climb a mountain!

So, those are my plans!! I am keeping my schedule light, but yet the runs are pretty heavy. I am looking forward to seeing how much more I can accomplish this year!! #

Happy Sparking, Everyone!! Run strong!





Sunday, February 27, 2011
YAY!!! I DID IT!! I am a Marathoner!! I won't lie to y'all - that was, hands down, the HARDEST run I have ever done. I always admired Marathon runners before now, but I have a new-found, deep respect (even more so than before!) for ANYONE who takes on the Marathon challenge!

My week was just crazy, as I stated in my other blogs. We had a church banquet on Friday night for 100 people, for which I was the events coordinator, so I had my schedule full planning for all that. I did NOT pick the date for that, and had signed up for the Marathon long before I knew the banquet would be the night before!! Fortunately, I was not the main cook this year, a good friend of mine was, so the food planning was mainly her job. But I still made the appetizer soup entirely myself on Thursday, and we all cooked the main course together on Friday. So, I was on my feet on Friday for about 8 hours straight...... Not exactly the best thing to do on my Marathon Eve, but we still had a great time, and the banquet ran really smoothly! Everything turned out wonderfully!

We got home at 11 pm, which wasn't too bad. My friend who cooked, and her sister, were our babysitters for the Marathon, so they came home with us, and stayed the night @ our house.

MARATHON MORNING!! We only needed to leave at 7 am, so it wasn't too bad at all! That is late for me!! It was an hour and a half drive to Kiel, and the Marathon started at 10:20 am. We got out of the house right on time, the 3 of us - Jan (DH), my friend Amanda, and I. WE WERE OFF!!

This is me at home before we left: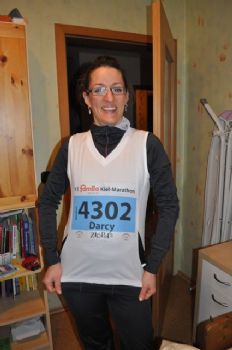 I was so pumped on the drive there, very nervous and excited! We had a great time joking and laughing on the way there. The weather was supposed to be about 35°F with snow and rain on the forecast. I wasn't really happy about that, but nothing was going to stop me now!!

We got there, and the wind was just FREEZING! It was quite chilly out. The Expo was indoors, which was nice, but heading outsite to the start line was COLD! The Marathon route was along a bay area, so the wind coming off the water was quite nippy and quite strong..... We will get to the wind later....

Here are some pics of the water, next to our running route: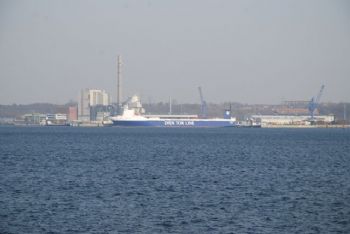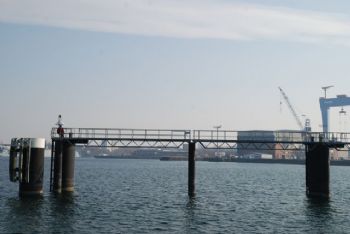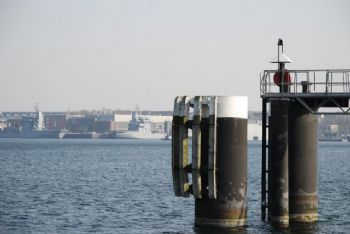 The building where the Expo was: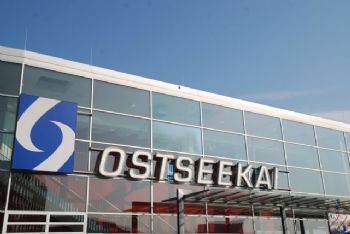 My hubby and Amanda grabbing some grub at the Expo before the race... I was too nervous to eat.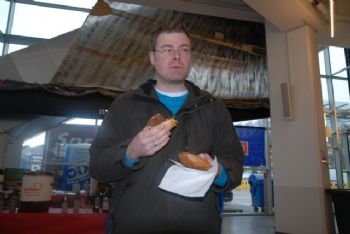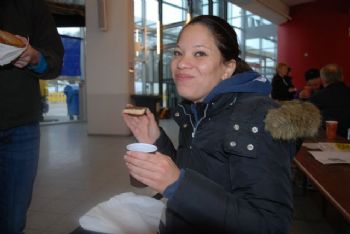 This Marathon was quite small, not anything like the ING New York, or other huge Marathons. There were only 300 places available, and I think only 225 or so ended up running it. So very small scale. And there were only 30 women running the marathon total.

The announcers were dressed up in medieval garb: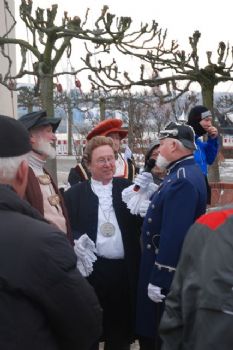 All of us lined up at the start line: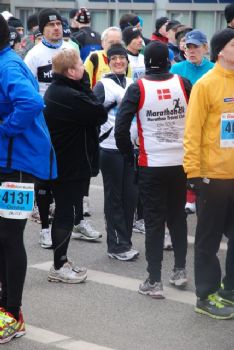 Even SANTA ran the Marathon!! I guess he had some holiday weight to work off too!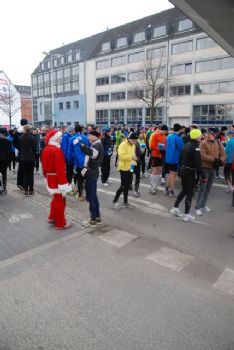 So, at 10:20 sharp, the Marathoners were off!! For the first part of the Marathon, I felt great, I had a good pace going, and felt I was conserving my energy well, not going too fast.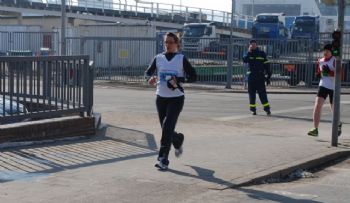 The Marathon route was a loop that we made 4 times around. I actually really liked that part, because it was broken up a little in my mind. The first 2 rounds, I did really great, but I had forgotten my energy bars, so my hubby had to go get them. He handed them off to me, but only after the 2nd lap, so I had already run 20 km. The coolest thing was that the sun came out, and the weather, though still chilly, was really beautiful. YAAAAY for no snow and rain!!

Just as I reached 16 miles, I felt my tummy act up. I knew I needed to stop at the port-o-potty. I had already had to pee for a long time, so I figured now was the best time!! I was just coming up to one, so it was perfect. I used the bathroom, and came out......

And then my rhythm was gone. It hit me like a ton of bricks. I was now running right into the wind, which was tough the first 2 rounds, but this time was WAY harder!! I guess I left my energy in that port-o-potty too, because that's the only place I can figure I lost it!! HAHA! My breathing felt really shallow, I slowed way down, I just felt really "off"! I kept going, and figured it would get a little easier once I turned again and had the wind to my back.... But even after that, my tempo just didn't really pick up. Running started feeling really hard. I stopped a couple of times to walk very briefly, but that only made my legs ache even more!! Walking was more painful than running!!

As I turned that last 5 or 6 km into the wind, I seriously thought I wasn't gonna make it. Going against the wind after 35 km was agonizing. I laugh about it now, but I was thinking the whole way, "WHHHHHHYYYY did I want to run a marathon?!??!?!?!!? I NEVER want to do another Marathon AGAIN!! NEVER!" I seriously considered walking the rest of the way, but I just kept plugging away. I walked several very short segments, about once each km, but I just kept trying to keep it going.... AND I DID!!

At the end, I was able to pick it up a little, but my body HURT! I ended up finishing in 4:19:34!!! I am so happy with that!! I was the 10th woman out of 30 to cross the finish!! Santa beat me by about 19 minutes....

Jan has not stopped telling me how proud he is of me!! Amanda too! It was so great to have them cheering me on. I loved being able to run the loops around and get to see them a few times. That was great too.

I can't believe how close I felt to wanting to give up. I can't believe how badly I just wanted it to be over. But when I crossed that finish line, I was just STOKED and so glad I had kept at it!!! I have NEVER, EVER, EVER reached such a tough point in any of my Half Marathons that I did. I never felt like giving up. Yeah, I always started feeling like, "Ok, the finish line can come any time now!" But I never felt like stopping so badly like I did in the marathon, and I ALWAYS felt like I had some juice left in the tank!! The Marathon! What a TRUE TEST of someone's inner strength and determination!! AWESOME!! And NO INJURIES!! I'm hurtin', yeah, but nothing detrimental, I think. My hips and knees are quite achy, and in definite need of a rest.... BUT NO INJURIES!! YAY!!

Here are some other pictures.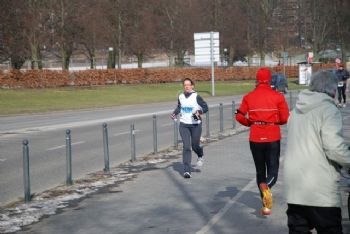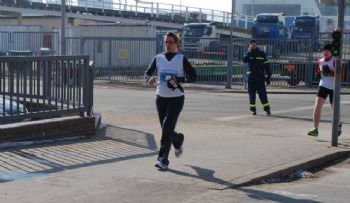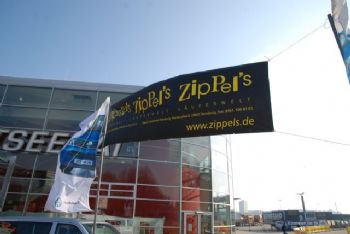 CROSSING THAT FINISH LINE!!!! YYYYAAAAAAAAAYYYYYYY!!!!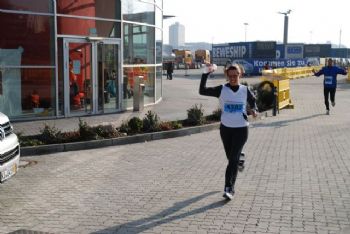 Me rehashing the details of the run to Amanda, while Jan snaps a few shots: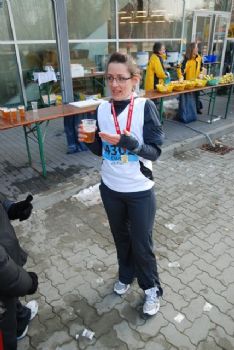 AAAAAHHHHH, Just what I need!! The free alcohol-free BEER!!! YES!


Jan was little obsessed with Santa. I think he took more pictures of Santa than me.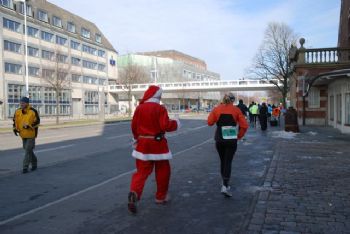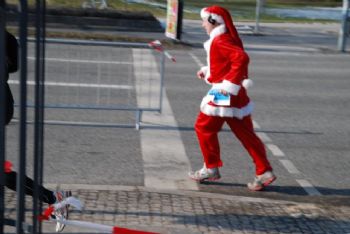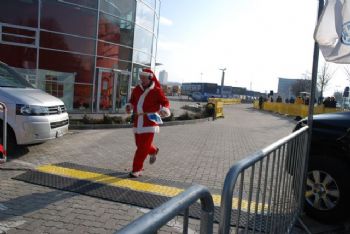 Jan and Amanda were able to get away and check out a little medieval festival that was also going on.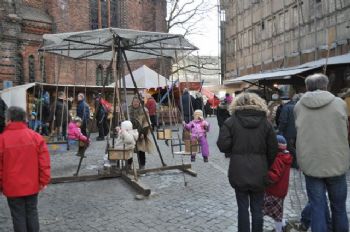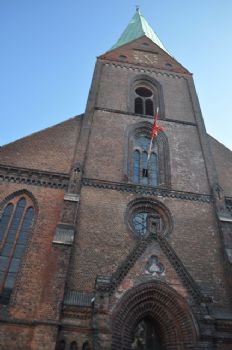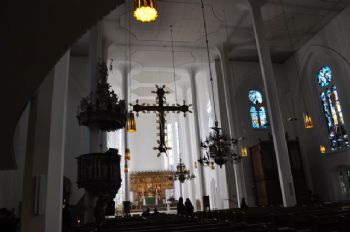 A store called "Assmann".... Interesting.... (It's a last name here, but still! HAHA)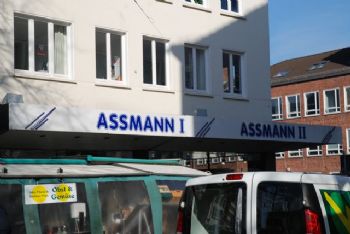 Thursday, February 24, 2011
Seriously. Bring on the marathon fuel.

I'm now throwing my cautious calorie-counting to the wind, and eatin' up. Yesterday, I made whole grain chocolate chip cookies (made with only organic whole cane sugar).... YUMMY!! I never bake, because I KNOW I will eat so much! And sweets are just huge traps for me. But I think there is no better time than now.... Mikah, my 9-yr-old, had a great time helping me make cookies. We will make some more today, and hopefully have some for our guests this weekend...

Oh, and about carb-loading, just to throw some ideas out there, I am not technically doing it, and am not a fan. At least I won't do it intentionally, but I may just eat some extra carbs just for fun. I follow a lower carb diet, and have been doing so for the past 2 years WHILE running, and it works great for me.

But besides that, I have been reading in 2 books on running for women - one from Runner's World, and another one, not sure the author off the top of my head - and found some very interesting information. Both books say that in a study between men and women runners done a few years back, women's bodies did NOT store extra glycogen in their muscles, nor were their performances enhanced through carb-loading, unlike men. Experts are not sure why (they think it might be our hormones), but it doesn't work the same for men and women. Women also tend to burn more fat as fuel than men..... YAY! I like the sound of that!

But the information in the books did suggest an overall CALORIE increase in the few days leading up to the race, which did show to help, I guess. Very interesting stuff.... Thought I would share, because I feel like there is a lot of push to carb-up for runners, and just wanted to give people a little different perspective.

So, I am definitely eating a bit more these days. And enjoying a few endulgences like homemade chocolate chip cookies!

YESTERDAY'S AGENDA:
Went AWESOME! I got everything done, just as planned, in addition to my normal every-day stuff. I even took a nap, and had time to play some Wii, like I posted on my status. So, yesterday was a total success.

TODAY'S AGENDA:
Morning:
** Go grocery shopping for a couple of things (won't take long, about an hour, I'd say)
** Make tomato soup. (This will take about an hour, because I am making a large batch for the banquet)
** Make Spaghetti for lunch
** Wash my running clothes
** Charge the Garmin

Afternoon:
** Make second batch of tomato soup (and 3rd if necessary, not sure how many batches my huge pot will hold yet.)
** Straighten up office/guest room, and make bed.
** Get air mattress down out of attic and make the bed.
** Straighten up the kids' rooms upstairs
** Pack my things for the race - fuels, water bottles, gear, shower things, everything I will need
** Make chocolate chip cookies (YES! AGAIN! I'm gonna live it up!)

Tonight we might bake apple muffins together, Mikah and I. He has a recipe from school that we have made before, and he really enjoys baking together. Since I won't be here tomorrow nor on Saturday, it will be nice to do something a little special with him tonight!! Maybe we will play some Wii together too. All I know is I want tonight to be a nice and relaxed evening!! So far, everything is going great!

Have a GREAT DAY, everyone!!





Wednesday, February 23, 2011
That is what I am on the verge of ..... insanity. Seriously, this week has my brain whirling.... I know most of you think it's all marathon related, since that is what I am ALWAYS posting about these days. You probably all think it's just my taper madness....

But no, seriously, tapering isn't so bad. I don't see what all the "madness" hubbub is about. I feel fine. But maybe that is because I have so many other things that require my attention this week, that I don't have time to go stir crazy!

I seriously think I have ADD. I have diagnosed myself with ADD years ago!! HAHA! I seriously do great focusing on one thing, and working hard on one thing until it's done. But when there are multiple things I have to do, too many steps, too many details.... then my brain goes into scatter mode, and I cannot think straight at all. That is this week....

For example, here are some things I have to get done:

**Cleaning my house from top to bottom, first of all, because it NEEDS IT, and secondly, because I have guests coming on Friday!

** Filling out my application and resume (resume is required for this) in GERMAN for my written exam that I will be taking in May for my schooling. I have to get that sent out right away, because it has to be received by this coming Tuesday!! VERY important!!

** Planning for my church banquet for 100 people, which is Friday evening.

** Precooking things for the banquet (which I have already been working on the past few days)

** Precooking all meals for MY family, so I don't have to cook this weekend!! (This is a MUST, because we don't eat out, nor do I buy pre-made foods, not even spaghetti sauce and such. I make everything myself, and my kids don't even like the other now! Plus, I wanna just have "down time" this weekend after my marathon. No standing in the kitchen.)

** Preparing my stuff for the marathon - washing my running clothes tomorrow, and having everything ready to go.

** Setting up bedding for my guests. Not only will my friend be coming from the States, but we will have 2 girls staying the night at our house Friday, who will babysit our kids for the race, so I have to set up bedding for all 3, preferrably on Thursday, since Friday will just be CRA-ZY!

I need to stay extra focused for the next 2 days. On Monday, I made a detailed list of everything I had to do, and worked out a schedule for each day, what I would get done. I am already a little behind. So, can you all help me a little? Be my accountability partners? I always find if I post things, like a to-do list in my blog, that I am MUCH more motivated to do it, even if no one cares or comments.... hehe!

Here goes. Here is today's agenda:
Morning tasks:
- Deep clean bathrooms
- Mop floors downstairs
- Make one large pot of chicken stock (lots of veggie cutting involved!!)

Afternoon tasks:
- Prepare application for school, print, and put in envelop.
- Cut up chicken to marinade for chicken/vegetable stir fry tonight
- Make chocolate chip cookies....



Ok, so that list looks doable to me!! I can TACKLE THIS today!!

ONLY 3 MORE DAYS UNTIL MY MARATHON!!!!!!! Three, people, THREE!





Sunday, February 20, 2011
Well, he is 9, not really a "babe."

Today, I was debating about whether I would even run. Sundays are usually rest days. But since my schedule has been so off due to the flu bout, I thought I might go out for a longer run.... the LAST longer run. I had a 10-miler scheduled for yesterday, but didn't feel up to that. Didn't really want to do quite 10 miles today, so I thought.... um, 6. Yeah, six miles sounds good.

But I still hadn't secured when I would go. After lunch (meal times are always a bit stressful around here), I was a bit frazzled, and just wanted to sit and relax a bit. Then I was discussing the "options" with the DH.... "you know, I COULD go for a run, but then again, I COULD just do this..." Laying my head down on the table, closing my eyes, and making snoring noises!!! Oh, man, a nap sounded heavenly!!

Then DS, the 9-yr-old, chimes in, "But Mommy, you KNOW you will feel SO MUCH BETTER when you come back from your run!"

Seriously? 9-yrs-old? Where does he come up with this stuff? Great words of advice! And just what I needed to get me out the door....

So, I bundled up (it's cold today), and set out on this beautiful sunny Sunday afternoon. The running was feeling really great, nearly my old self, so I thought I'd go for more than 6 miles. I decided 8 miles was a good compromise.

The whole way out, I was feeling great, it was feeling easy, my pace was really good.... Then I turned that last corner, and started the last 3 miles back toward the house....

When it hit me. THE WIND!!! I was now running STRAIGHT into it, and it was FREEE-HEEEZING!! But I pushed through, and even picked up my pace those last few miles. Probably just cuz I wanted to get home and warm up!!! But I made it, 8 steady miles!

Now all I have left are a few little 3-4-milers. NO PROBLEM!!

Great thing is, too, that my eating has been right on target the past few days!! I must admit, on Wednesday after coming down with the flu, I PIGGED OUT!!! After dinner, I think I was a little stressed trying to care for all the kids on my own, and being really sick, feeling HORRIBLE.... Plus, this week, I am definitely dealing with PMS. So, one thing led to another, and I found myself DIGGING into the peanut butter jar!! The natural kind, organic, with nothing added to it, but it is totally a weakness for me, especially mixed with honey!!! I ate more, and more.... and then more... I kept telling myself I needed to stop, ESPECIALLY since I knew I wouldn't be running for a few days.... But I didn't stop. UGH.

But after that, I really got on track. I buckled down, and really kept ALL my choices healthy and wholesome during my sick days, and kept those calories low. I know I am going to be running a marathon, and my body needs fuel, but I do not see the point in just letting myself go haywire, eating everything in sight, only to gain 10 pounds, and having those 10 pounds slow me down come race day. Right? That just doesn't make sense to me. But I will be making sure I up those calories definitely in the next few days.

This week, I will be planning and carrying out a banquet at my church on Friday night!! I know it's crazy, but that is just how things worked out, to have the banquet on my big Marathon Eve. Actually, I think it is great, because it will keep me occupied this week. Have a TON TO DO for that! A couple of girls friends of mine and I will be cooking for the banquet for about 120 people. Cooking is my other love, in addition to running, so I am sure we are gonna have fun!

6 DAYS, my Sparky Friends!!!!!! SIX DAYS!!!!! Just had to add that, you know?!?!

And for those of you who may not have caught that.....
MY.... FIRST...... MARATHON..... IS..... IN.... SIX..... DAYS!!!!! hehehe!

Have a great week, Everyone!! Until next time, happy running & happy Sparking!!!



First Page
1
2
3
4
5
6
7
8
9
10
11
12
13
14
15
16
17
18
19
20
21
22
23 24 25 26 27 28 29 30 31 32 33 34 35 36 37 38 39 40 41 42 43 44 45 46 47 48 Last Page

Get An Email Alert Each Time RUNDARCYRUN Posts