| | |
| --- | --- |
| | RUNDARCYRUN's Recent Blog Entries |


Tuesday, January 04, 2011
I hate New Year's resolutions. Seriously. It's like people get on this big kick to do something they should have been doing all year long... (NO OFFENSE TO THOSE WHO MADE THEM!) But the saddest part is that most of the time, with most people, the resolve to change doesn't even last until the end of January. At best, they might push through until the end of March. Why wait until the new year to start a new life, or start working toward a new goal?

I read a great quote recently:
"I think in terms of the day's resolutions, not the year's."
– Henry Moore, 1898-1986

That's the way we ALL should think, I believe. Each day is a new day, a new beginning. We should resolve EACH DAY to do our best, to work toward our goals, to be a better person. EACH DAY, not just at the beginning of a new year. I am always, all year round, setting goals, and dreaming up new ideas, trying harder to better myself in some way. And besides, setting a goal for A DAY seems mentally and spiritually much more feasible and reachable than setting resolutions for a WHOLE YEAR!! (Doesn't that tire you out just thinking about doing something for a whole year?) If we take one day at a time, soon it WILL be a year.

So what do you resolve to do TODAY?

With that said, I do have some goals, some things i am looking forward to, some challenges of 2011, that I would like to share.

Daily or constant goals:
1. Draw closer to God. Spend more time each day cultivating my spiritual walk. Most important, therefore it's No. 1.
2. Draw closer to my family. I spend a lot of time being impatient with my kids and husband. Using harsh words. Being too wrapped up in what I am trying to get done. And I want to share more time with them, quality time, time when Mommy (or wifey) is not so impatient. I LOVE THEM!! THEY ARE MY WORLD! I need to show them more.
3. Cultivate my relationships with others more - get good friends, and take time to spend with them more. Listen more. Be a friend. (I already have a few in mind!)

Longterm goals:
1. Races: I am a runner. So, my planned races this year include:
** Kiel Marathon on February 26th, my first marathon... YAY!
** Krakower Mittsommernachtslauf 30K, June 18th
** Hamburg Run 10K, July 9th (My birthday!!)
** Volks- und Straßenlauf Kl. Meckelsen 10K, July 16th
** Harz Gebirgslauf ("Mountain Run") Marathon, October 8th - This race will be a HUGE challenge, as you basically climb a mountain. It will NOT be for a PR, but simply for the experience, and the accomplishment aspect. I ran the HM in 2009, and totally LOVED IT!
** Christmas Run to Tree 10K, Dec. 2011
So far, that's what I plan for races.

2. Study for ACE Fitness Personal Trainer cert, and take exam in July/August.

3. Finish my studies at my German trade school to become a Hauswirtschafterin (home economics specialist), to keep working toward my dream of having a whole-foods cafe or catering/party-planning business. My written exam will be in May, and practical exam/project in the fall sometime.

4. GARDENING!!! I had wanted to really get on my garden last year, but didn't get as much planted and accomplished as I wanted to... However my zucchini was a GREAT success!! Though not much else was. So, I want to spend time over the next few months planning out exactly WHAT to plant, and WHERE. And I want to be prepared as soon as possible to get out there and work.

Here's my tentative list on what to plant:
Spinach (had great success with that too, until it got too hot)
Zucchini
Carrots
Onions
Bell Peppers
Pumpkins
Watermelons
Tomatoes (maybe! I have heard they are tender... they probably wouldn't make it with me around!!)

I am not a natural gardener. I do not have a green thumb. I kill most plants I buy, sadly. But I really am trying to do better and to learn more along the way. So, here's to trying!!

So, 2011, are you ready for me? I am going to make EACH DAY you give me count toward something good!






Monday, January 03, 2011
I LOVE SOUP!! Especially this time of year.

Do any of you know what parsley root is? I had never even heard of that as a vegetable until a couple of weeks ago, when we made this soup as an appetizer for my cooking class. Well, it is a ROOT vegetable (GO FIGURE!) that looks very much like a carrot, only tan skin on the outside and a very light cream or white color on the inside.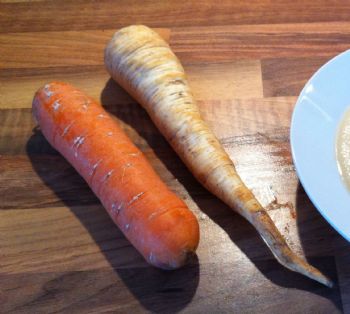 So, we made this soup a few weeks ago at my cooking class, and it was ABSOLUTELY delicious!! And I have made it about 3 times since then, also calculating out the calories from SP recipe calculator.... YAY! This soup, according to my calculations, packs just under 50 calories per 100 grams!! In a measuring cup I weighed, approx. 275 g is in one cup of this soup = 137.5 calories in one cup!! Plus, its super delicious, and very filling, so I thought I'd share.

Parsley Root Soup

1 tbsp Butter
750 grams Parsley Root
2 medium Scallions
900 ml Home-prepared Chicken Stock/Broth
100 grams Heavy Cream
Bunch of Parsley leaves (optional)

Skin parsley root with potato peeler, and slice into pieces. Dice up scallions. Sautee them together in a pan with the 1 tbsp butter. (I use the same pot that I would for the soup itself to save dishes.) Once the vegetables are tenderized, add chicken stock, and bring to a boil. Reduce heat and let it simmer for about 30 min. Then puree the soup with a small hand mixer, add the cream, and VOILA!! Done!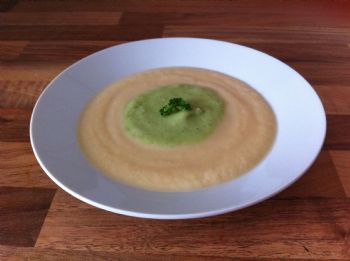 If you want to get fancy, and want it to look like it does in the picture I took here, then take a portion of the soup, and a bunch of parsley leaves, and puree them together. Use enough parsley leaves to get the desired green color. After you carefully pour the regular soup into the bowls, gently pour the green portion into a side (to achieve and half green/half white bowl), or as I did, directly into the middle making a green circle, and dress the bowl in the center with a parsley leaf.

Happy Sparking, everyone!







Sunday, January 02, 2011
Gonna make this short and sweet! Had a great week. Long run wasn't so energetic on Friday, but I'm not worried. Next week is a taper week, less mileage, easier running, then I will pick it back up. Only 4 more weeks of hard training, and then TAPERVILLE HERE I COME! Wow. I can't believe how fast it's going.

Plan for Week 10 and actual:
Sunday: Rest (YEP!)
Monday: 9 mile run, BodyPump and Combat classes
**Actual: Ran 9 miles, did BodyPump, but skipped Combat. Totally didn't feel like doing Combat on Monday.
Tuesday: Rest (Yep!)
Wed: 7 mile run, BodyPump
**Actual: Exactly that - 7 miles, and BP
Thurs: Rest (Yep!)
Friday: Long run: 17 mile run
**Due to time constraint, just did 16 miles
Saturday: EZ 4 miles
**Actual: Did an AWESOME 5 mile run!! FELT SO GREAT!

Plan for Week 11:
Sunday: Rest
Monday: 6-8 miles running, BodyPump
Tuesday: Rest
Wednesday: run 4 miles
Thursday: Run 5 miles
Friday: Rest
Saturday: Run 10 miles

This week will be a "whatever" week for me - I'll do it by feel, and take it easy.

So, that's it for now!! HAPPY 2011, EVERYONE!!! Happy running!





Friday, December 31, 2010
WARNING: LONG BLOG!! But worth it. Going out with a bang - 2010!!!

Monday, I posted some goals of things I'd like to accomplish in the last few days of 2010. I'm happy to say, I accomplished each one... and its only the afternoon of New Year's Eve!!

The first few goals had to do with my diet... Yeah, Christmas time did some damage. I was not seeing it so much in the scale, as I was feeling it in my body. So, I didn' want to waste time floundering around for a few more weeks (or even until after NY's) to get my butt in gear, and stop the madness!! So, between Monday and now, I have REALLY made a turn around - tracking, eating the right things, no alcohol, though I did eat some sweets on Monday... Not perfect, but a HUGE improvement. And the last 2 days or so have been AWESOME!

I also wanted to take new pics for my Rachel Mac Challenge, even though I know there is no real improvement... YET. First off, my eating has NOT been clean, or good, and secondly, I haven't started any new workouts to work toward my goals. Just being upfront and honest to begin with. So here goes:
Photos taken Dec. 4th: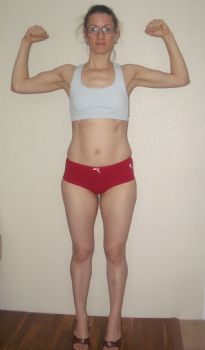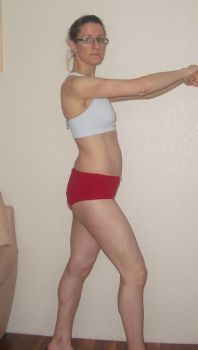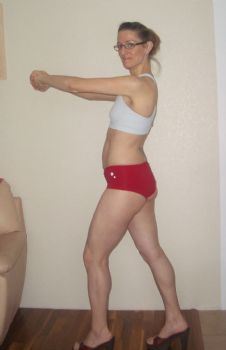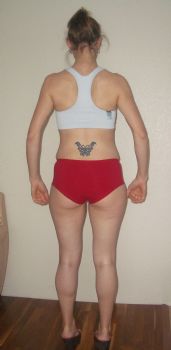 Photos taken today, Dec. 31st: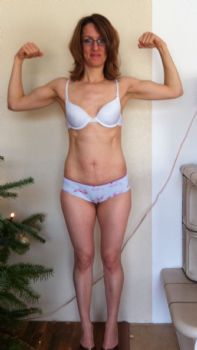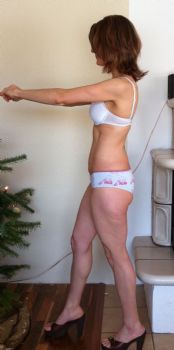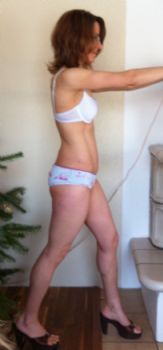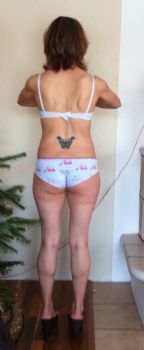 Ok, so probably not an improvement, but I still haven't gotten my new workout DVDs (Jillian Micheals Yoga Meltdown, 6-week Abs, and Shred-it with Weights, and Jackie's Xtreme timesaver workout), which I want to add into my week IN ADDITION to the 2 ST sessions I do at the gym each week. They are not to take the place of what I already do, but to add to my routine.

Also, I took this Rachel Mac Challenge one step further, and spent some time looking at my diet. I read the recommendations from Flexchef to find out where my protein intake should be according to him, and what I could do to improve. I already eat a "clean diet," though my diet philosophy may differ greatly from the next person. So I calculated it all out, and figured I will shoot for at least 120 g of protein per day (1g per pound of bodyweight). So, yesterday, I was on a mission to see how much protein I could pack in. (Let me note - I am not a fan of supplements, and aim to get my nutrients from real food, and not altered food products, like protein bars and shakes or powders, so getting an enormous amount of protein might take some thought at first.) It AMAZED me yesterday, that not only did I reach just over 120 g of protein on my home-cooked food, but I also felt SOOOOOOOOO satiated and full at the end of the day!! And I totally didn't even feel TEMPTED to touch the sweets!!

I came to this conclusion: much of our struggles with diet are mental. And it is AMAZING how EASY eating right and living a healthy lifestyle can become when we change our focus. (This is something I have noticed in the past.) When we change our focus from what we CAN'T eat, from what we might be depriving ourselves of, and start focusing on what we CAN eat (how much protein I can get it), then the appeal of the things we should probably stay away from lessens GREATLY. If we are always focused on the deprivation, we will FEEL deprived. But when we focus on how GREAT and HEALTHY we can make EACH DAY, then it is a positive thing. Anyway, just a few thoughts....

NOW MY SKINNY JEANS!!!! I NEVER thought I would buy skinny jeans... I mean, EVER! NEVER, EVER! But I have a couple of pairs of boots that I can't fit my jeans INTO, and they look stupid UNDER my jeans. So, I ventured out and tried some on..... Then I BOUGHT 2 pairs! Here are photos of my favorite pair: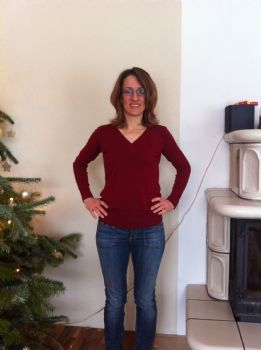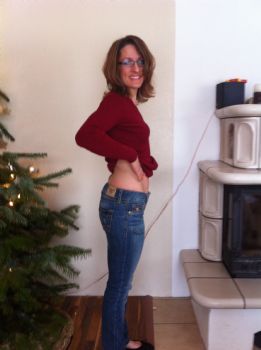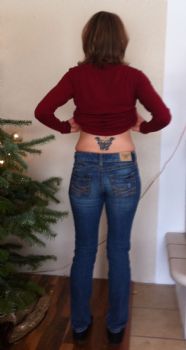 These jeans are SUPER tight, and I don't even have MUFFIN TOP!! WOOOHOOO!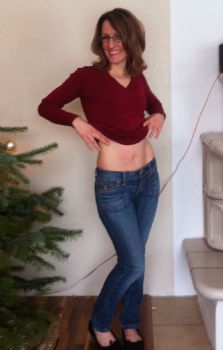 Last goal, but NOT least: My long run. I got in 16 MILES this morning!! WOOOHOOOO! I had to plan very carefully, because my hubby had to leave for work at 8:30. 16 miles is no 30-min run. So, I planned ahead, and slept, YES, SLEPT in my running clothes! Set my alarm for 4:40 am, and tried to get out at 5. Well, I got out the door I think at 5:10, but close enough, and got back just a little after 8. Total time: 2:54 and change. So, now that is out of the way, and I can PaRtY with my family tonight with NO WORRIES about trying to fit in my long run tomorrow.... PURE AWESOMENESS!

Happy New Year's Eve to all!! Hope you all have WONDERFUL celebrations with your families, friends, and loved-ones. Happy running!







Thursday, December 30, 2010
I joined the Rachel Mac Challenge recently, and enjoyed going through and looking at some of the other people's start photos. I also noticed that many of these participants seemed extremely shy and embarrassed about their photos. I mean, with my clothes on, I am not THAT confident, and take the clothes off?? And then take pictures?? I was totally empathizing with the others. I took my pictures and posted them.... and I got an OVERWHELMING POSITIVE response... I mean wow! Huge compliments.

Well, that is not so fair. See, those aren't my REAL start photos. So, I got to thinking - it's about time I post my REAL photos, start to finish, of my weightloss. These aren't pretty. They are quite embarassing for me. Many of them I have never before posted online because I was too embarassed. But then again, it shows how far I have come, right? On top of that, I will be celebrating 2 years of when I started out on my journey, so it seems very fitting.

Start: December 31st, 2008, 3 months post-partum from the birth of my twins.
Weight: 175 lbs (Height: 5'5'')
Status: 28 yrs old at start, married, mother of 4 children
I was playing Guitar Hero and being silly.... =) New Year's Eve, ya know. But uggh. These are just painful to see.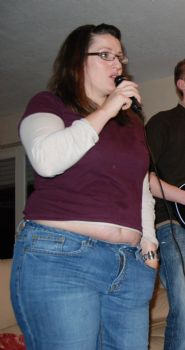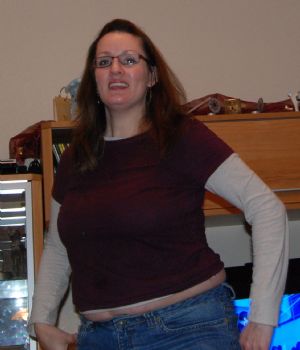 A few months later, after I had lost 10-15 lbs....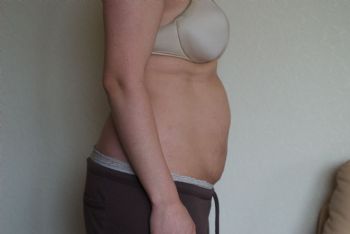 This one was taken in June 2009, I believe, after I got under 150 lbs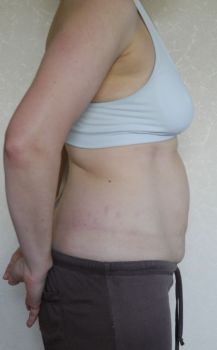 This one, taken in July 2009, I was just under 140 lbs and these are my goals pants... Don't worry, I was NOT wearing those out with that muffin top!! This was just for picture purposes!!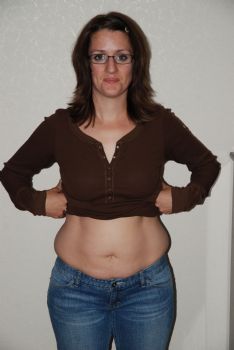 SAME JEANS, taken in August 2009, around 130 lbs.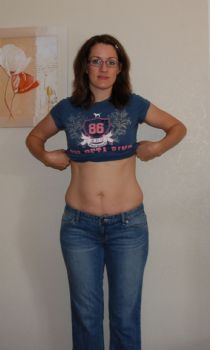 And this one, again SAME JEANS, taken in October 2009, after reaching my goal weight of 122 lbs.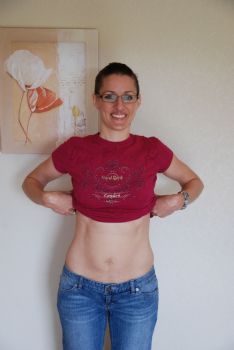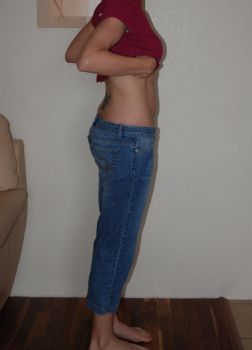 Those jeans are actually a bit too baggy now, even with a belt, they just seem to fit funny.... How cool is that???

And this photo, which was taken just a few days ago for the Rachel Mac Challenge, is where I am now. Still in the lower 120s more than a year later.


And a sassy pic in my new skinny jeans, that are a size 27 with NO MUFFIN TOP!! WOOOHOO!!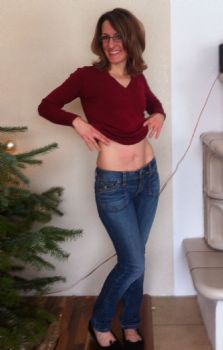 Has my weight fluctuated over that? You bet! I have let myself slide, gained a few pounds here and there, had to work them back off. We all have our battles and weaknesses, bad eating habits, and other thins that try to creep back in. But I keep at it, and that is what matters. And I feel GREAT where I am. Is it always easy? NO! But it's so worth it.

So for all of you who were embarassed or bashful about your photos, this one is for you.

Happy Sparking to all!! Keep working toward those healthy goals!!



First Page
1
2
3
4
5
6
7
8
9
10
11
12
13
14
15
16
17
18
19
20
21
22
23
24
25
26
27
28
29
30
31 32 33 34 35 36 37 38 39 40 41 42 43 44 45 46 47 48 Last Page

Get An Email Alert Each Time RUNDARCYRUN Posts