| | |
| --- | --- |
| | RUNDARCYRUN's Recent Blog Entries |


Sunday, November 21, 2010
Learning the value of slowing down....

Yep, that is right. One of the hardest things for me to do is to slow down.

Even though I had been into running for quite some time, I didn't use a stop watch for several years of my running. I purchased my first stop watch about 5 years ago, and it added so much to my running! I got very competetive with myself, and loved to see that number come down and down and down. Speed isn't a bad thing if you are only running 3-5 miles, 4-5 days a week.

But running 14 miles, and trying to push your pace? That is what I did last weekend. And my knee acted up from it. All feelings of irritation and friction were gone by Sunday evening, so I decided to stick to my running plan, but take it easy. I took my Monday run very slow - had absolutely no pain or irriation - but then I think I stepped it up too much on Thursday, and it acted up on my again. So, I took Saturdays run very slow, because I didn't want to skip my long run.... And even though my run went great - very very little physical issues and aches from my run - I got a little freaked out after reading someone else's post on a message board about pain, and a team leader telling them they should take a week off AFTER the pain stops.... OOOOOOPPS! I didn't do that!!

I have a difficult time slowing down, and am very competitive, but not really when it comes to other people - really it's with myself. I like to set goals for myself, and like to always improve my times. Last year, I was running more miles per week, at MUCH faster paces. And what seems slow to me now, in comparison with last years stats, might just be a little too hefty for me now....

So, in light of that, I will be cutting back on my running this next week, just to give my body a time to recoup a little, as a preventative measure. The last thing I want is to be laid up with some injury due to just ignoring some discomforts... So, I am planning to replace almost all my runs with biking, except for Saturday, since biking seems to carry much less of a punch when it comes to impact on my joints and ligaments.

Here was my plan for last week, and my actual:

Mon: 6-mile with fast finish, ST
**Actual: Did 6 miles very easy, ST

Tues: Biking
**Actual: Biked 45 min

Wed: 5-mile E + 6x 20-sec strides, ST & biking to/from gym
**Actual: Ran a 4-mile TR, biked to/from gym (35 min total) and ST

Thurs: 7.75 mile with intervals
**Actual: ran 8 miles with intervals

Friday: light biking
**Actual: biked 35 min

Saturday: 16.5 miles???
Actual: Ran a VERY VERY SLOOOOOOOOOOW 16 miles even.

I have found and am addressing what I think are some "trigger points" with my foam roller in my butt cheek and down the back of my leg (piriformis syndrome, I beliee), and that seemed to have made a HUGE difference. I was SOOOOOO happy that it did not tighten up during my run yesterday! WOOHOO! Plus, I did a TOOOOON of reading over the week about this, and found that working on strengthening the abductor muscles is very important to combat this. (It's funny, because I found the same thing is true to combat IT band pain, based on the info I read.) Something having to do with a lot of forward movement, and not very much lateral movement. So I have started doing side leg raises regularly, to help develop those muscles further.

Week 5's plan:
Monday: Biking 60-80 min (instead of running 8 miles), and ST
Tuesday: Biking 45-60 min
Wednesday: Biking to/from gym, ST
Thursday: Biking 45-60 min (instead of running 6 miles)
Friday: Biking 30 min
Saturday: 16 miles again.... VERY SLOW

So, there you go! Let's see how this week goes!! BRING IT! =)

Have an AWESOME week, everyone!! Happy running!




Friday, November 19, 2010
This morning, I found this....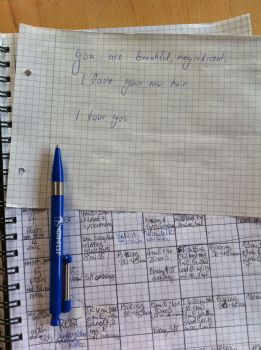 In case the picture is not clear enough, it says,
"You are beautiful, magnificent.
I love your new hair.

I love you."

Tucked into my marathon training plan notebook, no less!!!! Aaaaawwww! I love him!! I was smiling from ear to ear after finding that!

I just got my hair done last night, hence, the comment about my new hair! I will post some new pics showing that off once I get a chance....





Thursday, November 18, 2010
Yes, that's right. I am married to a couch potato. And I am sure I am not the only Sparker who deals with this.

There are many reasons I love my husband:
*He is committed to our marriage.
*He thinks I am his world.
*He is intelligent and hard-working.
*He's so supportive of everything I do and would give me the world if he could.
*He is a WONDERFUL father, when we fight or have disagreements, he always tries to work it out.
*He loves me and forgives me, even when I can be quite hard to handle... I am quite a fiery spirit at times. =)

But we don't share my enthusiasm and interest in fitness and exercise. He has, in the past year, started trying to exercise and eating a bit healthier, it still isn't a big deal to him.

I can't blame him: For one thing, all people in his family are at pretty healthy weights. He was ALWAYS skinny no matter how much pizza, bratwurst, or chips he ate. I think he thought he would always stay that way, but he's actually put on weight since we married, though I think he looks great. He fills out his clothes better, and has a mighty fine butt! HAHA!

He also grew up in an apartment that was just over the family's business, a very common thing even these days in Germany. His family owned a car dealership, so his "backyard" was the customer parking lot for the service department behind their house/business. He didn't play outside much - I mean, where would he play? And spent lots of time playing indoors with toys, watching TV, and his all-time favorite - playing videogames.

So, how have I resolved to deal with this, and not let his more sedentary lifestyle hold me back from accomplishing what I want? I want to be fit. I want to be active. I enjoy being a runner. I also enjoy being thin. I like being able to run around like a crazy woman with my little ones and making them laugh! How did I do it?

1. I refused to use my husband as an excuse to not get healthy. I resolved that, even if no one came with me, I was going to pursue my weightloss goals. And I try not to push my lifestyle on my husband. If he wants to try and be healthier (which he has shown more interest in, but very sporatically), then I will be happy to help.

2. I usually cook large batches of soups, and other things, and try to keep a healthy choice ALWAYS easily available for me, just in case the rest of my family wants to order pizza, or eat something else high-calorie. I also try to always keep a healthy, but yummy snack with me when we are out and about, so I am not tempted to eat out, even when my hubby wants to order his (NO JOKE) 5 bratwursts at the bratwurst stand. Or go through McD's drive (yes, we do have those here in Germany).

3. I try to not let my exercise take away from our together time. I do my cardio always early am. Well, almost always. Sometimes, on rare occasions, I go running in the evening, but I always ask my husband if it's ok first... Not because I have to ask, but because I value time with him. And I do go to ST at the gym 2 evenings a week. I would go during the day if I could, but with the kids... and the gym schedule for their classes... well, you know.

4. I attached myself to other people who were also pursuing healthier lifestyles, and found strength and encouragement with them. And I SHARED my goals with them, which I think was a huge motivation - voicing my specific goals to other people. SparkPeople is WONDERFUL in this area.

5. I just got out there and did it. Period. I get out there and exercise. I simply watch my calories. I just do it. Even if my husband is not, even if I don't "feel" like it, I just do it. And I don't resent my husband for not doing it.

Yeah, ok, maybe my health and fitness life would be easier if he joined in. Maybe it would be easier to make healthier choices if he were trying to make healthier choices too. Of course it would be easier to stay on track. Do I wish I could go on and on about my running, and have him really understand? Well, yes. It would be nice to pour out all the details from my fitness topics, and feel like he hangs on every word. I would like it if he really understood the accomplishment of running 16 miles, or if he could empathize with the exhilaration that comes from running a race. But he doesn't really.

But I don't let it hold me back. And I am very thankful that, along the way, I have always seemed to find the strength and motivation to stick with it, whether from other people (SparkPeople!!), or inside myself.

If I can do it, you can too.





Wednesday, November 17, 2010
LOVE IT! HAHA! Wow, I seriously have not felt this good in my left hip/butt since before I started running longer distances. It's weird, I just accepted the stiffness and tightness, thinking it just came with the long-distance running. In fact, I didn't even really notice it most of the time.

Enter: Magical Grid Foam Roller therapy - Tightness? GONE! Stiffness? GONE!

It feels sooooooo good to be able to give myself a massage right where need it, with just the right pressure. I am really looking forward to seeing how my body does on my long run on Saturday. I will definitely be in tune with my body, and ultra sensitive to any differences I feel.

Magical Grid Foam Roller... Seriously, my new BFF... My hubby is already teasing me about my new-found love!







Tuesday, November 16, 2010
My new "The Grid" (let me insert "MAGICAL" here) Revolutionary Faom Roller....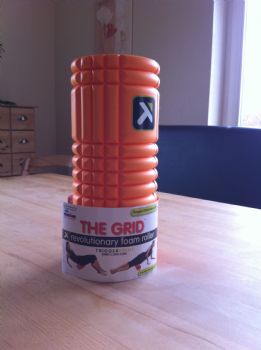 Oh, yeah. Mr. IT-band-friction-problem (or whatever you were), and all you other aches, pains and stiffness that seem to visit me when I do my long runs.... IT'S ON! I WILL take you down!! HAHA!

So, I don't even really know yet what caused my knee pain after my 14-miler the other day, but I didn't wait to find out! It was suggested to me that it could be the IT band, so I immediately did a ton of reading over the weekend about IT band issues, what causes them, what can I do to prevent, and I even found an exercise from runnersworld.com that you can do to help avoid issues with the IT band (which I have already started doing, and if anyone reading this is interested: www.runnersworld.com/video/1,8052,s6
-1-0-5,00.html?bcpid=2888993001&bclid=
609648044001&bctid=608410077001 The one called the side leg raisers). After doing these side leg raises from runnersworld, I noticed an immediate difference with how my left leg lined up with my hip... Not to mention that all little twinges of pain in my knee vanished after I did them... I am wondering if that might be what was contibuting to the knee issue in the first place... hmmmmmm. Guess we will see. OH, and I also am trying all sorts of IT band and hip stretches, including this one from SP: www.sparkpeople.com/resource/exercis
es.asp?exercise=547



Just a note here: while IT band issues are usually associated with overtraining, they can also be due to anatomical abnormalities, like overpronation or high/low arches, running form issues, like how hard your foot hits the pavement, if you are running on a slant, and for bikers: if you have your shoes pointed inward too much. Things like that.

Back to my foam roller - I have already tried it out, and am truly AMAZED at how good it makes me feel... ALL OVER!!! I used it on my calves, I used it on my IT band left leg (even though my knee doesn't even hurt anymore), I used it particularly on my left hip and gluteus maximus area (yeah, that's right, my left butt cheek is ALWAYS tight and weird from running), I used it on my hamstrings, which are starting to be a little bit sore from last nights BodyPump session,..... and I have seriously never felt better. I really have endured a lot of tightness and stiffness (all in my left leg oddly enough) due to my running, and I thought that was just what came with the territory. In fact, I would say, I didn't even really notice that it was that bad... until I rolled it with my magical foam roller. Simply rolling it relieved that tightness and stiffness IMMEDIATELY!

Seriously, I can give myself a massage with this thing, where I want/need it, with the exact pressure I need, and it is SOOOO easy! I am so looking forward to how much this little device is going to help me throughout my marathon training!! WOOOHOOO!



First Page
1
2
3
4
5
6
7
8
9
10
11
12
13
14
15
16
17
18
19
20
21
22
23
24
25
26
27
28
29
30
31
32
33
34
35
36
37 38 39 40 41 42 43 44 45 46 47 48 Last Page

Get An Email Alert Each Time RUNDARCYRUN Posts