Sunday, November 16, 2014
Here is a drill from my son's graduation.
This was an awesome week!
First, I found out Roxy had something in her paw. It wasn't cancer! Thank God! It has been a really hard 1 1/2 weeks with the cast. Bless her heart, she hasn't messed with it at all. So, no cone! I take her Wednesday to the vet to get #4 cast off...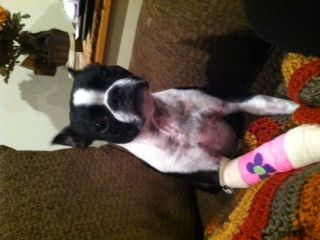 I feel like she keeps getting more because they are enjoying decorating them!
Second, I finally got to see my son in Missouri. He looked great.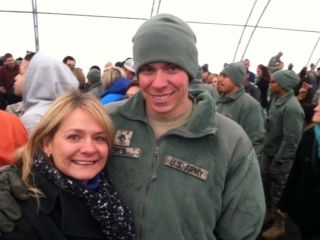 Yes, I have tears in my eyes, came like me like a tidal wave - it was such an emotional moment!
He had made a comment before he went that he was worried the army may change him for the worse. It didn't change him at all. He aced his way through Basic training - some of the 18 and 19 year olds annoyed him. He came out with a real appreciation for his job at UPS and said he learned a lot more supervisory skills. He ate REALLY good - gained 6 pounds and then had to work on losing it! And, he went right for the candy aisle at the commissary!
I was happy to hear he is staying in the reserves for the National Guard. I do not like what is going on overseas. I was so worried he would change to full time. I have already had my hubby serve, and, I really don't care - I am going to be selfish about this. I have seriously been through enough. And, I have a feeling that unfortunately we will need the National Guard more in the US. I also am a firm believer that any president we have should have served. Anyway, ok, I will get off the soap box now!
We went bowling...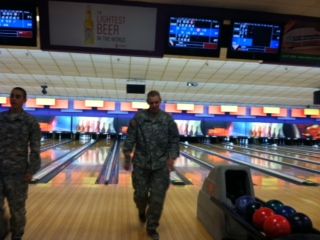 He bought tons of candy at the store and ate it all - yayyy! That is my kid!
Here he is after graduation...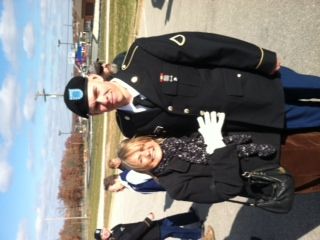 So, after graduation, he took a 13 hour bus trip to Georgia for training. After getting there, he found out he can use his cell phone and computer whenever he isn't in school. Yayyy! I can handle this! And he will be home for 16 days over the Christmas holidays!
Of course, this puts me in Mother's guilt mode at the same time. My other son is in San Diego and can't come home for Christmas. He can't get off work. So, as much as I really don't want to go back to California, I will plan a 10 day trip out there after my younger son heads back to Georgia. My hubby and I will take turns going to California to spread out the visits. My older son doesn't look any heavier in picture (he had anorexia last year). I pray that he meets a nice girl every day!!
It just stinks because my hubby and I really want to go to Jamaica for a couple's 50th birthday in March. We have a humongous water bottle full of change (10 years in the making). I am going to take it to the bank and see what we have. I hope it is enough - I really would like to go.
As for the 5% Challenge - I LOST 4 POUNDS! 3 to go! I am back ti my maintenance range - so I am happy! I will work on the remaining 3 lbs so the holidays don't take over!