ROSIECW's Recent Blog Entries


Wednesday, May 09, 2012
Week 1 Action Plan
√1. Assess your current sugar habits. Take this short assessment to learn where you stand.
--done

2. List the reasons why you want to cut back. Maybe you want to lose weight, prevent diabetes, manage your blood sugar levels, or just make more room for healthier foods. Keep these reasons in a place where you'll see them every day when you need a boost.
--I know that my sugar habits are the source of most of my weight gain, and I suspect other little health problems would be improved with less of it.

3. Record your sugar habits all week long. Don't try to change your ways yet, but do keep track of what, when, and how often you crave sweets—and how much you eat. (Write it out on your SparkPage blog or in a private journal.) It may also be beneficial to jot down what you're doing and how you're feeling when you feel the urge to reach for sugar, as well as how much you ate if you gave in to your craving. At the end of the week, look over your entries to see if any patterns jump out at you. Do you crave sweets every afternoon? Are your cravings strongest when you're stressed or tired? Discuss what you learned in the Challenge Team.
--day one, breakfast: The "baby" slept all night in her own bed for the first time ever, so I decided to treat her to some donuts for breakfast. I would usually eat two, but today I'm only eating one.





Thursday, February 10, 2011
I went through this a few years ago. I started exercising again first, but not much seemed to happen. Indeed it seemed to go backwards.

That's the case right now. I got a Nintendo DS for Christmas, and when I can tear it out of the baby's hands (there's a nifty DSware download program for $2 for preschoolers), I use the Personal Trainer program. It has a pedometer that talks to it and gives me feedback.

So, based upon what the pedometer is telling me, I've more than doubled my walking in the past two weeks, although the total is still abysmal.

I've also been working on things that will overall improve my diet. I've been making everyone up their servings of fruits and veggies on a daily basis and overall we've been improving the quality of our carbohydrates, drinking more water, and that sort of thing.

But until I actually give up the suzy-q's and until I replace all of the diet coke wtih water, my weight is not going in the direction I want.

Meh.





Sunday, May 03, 2009
First things first: It's a girl!

Born April 7, 2009 via repeat c-section.
7lbs, 6oz, 21 inches.
My final weight before birth: 167 lbs.





I'm back to do a modified version of the Sweatsuit to Swimsuit bootcamp. Since I'm nursing the baby and since I'm still recovering from the surgery, I'm going to take it somewhat easy. The goal here is to keep my weight in a steady to downward direction and to build up some exercise habits.

Today's statistics:
149 lbs
40" bust
33" waist
40" hips




Sunday, September 07, 2008
Well, it looks like I'll be moving over to the Babyfit sister website for a while!

I've had a lot of fun here, but I can't really keep track of both.

For the record, I made it down to 145! I'm back up to 147, now, but for a good reason. :)







Thursday, May 22, 2008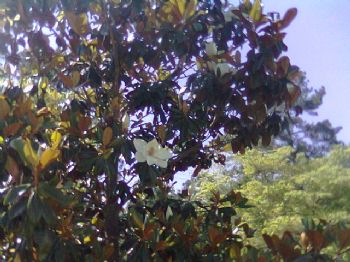 Went for my first bike ride in a long while. Boy am I feeling it!

Right now there's a definite scent to the neighborhood. Honeysuckle in some places, which is really sweet, and the sharp spicy tang of magnolia in others. I love magnolias which in my area give blooms that look like latte cups and smell so exotic. This one was planted seven or eight years ago and was less than five feet at the time. I'm really bad at judging heights, but I would guess it's more like 20 feet, now. It's pretty close to the height of our house. Poor thing is the worse for a wind storm five years back that ripped one branch that made up about a fourth of the tree, but it's recovered.

Well, so you probably wanted to know how things are going: during our Virginia vacation, I may have gained a pound or two, it's so hard to tell on my scale, which has gotten harder to read, lately. Shame on the scale! ;) Or, maybe I gained a little weight because I haven't been exercising as hard since getting back. I'm going to need to double up a bit on the swimwsuit boot camp so that I can finish more or less when I'm supposed to do so. We shall see.

My one saving grace is that I've been walking a lot, starting with during the vacation itself and now since that time. Not hard walking, but definite walking.

Oh, yeah! What's on my needles? Well, I've started the sleeves of that maroon ski sweater, but I decided instead to finish a cross stitch piece I started years ago. It's for our pastor who celebrates the 10th anniversary of his ordination next month. I would have been so ashamed when I started to think I was going to have to scramble to finish it like I am now! Next on my list is to finish a "recycled" shopping bag made by cutting up old Walmart bags and the like and crocheting it. Pretty cool, although I'm finding that Target bags are pretty tough to work with. They're pretty "sticky," for lack of a better word.



1 2 3 Last Page

Get An Email Alert Each Time ROSIECW Posts