| | |
| --- | --- |
| | ROSEWCI's Recent Blog Entries |


Wednesday, February 20, 2013
Hello Everyone!

I hope you're all doing well! I am so excited to report I'm down 3 lbs this week!



Go me!!!

Here's how the week went...

- I increased intake of fruits & veggies
-Focus was on increasing water intake daily
-I TRACKED everything I put in my mouth
-I measured/weighed most portions
-I increased my intake of the good fats
-I walked for a half hour most evenings
-I (but of course!) cont'd to exercise daily!
-I kept calories around 1500 most days

I'd like to share w/you that I'm feeling physically stronger & healthier! I think my endurance level & stamina have greatly improved since I've started Spinning! WooHoo!!! And I have to say that I walk at a much brisker pace now days! Thank you SPIN CLASS!!! And I'm so very grateful for all of you, my friends! You keep me motivated & your ongoing support keeps me going! I also enJOY helping you celebrate your successes & accomplishments too, & I enJOY offering you all encouragement & support! Hey, ya know, we're in this together, afterall!!! Thank you for allowing me to be a part of this wondrous life journey with you!!! You are loved!

EnJOY a fabulous & healthy week all!!!



Rose






Friday, February 15, 2013
Hello Fellow Sparkers!

I hope everyone is well! The media's reporting that the flu season has eased up a bit, but I gotta tell ya, I'm hearing a lot of people say that there are a lot of sick folks out there! And those that get this nasty flu have been very, very ill! Please take special care, my friends! I'm not wanting any of ya's out there to be sick! Stay healthy!

Now, I'm not complaining or anything, but I just find it a little "odd" that last week, I lost 1.8 lbs...& this week, well, I "found" 1.8 lbs! Coincidence?

I think NOT!



I mean, come on now! So, let's recap, shall we? Thus far, for the new year...

1/2/13 - +4.4 lbs
1/10 - -2.4
1/17 - -1.2
1/31 - +4.0
2/7 - -1.8
2/14 - +1.8

(Just so ya know, I had NO Valentine's Day candy or goodies! None! Nadda!)

Total loss with WW's is 24.4 lbs! Ok. Ok. So, I'm HAPPY I'm down 24.4 lbs, but I've got some work to do! Some serious work!

I've been exercising everyday, but this week, I've not had the chance to squeeze in much walking in the evening, so I'm doing to step up to the plate there & make more of an effort to get out. I can do that! And honestly, I've not been tracking at all. I know I keep saying I'm gonna, but, well...I just plain don't do it! So, I'm gonna do it! So, goals for the week are...

-walk at least 5 evenings this week
-TRACK! TRACK! TRACK!

Okay, I CAN do it, by golly! I hope you're all well out there fellow Sparkers! Stay healthy & keep warm! You're all my JOY!



Rose





Friday, February 08, 2013
Hello Everyone!

And I'm back! Back on track, that is!!! WooHoo!!! Down 1.8 lbs this week!



Honestly, I can't say I'm doing anything different, when it comes to my routine. I am doing a spinning class 3X a week now & this past week, I've started back to walking before or after dinner for a half hour. I just like how I feel after a walk & it sets the tone for my evening right nicely! Our instructors tell me that you can burn 800-1000 calories in one hour of spin class! One of the instructors does something called Tabata (not certain about the spelling here). It's a high intensity interval training program that athletes use to increase endurance & aerobic capacity. It's supposed to burn 1000 calories in an hour & phew! It's a great workout!!! So I'm LOVIN' the Spin!!! Anyway, I'm kinda getting tired of the same ol' classes at the Y...so I was lookin' to shake things up! Spin class is doing just that!!! Shaking it up!!!

Saw my doctor for a routine check up & all is well! Labs were perfect, including a Hemaglobin A1C (blood sugar readings over a 3 month period), which was 5.3!!! My doc was very pleased!!! And so was I!!!

Hey, I hope you all are doing well! I'm hearing the weather is pretty nasty for most of the country. I gotta tell ya folks, SW Florida is very crowded right about now! I think we have more visitors than ever! And I understand why! Our weather's been gorgeous! And I wish I could share it all with you!!! So, I'm sending some your way today!!!









EnJOY a healthy & safe weekend all!!!

Rose





Friday, February 01, 2013
Hello Everyone!

I am setting the record straight & getting back on track, starting this morning! I hope everyone is doing well & staying warm! Oh, I know most of the country is in the deep freeze, so I won't rub it in that our weather has been beau-ti-ful! Awwww, well it has!

Okay, now for the GOOD!

Brennan's visit!
FYI: he's 14 & doesn't like his picture taken! I could hardly ever get him to pose, let alone smile!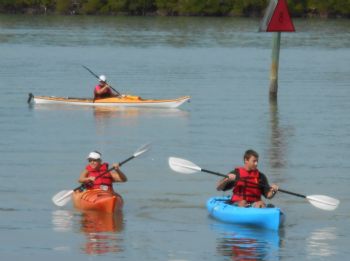 I enJOYed his visit & I learned a lot about my grandson. He's a great kid!

Also GOOD was that I've been exercising everyday! My new passion is SPINNING! It's a great workout & I love how I feel after I take the class!

Now, for the bad!

I purposely didn't go to WW's last week cause we were so busy doing things w/him & we had been eating out & you guessed it! I had been eating things I don't normally eat...





And I did enJOY sharing a milkshake w/him at Steak N Shake after visiting the planetarium in Ft. Myers! And because of these simple indulgences, well, my weight is up...

4 lbs!



And well, there's no real ugly! I mean, life happens, right? I didn't really go all hog wild or anything...but I didn't track or drink the water & I wasn't mindful, so...total weight loss w/WW's is now 24.4 lbs. Gotta get myself in gear!!!

So it's back to the basics for me! Today, I'm tracking my foods, staying in caloric range, drinking the water, & moving my body! Today I'm going to meet a bunch of ladies for breakfast to help celebrate a gal's birthday! Just black coffee for me...then heading over to the Y for a DRUMS ALIVE class!

EnJOY a healthy week my friends! And stay safe & warm out there!!!



Rose





Friday, January 11, 2013
Hello Everyone!

I hope you're all beginning 2013 in good health & with good intentions!

I'm just getting over what I think was a mild case of the flu! Yes, Yes, I got a flu shot last September! I woke up Tuesday not feeling well, but still planning on going to a spin class...I was so looking forward to it! Well, I didn't even make it out the door! I went directly to bed & pretty much stayed there for 2 days with nausea & vomiting, headache & body aches...not fun. I would attempt to eat, only it was most often a bad idea. Hence, I'm down 2.4 lbs this week! This was so NOT the way I wanted to lose that holiday weight gain! So, I still have 2 lbs of that holiday gain to get rid of...& I'll be working on it this week!

Was it worth it? (the weight gain?) NOPE!
Will I remember this next year? Probably not!



Alright! My plan is to remain on track & get back to TRACKING! I haven't been doing it cause of being sick. Drink more WATER! Stay in caloric range! Eat more VEGGIES & FRUITS!
And MOVE, MOVE, MOVE my body!!!

I hope you all are well out there! Stay healthy & wealthy of mind, body, & soul!!! I'm KAYAKING with some Y ladies this morning! WooHoo!!! I haven't been out in a while & I'm soooooo looking forward to it! Our weather has been absolutely gorgeous here in SW Florida! LOVE the sunshine!!! Our temps have been running about 10 degrees above normal & I couldn't be happier!!! It's summer in January! Who wouldn't be happy!

EnJOY the week my friends!

Rose



First Page
1
2
3
4 5 6 7 8 9 10 11 12 13 14 15 16 17 18 19 20 21 22 23 24 25 26 27 28 29 30 31 32 33 34 35 36 Last Page

Get An Email Alert Each Time ROSEWCI Posts