| | |
| --- | --- |
| | ROCKMAN6797's Recent Blog Entries |


Tuesday, April 09, 2013
Earlier last month I took part in my annual 5K run. Once again this was a free event that was well attended by the local community. This is my fourth year participating in this awesome event and this year I was fortunate enough to meet more SparkPeople members. I met up with Nancy (BUTEAFULL), Debra (DGRIFFITH51), and Angela (DARINGR8LY).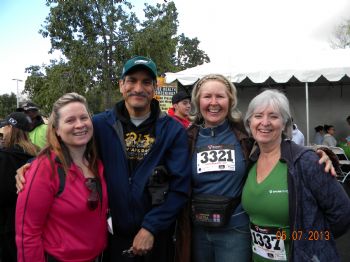 Check-in went without a hitch.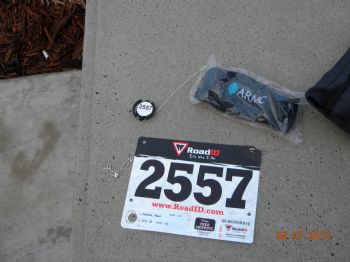 Before the start of the race Angela and I walked through Health Fair. It was bustling with activity.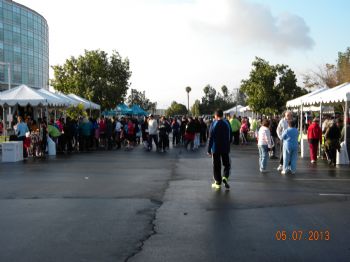 We even saw the mascot, Bernie, for the local baseball team!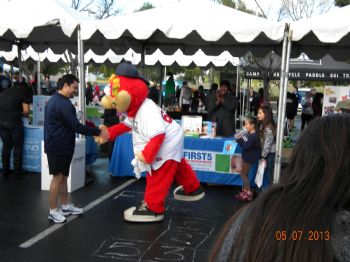 The actual race went well. Although I did not establish a Personal Best I did come in 138th place with a race time of 24:08. And considering that I was battling a cold and had some stiff back issues earlier in the week I think I did pretty well!




I canít wait for next yearís race. I love meeting up with SparkFriends!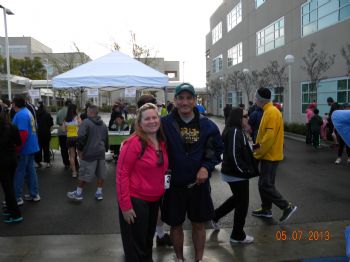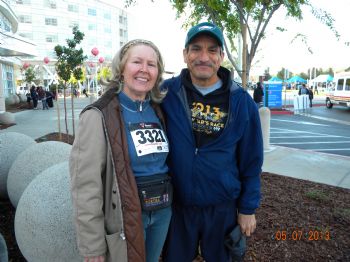 Tuesday, April 09, 2013
Earlier this year (January 5, 2013 to be exact) I participated in my first half marathon. The name of the event was the 1st New Yearís Race in Los Angeles. I have participated in 5K races before and regularly run between 7-8 miles every Saturday yet I was concerned about the distance. Would I be able to run for 13.5 miles non-stop? I sometimes do run as far as 12 miles some weekends but these runs usually involve short interruptions as I wait for a green light. And this run was scheduled for the evening so I wondered how my body would do in the coolness of the night. Nevertheless I decided to jump in with both feet and take advantage of this wonderful experience.
Thankfully my mom lives in Los Angeles so I was able to get to the city early and take advantage of her hospitality! I shared a wonderful meal with her, making sure that I filled myself up with enough energy to get through this race. I rested up for a few hours and then got myself ready.
Traffic was extremely congested as we got closer to downtown and I was fearful that I might not make it in time. Thankfully I did but then as I was checking I was told that I was not showing up on their system! Fortunately I brought my confirmation email with me so I was able to resolve this issue. As I was pinning my race number I wondered what else could go wrong. The surrounding festivities quickly dissipated any misgiving I might have been feeling as it was literally a party in the streets of downtown Los Angeles! It was a wonderful feeling as I felt I was part of something big.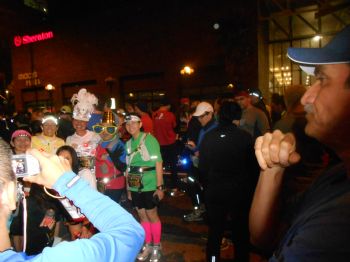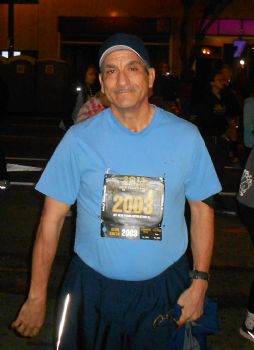 As our corral was led to the starting line I made sure that my watch and FitBit One were ready. In a previous 5K my time was grossly misreported but thanks to my watch and FitBit I was able to rectify the time. I wanted to be certain that I had some back-up timing devices just in case. As the race started I was filled with adrenaline and had to calm myself down so as not to burn out in the first few 100 yards! I got myself at a steady pace, shooting for 10 minute miles.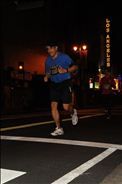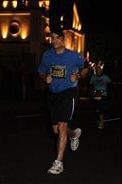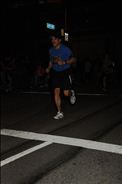 The first part of the race involved some hills as we moved towards Chavez Ravine, the home of my favorite baseball team, the Los Angeles Dodgers. As we entered the parking lot we encountered a rather steep hill that I completed with ease. As we continued up the hilly roads I could see the lights of Dodger Stadium. Little did I know that within a few minutes I would be fulfilling a dream of mine. That opportunity presented itself as we stepped foot into the actual playing field itself! I was filled with excitement as my mind raced through memories of attending my first game with my father back in July 1969. As we ran around the dirt portion of the stadium I was literally overwhelmed with fond Dodger memories. This truly was the highlight of my run!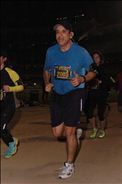 Exiting the stadium my mind returned to reality and I decided to lock my sights on a couple of the faster-moving runners. That strategy paid off handsomely as I continued to move ahead of runners. After picking up my last cup of water at the 12 mile station I decided to push myself to see if I could complete the race in less than two hours.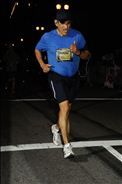 As I made the last turn down the final straightaway I increased my speed, pushing myself to cross the finish line. As I crossed the finish line I looked up at the clock at saw that my time was 2:01:44!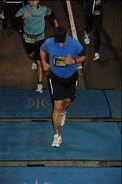 A feeling of exhilaration enveloped my body as I was met by volunteers offering me a medal for finishing the race, an aluminum wrap to keep me warm, and, best of all, a long row of food to replenish my body. I drank a couple of bottles of water, gulped some coconut water, peeled a banana, ate a protein bar, and had a bag of blue corn chips. Boy, was I famished and tired! This picture keenly displays my relief at finishing this grueling race and, believe it or not, the joy I was feeling!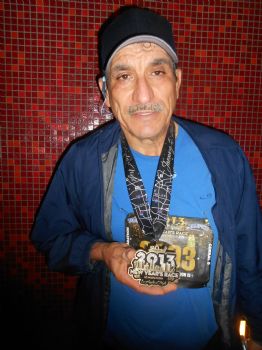 I checked my watch and my FitBit. My watch clocked me at 1:54:14 while my FitBit clocked me at 1:59:00. According to the FitBit site I burned a total of 1,632 calories, climbed a total of 80 floors, and took 19,330 steps. The FitBit calculated the distance to be 13.63 miles. The actual distance of a half marathon is 13.1094. This represents a difference of 4%. Not bad considering that my steps were far from uniform. Later I checked online for the posted race results and my official bib time was 1:53:44!
A nice aside to this story was my local paper picking up my name in the raceís Media Alert. I spoke with the paperís reporter and shared my story. Here is the link for that story if you are interested in reading it:

www.pe.com/local-news/san-bernardino
-county/san-bernardino-county-headline
s-index/20130114-colton-resident-sheds
-150-pounds-runs-half-marathon.ece

So ends my very first half marathon. Would I run in another one? Yes, in fact, I have already registered for the 2014 New Yearís Race!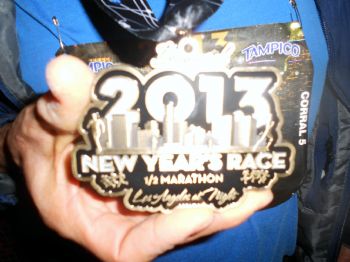 Wednesday, May 23, 2012
I have just received an email from SparkPeople.com advising me that my personal weight loss story has been selected by the HuffPost Healthy Living website! Generally I am a very private person but when SparkPeople.com approached me about sharing my weight loss story I jumped at the chance. I owe so much to SparkPeople.com and want to share my story in hopes that it spurs others to start a healthier lifestyle.


Here is the link for my weight loss story:

www.huffingtonpost.com/2012/05/21/we
ight-loss-success-raul-robles_n_153421
2.html








Tuesday, May 08, 2012
Quite honestly I did not expect to have to write this blog. My Dodgers have gotten off to a fast start and appear to be playing on all cylinders. Meanwhile the Cubs are struggling, entering the weekend series with a 8-17 record and a dismal 6-8 record at home. But I guess that is why they play them because after all the dust had settled the Cubbies won the weekend series!

Game 1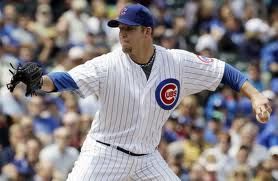 The series opened on a cold cloudy afternoon in the Windy City. Paul Maholm, the Cubís starting pitcher, pitches a good game, pitching six strong innings of three hit ball, while striking out four Dodgers. The Dodger starter, Chad Billingsley, pitched a decent game but he walked three batters. The offensive star of the game was old-timer Alfonso Soriano, who went 3 for 3 with 2 RBIs. The final score was 5-4.



Game 2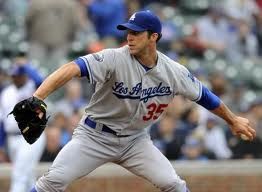 Game 2 was played under another cold cloudy Chicago day. Chris Capuano, the Dodgersí starter, pitched brilliantly, going a full seven innings, allowing only three hits, and striking out seven Cubbies. This was Chrisí fourth win on the season. In addition to pitching brilliantly, Chris also drove in two runs, leading the Dodgers to an easy 5-1 victory over the Cubs.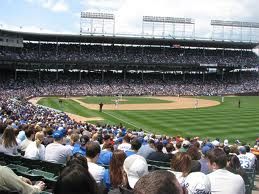 Game 3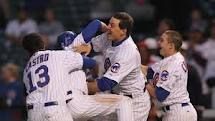 The rubber match was another afternoon game but due to a 2:41 minute rain delay did not get started till the early evening. Once again the weather was unforgiving. Nevertheless the Dodgers entered the bottom of the ninth inning with a 3-2 lead when disaster struck! Javy Guerra, the Dodgersí relief pitcher, continued slumping with a poor performance and allowed the Cubs to tie the game in the bottom of the ninth inning. In the bottom of the 11th inning, the Dodgersí pitcher, Jamey Wright, walked David DeJesus with the base loaded to provide the Cubs with the win. The star of this game was an up and coming player named Bryan LaHair, who went 3 for 4 and increased his batting average to .390!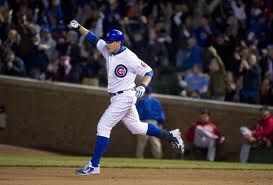 As promised to IILAAD65 I have changed the background for my SparkPage to honor the Cubs! UGH!! I will keep this background until the next series in Los Angeles, scheduled for August. OMG, I am not really certain if I can keep this background for that long but I will because a bet is a bet! Congratulations Beth, you hold the upper hand this time!






Thursday, March 15, 2012
Last Saturday I took part in my annual 5K run. I take part in this race because it is sponsored by our local hospital, offers an awesome health fair, and, the best reason, is a free event!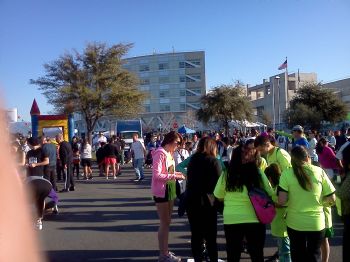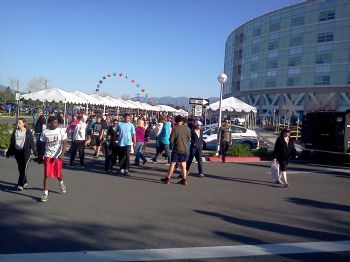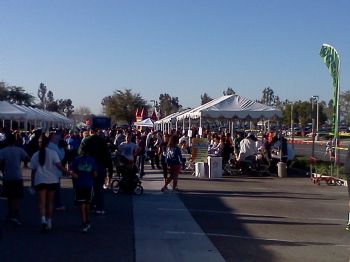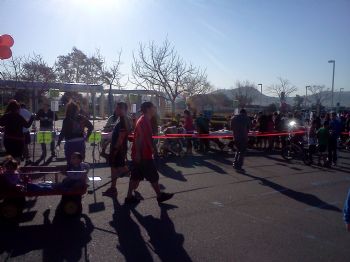 This was my third year of taking part in this event. The first year I walked the course and last year I ran the course. I finished the race with a time of 25:05. I was determined to beat that time and trained hard leading up to the event. I was also excited because I would finally be meeting one of my dearest SparkFriends, AWEISE. We were to meet up at last yearís event but, due to poor planning, were unable to do so. This year we formulated a better plan.
Upon arrival at the location I noticed a large crowd and wondered if I had perhaps gotten too late of a start that morning. Then I remembered that since I pre-registered for the event I was able to bypass the registration line and proceed immediately to the pre-registration line and pick-up my bib and tracking device. Thereís a lesson to be learned here, ALWAYS pre-register for an event, it saves a lot of time! Anyhow I pinned on my bib, secured my tracking device to my running shoes and waited for AWEISE. I did not have to wait long as she arrived right at the time she promised. AWEISE is an awesome lady. I felt so comfortable speaking with her, almost like we were long-time friends. We chatted about last yearís event, about our cell phone plans (I know, weird subject!), and our respective spouses. My camera took an awkward picture by itself (argh, if I could ever learn how to properly use my camera phone I would be dangerous!) of AWEISE.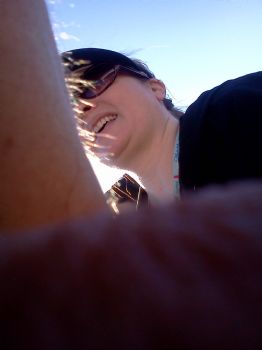 BTW, she has been recently re-thinking her health goals and needs our support, so, if you have an opportunity stop by her page and leave her a supportive comment! Anyhow, she moved on to check out the health fair while I waited for a second friend.
As the start time neared I entered the running corral, got my iTouch ready to go, and enjoyed the few minutes before the start of the race.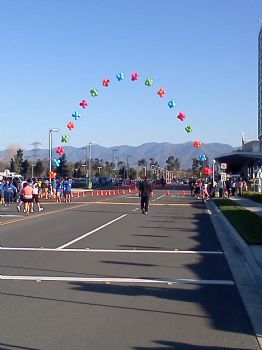 This year the start was handled more professionally as the runners were separated from the walkers. Last year the start of the race proved to be an obstacle course as I had to navigate around walkers and strollers. Separating the two types of participants would allow the runners to get a quick start without having to worry about bumping into a slower participant.
As the race started I started off at a good steady pace, navigating around slower runners and finding a ďlaneĒ that I could use to run with little or no impediments. I paid little attention to the other participants rather I concentrated on finding a good pace and keeping my eyes ahead of me so as not to trip over something or run through water. As I hit the downward slope portion of the course I tried to keep my pace steady. I passed the Mile 1 marker feeling very strong so I decided to increase my pace. As I approached the water station I decided to skip it as I had drank a couple of bottles of water before the race. I passed the Mile 2 marker still feeling strong but keeping in mind that the upward slope would be rearing its ugly head shortly. As I approached the start of the hill I pushed myself to keep the same pace, keeping in mind that I just needed to put one foot in front of the other. As I passed the Mile 3 marker I was elated that I still felt strong. Turning the corner and headed down the home stretch I kicked it up another gear and sprinted to the finish line! I forgot to look at the race clock as I passed it but my unofficial time was 23:46! I stopped at the race tracker station to turn in my tracker and waited for results to be posted. A few minutes later they were posted and I officially finished in 112th place with a race time of 23:48!





That, my friends, averages to a sub 8 minute mile. (Ok, ok, I am tooting my own horn but I worked hard for that time!)

Anyhow, as I waited at the finish line for AWEISE to cross it, I was struck by the outpouring of support by bystanders as their friends/family members approached and crossed the finish line. I was particularly overcome with emotion by a motherís reaction (apparently she had run the race, too, having finished before) as her ten year old son crossed the finish line with a gusto that put me to shame! Moments later she was enthusiastically cheering her eight year old daughter as she approached the finish line with the same gusto as her brother. The smile on her face was simply priceless. As she crossed the finish line she ran into her motherís arms! OMG, that was beautiful! Iím sorry I am sucker for family moments like these, simply AWESOME!

I saw AWEISE cross the finish line and captured the moment with an extremely short video. (Again, user-error resulted in a poor video, sorry!)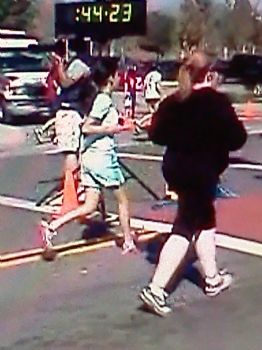 As I was fumbling with my phone I lost track of AWEISE and attempted to find her in the large crowd but was unable to do so.

I canít wait until next yearís event. Until then I am going to work on my phone camera skills!




1 2 3 4 5 6 Last Page

Get An Email Alert Each Time ROCKMAN6797 Posts