| | |
| --- | --- |
| | ROCHIEZ's Recent Blog Entries |


Tuesday, August 10, 2010
I have come to the conclusion that I am not a blogger - certainly not a consistent one! I love spending time here and sharing with my SP friends, but sometimes, life is just too short to retype the experience! So apologies for my increasingly frequent absences - the good news is that there are far more entertaining blogs than mine out there! The personal good news for me is that I am well and truly making this change into a lifestyle and am needing less and less input from the SparkPages to keep me going - that is quite a win from where I'm standing!

I do however have to keep sharing my recipe finds/creations with you - this dessert from my bf's mother is too easy and deceptively delicious. Don't eat it all in one go - one slice (1/8 of the total) clocks in at about 400 calories - better than a whole slab of chocolate, but there are certainly more calorie friendly ways to cater for that sweet tooth. Have it on a gym day, or for breakfast (which is what I sometimes to) to up your calcium intake.

Disclaimer: I am unsure of the American understanding of tennis biscuits and condensed milk but I know South Africans (and probably Brits) will know what I'm talking about!

Yogurt tart

You will need:
1 packet of tennis biscuits
200 g butter, melted
1 tin of condensed milk
500 ml of yogurt - your choice, use plain or fruit, they both work well and aim for fat free or at least low fat.

Make the base of the tart by crushing the tennis biscuits into crumbs (the good ol' rolling pin action) and mix with the melted butter. Then press this mixture firmly into the base of your dish. (to avoid additional calories, this can be excluded as the filling sets quite firmly - take out about 150 calories per serving. It does compromise some taste though).

Mix the condensed milk and yogurt very well, then pour into the base and microwave on high for 4 minutes. The tart should not be wobbly in the center - if it is, microwave for another minute or two. Refrigerate and enjoy when chilled! Yip, that really is it :-)

Go on, try it, you won't be sorry. Its not as sweet as you imagine or as plain as you might think.

Ciao!








Thursday, July 01, 2010
I had a brilliant time and felt so blessed to be able to see my two good friends again - it had been many years since we last saw each other face to face. I stuck to a mostly veggie diet but did venture into the local cuisine quite a bit and with all the shopping managed to get in plenty of exercise!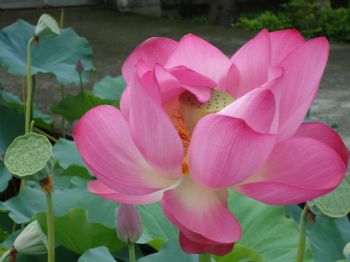 A beautiful flower that only blooms in Nantou once a year and nowhere else.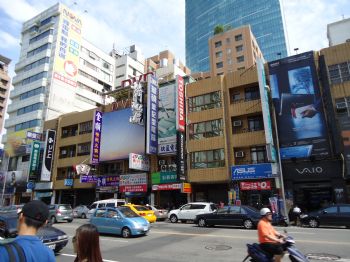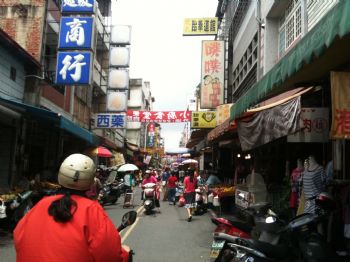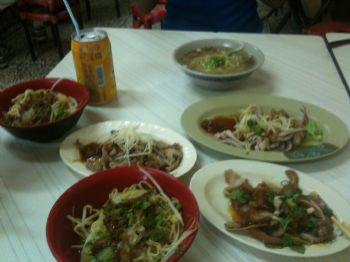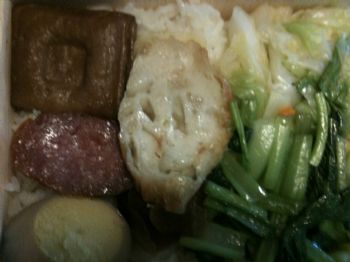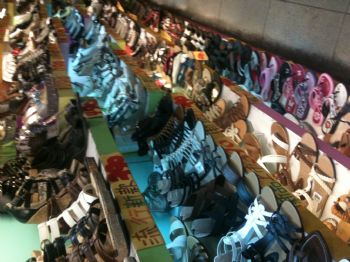 How I spent my holiday!


Breakfast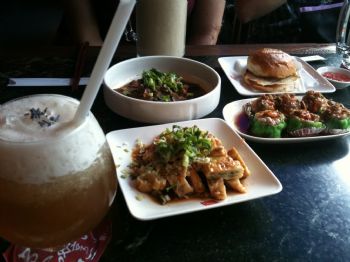 Afternoon tea - the drink is lavender vinegar, surprisingly refreshing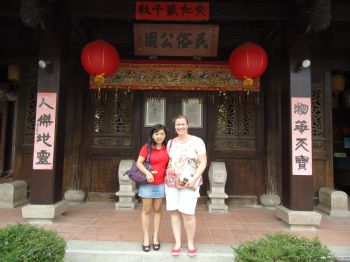 I was big in Taiwan! (admittedly, my friend in the picture is extremely small, even by their standards)








Wednesday, June 23, 2010
Back from my epic journey, mostly recovered from nasty flu/cough and Singaporean skin creepies (more later) and somewhat rested.

What an amazing opportunity but really glad to be back home! Not sure I would recommend so many airports and so many timezones in such a short space of time.

On the up side, I was blessed to be able to attend a wonderful friend's wedding & what an awesome time! I arrived in Mexico around midnight on a Friday after a slightly delayed flight and having found my Mexico (pre-arranged) taxi driver and calmed her down sufficiently after finally understanding that she had been waiting for me for 3 hours, I made it to my lovely B&B in the historical center of Mexico city. Aptly named the Chillout Flat (if you Google Chillout flat Mexico, you will find many references), Rozario, my hostess quickly got me settled and I tried to get some sleep before the big day.

Saturday morning was spent at my friend's mom's house, getting ready with all the women of the family - a real 'female fest'!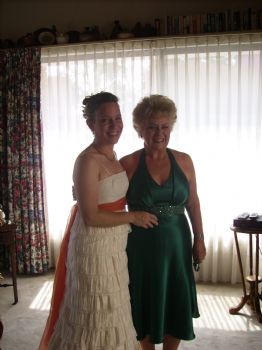 My friend Deborah and her mom.

The wedding was held in a garden with the reception right there under a kind of tented area, very beautiful. Unfortunately I understood nothing of the ceremony as it was in Spanish, but I think I nodded at the appropriate times!



The people seated at my table at the reception very kindly spoke English to me and after a few glasses of wine and yes, the odd tequila, the party and dancing really got started! Unfortunately my camera let me down, so I will have to wait to get pics from my new Mexican friends to share the revelry. I have also learnt a new party trick, Mexican style - handing out 'props' to the people on the dance floor at various intervals throughout the night really picks the vibe right back up! These included hats in various shapes and size, sunglasses and feathers.

My friend works in the same group of companies that I do and toward the end of the evening I got to chatting with her boss and his wife, scored a ride home and an invitation for lunch at their ranch, about an hour outside the city the next day!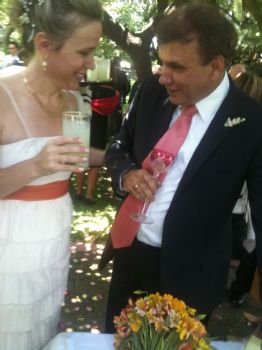 Tuesday, May 18, 2010
I just love quiche, it is so versatile and I haven't yet decided if I prefer it for breakfast, lunch or dinner, it works well with anything!
I love a slice of quiche with a small side salad, it just feels healthy eating it. After working out the calorie contribution of this, I was very pleasantly surprised!

I don't make a crust with this one, its not necessary as it sets very well. If you prefer a base, use puff pastry, baked blind for a few minutes before adding the filling. I haven't included this option in the calorie count.

You will need:
500 g low fat smooth cottage/cream cheese (don't worry if you are a little over or under with the amount, this is a very forgiving recipe - also, if the cottage cheese is very thick, add a little bit of milk to thin it - you will need to pour out the mixture eventually).
4 large eggs
1 handful of finely grated Parmesan cheese (no more than 1 cup full)

For the filling:
1 onion, sliced
1 punnet of mushrooms, sliced
1 packet lean diced bacon

You can of course experiment with any filling, this is one of the beauties of quiche! Just ensure that if your ingredients require cooking, you do that before assembly.

Pre-heat the oven to 180 C.

Fry the onion, mushrooms and bacon until cooked through - add a little salt and pepper as well as any herbs you prefer - I like using thyme with mushrooms. Set aside.

In a mixing bowl, combine the cottage cheese, whisk the eggs and add as well as the Parmesan cheese, salt & pepper to taste.

In an overproof dish, add about 1/3 of the quiche mix, then your mushroom & bacon mix and top up with the remaining quiche mix, ensuring most of the filling is covered.

Bake for approx 30 minutes or until slightly golden. The quiche should be set so if its still wobbly in the middle, bake it a little longer.

Serve as is or with a lovely garden salad on the side.

For a serving size (about 1/8 of the total quiche), the calorie count for the quiche mix is 145 and the bacon & mushroom filling came to 80, a caloriffic total of 225!

Experiment with fillings you enjoy, like:
wilted spinach & fried mushrooms
salmon & chives
leftover roast veggies
green, yellow and red peppers, fried with some zucchini (baby marrow)

I tend to make one big quiche and two smaller, individual sized ones so I have some to take to work for lunch or to freeze for the DBF if I'm travelling.

Please share your filling ideas! I'm on a quiche mission!






Monday, May 17, 2010
What an awesome week last week was! First the amazing opportunity career wise, then, just to add a few cherries to the cake, I win two tickets to a music festival held on Sunday and my DBF wins tickets to the musical Grease for Wednesday night - and we get to take another couple with! Brilliant!

The concert on Sunday was amazing, some of the best of South African music acts, great weather and a picnic on the grass about 20 meters from the stage. The acts included Malaika ( www.malaika.co.za ) who got the crowd on their feet and had us all dancing to their energetic music.

Then followed Arno Carstens ( www.arnocarstens.com ) who is now making a career for himself over in the UK. Freshly Ground ( www.freshlyground.com ), one of my absolute favourite live acts kept the crowd entertained with their unique sound. I quite enjoyed their tongue in cheek song dedicated to Robert Mugabe entitled 'Too chicken to change'!

Towards dusk, South African great Johnny Clegg ( www.johnnyclegg.com ) made sure that tired feet were forgotten!

On our picnic menu was chilli (non) carne, a recipe I posted before at www.sparkpeople.com/mypage_public_jo
urnal_individual.asp?blog_id=2896660
and some cheesy corn bread, bubbly for the celebration and fruit and water to keep us going. I also brought along a pecan pie (store bought) but we never got to that!

Aside from the dancing, we made sure to park far away from the stage and did about a 2km walk (1 each way) through the beautiful Johannesburg botanical garden to reach our destination.

Me and DBF about mid-way through, taking a break (I'm starting to get into the FIFA world cup spirit!).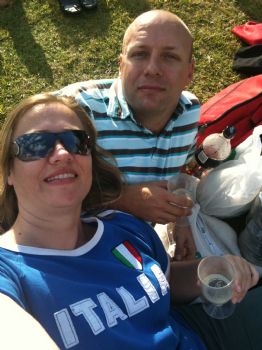 1 2 3 4 5 6 7 8 Last Page

Get An Email Alert Each Time ROCHIEZ Posts