Sunday, November 24, 2013
The past few months in Leavenworth have been AWFUL! The people here are terrible! I am sadly not exaggerating, these people are vindictive, judgmental, hurtful and just plain terrible people. I have been under ridiculous amounts of stress since moving in and that is on top of just losing my therapy team, who I was bonded with- for the past 6 months I have been doing this on my own and it is a miracle that I am still standing. But I am.

The day before I left I got a tattoo of a Maya Angelou poem on my right arm "still I rise," I did this to remind me that no matter what comes my way I can get up and keep fighting. So today I will do just that, knowing that I will likely be knocked down again one day, but that I have the strength to get back up.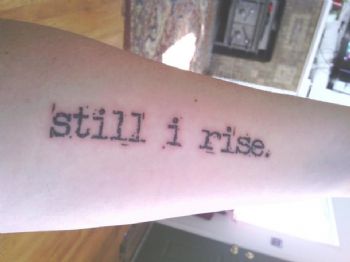 I have stopped working out and have been stuffing my face with crap to stuff my feelings, great plan I know! Thankfully, while I have gained weight, I have not gained as much as I could have. I can fix this I just have to knuckle down and do it. I rescued a German Shepard- Corgi mix a month or so ago and named him Murphy (he is 14 months and full grown) and I am training him to be my service dog, he will be a great running and hiking buddy.