| | |
| --- | --- |
| | RISENABOVE's Recent Blog Entries |


Thursday, March 01, 2012

Tigger has gone Woo Hoo Hoo WILD!






He's expressing his zest for life, bouncing and pouncing all over the 100 Acre Wood!

It's a technique he often uses to share his eagerness and happiness or even fondness amongst his dear forest friends!

Challenge runs FRIDAY - MONDAY! Points should be logged to the tracking thread no later than Midnight TUESDAY!

STOP 1: PIGLET's HOUSE!

Here you'll fill up on Piglets love of bright colors and eat a rainbow of his favorite balloons. (1 serving each color: Red, Green, Blue/Purple, White/Tan, Yellow/Orange) (10 pts daily)

STOP 2, 3, 4, 5: ROO, EEYORE, RABBIT and OWL's HOUSE!
Tigger's

yells echo through the forest!
At each of these stops you'll complete 100 of anything you want each day! All strength and planned fitness minutes count! You pick your pleasure every day, but you must complete at least 3 different things daily! In other words you can do 200 crunches for 2 of your 100's, but the other 2 100's must be 2 different exercises! Strive to give yourself 2 of the 4 challenge days that you pounce on calorie burn and complete 100 fitness minutes as one of your 100's! (10 points daily for each 100 you complete ~ Max 4-100's/40 points daily)!

STOP 6, 7: POOH's HOUSE and the RIVER!

Pooh has been waiting at home for you to get there for a game of "Poohsticks" at the River! Swing by, grab him and proceed on for fun, fun, fun splashing sticks in 7 glasses of water! (10 points daily)

STOP 8: Is your final destination and bonus Picnic opportunity!

If you earned daily points at ALL Stops 1 - 7, proceed to a Forest friends page and leave some Tigger

excitement for them with encouragement to avoid saying "Oh Bother"! Then sit back and enjoy the Picnic celebration with Pooh and friends in the center of the 100 Acre Wood! (40 bonus points daily for earning full points AND visiting a forest friends page)



"The wonderful thing about Tiggers.....Is Tiggers are wonderful things.....Their tops are made out of rubber.....The bottoms are made out of springs.....They're bouncy, trouncy, flouncy, pouncy.....Fun, fun, fun, fun, fun.....But the most wonderful thing about Tiggers is.....I'm the only one!"



FRIDAY: Lower (total points: 100)
Rainbow Balloons ~ WooHoo!
100 Fitness Minutes ~ WooHoo!
100 Side Shuffles ~ WooHoo!
100 Bridges 8#~ WooHoo!
100 Dumbbell Squats with rows 8# ~ WooHoo!
600 Step Ups ~ WooHoo!
7 Poohsticks ~ WooHoo!
Page Picnic Bonus ~WooHoo!

SATURDAY: Upper (total points: 100)
Rainbow Balloons ~ WooHoo!
100 Fitness Minutes ~WooHoo!
100 Walk Ups(ea arm) ~ WooHoo!
300 Punches w/weighted gloves ~ WooHoo!
100 bicep curls 5# +gloves(ea arm) ~ Woo Hoo!
700 Step Ups ~ Woo Hoo!
7 Poohsticks ~ WooHoo!
Page Picnic Bonus ~WooHoo!

SUNDAY: Core (total points: 100)
Rainbow Balloons ~ WooHoo!
100 Fitness Minutes ~ WooHoo!
100 Dumbbell Side Bends 12# ~ WooHoo!
100 Genie Sit ~ WooHoo!
100 Dumbbell Crunches 12# ~ WooHoo!
100 March-ing ~ WooHoo!
7 Poohsticks ~ WooHoo!
Page Picnic Bonus ~WooHoo!

MONDAY: Mixed(total points: xx)
Rainbow Balloons ~ WooHoo!
100 Fitness Minutes ~ WooHoo!
100 Curtsy Step Over ~ WooHoo!
100 Tricep Dips ~ WooHoo!
100 Dumbbell Chest Press 12# ~ WooHoo!
200 March-ing ~ WooHoo!
7 Poohsticks ~ WooHoo!
Page Picnic Bonus ~ WooHoo!

Total Challenge Points: 400




Wednesday, February 29, 2012
After my blog yesterday, I started searching for the perfect "mindset" image to go along with my new March goals! I had a vision of what I wanted and thought I'd found the perfect one in a"Fixed or Growth Mindset" picture, but I continued to search JUST in case I found something better! LOL! The search led me to this awesome detailed diagram explaining the fixed or Growth Mindset and 5 Key mindset points: Challenges, Obstacles, Effort, Criticism and Success of Others! Here's what the basic characteristics are...

FIXED:
Those with a fixed mindset often have Intelligence that is static, which leads to a desire to look smart and therefore a tendency to...
*Challenges...avoid challenges
*Obstacles...give up easily
*Effort...see effort as fruitless or worse
*Criticism...ignore useful negative feedback
*Success of Others...Feel threatened by the success of others
As a result, they may plateau early and achieve less than their full potential. All this confirms a deterministic view of the world.

GROWTH:
Those with a growth mindset have intelligence that can be developed, which leads to a desire to learn and therefore a tendency to...
*Challenges...embrace challenges
*Obstacles...persist in the face of setbacks
*Effort...see effort as the path to mastery
*Criticism...learn from criticism
*Success of others...find lessons and inspiration in the success of others.
As a result, they reach ever-higher levels of achievement. All this gives them a greater sense of free will.

Having never put much emphasis on the "mindset" aspect of this journey, I found this quite intriguing, and while somewhat "stereotypical", for me was quite on track with my original thoughts that *I* am of the growth mindset! But there are a few I'd like to work on being better at!

This is where I really starting thinking and searching...when all the sudden a puzzle image jumped off the screen at me...not the whole thing, just this single green piece!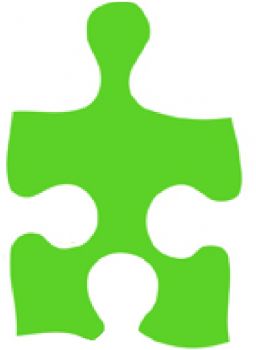 Immediately to me it resembled a person (I know you see it too), who appears to be moving, almost running maybe (yep, training for a race in April) and of course is green for growth!

I knew at that moment I'd found the perfect image, by combining that 1 piece with the other 3 in the puzzle square! Each one being directly related to the 3 main mindset details above that I plan to focus on ME for...
Yellow: For the challenges that each day brings!
Red: For the determined effort that goes into each day!
Blue: for the obstacles, frustrations and negativity that needs to be overcome!
Green: which represents the action of moving forward!
All interlocking and leading from one to the other!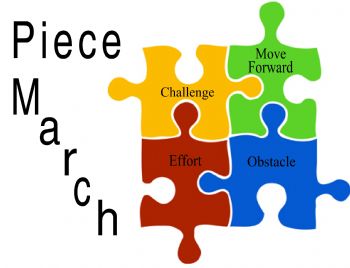 A little "deep" some may say, but isn't that what the inner workings of plans are?...Deep, scattered about thoughts that uncover underlying reasons to provoke thoughts of solution?

Actually, when you really think about it, this whole "journey" process is much like working a puzzle! You dump all the pieces on the table, and having no idea where to start, you begin dividing the pieces into outer and inner piles! You always complete the outer edges first so you have a frame to work within...fitness, motivation, nutrition, water, choices, support, friends, etc! Once you have that complete it comes time to work on the inside, testing, turning and fitting pieces until they're all locked in place and only one missing before the masterpiece is complete!

My outer puzzle frame is all locked together! I know what I have to do to, so I'm not gonna make a big list! I'm just looking forward to locking into inner peace this month...or should I say Piece!
Happy March!





Tuesday, February 28, 2012
For the entire month of February everything related to this journey has felt DAUNTING! I wouldn't say *I* am in a "funk", but there's more than one thing contributing to my lack of "enthusiasm"! Most of which are all out of MY control, but frustrating and mind boggling and often makes me wonder "Why?" at times!!!

Several times over the month I've sat behind this keyboard and started a blog about how *I* feel and what *I* need to do about it, only to delete it before hitting post! Not this time! This time, I'm putting my thoughts in black and white! I'm snapping the thought cycle in the @ss with a wet towel before all the edges start to fray and become a big pile of unraveled threads!

I AM taking control over my days, my mind, my plans, my desires, my choices, my actions and my commitments! That's where it ends...with ME, because in the grand scheme of things MY journey is the one that matters! It's not being put on hold, pushed aside or buried in a sea of annoyance anymore.... Bottom line!

I'm resisting the urge to bust out into a rampage about all the things that "seem" to be standing in my way! That would be taking a negative approach to the solution, and negative is what got me here in the first place! Instead, I'm taking back what I deserve... the motivated, goal oriented, detailed plan kinda person I am! I'm not just putting an exercise or eating plan into place going forward! I'm taking a "focused on ME mindset" approach and working to my strengths instead of falling prey to weaknesses!

I'm done standing still, being stale and letting circumstance control the way I feel and see things! You hear me?.....I AM Done!







Thursday, February 23, 2012
Here, in the BLC, we unite across the continents with the common purpose to get HEALTHY! In this challenge, we will be assigning health related items to each RING. Earn enough RINGS, you'll earn a MEDAL for your TEAM!









Challenge runs FRIDAY - MONDAY
Points and Medal earned must be logged no later than Midnight TUEDSAY!

BLUE RING - Water: Drink 8 glasses of water
YELLOW RING - Mellow: Complete 5 minutes of stretching or yoga poses
BLACK RING - Sleep: Get 7 hours of sleep
GREEN RING - Nutrition: Eat IN RANGE
RED RING - Heart pumping Cardio: 20 minutes minimum

For each Ring you earn each day, you get 5 points. If you get all five on any given day, you get an additional 5 points.
MEDALS AWARDED:
GOLD = 120 points ~ SILVER = 90 points ~ BRONZE = 75 points

Friday: Blue (5), Yellow (5), Black (5), Green (5), Red (5), Bonus (5)~ Points: 30
Saturday: Blue (), Yellow (), Black (), Green (), Red (), Bonus () ~ Points:
Sunday: Blue (), Yellow (), Black (), Green (), Red (), Bonus () ~ Points:
Monday: Blue (), Yellow (), Black (), Green (), Red (), Bonus () ~ Points:


Total Points () ~ Medal Earned:








Wednesday, February 15, 2012

It's MARDI GRAS Time!!



Challenge runs FRIDAY - MONDAY

B - Cardio 5 points for each 15 minutes (max 10 daily)
(To qualify for top prize, exercise at least 30 minutes a day)

A - Eliminate one bad habit that will help YOU avoid FAT Tuesday! (10 points daily)

L - 8 8-oz glasses of water each day! (10 points daily)

L - 5 servings of fruits and veggies (10 points daily)



Each day you have a BALL (earn max points all 4 letters), double your points! Total maximum points 320

Friday ~ B(10), A(10), L(10), L(10)=(40) Double(80)
Saturday ~B(10), A(10), L(10), L(10)=(40) Double(80)
Sunday ~B(10), A(10), L(10), L(10)=(40) Double(80)
Monday ~B(10), A(10), L(10), L(10)=(40) Double(80)

Total Challenge Points =(320)





First Page
1
2
3
4
5
6
7
8
9 10 11 12 13 14 15 16 17 18 19 20 21 22 23 24 25 26 27 28 29 30 31 32 33 Last Page

Get An Email Alert Each Time RISENABOVE Posts