| | |
| --- | --- |
| | RHOADAN's Recent Blog Entries |




Wednesday, November 30, 2011
Admittedly, not entirely by choice. I had some issues with the security system and when I took it into the dealership to get it checked out, the estimate for the cost of repairs got into "more than the car is worth" territory. Not the security system by itself, but other issues that the dealership found, mostly notably wear on the timing belt. (Not an immediate need, but more of a "we have to take it off to get at the thing that needs immediate fixing anyway, and it's gonna need work soon so take care of it now" sort of deal) At any rate, I heard the estimate, choked, and decided that donating the car to charity sounded like a really good idea about now. I'd already been considering getting rid of the car, but before that trip to the dealership, I'd hoped to sell it.

So, it's going to a charity that matches people with disabilities with service dogs and therapy dogs. I'd hoped to have the car picked up today, but the way the scheduling worked out, it got picked up yesterday.

I'm not giving cars up completely. I've signed up with a local car share program ( www.phillycarshare.org ). I figure the hourly rental will be an incentive to keep usage to a minimum, e.g. monthly trip to the wholesale club for kitty litter and toilet paper, and the occasional trip to Ikea to replace broken furniture.

This should be good for me. I'll do a lot more walking to places I need to go, and I'll probably get a bike for longer distances (Hello exercise). There's lots of mass transit where I am, so unless I get a job that requires an automotive commute, I figure I'm set.



www.donationline.com/donateac
ar.htm
www.thegiftofsunshine.org/





Monday, May 24, 2010
Well, okay, I adopted him a little over a month ago, but since the last cat to enter this household before him arrived in 2002, I think he qualifies as "newly arrived." The shelter estimates that he's between two and four years old, so he's clearly an adult kitty.

His name's Ignace, but if one goes by the theory that dogs come when called, but cats take a message and get back to you, the name on his message box is Iggy. He has picked up some nicknames since he arrived. I've been calling him "Dude" because he's the first male cat we've had in three years and also occasionally calling him "Igster." My housemate, the Button Lady ( www.nancybuttons.com/ ) has dubbed him "Iglet."

So far, Purza, mostly ignores him unless he gets too close while she's eating. Gillian, OTOH, doesn't like him at all, and sometimes goes out of her way to make the point. They do seem to be settling down a bit though.

This is one strong kitty. The adoption fee included microchipping, but he didn't have one and I had to take him in to the vet to get it done. He objected so strenuously that it took two vet techs, one of them wearing gauntlets and wielding a towel to insert the chip. Not fun.

And now pictures:

That's Purza in the foreground watching him.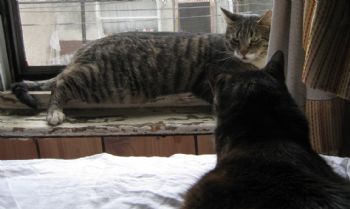 And here's close up portrait.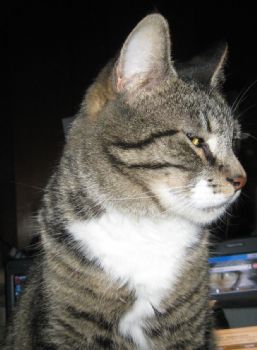 Monday, September 21, 2009
Shortly after midnight on Saturday, I heard a loud bang.

I mean loud enough to cause me to levitate, or at least make a good attempt. Well, my housemate not only heard the bang, but also glass breaking. From this, we concluded that whatever made the noise was out front. After some discussion, we concluded that calling the cops was probably the indicated course of action.

Now as it turned out, I didn't call the cops, and I'm not sure if my housemate did, but they showed up fairly quickly, so unless they were driving nearby when the bang went off, someone must have called them. The local cop shop is close, but it's not that close despite my joking that they could've heard it there.

The breaking glass turned out to the next door neighbor's front window. Apparently someone threw a large firecracker or something similar at the window. Based on the volume of the bang, I'm tempted to guess an M-80, but I really don't know. At least one neighbor (not from that house) saw someone throw something, but I'm not clear on the details.

I generally think of this area as a good neighborhood, and I've been wondering if the fact that the neighbors in question are Latinos had anything to do with the incident.




1 2 Last Page

Get An Email Alert Each Time RHOADAN Posts