| | |
| --- | --- |
| | REVIVINGFAITH's Recent Blog Entries |


Monday, January 16, 2012
I am building a wishlist on wislistr.com with things I would like to have to support my health journey.

www.wishlistr.com/girlaflame/

It's fun to daydream and to check this out each month when our entertainment budgets reset :)




Sunday, January 15, 2012
Have you tried Pinterest? It's a great way to find pictures that inspire you, especially if you're interested in using vision boards. Here are two of mine:

Health and Fitness specific: pinterest.com/girlaflame/health-and-
fitness/
General Motivation: pinterest.com/girlaflame/inspiration
/





Saturday, January 14, 2012
Today after our run I told my husband a story I hadn't told him before and it made me think about how we can remake ourselves when we choose to do it.

When I was in grade school, our school participated in the Presidential Fitness program. They measured how many sit-ups we could do in a minute, how many pull-ups, and other fitness tasks. I was always pretty good at those two but one year they decided to do a marathon. Now this wasn't a regular sized marathon of course, it was scaled down significantly for kids, but our whole school was participating in it. I went to a small private Christian school so the "whole school" was only about 200 kids.

Leading up to the event, we asked our friends and family to sponsor us. For every lap we did, they would pledge a certain amount of money (probably about $2) and the money would go toward the school's missions fund. I remember how the other kids seemed to have so many more people pledging to them, having big families or parents who could afford to donate much more than $2 a lap, or could take the forms to their offices and have their co-workers sign up. My family on the other hand, was pretty small and we have always been poor so I didn't have nearly as many pledges to my name. To get more I asked a few of our neighbors and I remember how scary it was for me to go knock on their doors with the intention of asking them for money. I have never liked setting myself up for the possibility of rejection, and I guess even as a child I understood that there was the chance of failing because I might not go as many laps as I had signed up to do.

Well the day of the event came, it was held on a Saturday. I don't remember starting off, I only remember that a few laps in I was lagging way behind the other kids. It seemed to me that they could run so fast and far, and I got tired after only a few laps and had to start walking. I remember I was bright red in the face with exertion and my lungs felt like they were on fire. I was so ashamed and I started to cry. After the race, my family was trying to comfort me because I hadn't been able to go around as many times as the other kids and I was still crying. The vice principal of my school even came over to see if I was alright. I was so disappointed in myself and it only got worse when they did the awards ceremony on Monday.

The kids who had placed 1st-5th got prizes like T-shirts, water bottles and key chains. And then they gave out more water bottles (less expensive ones) to those who had "participated." I felt about 3 inches high when they called my name because I knew they were just giving it to me out of pity and I didn't deserve it. I hated that stupid water bottle.

So now, 20 years later as I go on runs with my husband who, incidentally, has much more stamina then I do, and I sometimes have to stop because I feel like my feet won't carry me any further, I think about that time. But even though I am still not a fast runner nor good at going long distances, I have something I didn't have back then. I realize now that what I need to change that image of myself as a runner has to do with determination. That as long as I keep practicing, my stamina WILL increase, although it may take longer for me than for some others. Back then I did not see myself as athletic or sporty and right now I still don't but what is different now is that I can BECOME that, if I so choose to do so. I have more options now, and I have more power, and I will reclaim my relationship with my body, no matter how long it takes.




Saturday, January 14, 2012
Today has been a really great Saturday. It was the day for the dogs to get groomed so we woke up around 7. The last 3 days or so I have been waking up when my alarm goes off and haven't felt so exhausted. I am hoping that is because of the exercise. It's been at least 6 months since I was able to wake up on time without rolling over to go back to sleep. It feels good to get up on time again; I had even gotten to the point of skipping showers and just running a comb through my hair, slapping on some foundation, and going to work. I didn't like how that made me feel at all. So I'm really happy that it hasn't been a struggle recently.

Well anyway so we woke up at 7 and left around 8 to take the dogs for grooming. Then we went to the park to run. I had to convince Bradley; he wanted to run later on but I knew I shouldn't put it off if I expected it to get done on a weekend. Later he said I was glad I made him because he wanted to watch the NFL playoff games later on.

It was wonderful to have the park to ourselves. By the time we left, two groups of two people had gotten there but it was so peaceful in the solitude. It was really cold though, not gonna lie... around 29 degrees or so. But I knew once we started we would warm up.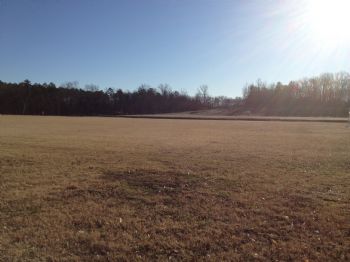 Peaceful

Today we did week 2, day 3 of the Run-2-5k program. I really enjoy using the app. I have an armband I wear my iPhone in and the app vibrates the phone and a woman's voice tells you when to run and when to walk, and when the warmup and cool down periods are. Next week I think we are going to repeat this second round though, because sometimes I had to walk during the designated run times during this cycle. I want to repeat it until I can run the whole 90 seconds every time. This week is 5min warmup, then 90sec jog, 90sec walk, 90sec jog, 2min walk, and you repeat the jog/walk cycles 3 times. By the last two-three run cycles, I am really flagging, and of course while we are running I am not fast by far. But I'm taking baby steps.

I have to say it feels kind of good to dress up in athletic clothes. Just doing that makes me feel thin. I had leggings, athletic shorts, a sports bra, a scoop neck sports top, and a tight fitting hoodie. And running shoes of course. I think I looked pretty hot :) Oh except for the white gloves and toboggan I was wearing, but, I'd rather be warm than sexy I guess, lol.

After our run, we came back to the house and did some cleaning up. We have a friend coming over tomorrow for more football so it was time to evict the dust bunnies. I definitely did NOT want to get started on that, especially after our run but this time it was Bradley motivating me. We still have a little bit to do but we got a lot done and now that it is done, I am glad to have it clean :)

For lunch we went to one of our favorite local places, Savor Cafe. It's pretty small and a nice space, open, with wooden floors and sparsely but charmingly decorated walls. I had a greek salad with the feta and dressing on the side so I could add my own amount. It was super good! I ate half and saved the rest for dinner. And then I decided to treat myself to a little dessert. We split a piece of chocolate angel food cake. It had a little bit of chocolate sauce and grated chocolate on it and a little bit of strawberry sauce and some fresh strawberries. Given a light breakfast and light lunch I think it was a good choice :) It's almost that time of the month for me and I am giving myself 1400 calories on PMS days cause they make me just want to eat from morning until night...

Near the end of lunch the groomer called and said we could pick up Lily and Luna. Lily is an almost 4 year old Bichon Frisť and Luna is an almost 4 MONTH old Shih-Tzu, and they are about as different as different can be. Luna's middle name is Lionheart and she lives up to it; Lily's is bunny, and again she lives up to it. Today was Luna's first haircut and OMG was she precious. They take a lot of work to keep up with sometime but they repay me in smiles and laughter a thousand times over.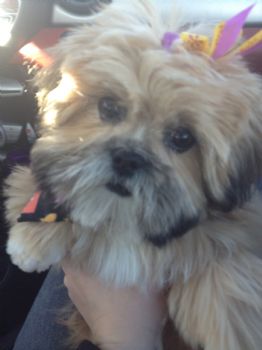 Luna Lionheart

We took the puppies home and set back out immediately. Yesterday I found someone selling an elliptical on Craigslist for $75. It is not a top of the line one by any means but it is the first piece of equipment for my Home Gym project! I am so excited! When we got to the lady's house, we carried it out in the driveway and some of her neighbors came over and started talking to her and to us and helped us break it down. It was so lucky and meant to be because one of the guys had a really big toolbox and was a "mechanical genius" as described by his friend. Bradley turned out not to have the right sized wrench so it was super fortunate that they were there and willing to be so helpful.

Finally we got it into the car and brought it home. Bradley set it up and now we are watching the Saints/49ers game (go Saints). Later tonight I might go hang out with some people and I'm looking forward to it.

Usually on the weekends we sit around and don't get anything done, just watch TV and play video games. This kind of Saturday doesn't sound like the kind you want to have when you are tired from work on Friday night, but I realized today that it makes me so much happier and feel so much more fulfilled. Here's to more active weekends in the future.




Thursday, January 12, 2012
Well today has just been full of setbacks! But I'm happy to say that so far I have handled every one!

First was my weigh in I described in my last blog. Next, when I got off the interstate today I realized I forgot my phone at home. I use my phone in my job to time certain events so I had a moment of panic because I wasn't sure how I would do it. Well I decided I'd just have to let my patient take his questionnaire (which takes about 2 hours to do) and run to the sporting goods store up the road.

When I got to the sporting goods store, they were closed for another hour! I had to head back to work and work out an arrangement with my coworker to use her stop watch.

Next I started testing my patient and he is really trying my patience. He's just overall in a surly mood. But I am keeping hydrated and during the down time between tests, I am brainstorming about my lovely home gym project, and also my 2 week "Hit It and Quit It" plans to stay on track.

So then it was lunch time and I decided to go to Harris Teeter. I wanted to get something from the deli and after this morning decided to stop eating things when they didn't have nutrition information on them. So I looked at the soups, since that was one of the few things with labeling. I looked at a couple of different ones and the cheesy ones looked sooo good... well I found one that was potato cheddar and I carefully checked the label. For some reason though my brain made a calculation error. I thought it said it was 150 cal a serving but it actually said 250 cals a serving! And two servings in a bowl (but I realized that, I was just off by oh, 100 calories...)

Well, with my positive energy I am working today I decided not to let this set me back either. No reason I had to put 500 calories into my body just because that was the full container. (I have enough calories left to do this but that would leave me with kind of a pathetic dinner and temptation to snack). After all it said one SERVING and I am one person, so... I just poured half of the soup into a bowl and ate that. I'll eat the rest tomorrow or tonight for dinner.

It amazes me how creative I can be in solving my "problems" (read: busting my excuses) when I am feeling positive. And to think I had a bad weigh in this morning. Pshaw... ain't no thang!!



First Page
1
2
3
4
5
6
7
8
9
10
11 12 Last Page

Get An Email Alert Each Time REVIVINGFAITH Posts