| | |
| --- | --- |
| | REENIT's Recent Blog Entries |


Thursday, April 05, 2012
I feel good.
Well here I am finally writing on Spark once again. It has been a long time. Many of the "demons" that plagued me in the past are gone and I am feeling good. Ive significantly diminished the amount of alcohol I drink, Im not working out but I am walking a lot, Im eating healthy and my weight is down more than it has been in a very long time. Im finally well below the 200 club. Woot woot !!!!!

It is funny how hung up we get on certain things. My hang up was that 200 number. However, several years ago, I sailed passed that mark and was never disgusted enough to put a stop to it. At my max, I hit 217 – at 5'2 (yikes).

I tried various plans and worked on this off and on for a few years of working out, dieting, and fighting I finally gave up. I took almost a year off without looking at the scale. I ate healthy worked out ok, my weight remained stable. I then had a long talk with my sister and she encouraged me to try the HCG diet. In the past, Ive flamed the diet as unsafe and unhealthy but I wanted quick results – well I got them. I did one 40 day and lost 20 pounds. I took two weeks off, ate pretty much whatever I wanted except sweets and simple carbs and kept the weight stable. I am enoucraged with my ability to keep a stable weight and am now working towards getting it down.

Im now in a 21 day cycle and I have lost 10 more thus far. This is excellent. I am so very encouraged by the thought of "resetting" my set point. I have a long way to go, but here's hoping !!!!!

Good luck to you all and I wish you well in finding the path that works for you.
Laureen





Tuesday, October 11, 2011
Well hello everyone.
Here I am .... again.... trying to hop back on the horse. Ive read through my prior blogs and am stunned by their message. I suppose over the past summer of eating way to much junk, I should have just gone within to find the answer that I had all along. This journey is not easy. This journey takes effort - more than pulling in through McDonalds. This journey takes time and patience as well plan and prepare meals. However, this journey gives us the energy to do it. It is a wonderful symbiotic relationship - the more good food and exercise you give your body - the more strength and energy it rewards you with.

I started this entry as blogless in Livermore as I had not idea what to say today - I ate my way through the summer. I am working way too much and not paying attention to myself. I saw an interesting comic - it was a doctor telling a patient if you dont find the time to eat right and exercise now, you will have 24 hour a day to do it when you die. That is the truth of the matter. This weight thing is a life and death matter for many. It may not kill us today but it certainly will soonner than later. It will rob us of fun times in retirement. It will make us age and tire earlier rather than later. It will rob us of experiencing life to the fullest.

So today, I take charge - veggies here I come. To Mr McDonald - I am going to pack my lunch and be prepared so that Im not famished at 2pm and tempted by your golden arches. To all of you, live long and well.

Laureen





Friday, February 18, 2011
Lessons learned

Well, here I go again. I started this program last April and then dropped off. Started again in the summer for a couple of weeks then life got the best of me. I tried several restarts and then something always got in the way. Over the course of these past 10 months, I have learned some interesting lessons. I have faced a few health care challenges as well. I have tried "eating right" on my own, eating whatever the heck I please, and the Slim Fast program. All to come back to the realization that for me, Spark People works. It is certainly more time consuming but it works. So here are a few of the lessons Ive learned.

Last April I was diagnosed with heart disease. Im ok but as we all do, really need to be good to my body. The heart loves a healthy BMI. It likes to be challenged at least 3 times a week. It LOVES when we give it colorful foods. Five different colors of 5 fruits and/or vegetables every day makes the heart very happy.

After dealing with the heart problems, I struggled with heart burn. I was drinking far too much red wine. Yes, the heart likes one glass a day but for some reason, I cant seem to drink one without slipping into the entire bottle. Then my esophagus burns, I have to eat simple carbs to make it feel better and I feel like crud. So, Im off the wine altogether.

Next was a problem with my bladder. Lots of spasms and (yuck) wet panties. I finally sought medical care and started medications that reversed the problem altogether however, found that getting down to a healthy weight will get me off the meds. Another discovery I found. My favorite love, diet coke – counteracts my new medication and Im back to bladder spasms. Hmmmm, apparently the body doesn't care much for saccharine ridden acidic, carbonated beverages. I got to thinking about the Diet Coke. As a nurse, we use diet coke to declog feeding tubes. It is fantastic at breaking down foods and other "crud"…. Hmmmmm, I wonder what my favorite friend is doing to all of the wonderful nutrients I put in my mouth with it? So bye bye Diet Coke (ok, not completely but instead of 2-3 a day Im down to 2-3 a week) HEllllllooooooo water.

So then we come around the corner to breast cancer. I got a call from my provider telling me I had a highly suspicions lesion on my mammo. You know it is serious when Kaiser "squeezes" you in to an appointment. So I freaked out, poured a glass of wine, drank the bottle, had a diet coke and some chocolate and then started researching. First of all, the next day, I felt terrible. From the research I learned that overweight women and those who drink more than 1 glass per day and/or more than 3 times weekly are significantly at a higher risk for breast cancer. Wow. Even drinking one glass of red one a day (which by the way is heart healthy) puts you at higher risk for breast cancers. Back to the 5 colors 5 a day. The boobies love lots of fruits and vegetable with varying color. (Apparently my girls are ok for now but with a nation wide incidence of 1 in 9, I think I owe it to them to eat right)

Along this path, I grew tired of meal prep and planning so I decided to try optifast. I also toyed with bariatric surgery. Then I found out it had a 4000 price tag and started researching and found that Slim fast is very doable and at a much lower cost. I did well on it but then of course, there just isn't as much variety or the 5 a day 5 colors that the ticker and the boobies like. Plus, a shake or a bar are just not all that satisfying. (See the picture below for a demonstration of this)

So here I am, Im back. I just ate my first "Spark" meal lunch. At then end of the post there is a picture of my Slimfast lunch and my sparky lunch – Hmmmmm, what would you like to eat ?

So Yes, Ive learned a lot. I still have to concur 200 pounds. Im a few away and staring down that bad boy. I just have this mental roadblock and think that once I concur the big 200, I will be able to continue my path.

This is a long blog but bear with me just a bit more. What I do know for sure, when we feed out bodies well and give them a bit of exercise, they feel better. Our energy levels rise, we enjoy sex more, we have less disease, less depression and not only longer lives but better lives.

Thanks for reading.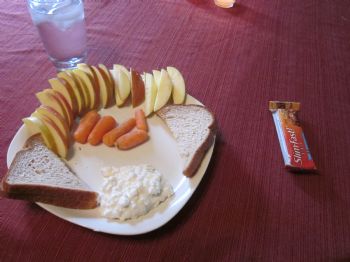 Wednesday, December 08, 2010

Ok so here it is and I am sure you've all heard it a million times before but food really is truly just fuel. It is not here for our comfort. It is not here to entertain or please us, it is here to fuel our bodies so that they can be and do all of the remarkable things that they do.



Case in point, I was Sparking along all spring doing great working out with a trainer all spring and most of the summer. My body was feeling good for the attention, I was getting stronger. I was feeling great. I was sleeping great. Then I fell of my path. Slowly at first but over time, I slipped back into many (Not all thankfully) of my old bad habits. At the height of it, I cut out drinking wine – YAH ME… BUT…. I had an insatiable sweet tooth and replaced it with candy. So the weight creeped up a little – not all the way thankfully.




Well last week, I hit rock bottom – sort of…. I was working out with my trainer and just felt weak, depleted, dejected… My body was not doing what it so easily did before. My body was telling me that it really didn't want to do the suspension strap pushup thingies without proper fuel. My trainer commented and asked me what I had been eating. Well, the day before was Mexican food and candy. I had gotten off of eating lots of fruits and veggies.




So then I made an appointment with the optifast doctor. Fast and easy – yep sounded great But then I started to read online about how people feel on the program. Yes, you can loose the weight fast but at what cost? Weight loss that is too rapid can increase the fat levels in your blood, increase your risk for gall bladder disease (ok not a worry for me as mine is out bust still)… rapid weigh loss is heard on the heart (With my underlying heart condition – not an option).


-
I was an all-time low, feeling alone, feeling too tired to plan meals, shop, make meals… all that is required to do this right so I went to the hubbie and we had a long talk. I am very fortunate to have a very supportive husband. When we are "good" together we are great but we can also be each others worst enemies buying each other cake and going out to eat, etc… So he told me. "You are not in this alone, you do not have to do it all yourself."



What powerful words those were for me. So here I am back to planning all the meals, he did the shopping, and between him, me, and my daughter, the meal prep. Yep, the lions share is still on my shoulders but over time, I will get them making lunches and such as well.

Now, back to the point of it all…. I started back on using the Spark generated meals on Sunday. They are awesome. I am full, I do not crave candy – frankly the grapes the other night were so amazingly sweet. I went to the trainer on Tuesday and breezed through my workout. He had to increase my bench press weights to 20 pounds as the prior weight was just too light. I feel great, I slept very well, and my body is happy.







So, the old adage is so very true… food is fuel. High quality fuel will get you places.







Monday, July 26, 2010
So,
I dont know about you all out there but I get asked way to frequently, are you crazy??? I dont know, I guess I just take on more than I should sometimes and often burn the candle at both ends but that is the way I like to live my life - it is my choice. Or so I tell myself. So here is my weekend.....

I had planned to go to a winery to listen to live music Friday night, go salsa dancing on Saturday, then to Romeo and Juliet Sunday night. I am leaving for a trip next week so had planned to start packing for that. I also am in grad school and have a final paper due while I am gone so planned to have that done this weekend as well.

OF course my well played plans also included some kayaking on Saturday and a bike ride on Sunday - all smattered throughout with delicious and Sparkiliscous foods.

Well, needless to say - I bit off more than I could chew. MY weekend ACTUALLY consisted of sitting on my rump for hours on end and writing the darn paper. No dancing, no Shakespeare, no Kayak, no bike - drat. The Sparkaliscous food - well I didnt totally blow it but my diet was certainly not very well rounded. I hate when my plans dont go my way.

What I realized though is that often times, when things dont go my way, it is because I do far too much for others. In between writing two term papers, I cleaned the house, did dishes, made breakfast lunch and dinner and started packing so that my husband would not get stressed out. I wrote a resume for a friend, worked on another friends, and then... I lost it. It was Sunday night - 8 oclock and I just lost it. Where the heck did the weekend go? Where is my fun? I worked my arse off all darn weekend and then POOF..... it was gone.

Ok enough complaining, I am going on vacation next week but really, I need to change this weekend habit. All summer, my weekends have been full of work and not nearly enough play. I keep planning salsa Saturdays and have yet to go.

I keep saying these things are important to me, and then I put them off. So, here is my goal - Im going to start making One fun activity plan for every weekend and stick to it !!! Its not too much to ask. Life just gets so darn busy sometimes that it is hard to find the time for that one fun thing.

Thanks for listening. Have a wonderful week !!!!!!



1 2 3 4 5 6 Last Page

Get An Email Alert Each Time REENIT Posts