| | |
| --- | --- |
| | REDSPIRALWOMAN's Recent Blog Entries |


Saturday, September 20, 2014
Thanks for everyone's support. I finally got myself to a balanced place and shared with my husband all the feelings that emerged. A friend gave me a good insight when I said that I really didn't understand the pressure he felt about the maintenance of the house. My thought was that we could just get people to do it. She pointed out that he was a contractor that built his own house and that he was a perfectionist. She said he is not pushing himself to do things now but that he notices every undone thing and that it sits on him. I felt that insight was valuable to me. He himself hasn't confirmed that but he didn't deny it either.

In any event, I now feel a door to change around our home has opened and I am trusting that the right alignment will show up. And many things Spark Friends shared has helped me feel more at ease with being just where I am with the scale right now.

In my way, I needed to do some art to synthesize all these things. I had used an image of a sculpture by Elissa Farrow in my earlier post. I looked for another image and found an array of them that all spoke to me. Her work is extraordinary and it's like having a soul sister out there expressing my own feelings.

The two women in the boat is called 'Be Brave and Take Someone With You. I altered her images and added other components, but in the end, with deep thanks, I call this collage 'Emerging From Fear Through Elissa Farrow.' It echoes my deeply held belief that we all speak to and for each other, and that is a quality I treasure about SparkPeople.




You can see more of Elissa's work here efarrowsavos.com/home.html




Thursday, September 18, 2014
So this is a bit of a venting blog. I've been trying to let my emotions realign themselves, but I keep getting caught in their swirls.

I had a 1 pound gain this week and realize I have been in a 'stall' for quite awhile. I reached goal after a Fat Fast, gained a couple back, lost them, gained 1 pound after vacation, but I really have been 'maintaining' for almost 2 months. I reset my goal 10 pounds less than my first goal, but reaching that now seems very far away. My clothes all fit, etc etc but I am captured. I've added to my walk, I'm basically on program but I looked at what foods I could eat less of or change out, but staying the same.

This week I lost my emotional balance about this. I put on clothes and think they don't fit right, that I am fat again. Last week these same clothes were fine, my measurements are the same. The truth is I am only 4 pounds above goal, but I feel fearful and despondent. Obviously my mind is playing the negating game.

What else is going on in my life is about moving. I live in a small city and like the travel to urban cities, like our trip to Portland this summer. I grew up in a major city and have lived in several over the years. I would like to downsize and relocate to a more urban, walking neighborhood. We have talked about this for a couple of years, and try out other places. We are retired.

This week my husband said he really feels the most practical thing is for us to keep traveling, but to downsize and stay where we live now. I admit, the cost of living here and some of the resources here do make it practical, but I always feel confined here. I feel such a difference in other places. I felt deflated and confined by 'practicality', but thought I'd look around and see what came up.

He, on the other hand, is feeling burdened by the house. He would like to travel more and even snowbird for a couple months, but he worries about the house. Friends of ours downsized to a condo and they travel and just lock the door behind them.

I found a condo in a nice walkable neighborhood here and thought that could probably work, but it was sold. We then looked at apartments to rent. We found a new complex that had very modern apts, something possible to consider. We even toured the model.

But that night I really collapsed. The downsizing will most impact me. I will have to give up my art studio and my collection of supplies, which now is an entire basement. I will have to give up a lot of my finished pieces-there would be no room. In the apt idea, I would have a room as my studio office, but of course it would be downsized. The complex itself, while nice, is not even in a walkable neighborhood in this town. We would have no outdoor space, even a small porch, of our own, although, again, there is a common area. But most of all I realized, that I would in fact make ALL those changes, if I was moving somewhere where the place itself offered variety and vitality. A smaller apt is ok if you have a bigger world right outside. Here our house is my 'ship' where I sail most of the time and bring variety in.

Now obviously this is not a done deal and we would not move if I do not want to, but it just brought up such feelings of confinement, of not being on the same page as my husband about this and of feeling stuck. Of course, I was already feeling emotionally and physicially stuck about my weight , so I know enough to not take any actions based on all these feelings.

I have not yet shared any of this with my husband. I have just been letting it swirl around and trying to get to some place where I can see more clearly. I feel like I'm in a tunnel and know there's an exit ahead, but I cannot see or sense anything but the walls around me.

Thanks for listening.

I found this pix, which totally resonated with me in feeling confined.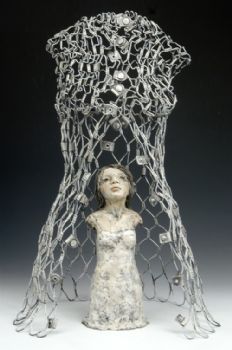 Wednesday, September 10, 2014
Awhile ago I wrote that I was creating a paperback book of my first year of blog posts at Sparkpeople. I did just that and here is how it turned out, I'm so glad I did. It's quite interesting and sometimes evocative to browse through it and see where I've been,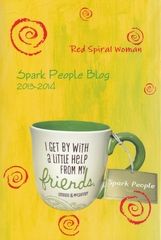 Front Cover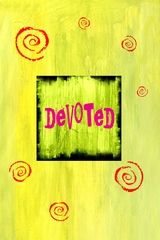 Back cover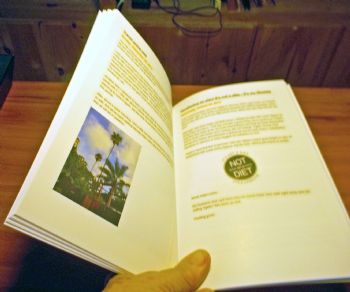 Friday, September 05, 2014
I'm an "Atkins' person, old school high protein/high fat, low carbs. This approach has always worked for me, maintaing a healthy weight, feeling lots of energy, just working for me. Several times over the years, I have gone off this approach because I was advised to by doctors, by current thinking about what is healthy etc and each time, I not only gained weight, I gained more weight and felt sluggish. In addition, my emotional hooks about food all seemed to be connected with carbs as comfort foods, so it was a very difficult cycle.

Finally, last year, I literally woke up after a yearly check-up where I weighed the highest I ever have, and said, 'That's it, I'm back on Atkins. It works for me and I will not be swayed.' And it's been good. But basically, I subscribe to the idea of finding what works for you best and sticking to it.

Awhile back I noticed on Spark that a lot of new-comers To Atkins [I'll just use that as a category] were diabetic and it had been recommended by their doctor to try this approach. Then I heard an interview with a woman who wrote a book called "The Big Fat Surprise: Why Butter, Meat and Cheese Belong in a Healthy Diet:Why Butter, Meat & Cheese Belong in A Health Diet." She chronicles how the Atkins approach was diminished and even denigrated and other ideas took hold, with many hidden agendas. There's a lot there but what was interesting to me was seeing growing support for the Atkins approach.

So I mentioned this book to my husband. As I have mentioned, my husband simply does not have issues with his weight and size. He probably weights maybe 5, 7 pounds max, than he did when he was 20. He's a kind of self-regulator eater and eats as fuel. His emotions don't seem tied in to eating, except that under stress he'll not eat. Over time, he hasn't really 'gotten' my carb-comfort issues, but accepts that I feel I have them. He has been extremely supportive of my program this past year. But he was diagnosed with high-cholesterol and stopped eating high fat in any way.

Well, after he read 'The Big Fat Surprise' he was angry! Angry that the ideas about fats is wrong. Angry at how information was suppressed or ignored and so on. He then began reading every new book about fat, carbs, sugars etc. He is now not eating sugar, only whole grains and has added red meat and fats back into his diet. All feeling good to him.

But here's my challenge. Before this I managed my program 'under the radar', as it were. I paid attention to my choices on my own. He wasn't paying attention to what I ate etc. Now he is constantly giving me new info on why this is a good choice and that is a better choice. In reality, he's not telling me what to do or eat, but it is triggering my own inner demon about being watched and told what to do. Yet, he is full of enthusiasm.

After our recent trip, in a conversation, he said, "Well, you'll probably want to go off carbs completely for awhile.' This is a perfectly reasonable statement. I had thought that indeed, but it totally triggered me and I just withdrew. He then felt that I was angry with him for no reason.

Later I tried to explain to him that for him, this is all new data in and new action out. It is just that for him. It doesn't have the emotional stuff attached to these choices. He listened but didn't really respond.

Many of us here at Spark know the 'logic' of making a different choice. But we also understand and have empathy with the fact that there are factors contributing to why we make 'wrong' choices. There are hooks and unconscious responses and so on.

Anyway, I'm listening to myself and striving to keep my own balance. I'm even trying to listen to him - his info may actually be useful when I'm not having a reaction. Thanks for letting me vent. I know someone out there understands.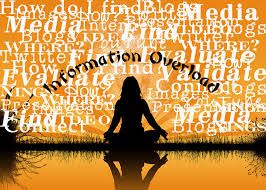 Thursday, September 04, 2014
Just spent 2 1/2 weeks in Oregon. A few days in southern Oregon where my son and daughter-in-law live, a couple days on the Coast and then in Portland - land of good coffee, restaurants and craft beer. The 'taster' size of beer is perfect for just that, a taste. Otherwise, I just tasted my husband's beer.

On the whole I stayed with program well, except eating out most meals is just 'more' than eating at home. In the hotels, I stayed with the 'complimentary' breakfasts' - eggs and bacon or sausage in my case. In Portland we had a cozy vacation rental apartment, so we ate breakfast in every day. We walked and walked all the time, which I am sure kept things in balance. I did have a 1 pound gain, but am sure my home routine will rebalance that soon.

One 'cheat' was I had some chicken taquitos. The taquito is a corn tortilla with marinated chicken inside and deep fried. Enjoyed them and they did not create any cravings. I also had some of the best Flan I ever had and it too, didn't set off cravings. Flan is made with eggs and cream, so perhaps that offset the sugar.

Interestingly, I had a cup of mushroom soup that turned out to have barley in it, The barley left me with an uncomfortable swelling feeling. So now barley is definitely on my 'this doesn't work for me' list.

And lastly, after our long flight home, with only an airplane salad as my main meal, we arrived at Dulles International Airport in Washington, DC at 9:30pm, where we pick up our short commuter flight to the small regional airport near our home. I was really hungry and got a burger in the terminal at the 5 Guys. I had planned to sit down, take the burger out of the bun and eat it that way.

As it turned out, our flight boarded 15 minutes early and suddenly, I grabbed the bag of burgers and we ate them on the plan. Unfortunately, I had asked for mayo on the burger and when I opened the bun, it was slathered with mayo and drippy and there were no napkins in the bag as well. lol. My husband said, 'That's way too messy to deal with. Just eat it with the bun.' So I did - which was the first whole bun I've eaten in 14 months. I thought of it as a 'burger holder' and I don't know if mind-over-matter came into play, but it didn't set off any cravings and didn't both my digestion, etc. either.

One thing that stayed with me to balance 'vacation mind' is a comment Spark pal Woubbie left before I went, which was 'Vegetarians don't eat meat on vacation.' I carried that as a perfect reminder that my plan is my lifestyle, not a 'diet' that will end one day. Thanks Woubbie!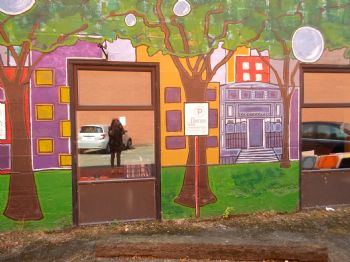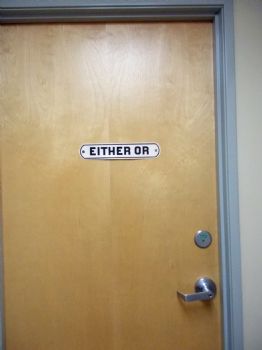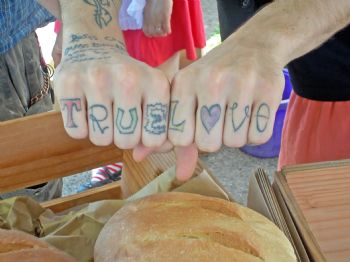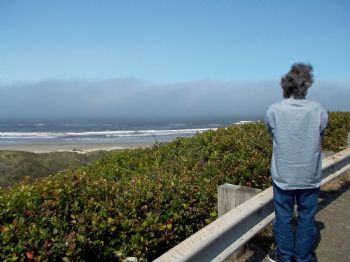 1 2 3 4 5 6 7 8 9 10 11 12 13 14 15 16 Last Page

Get An Email Alert Each Time REDSPIRALWOMAN Posts