| | |
| --- | --- |
| | RECREATING_ME's Recent Blog Entries |


Tuesday, July 31, 2012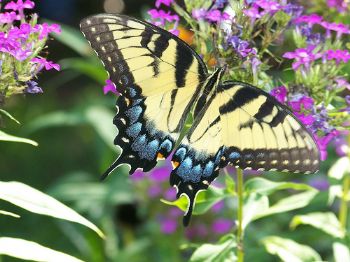 I just read a really cool blog post from SOULWOMAN's blog:

http://www.sparkpeople.com/mypage_public
_journal_individual.asp?blog_id=4994668

It talks about how struggling benefits the development of a butterfly. Go read it -- there's much food for thought there.







You're back? Oh, good!

This paragraph from it just hit me between the eyes:

"Sometimes struggles are exactly what we need in our life. If we went through our life without any obstacles, it would cripple us. We would not be as strong as what we could have been. And we could never fly."

How many of us have groused, kvetched, and complained about how *hard* it is to lose weight and keep it off? Please note that they verbs used in the previous sentence would aptly describe my reactions to the difficulties that life throws in the way of my attempts. Trying and failing multiple times at living a healthy lifestyle doesn't exactly make MMCOOL_1 a happy camper.

The idea of that story somewhat reminded me of that notion that struggling to achieve something builds character (and all this struggling to become healthy has made me quite a character...)



But seriously, this story points to something more important -- it's not just that we build character when we work through challenges; it's that our growth as individuals is stunted if everything we do would come easily to us. We would never reach our full potential without enduring hardships.

Of course, this is true. Who hasn't worked through a problem and, when on the other side, wondered how they made it through. 'I didn't think I had it in me,' you muse, 'but I guess I'm stronger than I realized.'

Yes, you are. And it is through struggling that you, too, will emerge from your cocoon as a fully developed, beautiful butterfly.

(Image credit: http://www.flickr.com/photos/sfajane/51120
23570/)




Monday, July 30, 2012
For this morning's weigh-in, I lost another 1.5 lbs, for a total of 19 lbs gone!

I was happy to see that given that this past week was a bit up and down, especially with my appetite. Weeks 1 and 2 went along well, and then the first part of this week, I was just ravenous. I'm not sure why that was, but I ended up making some choices that weren't exactly part of the plan. By the second part of the week, however, things settled down and now I actually find myself eating slightly less than I did during the first two weeks.

In coming back to Spark People, I initially had forgotten that when I signed up in 2008, I had marked that I didn't want to track weight; I just wanted to work on making healthier choices. I think my decision back then related to the failure that I had often felt at not being able to lose enough weight or keep it off. Once I realized what choice I made before, I stuck with it. I mean, wouldn't focusing on weight undermine the changes I wanted to incorporate?

The thing is, I was wrong about the purpose that tracking weight serves. My success, or lack thereof, is not solely determined on the numbers that show up each week. However, when taking everything in context (like results of various tests from the doctor's office, how my clothes are fitting, changes in measurements, how I feel on a day-to-day basis, etc.), what I weigh can be a useful tool in determining trends in my health. Also, in setting a real goal with an estimated timeframe, it would allow the system to give me better direction in terms of my nutrition and overall calories I should be getting, as well as make adjustments as I get smaller.

In order to make the change from "maintenance" to actively tracking my weight, I would have to reset my program. The thought of doing that made me a little sad because it would mean losing all that I had entered over the past three weeks. All the meals I logged, the exercise I recorded, and the weight I had reported lost would be gone.

But the aspect of it that scared me the most was actually declaring a weight loss goal and a timeframe for doing it. As I sat staring at my computer, flashbacks of diets past flickered through my brain. The temporary successes at weight loss and the shameful defeats that accompanied each weight gain. I mean, who am I to be acting like Babe Ruth, boldly pointing to where the next home run would be hit when I have struck out so many times before?

I hemmed and hawed a bit, but then I did it. I set forth a goal that would take me partway to where I hope to be eventually. It wasn't exactly calling a home run; more like a double, I guess. But it was a good step to take because it makes what I am doing all the more real.

Here's to starting over :)





Saturday, July 28, 2012
I have been reading many stories about people's journeys to their healthier selves, paying particular attention to the ones who have lost 100+ pounds since I am in that same boat. What keys to success could I glean from their experiences that I could apply to my own situation?

I noticed some a few similarities among those who have had great success:

1. They have been at this for years. Not weeks, not months, but 2, 3, 4 years or more. It's one thing to talk about this being a change that I need to do for the rest of my life, but it's quite another to read about journeys to health that started in the previous decade. And some of them are still working to get to their goal weight. This clearly shows me that this is one race in which it pays to be the enduring tortoise. I can't be concerned with how long it takes to get there -- I just need to keep incorporating the positive habits into every choice I make.

2. They learn from their mistakes. Even though they are the "success stories," the people behind them are also human. They have their moments of weakness and they stumble. The difference is, they don't just sit there when they fall. They pick themselves up, knock off the dust, and start again, taking with them the lessons from what just happened so they don't make the same mistake again. I have to do the same.

3. They ask for help. Even the ones who seem like they are at the top of their game "send up a flare" when they feel like they need support. And people overwhelmingly respond with encouragement.

This last one is going to be particularly important in my journey. I am always one to lend a hand to others in a time of need, but I am terrible at asking for help. I don't like feeling like I am putting others out. When I compare my situation with others, I am embarrassed that I am not "stronger." It doesn't matter if my circumstances are similar to someone else's; I will gladly help the other person while I muddle through. Definitely something that I should change.

What else has been a key to your success in gaining health?





Thursday, July 26, 2012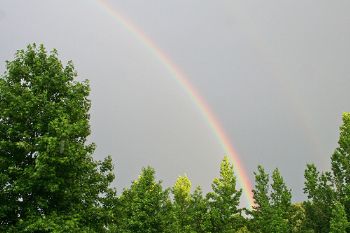 Earlier this week, my six-year-old daughter came bounding down the stairs to start the day. As I was continuing to get ready, I heard her call out, "Mama, come quick! See the rainbow!" On the ceiling of the living room was a small rainbow, which was caused by the morning sunlight hitting a CD jewel case on the window ledge in the precise way to create the effect. She was so delighted with her early-morning discovery.

After breakfast, my daughter raced back to the living room to see her rainbow. "Mommy, it's gone!" came her confused cry. While we ate, the sun moved far enough that the rainbow was no longer on the ceiling. Try as she might to move the jewel case to different locations or adjust the window blinds to replicate the angle that had created the pretty colors, it was no use. The rainbow was gone.

I sometimes wonder if all my attempts at getting healthy have been like chasing those elusive rainbows. I have success with losing weight, but then I gain it all back (and then some). Or I will be on my way to developing a regular habit of exercising when something happens to derail the schedule, and I never get back on track. The positive results and habits, like those rainbows on the ceiling that morning, have never stuck around for long.

Maybe my problem has been that, every time the "rainbow" leaves, I stay rooted to my spot. Sure, I try to make adjustments, but my efforts don't usually work. Maybe what I really need to do is to move with the sun, the source of the rainbow, instead of expecting it to come to me.

So if I am regularly losing weight, but then I hit a plateau, I shouldn't let that discourage me to the point of giving up. I should, instead, look to other markers of success in this journey to validate my work and spur me on. Or if a habit that supports my goal of living in a healthful manner is disrupted, I should seek out other ways to achieve similar results or determine how to modify my activities to minimize the disruption. In those ways, I am continuing to move to where I need to be to attain positive results.

Staying rooted to one spot will not help me achieve my goals. Instead, I need to move with the sun, to chase the rainbows. I think that's where I will find the keys to success in my endeavors.

(image credit: http://www.flickr.com/photos/theresaashmor
e/3580902580/)





Monday, July 23, 2012
I have a love-hate relationship with exercise. Oddly enough, I love exercise itself (dang, did I just really say that? No way I would have said that 15 or so years ago...)

But, really, it's true. I love to feel my muscles moving -- and they are there, just well-hidden.





I love the realization that I can do more than I could just two short weeks ago. It encourages me to keep going so I can become stronger.





I love the quietness there is when I am able to get it in first thing in the morning.

BUT...

I hate having to "fit it in," which is what usually happens when I am not able to do it shortly after waking up and having breakfast. Life and its various interruptions compete for my time and my attention, and I have to fight to make exercise the top priority.

Today was one of those days where exercise didn't happen right away. My kids were up and needed breakfast, then laundry needed to be washed, my work was calling my name, and on and on went the list. I had the passing thought of, "Oh, I wish I had time to exercise!"

But then another voice said, "If you don't take the time to exercise, you won't have time for anything else, either."

That stopped me cold as I processed that thought fully.

Exercise isn't just to make my muscles more well defined or to help me lose weight -- exercise makes me healthier. And without good health, I won't be around to do anything else.

Everything that was on my plate for the day could wait while I got in my exercise. The same will hold true for tomorrow, and the next day, and the day after that.

I know there will still be days where I have to fight to it fit in, but I am going to put my reminder of the importance of exercise in the forefront of my brain so it has the priority that it justly deserves.





First Page
1
2
3
4
5
6
7
8 9 10 Last Page

Get An Email Alert Each Time RECREATING_ME Posts